Solomon Juneau Ale
| Milwaukee Ale House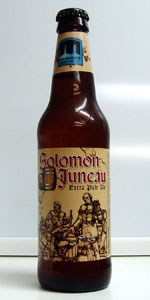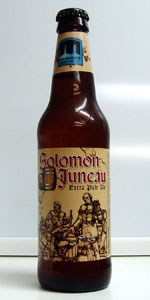 BEER INFO
Brewed by:
Milwaukee Ale House
Wisconsin
,
United States
ale-house.com
Style:
American Blonde Ale
Alcohol by volume (ABV):
4.70%
Availability:
Year-round
Notes / Commercial Description:
No notes at this time.
Added by BeerAdvocate on 07-20-2003
HISTOGRAM
Ratings: 12 | Reviews: 10
Reviews by kingothewoods:
3.55
/5
rDev
-2.5%
look: 3.5 | smell: 3.5 | taste: 3.5 | feel: 4 | overall: 3.5
This one came out on tap from the bartender with a red/orange color with a slightly orange/tan head. The head dropped within 1/4 of the beer being drank down.
Smells of sweet malts with some great hops. Not too sure about this one before I took a drink. Pow - the taste was great. I liked the sweetness and man-o-man was it smooth. Must have been the water they started with. Also liked the aftertaste of the hops which didn't kill the flavor on your tongue like IPAs do. Had several more because it was one of their better ones on tap.
537 characters
More User Reviews:
4
/5
rDev
+9.9%
look: 4 | smell: 4 | taste: 4 | feel: 4 | overall: 4
Golden-tinted amber with a moderate white head.
Nose features grassy Saaz and pale malts.
Begins semi-dry and bready. Pale, but not parched, as there is a secondary suggestion of caramel. Stays static throughout the midsection. Saaz provides uplift upon the finale. Not heavily bittered, but still forward and full of grass.
Light bodied, inching towards medium. For the most part, this succeeds as a pils-inspired ale.
Drinkable for sure. One is a given. But boredom and unrest may lurk beyond that.
507 characters
4.03
/5
rDev
+10.7%
look: 4 | smell: 3.5 | taste: 4 | feel: 4.5 | overall: 4.5
Hazy, golden bronze with a small tight head. Smell is weak but I would say floral with a touch of sharpness. Taste leans on the bitter side. Not too many malts, a touch of pale and caramel. Most seemed to have been fermented out. Good yeasty body though. Hops control. Solid hop presence throughout with a nice dry, bitter finish. Easy to drink. Very enjoyable for a Blonde Ale, solid in general.
396 characters
2.37
/5
rDev
-34.9%
look: 2.5 | smell: 3 | taste: 2 | feel: 2 | overall: 2.5
Had this beer on tap at the Ale House. Arrived in a pint glass. Appearance was hazy blond/copper color, you could not see through it. Aroma was not citrusy like I expected from the description, it was a weak to sweet like citrus aroma. Flavor was yeasty, musty, and heavy. Tasted like an extract beer with fermentation issues. It was not dry or bright, but heavy and lacked a freshness. Mouthfeel was heavy with maybe to much carbonation. Overall I would not buy another pint, I expected a light citrusy dry blonde ale and received a heavy old tasting pale ale.
561 characters
3.9
/5
rDev
+7.1%
look: 3.5 | smell: 3.5 | taste: 4 | feel: 4.5 | overall: 4
An American Blonde Ale? During my tasting, I was reminded of an English Bitter with a great round and full body. The color was only slightly lighter than an English Bitter (light-amber). The beer was clear and left a fine-bubbled head.
The description makes note of the Czech Saaz hop used. Indeed, the most notable quality is the fine hop flavors.
This was one of the better offerings at the Milwaukee Ale House. Think Bitter and you'll be happy.
454 characters
3.27
/5
rDev
-10.2%
look: 2.5 | smell: 3 | taste: 3.5 | feel: 3 | overall: 3.5
Your basic golden ale with an extra helping of Sazz. The menu claims there were imported form the Czech Republic and the aroma and flavor support this.
A bit hazy for a golden ale, esentially an ale made to mimic a golden lager, possible unfiltered. If so it may need more time to clear up. Nice earthy/floral noise. Medium body, golden color, with medium noble hop flavor. Score better than the Honey Ale they had on at the same time.
439 characters


4
/5
rDev
+9.9%
look: 4 | smell: 4 | taste: 4 | feel: 4 | overall: 4
Served a cloudy amber in appearance with a fluffy white head. Nice lacing clings to the side of the glass. Medium-bodied mouthfeel. This ale seems inspired more along the lines of a European Pilsner. The flavor starts to get grainy as it approaches the finish. Saaz bitterness plays an important role, as it gives the ale most of its flavor characteristics. I also seemed to detect a hint of nut, like in a brown ale. Toasted biscuit flavors also from the roasted malt. Crisp finish cleanses the palate. A decent ale that seems to pair better with food, although still quite enjoyable on its own.
596 characters

2.92
/5
rDev
-19.8%
look: 5 | smell: 3 | taste: 2.5 | feel: 3 | overall: 3
A - Very nice lacing left by a frothy white head with strong stamina on top of a copper colored and translucent body.
S - Light hoppy aroma with a hoppy accent.
T - The flavor starts out thin and moves to a subtle hoppy middle and a finish with a slightly more bitter taste.
M - The feel is pretty watery but the taste is felt with a coarse walk along the back of my tongue.
~ I was first of all disappointed with the way this growler was poured. Straight off a tap with no tube which allowed much of the feel to be lost a day before I could even sample this copper colored beauty. I even witnessed the bartender pouring some head away. All in all the beer is average. I think this one is brewed with an audience of those looking for a brew without a real robustness.
772 characters
4.3
/5
rDev
+18.1%
look: 4 | smell: 4 | taste: 4.5 | feel: 4 | overall: 4.5
Had two of these on tap at the Milwaukee Ale House on March 17, 2008.
A= This one poured toward the golden end of orangey-gold. There was a decent 1/2 inch head that faded slowly to nothing as I made my way down the glass.
S= Smelled clean and mildly hoppy. Also lots of bakery scents present, such as malty biscuits...
T= The taste is where this beer won my heart. It was unexpected and very enjoyable to taste an earthy sweetness of malt up front and then have the flavor switch to a bitter hop at the end of the swallow. Both ends of that spectrum are in fine balance and stand up to each other well. The flavor range was frankly impressive. The saaz hops are the perfect choice for this dry-ish finish. This is the beer that M.A.H.'s Pullchain Pale Ale wants to be when it grows up.
MF= This beer has fairly low carbonation, and a slick malty feel on the tongue.
D= Fantastic session beer. Will order again when I am in town!
938 characters
4.1
/5
rDev
+12.6%
look: 4 | smell: 4 | taste: 4 | feel: 4 | overall: 4.5
Not quite an American Blonde, but no style is officially listed. In the dark light of the pub, it actually looked kind of amber to me. Anyhow, its color was solid and it's head was great--my bartender must've really known what he was doing because every beer I had here had a gread head on it.
Smells crisp and sweet. The malt is very heavy and dry hops sneak their way in.
Taste starts with a big, sweet malt and moves into a great dry saaz hop finish. The hops are American Blonde all the way, but more intense than what I'm used to in the style (which is a good thing). But the malt is way out of left field. It's intensely sweet and lets it presence be known!
Great session beer.
693 characters
Solomon Juneau Ale from Milwaukee Ale House
Beer rating:
3.64
out of
5
with
12
ratings