Polish Moon
| Milwaukee Ale House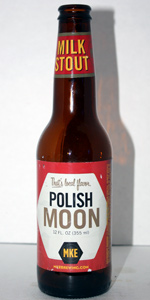 BEER INFO
Brewed by:
Milwaukee Ale House
Wisconsin
,
United States
ale-house.com
Style:
Milk / Sweet Stout
Alcohol by volume (ABV):
4.50%
Availability:
Year-round
Notes / Commercial Description:
No notes at this time.
Added by samie85 on 04-11-2012
Reviews: 7 | Ratings: 37

3.33
/5
rDev
-11.7%
look: 3.5 | smell: 3 | taste: 3.5 | feel: 3 | overall: 3.5
12 oz. bottle, with no apparent bottled on date present. My beer is the same as the bottle pictured, but is called Polish Moon Milk Stout by Milwaukee Brewing Company, rather than Milwaukee Ale House. Both are from Milwaukee, and both are listed at 4.50% abv. I'm not sure if the pictures are reversed or what, but clearly something is a little off. Reviewing here, since it has the correct bottle pictured. My third beer from this brewery, expectations are low based on my previous experience.
Poured into a clear balloon snifter glass.
A - Pours a dark mahogany / chestnut color. Opaque in the glass with a slight ruby tint when held to the light. One finger of creamy mocha fluff disappears quickly.
S - Smell is of cold coffee bean roast, a hint of lactose, and peanut and hazelnut nuttiness.
T - Taste follows the nose: bitter cold coffee bean roast, light chocolate flavor, & some nuttiness. Not really packing a lot of intensity, but it's a lot better than what I was expecting. Still, it tastes a bit watered down and more like a porter to me than a legitimate milk stout.
M - Feel is a bit watery and thin for a milk stout, so it isn't exactly suited to style. Carbonation is good, but a tad high.
Overall, this has definitely been the best thing I've sampled from this brewery so far. Still not a top notch example of the style, but it is drinkable. It reminds me more of what a light-bodied porter would taste like, rather than a milk stout, but I'm still pleasantly surprised with this offering.
Milwaukee Brewing Polish Moon Milk Stout ---3.5/5
1,565 characters
3.61
/5
rDev
-4.2%
look: 4.5 | smell: 3.5 | taste: 3.5 | feel: 4 | overall: 3.5
Pours an opaque, jet black with two fingers of light brown head.
Smells of roasted coffee notes with a bit of chocolate and some earthy hop notes.
Follows the nose with light roasted noted and sweet chocolate finish.
Thin at first but the lactose helps give this one a little more body with light carbonation.
This is a very solid beer... I've been very impressed so far by Milwaukee Brewing's offerings.
416 characters

4.03
/5
rDev
+6.9%
look: 4 | smell: 3.5 | taste: 4.5 | feel: 3.5 | overall: 4
Appearance: Pours the darkest, possible brown…limited khaki colored head…(4/5)
Smell: Chocolate, malt, some coffee and the tinniest bit of dark fruits…tons of chocolate though, very nice… (3.5/5)
Taste: Lots going on here…toasted malts and dark fruits beginning then blending with soft bitterness, coffee, mocha and some cream flavor…very nice…(4.5/5)
Mouthfeel: Medium bodied with a bunch of carbonation…very nice…some chocolate milkshake flavor…it is a bit watery…(3.5/5)
Overall: This is a very drinkable beer…let it sit out a bit from the fridge for the best flavor…the chocolate smell is outstanding and ultra inviting…chocolate aroma, dark fruits and toasted malts make a great combination here…though there isn't as deep a chocolate flavor as the aroma advertises…a twinge of bitterness in the deep background, but it very minimal…flavor and carbonation are excellent, this is definitely one of my favorite milk stouts to date…this is a delicious malty brew…(4/5)
1,014 characters
4.21
/5
rDev
+11.7%
look: 4.5 | smell: 3.5 | taste: 4.5 | feel: 4 | overall: 4.5
I enjoyed this beer so much, I immediately bought a couple of six packs to bring home.
Appearance: Impenetrable black with maybe two fingers of creamy, caramel colored foam. Nice lacing.
Smell: This is the beer's weakest attribute and had me a bit worried about my choice before the first sip. Smell is a bit acrid, although not terribly unusual for the style.
Taste: Exceptionally smooth, with a lot of caramel, chocolate, and coffee notes. Not sure what the abu's are, but certainly low. Excellent, lingering aftertaste, particularly of the coffee undertones. I'm trying to be pseudo-scientific here, but this beer is just plain good.
Mouthfeel: A bit thin like others in this style, but certainly not unpleasant.
Overall: I'm surprised at how much I enjoyed this beer given the lackluster nose at first sniff, but I certainly did. Can a beer be robust yet smooth? Rough, yet polished? Polish Moon can. Another really fine beer from Mke Brewing.
953 characters

4.58
/5
rDev
+21.5%
look: 4.5 | smell: 4.5 | taste: 4.75 | feel: 4.25 | overall: 4.5
Appearance: Pours dark and cloudy.
Head: Tight, forthy light brown head, with long retention,
Smell: Chocolate, malt, with some hint of coffee,
Taste: Chocolate front, malty, with strong coffee after taste. Very well done. Outstanding, really.
Mouthfeel: Thin, light bodied and well carbonation
Overall: Wonderful stout that I'd drink next to, or even over Dublin's pride any day. It's a little thin, but that does not harm, probably makes it a bit easier to convert to the urinals, and moves more of it across the bar in the brewery. No harm or foul there.
ABV could be 3.50% and I'd not complain about it.
611 characters
3.27
/5
rDev
-13.3%
look: 3.75 | smell: 3.5 | taste: 3.25 | feel: 2.5 | overall: 3.25
poured into pint glass.
app-dark almost black, thin head that disappears quickly.
smell-gives off faint roasted coffee tones
taste- roasted malt up front starts off coffee and finishes chocolate. not too robust of a stout, easy drinking for a milk stout
mouthfeel- thin for a stout, which I dont find objectionable but some might
overall- i am not a huge stout fan, but i liked this perhaps because it is thinner and less robust than the style should be, if you are kinda in the mood for a dark beer that won't fill you up i guess this would fit the bill.
556 characters

3.25
/5
rDev
-13.8%
look: 3.5 | smell: 2.75 | taste: 3.25 | feel: 3.75 | overall: 3.5
Pours black with a pale, cream head. Dissipates quickly leaving almost no lacing. The aroma is like that of corn with malt. The dark roasted grain is evident in the flavor. Definitely has a sweet, malty taste with almost no trace of hop bitterness. Carbonation is minimal. It's ABV is listed at 4.5% so it's a pretty good session beer. Price wasn't bad...build your own 6-pack for $7.99
393 characters
Polish Moon from Milwaukee Ale House
3.77
out of
5
based on
37
ratings.