Krankshaft Kölsch
| Metropolitan Brewing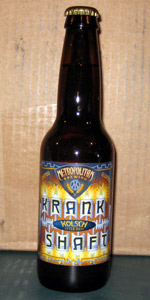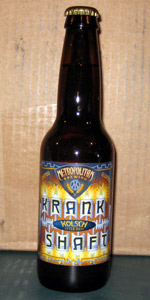 BEER INFO
Brewed by:
Metropolitan Brewing
Illinois
,
United States
metrobrewing.com
Style:
Kölsch
Alcohol by volume (ABV):
5.00%
Availability:
Year-round
Notes / Commercial Description:
Brewed in homage to the beer of Cologne, Krankshaft is a pale straw hued smile in a glass. We throw in a little wheat malt to round out an easy Santiam hop bitterness. There are no Köbes to serve them up, but you should feel free to have as many as you like.
28 IBU
Added by emerge077 on 07-07-2009
HISTOGRAM
Ratings: 365 | Reviews: 100
3.5
/5
rDev
-7.9%
look: 3.5 | smell: 3.5 | taste: 3.5 | feel: 3.5 | overall: 3.5
Acquired from pochman, courtesy of BA Secret Santa 2009 so a big "Thank You" goes out to him. Poured from a 12oz bottle into a US tumbler pint glass.
A: The beer is a light yellow color, with a short white head that fades slowly and leaves a thick on the glass.
S: The aroma is of light malts, some hops and a touch of citrus.
T: The taste starts out bready with a light but grainy malt character. Then some sweetness comes in along with a mild lemon flavor. The hops presence is mild but complementary and provides some balance. The after taste is slightly bready and slightly sweet.
M: Crisp and a little smooth, light-to-medium body, medium-to-high carbonation, finish is clean.
D: Tasty, goes down easily, not too filling, mild kick, decent representation of style, it's a beer that you can pound down but there are better ones in the style that I would pick first.
874 characters
3.93
/5
rDev
+3.4%
look: 4 | smell: 3.5 | taste: 4 | feel: 3.5 | overall: 4.5
I had this one on tap at Kasey's Tavern on 1/23/2010.
A= Poured a slightly hazy but very pale yellow, with a 3/4" white head. The head settled to a thin skim and left just minor lacing behind.
S= Smelled like bakery malt sweetness, faint sulfur, esters, and nothing else. Probably a bit more estery than it should be but still very nice.
T= Pretty sweet but in a good way, with a nice bready quality and a kiss of sulfur. Maybe a bit of those fruity esters coming through as faint citrus. Finish was pretty clean.
MF= Lighter bodied with a fairly modest carbonation level.
D= Extremely drinkable and tasty too. Would make an ideal session beer. Easily my favorite Metropolitan beer to date.
698 characters
4.2
/5
rDev
+10.5%
look: 4 | smell: 4 | taste: 4 | feel: 4 | overall: 5
12oz bottle poured into a pilsner glass.
This beer pours a clear pale straw yellow. It had a finger of white head that fades to a collar and leaves some nice lacing.
The nose is very clean. Bready pale malt, slight fruity esters, some hop spice. Very spot on for the style.
The taste follows the nose. Lot's of fresh bread crust upfront with a hint of grassy noble hops, lemon zest, and crackers in the finish.
Mouthfeel is is medium to low bodied with a good level of prickly carbonation.
A great example of an American made kölsch. I usually like this style in the summer, but it's still hitting the spot on this cold night. I'll have no problem finishing the other four bottles.
688 characters
4.37
/5
rDev
+15%
look: 4 | smell: 4.5 | taste: 4.5 | feel: 3.5 | overall: 4.5
Fluffy 2 finger white head, clear pale off lemon color, very unique. Great lacing.
Grassy, malty, fresh nose, very light smelling, pale malts in perfect harmony, fruitiness abounds. Peaches, apples, i love the nose for a kolsch.
Flavor has the freshness from the nose, the malt hits, then fruity apple, peach esthers, then a dry finish, very nice.
It's highly fizzed, maybe a bit too much carbonation. Heavier than expected. A great drinker and a sessionable beer. This is my second six pack and one to keep around year round if you live in Chicagoland, yeah!
562 characters
3.88
/5
rDev
+2.1%
look: 4 | smell: 3.5 | taste: 4 | feel: 4 | overall: 4
Had on tap at Paddy Long's
Bright yellow with a good white head, this beer has pleasant light malt flavors with good yeast presence leading to an almost fruity profile. Very clean and crisp on the finish, with a slighly thicker mouthfeel thank I was expecting.
Very drinkable, matching well on its own in summer or fall with lighter foods.
341 characters
4.32
/5
rDev
+13.7%
look: 4 | smell: 4.5 | taste: 4 | feel: 4 | overall: 5
12 oz brown longneck with a neat label and some brewer's notes.
poured into a glass, the beer is a very light straw color with a nice & tight white head. Nice lacing adds to the look.
I got a whiff of this beer as soon as I poured it. Fresh grains, sun ripened plums and bit of perfumy hops.
The taste is great. Its delicate in the best sense. Pears, fresh grains, a bit of straw and some apples in the aftertaste. Fresh made breakfast biscuits and more pear. This is great.
The mouth has very active carbonation which would help this beer stand-up to food.
So extremely drinkable. Another winner from Metropolitan.
623 characters
4.48
/5
rDev
+17.9%
look: 4.5 | smell: 4 | taste: 4.5 | feel: 4.5 | overall: 5
Delicate. That would be my one word review. This is quite a fresh Kölsch, and full of light, delicate flavors. Score is with style in mind.
Pours an ultra pale canary yellow into a stange glass. Bone white foam, a pillar of white bubbles leaves random lacing along the sides. A quick swirl snaps the head back into place.
Aroma is vaguely bready biscuit with a trace of flinty wet stone minerality.
Crisp and snappy, light breadiness and white grape essence. A bigger swig brings on a dry noble hop bitterness, with a soft bready blanket wrapping things up. Damn, if this isn't the freshest Kölsch i've ever had. Airy feel, like fragile crystalline cobwebs. Pairs with food well and drinks like a champ. Super clean and delicious.
Metro date stamps their six packs (3 months out), so there's really no reason to drink or review old bottles... get it fresh! Looks like there are plenty of reviews that have no concept of what a Kölsch is, kind of sad really.
967 characters
3.8
/5
rDev 0%
look: 4 | smell: 4 | taste: 3.5 | feel: 4 | overall: 4
Krankshaft poured a super pale slightly cloudy yellow, with a large white fluffy head. The smell was of yeast, and a lemony citrus hint. Taste was crisp citrusy flavor. Very refreshing even if a bit light. Mouthfeel was right for the style. Drinkability was good as well. This was a nice beer from a promising new brewery. I will keep my eye for this one again.
361 characters

3.8
/5
rDev 0%
look: 3 | smell: 3 | taste: 4 | feel: 4 | overall: 4.5
Pours a pale golden yellow color with a very slight haze and some lighter clear golden banana yellow notes when held to a light source. Two finger frothy white head that slowly fades into a lasting ring.
Slightly earthy aroma with hints of bready yeast, crisp light fruit notes, mostly apple and banana, as well as some grass, straw and earthy hops.
Surprisingly full bodied for the style and considering how pale it is. Crisp spiciness up front with a nice bit of floral hops followed by a yeasty bready body with hints of pilsner malt and light crisp fruit notes, mostly apple and banana. Also, there is a bit of earthy grass and straw presence that compliment the sweetness of the light fruit and malts as well as the slightly earthy hops. Very easy drinking and flavorful. Recommended.
792 characters
4
/5
rDev
+5.3%
look: 4 | smell: 4 | taste: 4 | feel: 4 | overall: 4
on tap at the Publican in Chicago. pours a straw color with two fingers of white head with moderate lacings and good retention.
aroma is lightly floral and mildly malty with pale malts and a touch of yeast and munich malts as well. fresh and flavorful in the nose.
taste follows the nose with a healthy note of lager yeast and a crisp finish of residual bread and a touch of floral yeast.
mouthfeel is light bodied, crisp, and mildly effervescent with a crisp finish and a wonderfully fresh profile. an excellent kölsch from Chicagoland.
drinkability is good. for a kölsch, this is a good, fresh example with a solid character and drinakble aura. cheers!
660 characters
4.27
/5
rDev
+12.4%
look: 3.5 | smell: 4 | taste: 4.5 | feel: 4 | overall: 4.5
Heard many a good thing about this beer on this very sight and had to seek it out for myself. 12oz bottle poured into a Maui Brewing Co. pint glass.
A: The color certainly is right, just about the palest pale yellow I can see, if you didn't smell it or ignore the fact that this beer at least leaves some semblance of a head after the beer is poured, it might be possible to mistake this for a MGD or a Bud. Thankfully though this is not the case.
S: If you were led astray by the color the aroma is what reels you back in, fresh baked biscuit and bread crusts, a light floral Noble hop presence. Does not give a sense for what really lays in store in the taste department.
T/MF: Decidedly fruity upfront but quickly moves into the doughy/bready aspects that were hinted at in the first few whiffs of this beer. Body is a bit thinner than the Dynamo, which I suppose it to be expected, but it's as crisp as a cracker if you are judging by how chewy the mouthfeel is and is something that I am really digging right about now. Finish is incredibly toasty, not like a burnt or roasted kind of flavor, but more along the lines of fresh rye or sourdough bread with a bit of apricot preserves on the side.
D: I'd say this beer lives up to the ratings here. Goes down incredibly smooth while still offering up a lot of complexity to ruminate on, if ruminating is your thing. This beer is not just one things, that is, one main aroma, one main flavor, etc. each sip you can pick up something you may have missed before. A superb effort from another great local brewery.
1,565 characters
4.2
/5
rDev
+10.5%
look: 4 | smell: 4 | taste: 4 | feel: 5 | overall: 4.5
Picked up a single from Famous Liquors in Lombard, IL.
A: Pours a super pale straw yellow color with a finger of white head that settles down to just a little froth, but laces the glass on the way down.
S: Smells like straw, wheat, kinda fruity, lemon, grassy, floral and earthy
T: Similar to the smell; straw, wheat, slight fruity notes such as lemon citrus, grassy, earthy, floral
M: Mouthfeel is outstanding on this beer, super full bodied, lots of carbonation and bite
D: The beer has really good but subtle flavor and is light and smooth as it goes down the hatch. A great session beer! Strongly recommended for anyone that likes the style and something I'd try even if not a fan of this type of beer.
711 characters
4.72
/5
rDev
+24.2%
look: 4 | smell: 4.5 | taste: 5 | feel: 4 | overall: 5
Saw a sixer at whole foods and had to give it a try.
A - very light yellow, with a white fluffy head that quickly fades.
S- Slight lemon almost orange
T- Amazingly simple yet quite complex. The slightest bit of hops balanced with lemon flavor. What is so good is the initial aftertaste is an amazing cereal like quality. Very good.
M- Very light with good carbonation.
D- Coming out in the fall when all I want is big hops and looking forward to stouts and barleywines and yet this is so refreshing. I could drink so many of these. This is a huge contender to my summer favorite Gumballhead. Really well done, Metro. I'm a fan again.
639 characters
4.34
/5
rDev
+14.2%
look: 5 | smell: 3.5 | taste: 4.5 | feel: 4 | overall: 5
12oz bottle poured into a shaker pint.
A - Clear, bright pale straw with ample carbonation and one finger of dense, sticky head. Plenty of gorgeous lacing all the way down the glass.
S - Subdued aroma of saltines or water crackers, very little hop aroma -- maybe a bit grassy.
T - Spot on. Very nice cereal flavor without being sweet. Assertive hop bitterness with a hint of lemon zest and a little leafy. Finishes quite dry.
M - Light and soft body with a subtle zip of fine-bubbled carbonation.
D - I wouldn't call this beer complex. But if you're going to make a simple beer, you can't make any mistakes, and Krankshaft doesn't have any major flaws. Enjoyable from start to finish, and probably through several more bottles. I can't recommend this beer highly enough.
775 characters
4.4
/5
rDev
+15.8%
look: 4.5 | smell: 4.5 | taste: 4 | feel: 4.5 | overall: 5
Saw a single bottle at local Binny's and jumped on it.
Pour is tradition - hazy golden color, very light, fine lacing of perfect white. Head dissipated a little too quickly. Overall, the look is of traditional Cologne Kolsch.
Nose is sweet malt, refined, noble hops. Pretty significant aroma hops - not overpowering - again - refined.
Soft entry on the palate, spreads out on the tongue. Gentle sweet maltiness with hint of lemongrass, yeast and just a touch of noble hop flavor.
Smooth and easy drinking, yet flavorful and satisfying. This is well done.
558 characters
Krankshaft Kölsch from Metropolitan Brewing
Beer rating:
3.8
out of
5
with
365
ratings