Afterburner
| Metropolitan Brewing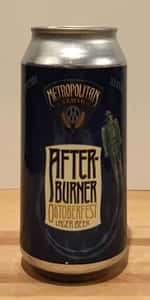 BEER INFO
Brewed by:
Metropolitan Brewing
Illinois
,
United States
|
website
Style:
Märzen / Oktoberfest
Alcohol by volume (ABV):
5.50%
Availability:
Fall
Notes / Commercial Description:
Smooth, toasty, and festive. Oktoberfest is one of the best beers in the world, for one of the best parties in the world.
Added by TMoney2591 on 10-15-2012
Reviews: 15 | Ratings: 82
3.5
/5
rDev
-9.6%
look: 3.5 | smell: 3.5 | taste: 3.5 | feel: 3.5 | overall: 3.5
Pours a transparent brass color with a moderate head of fluffy, off-white suds. Mild aroma is very bready, with hints of Bavarian hops and caramel.
The flavor is similarly mild, featuring bread, caramel, and a vague juiciness that tastes better than it sounds. Very mild bitterness is just potent enough to lend balance. Despite the delicacy of the flavors, they meld exceedingly well, such that the overall effect is greater than the sum of the parts. Rumors of toasted breadcrust emerge deep into the finish. Light body and mild carbonation make for a light, drinkable mouthfeel.
Overall, this is a well-executed, no-frills Oktoberfest that represents the style well.
★
676 characters

3.6
/5
rDev
-7%
look: 3.5 | smell: 3.5 | taste: 3.5 | feel: 4.5 | overall: 3.5
Served in a shaker pint glass at SmallBar - Division.
Figured I'd snatch up whatever remaining O-Fests were left around, especially one that was locally-made by a generally excellent lager brewery. This stuff pours a clear pale amber topped by two fingers of cream-white foam. The nose comprises grass, flowers, and light biscuit. It may sound mild, and, though it's not in-your-face, it's all pretty solidly-built. The taste doesn't bring any surprises to the table, though more biscuit comes through, creating a stronger balance between it and the grassy hops. The body is a light medium, with a light moderate carbonation and a lightly creamy feel. Overall, a solid, if relatively unexciting O-Fest. It does, however, seem to imitate the German originals better than any American-made O-Fest I've tried to this point.
★
823 characters

3.6
/5
rDev
-7%
look: 4 | smell: 3.25 | taste: 3.75 | feel: 3.75 | overall: 3.5
Poured from 12oz bottle into tulip glass with a solid inch and half head that took it's time to settle down. Color is a fairly clear golden/orangish .
Aroma - a bit weak - caramel, bready,
Taste - honey, rye, malty sweetness
Mouthfeel - pretty strong carb, light to medium body, crisp finish
Overall - a good Marzen, easy drinking. Enjoying this on the first day of fall while watching some football!
★
406 characters
3.65
/5
rDev
-5.7%
look: 4.25 | smell: 3.5 | taste: 3.5 | feel: 4 | overall: 3.75
Available in bottles this year -- hooray!
Metro has always been a favorite when it comes to German-style beers, I've always wanted to try this and their Doppelbock -- hope it doesn't disappoint.
A -- Clear, deep orange-amber bordering on copper, with a dense, long-lasting, off-white/very light tan head.
S -- Mild DMS and spicy hops, lightly bready and nutty notes.
T -- Nutty and roasted characters up front with some light breadiness at the end and spicy hops in the aftertaste. Very clean finish.
M -- Mouthfeel is soft and smooth with a light-medium body.
O -- Overall, I'm just a little disappointed that this beer is taking on more of an American Oktoberfest character than a German Oktoberfest character -- especially considering the Metro Helles is very German-like. It's definitely a well-made, highly quaffable beer, but I was hoping for Munich more than Margate Park.
★
885 characters

3.69
/5
rDev
-4.7%
look: 4 | smell: 3.75 | taste: 3.5 | feel: 4 | overall: 3.75
12oz bottle, poured into a wide tulip. The aroma is earthy with malty notes of molasses, maple, and caramel, as well as a bit of bread dough. This turns toward apple pie / apple juice by the middle of the drink. It pours a brilliant dark honey / light caramel hue with a light effervescence and topped by a white, sudsy and foamy head that has moderate retention and a light runny lace. The taste is a medium, malty sweet with a medium light bitter spice. It's smooth and oily with a soft foamy carbonation and a medium light body that hits the palate with flavors of caramel, molasses, some spice, honey, and a bit of a vegetal / earthy hint. The finish is smooth with caramel, apple juice, and a bitter clove spice. The aftertaste is somewhat cloying with a syrupy character and a woody spice as well as apples.
★
813 characters
3.74
/5
rDev
-3.4%
Appearance: Pours with half a finger of sticky head. The color is a darker amber brown. Active carbonation is above average for the style.
Smell: Biscuit and sweet toffee jumps out on the nose. Plenty of oak opens up on the body with lingering sweet bready malts and caramelized sugars on the body. Slightly vegetal aromas are picked up on the back end.
Taste: Cereal and biscuit immediately warm on the palate. A touch of rye compliments some nutty malt flavors very well. Toffee and caramelized sugars pick up mid palate and really carry into the finish and linger after drinking.
Mouthfeel: Carbonation is kept in check, making this a very drinkable brew.
Overall: This will never be a style I'm crazy about, but this one is very well put together. Definitely on the sweeter side which I look for out of a good Marzen. Metropolitan continues to pump out great beers, looking forward to more from them.
★
923 characters
3.78
/5
rDev
-2.3%
look: 4.25 | smell: 3.75 | taste: 3.75 | feel: 3.75 | overall: 3.75
Pours a clear, copper color. 1/3 inch head of an off-white color. Good retention and great lacing. Smells of pale malt, slight sweet malt, yeast, hint of earthy malt, slight hops, and a hint of caramel malt. Fits the style of a Marzen / Oktoberfest. Mouth feel is sharp and clean, with an average carbonation level. Tastes of pale malt, slight sweet malt, hint of hops, slight caramel malt, and a hint of yeast. Overall, good appearance and feel with a decent aroma and body.
★
482 characters

3.87
/5
rDev 0%
look: 4 | smell: 3.75 | taste: 4 | feel: 3.75 | overall: 3.75
Another nice traditional oktoberfest from a brewery that has a focus on lagers.
The appearance is a nice amber color with a bit of haze to it.
The aroma is sweet toasted malt, caramel malt, earthy and spicy hop notes.
The tastes are sweet toasted maltiness, caramel malt, earthiness and some spiciness as well. The tastes meld nice and smooth.
The palate is medium-light with a nice mix of malty sweetness and earthy hops lingering pleasantly.
Overall this is a nice drinkable oktoberfest that is smooth and still has pretty big flavor.
★
539 characters

3.91
/5
rDev
+1%
look: 3.75 | smell: 4 | taste: 4 | feel: 3.75 | overall: 3.75
poured 12oz bottle into a pint glass. Hazy light amber with a 2 finger khaki head. Excellent retention with some good lacing on the boot. Toasted malts with a nice biscuit and caramel aroma. Noble hops help contain the sweet aromas. Very pleasant flavor for an Oktoberfest that is not overly sweet. Doughy and bready with crisp, earthy hops. Medium in body and carbonation with a drier finish make this a joy to drink. Burn on!
★
427 characters

3.99
/5
rDev
+3.1%
look: 4 | smell: 3.75 | taste: 4 | feel: 4.5 | overall: 4
12oz bottle
A 4 - copper colored beer with a creamy ivory head that holds excellent retention
S 3.75 - spicy noble hops, yeast, toasty grain, caramel, toffee
T 4 - caramel, toasted grain, toffee, yeast, nice moderately bitter spicy finish
M 4.5 - smooth, fuller body, pleasant carbonation, clean finish
O 4 - one of the best American brewed märzens I've had. Bold flavors, yet very well balanced and very easy to drink.
★
420 characters
4.03
/5
rDev
+4.1%
look: 4 | smell: 4 | taste: 4 | feel: 4.25 | overall: 4
Bright amber, strong clarity with a soft layer of creamy foam on the surface. A bit of spindly lace around the edges of the glass, rising trails of carbonation visible.
Softly nutty, bready, and slightly floral aroma.
Smooth feel, mellow and supple, toasted malts, nutty and bready as in the aroma. Apple and walnuts, a slight bitterness in the aftertaste. A light to medium bodied feel, soft carbonation, very agreeable. Easy to have a few at a time, and pair with food. Glad they finally bottled this.
★
507 characters
4.08
/5
rDev
+5.4%
look: 4 | smell: 4 | taste: 4.25 | feel: 3.75 | overall: 4
I generally do not like Marzens as they are often sweet, coppery-tasting or both. This one is relatively light, dry and has no copper taste. Having said that the flavor is very good and complex. Really good to drink. I enjoyed this beer quite a bit and look forward to having it again.
★
289 characters

4.12
/5
rDev
+6.5%
look: 4 | smell: 3.75 | taste: 4.25 | feel: 4.25 | overall: 4.25
Nice copper color, with foamy light tan head.
Smells malty and bready.
Lots of malt flavor, with the right amount of hop bitterness. Clean, but bold. Drinks nice.
★
165 characters
4.3
/5
rDev
+11.1%
look: 3.75 | smell: 4.25 | taste: 4.5 | feel: 4 | overall: 4.25
12 oz bottle into a pint glass
A - Rich, creamy 2 finger khaki colored head that is somewhat slow to dissipate. Some noticeable sediment with a moderate carbonation. Brownish copper in color. 3.75/5
S - Malt, malt, and more malt with a hint of earthy hops. Caramel sweetness with a bit of white toast. 4.25/5
T - Malt forward. Caramel. Grainy. Floral hops. Toast. Honey. Every so slight spicy/peppery note. Just a touch of bitterness on the finish. 4.5/5
M - Medium body in the beginning and middle with a very dry finish. Leaves the mouth feeling very dry. Lingering bitterness. 4/5
O - Excellent flavors out of this Oktoberfest. Taste follows the nose nicely and more complex than most Oktoberfests that I have tried. 4.25/5
★
745 characters

4.9
/5
rDev
+26.6%
look: 4.75 | smell: 4.75 | taste: 5 | feel: 4.75 | overall: 5
The first two stores I tried to buy this from had sold out, was happy to find it at the third. Poured in to a stein.
A: Finger and a half of bubbly, dense head, amber/copper appearance with a decent lace throughout
S: Toasted caramel nose
T: Big doughy, malty taste, a little more than medium bodied, with warming spice in the aftertaste
O: Great beer, from start to finish, a prime example of the style.
★
408 characters
Afterburner from Metropolitan Brewing
3.87
out of
5
based on
82
ratings.