Anosteke

La Brasserie du Pays Flamand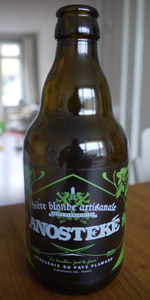 Write a Review
Beer Geek Stats:
| Print Shelf Talker
Style:

ABV:

8%

Score:

Avg:

3.68

| pDev:

14.4%

Reviews:

14

Ratings:

From:

Avail:

Year-round

Wants

Gots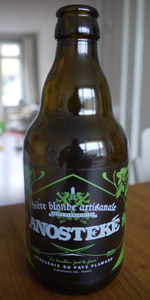 Notes: Anosteké Blonde beer is a beer decidedly hoppy Flanders giving it a bitterness and a length incomparable mouth. The Anosteké Blonde has been awarded the gold medal at the Concours Général Agricole 2011. Anosteké = "tot anoste keer" expression of meaning in us "to the next"
BeerAndGasMasks from Virginia
3.62
/5
rDev
-1.6%
look: 4 | smell: 3.25 | taste: 3.75 | feel: 3.5 | overall: 3.75
From the large bottle, it pours a hazy amber with a nice head, eventually reducing to thin layer and leaves lacing. Yeasty and fruity in the nose ...and the mouth gets a spicy, yeasty beer with a slightly bitter finish. Not bad!
Jul 18, 2017
tykechandler from Kentucky
1
/5
rDev
-72.8%
look: 1 | smell: 1 | taste: 1 | feel: 1 | overall: 1
This bottle was obviously infected, gushing upon opening. A murky, almost green color permeated y glass. Upon first sip, I was met with a distinctly unappealing sour flavor. I know this flavor, as I've tasted it in bad batches of local beer. Sad to see a batch this bad make its way across the Atlantic.
Oct 08, 2015

Ciocanelu from Romania
3.6
/5
rDev
-2.2%
look: 3.5 | smell: 3.5 | taste: 3.75 | feel: 3.5 | overall: 3.5
Almost clear golden color with small head. Aroma is yeast forward, lets you know it's a belgian style. Fruity aroma with some light spice character and bitter finish. Decent beer but nothing special.
Aug 04, 2015
Chico1985 from Massachusetts
3.66
/5
rDev
-0.5%
look: 4 | smell: 3.5 | taste: 3.75 | feel: 3.75 | overall: 3.5
Ooo, big instantaneous gusher out of the 330ml, fun stuff. Lost a few ounces or so. Once poured into a glass it settled fine though. Hazy light orange with some floaties and a white head.
The style seems up in the air (Belgian IPA on here/Biere de Garde on the label), but to me it smells and tastes somewhat similar to a tripel - Belgian yeast, toasted bread, candi sugar, herbal+earthy tones, vanilla, light bubblegum. Taste brings out some more fruity hoppage and tame citrusy tartness. Kind of a big-feeling creamy mouthfeel with surprisingly low-end carbonation, not much alcohol presence here.
Whatever it is, judging it as a Belgian/French-style blonde ale of sorts, it's good but not something I'd particularly seek out again. Less hoppier than expected but pretty solid flavors and mouthfeel.
Sep 20, 2014
metter98 from New York
3.98
/5
rDev
+8.2%
look: 4 | smell: 4 | taste: 4 | feel: 3.75 | overall: 4
A: The beer is hazy yellow in color and has a light amount of visible carbonation. It poured with a a quarter finger high bright white head that has good retention properties and consistently left a short head covering the surface.
S: Moderately strong aromas of floral hops are present in the nose.
T: The taste is packed with lots of flavors of floral and herbal hops and has some faint hints of peppery spices and bitterness towards the finish.
M: It feels medium-bodied and faintly crisp on the palate with a moderate amount of carbonation.
O: This is an interesting Belgian IPA. It didn't have as much Belgian yeast flavors compared to other beers in the style, but has interesting aromas and flavors from the hops without much of any associated bitterness.
Aug 02, 2014

TheBullsHorn from Florida
3.65
/5
rDev
-0.8%
look: 3.5 | smell: 4 | taste: 3.5 | feel: 3.75 | overall: 3.5
This beer is as advertised, a hopped up Bier De Garde that stands out in both respects. The apparent yeast and maltier undertones typical of Bier De Gardes dominates the nose and front of the palate, while bright grassy and citrus notes linger in the background. The initial sweetness of this beer, that is found in hints of honey and wild flowers, is stripped away with a sharp and refreshing bitterness as well as the lively carbonation. Overall this is an easy beer to enjoy although a little more harmony would go a long way.
Mar 16, 2014

VelvetExtract from Massachusetts
3.47
/5
rDev
-5.7%
look: 4.25 | smell: 3.5 | taste: 3.25 | feel: 3.75 | overall: 3.5
A-Pours a cloudy, yellowish color. Large, spongy head that fizzles away a bit, leaving circular lacing remnants.
S-Spicy Belgian yeasty notes. Some tropical fruitiness. A medicinal element to the nose as well. Maybe even some lime aromas.
T-Medicinal and tropical fruitiness. Noticeable, crackery sweetness. Almost tastes like there is some Brett in it. Spices and bubblegum. Somewhat juicy.
M-Well carbonated. Alcohol is hidden well. Not overly dry but there is some lingering bitterness.
O/D-It says Biere de Garde on the label so I don't know exactly what it is. It's a hoppier Belgian-esque brew. I wasn't very sold on it.
Mar 14, 2014

mwilbur from Minnesota
3.93
/5
rDev
+6.8%
look: 4.5 | smell: 4 | taste: 3.75 | feel: 4 | overall: 4
Poured from 750 mL bottle into tulip.
A: Pours a clear yellow with high carbonation producing a 2-3 inch frothy white head. Excellent retention.
S: Earthy minerals, spicy citrus hops, toast (malt), lime, white pepper, and a hint of melon. Quite nice, especially for style.
T: Soft and moderately tart lime citrus, white pepper, earthy/funky minerals, melon, and a solid lightly toasted malt backbone.
M: Soft, creamy, and smooth up front. Turns dry and mildly bitter just before and in the finish. Nice lingering and maturing on the palate.
D: Excellent drinkability/sessionability. Particularly nice for style.
Mar 14, 2014
RWD1 from New York
3.85
/5
rDev
+4.6%
look: 3.75 | smell: 3.75 | taste: 4 | feel: 3.75 | overall: 3.75
Appearance: Pours a cloudy, very pale gold into my tulip. A fluffy white head establishes itself on top and lingers, leaving scattered lacing.
Smell: The first things I get in the nose are white pepper and herbal atmospherics (for lack of a better word). Citrusy hops develop as the beer warms.
Taste: Wow – it's way more hop forward than even the nose would suggest, and I guess the surprise level depends on whether you view this as a Belgian-style IPA or a hopped-up bière de garde. However you chose to view it, it's a tasty beer. The hops are certainly the defining feature of the beer, but it's quite balanced, with bready but not overly sweet malts balancing the hops and pepper notes from the yeast providing an extra pop.
Mouthfeel: Medium bodied.
Drinkability: If you were expecting a traditional bière de garde this will be a bit of a surprise, and perhaps not a pleasant one; however, drinkability is otherwise quite high.
Mar 12, 2014
FLima from Brazil
3.68
/5
rDev 0%
look: 4 | smell: 3.5 | taste: 3.75 | feel: 3.5 | overall: 3.75
Nice hazy orange golden color with a thick three fingers head with good retention and leaving good laces.
Citrus aroma of oranges and pineapple with herbal and bubblegum notes, some candy sugar and bready malt.
Pineapple citric and bubblegum flavor with herbal, white grapes and sugary notes. Hints of Belgian yeast and green apples. A bit astringent aftertaste with a mild bitterness.
Medium body with good carbonation. Alcohol of 8% abv is harmonic.
Faithful to style, a pretty decent Belgian IPA and made by French! The result in my opinion was superior to the average Belgian IPAs, being more balanced.
Oct 19, 2013

BirdsandHops from Oregon
4.05
/5
rDev
+10.1%
look: 4 | smell: 4 | taste: 4 | feel: 4.5 | overall: 4
A: pours a slightly hazy yellow with three fingers of white head that fades into a thin cap with a little lacing.
S: lots of Belgian spices, candy sugar, bubblegum, and light fruits. Sweet yeast notes toward the finish.
T: again spices up front with light fruits and candy sugar. The finish is yeasty with a slight piny bitterness from the hops.
M: medium-light body with high carbonation, this beer is light, crisp, and refreshing.
O: a good beer, overall. Not particularly hoppy, but it's still tasty and refreshing.
Mar 04, 2012
crusian from Oregon
2.74
/5
rDev
-25.5%
look: 4 | smell: 2.5 | taste: 2.5 | feel: 4 | overall: 2.5
Bottle from Simon and pixieskid. It came highly recommended.
Poured a nice light golden with a nice 2 fingers of head.
nose immediately jumps out. bubblegum. they didn't mention that... taste is much the same, bubblegum. seems like there is something wrong with this. They highly recommended this beer, and they have great taste, but this doesn't taste great. this is a fresh 750ml bottle.
Long Long Long story short, went back to talk to simon about this beer, and he called the brewery. Turns out that for their latest bombers they changed the yeast to a belgian yeast strain without mentioning it to anyone. I did get to try the regular (though it was a few months old) and it was much much better than the new bombers. So... this one can be a crap shoot. I dont know if they are going to keep with the bubblegum belgian yeast or the regular style, but lets hope they go back. I cant, in good conscience, review the bad or the good, so I will score it as a mix of the two. The regular is a decent beer, nothing to write home about, but good for a French IPA. The finish is clean and the 8% is not noticeable. The one with the belgian yeast tastes like bubblegum and is terrible.
May 21, 2011

Boozecamel from British Columbia (Canada)
3.88
/5
rDev
+5.4%
look: 4 | smell: 3.5 | taste: 4 | feel: 4 | overall: 4
Poured from a 33cl bottle into a snifter.
Appearance: Poured 1 finger of white head that didn't last long. Went to a thin head. Alcohol lacing.
Smell: Alcohol smell, mod hoppy aroma, slightly citrusy.
Taste: hides the alcohol well with slight alcohol taste. Hoppy, toffee notes with a mildly sweet middle.
Mouthfeel: slightly oily, low carbonation. Dry towards the end.
Overall: I liked this a lot. Easy drinking, with a real Belgian feel to it. Impressive French beer.
May 19, 2011
Jeffo from Netherlands
3.37
/5
rDev
-8.4%
look: 4 | smell: 2 | taste: 4 | feel: 3.5 | overall: 3.5
Got this bottle from pixieskid in a recent trade. Thanks man!
From a bottle into a snifter.
APPEARANCE: Pours a three finger, medium looking, fluffy, pure white head with good retention. Color is a hazy amber orange with higher levels of active carbonation. Good foam cap remains the whole way and leaves some decent lacing on the glass.
SMELL: Pale and toasted malts and a good degree of floral hops in the nose. Lots of floral hops actually. An odd nutty aroma also plays a roll here. Doesn't really fit. Almost like burnt rubber or something. Not that appealing.
TASTE: No burnt oddness in the taste, luckily. Pale and toasted malts again, green fruit show up, and a good dose of floral hop again. Sweet green apples and a good dose of floral, hoppy bitterness at the finish. Aftertaste is mild ye lingering with some toasted malty sweetness and bitterness as balance. Not bad at all, and much more appealing than the nose.
PALATE: Medium body and medium carbonation. Light on the palate, quite creamy and smooth, goes down smooth and finishes slightly dry on the palate. Good here.
OVERALL: If it wasn't for that off, rubbery splash in the nose, this would be a pretty solid beer. A light, creamy palate makes this a perfectly drinkable Belgian IPA for the summer, and the interesting flavor profile makes this an enjoyable drink all around. Glad to have tried this one. Thanks again pixieskid.
Apr 15, 2011
Anosteke from La Brasserie du Pays Flamand
Beer rating:
84
out of
100
with
43
ratings