Revolution Pizza & Ale House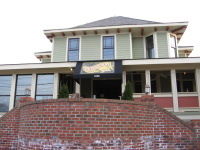 PLACE INFO
Type:
Bar, Eatery, Beer-to-go
3228 N Davidson St
Charlotte
,
North Carolina
, 28205-1034
United States
(704) 333-4440 |
map
revolutionpizza.com
Notes:
No notes at this time.
Added by Barscream on 01-19-2009
Ratings: 24 | Reviews: 15


4.05
/5
rDev
-2.6%
vibe: 4.5 | quality: 4 | service: 4 | selection: 4 | food: 4
Nice looking place in a fun and funky part of Charlotte. Has a charming feel of a sprawling old house, lots of light and with a very comfortable and casual feel. The bar is to the right as you enter. Beer wise, they feature a way better then satisfactory array of the good stuff you expect nowadays at a quality beer bar/restaurant. A bunch of the locals, regionals and a few national heavy hitters.
Tasty food, a variety of pizzas, artisinal cheeses, salads, sandwedges, everything very fresh, made on premises, local ingrediants....you know the deal.
Nice place for a relaxed date, fine to take the family or for a tasty bite and a beer anytime.
Well worth a visit.
Just down the block from the worthy Salud bottle shop, as well as the rest of the NODA spots
764 characters
4.1
/5
rDev
-1.4%
vibe: 4.5 | quality: 4 | service: 4 | selection: 4 | food: 4.5
This location is located on the corner as you come into the NoDa area. It is quite easy to spot as you can tell by the BA photo for here that it is an old house essentially. Upon walking up there will be a stairway that leads up to a porch that is built of brick. Upon walking into the establishment you can see that the theme of the old fashioned house has been carried on throughout. The bar is to your right when you walk in for those wondering. I went here with caSSino and the head brewer of NoDa Brewing, so we opted to get a table to sit at. There was plenty of seating with a mixture of bar, table, and booth seats to go around. Upon looking over the menu I noticed that there were quite a few North Carolina highlighted brews on the beer menu which is always nice to see when you go somewhere new. There was also a decent selection of brews from outside of NC as well. I was with the head brewer of NoDa, so I opted to choose his Coco Loco myself. The food menu was pretty nice as well. I settled on the steak with mashed potatoes. Excellent choice despite them being known for their pizzas. A really nice location that I know I will be visiting again in the near future.
1,180 characters
4.45
/5
rDev
+7%
vibe: 4.5 | quality: 4.5 | service: 4.5 | selection: 4.5 | food: 4
Been here many times, finally taking a second to review. Trendy No-Da area. Really the only place I regularly go to in the area but there are plenty of other restaurants.
An old house or private business turned into a restaurant. Earth tones, somewhat artsy interior. Bar area is smallish square footage wise, but the patio is covered and quite large.
Bartenders are always chatty and know the beer. I go on Sundays when it is nice and relaxing, I guess it can get quite busy on the other weekend nights.
Beer selection is always top notch and loaded with North Carolina brews. Also get renoun regional and national brews, but the locals are what make this place more unique. Bottles are a little more large regional and national micro, but you'll come here for the drafts. Good range of styles and prices for those concerned about price.
A top 5 place in the city for sure.
878 characters
4.13
/5
rDev
-0.7%
vibe: 4 | quality: 4 | service: 4 | selection: 4.5 | food: 4
I've enjoyed many meals here. Great for bringing the kids due to the fish tank and pizza. Gelato is great too. One of the city's best draft selections. Fits right into this "funky" part of Charlotte.
Great place for pizza and beer. The beer list continues to improve especially compared to when they first opened. Strong emphasis on NC beers. Great food and most the servers are fairly beer literate.
Over my many visits this is a consistent performer and be sure to check out the board for new beers not on the menu.
520 characters
3.95
/5
rDev
-5%
vibe: 3.5 | quality: 4 | service: 4 | selection: 4 | food: 4
This place is a standard stop for the craft beer drinker. Located in one of the coolest parts of Charlotte, NoDa (North Davidson). Has a very solid tap line that almost always has great standards from Founders, Bells, and Dogfish. They also are usually featuring lots of local state brews. About 40 taps to choose from. They also have a standard 4-5 beers that are put on nitro. Last time I was there, Old Rasputin was on nitro, very cool. Also, they tend to get dibs on some very rare taps, they are almost always one of the first that put on gems like Canadian Breakfast Stout and Hopslam. The service is good and the bar staff is usually knowledgable but more importantly excited to talk beer with beer enthusiast. The food is similar to bar fare but with a greek spin, making it much more quality and a different take than the norm. They also have an awesome gelato and desert selection. Overall a solid place and very dependable place to go for a good brew and some relaxing environment.... except for Friday nights, it's pretty slammed.
1,042 characters

3.83
/5
rDev
-7.9%
vibe: 4 | quality: 3.5 | service: 4 | selection: 4.5 | food: 2.5
This is a large place in the NoDa district. Lots of seating inside and out. Tons of taps visible behind the bar when you walk in.
I was impressed with how many local brews were on tap. Very good for an out of town visitor. They even had a cask. We had good service, with a friendly waitress. We also talked to the bartender for a while and he seemed enthusiastic.
The food was sub-par. My pizza, BBQ jalepeno, was bland. Nobody else particularly liked their food either. It wasn't awful, just boring and the crust wasn't very good.
533 characters

4.5
/5
rDev
+8.2%
vibe: 4.5 | quality: 4.5 | service: 4.5 | selection: 4.5 | food: 4.5
I stopped in based on the BA rating while visiting Charlotte with my family.
It's located in an artsy, eclectic area just northwest of the city. The atmosphere is interesting and inviting with quite a bit of variety in seating. Upon entering, there are tables, a small bar with lots of taps behind it and a tempting gelato cooler. As you enter, there are other rooms with table seating beyond your initial view including a sun room. There's also a great patio area. I found it very comfortable and relaxing.
The tap selection is outstanding (40+?) with a solid focus on NC beers with good representation from breweries such as Duck Rabbit, Pisgah, Big Boss, Foothills and Catawaba. They also had other southeast beers (such as Sweetwater & Terrapin) as well as a handful from other parts of the country (such as Lagunitas). But I really appreciated the locals. I went with a Sexual Chocolate and a Pisgah Black Mountain Stout (Nitro). Both were excellent and well priced.
The food was outstanding as well. We had a couple of pizzas and they were among the best I've had down south. My kids loved the desserts too. Our server was great. She was relatively young but knew her beer.
We really, really enjoyed our visit to Revolution. It made me wish I was a local.
1,265 characters

4.72
/5
rDev
+13.5%
vibe: 5 | quality: 5 | service: 4.5 | selection: 4.5
Usually when I go up to Charlotte my friends and I will meet up at Flying Saucer to sit around and talk and enjoy a couple beers. We decided to try this place last night to do something different.
Wow! What a great atmosphere. We ended up sitting outside at the picnic table and played a few games of bocce ball. The service was good and while the waitress wasn't a beer geek you could tell that she was starting down that path. A couple people brought there dogs with them and sat outside. I will definitely look into taking my pup up there in the future.
The selection was great. At least 50 different craft beers, probably 30 of them on tap. The selection was online so I was able to check it out before hand which is always a plus. When I got there I found out they still had some Sexual Chocolate. The beer was very reasonably priced. I will definitely be going back in the future and next time I plan on trying the food.
928 characters

4.18
/5
rDev
+0.5%
vibe: 4 | quality: 4 | service: 4 | selection: 4.5 | food: 4.5
Atmosphere- Located in the quaint artsy area of North Davidson, this was previously a Mellow Mushroom and makes good use of a prime corner location (complete with a porch overlooking the street). The building itself looks like it used to a former home and that vibe comes across. Very laid back and comfy, with a good sized bar and plenty of dining seating available. Lots of Belgian themed breweriana dots the walls.
Quality- Tasty pizzas, a heavy NC beer-centric selection, and a pleasant (if not a bit overly noisy on busy nights) family friendly atmosphere. Quality establishment that you can take the family out to.
Service- Decent. They do a good job of explaining the beer and pizza menus. Our pizza took a while to come out on our last visit (a busy Friday night) but that's nothing against the server.
Selection- Over 40 taps total, with 13 of them dedicated just to North Carolina beers. Selections from the likes of Highland, Foothills, Red Oak, Duck Rabbit, French Broad, Big Boss, and hometown OMB. The rest of the taps are filled with better national craft and import selections. A smaller amount of bottled offerings are available as well. Good draft menu here, with the selections being divided up via styles, availability, and geographic location (they have a section of just the NC beers).
Food- They really sell their stone fired pizzas here (although they do offer a smaller selection of appetizers, sandwiches, and salads), encouraging you to customize your pie with an excellent variety of fresh meats, vegetables, and cheeses. These are very nicely cooked and super tasty. I also have to mention their daily made selections of fresh Italian gelatos that make for the perfect desert. Yum!
We were quite worried during our first visit here last January that this place might not make it (and our server on that visit was quite candid with us that they weren't getting the business they needed). Luckily, we are happy to report that after our latest visit (7 months later) that the concept of customized fired pizzas and great craft beers seems to have really caught on, as they appeared to be doing a great business. We're looking forward to many more visits here over the years when we're in town.
2,229 characters
4.2
/5
rDev
+1%
vibe: 4 | quality: 4 | service: 4.5 | selection: 4.5 | food: 3.5
Revolution sits on an intimate, quiet street outside of downtown Charlotte, in an old home that has the first floor converted into a beer bar. a solid list of taps, a wide variety of styles, and laid back conditions all make this a great place to hang out and enjoy a few pints.
atmosphere is a mix between a bed & breakfast, a deli-style restaurant, and a beer bar. the front door of the home serves as the main entrance, with the bar to the right, and seating around, as well as out on the front porch. the taps are all in one line, with around thirty to fourty in all (with very fresh lines throughout).
quality and service were excellent. bar keeps are quick to offer samples, and knowledgeable about their beer as well as upcoming tappings.
selection was impressive. a wide variety and deep list will satisfy any palate, with a decent bottle selection offered as well.
food was offered, but this BA only got the 'late night' offerings, which was only pizza by the slice. the pizza was well done and fresh, and went excellent with the two IPAs that it accompanied.
overall, this is a solid stop for tap beer in Charlotte. the quiet surroundings and quaint atmosphere make it very conducive to relaxing, and drinking great beer. cheers!
1,244 characters
4.05
/5
rDev
-2.6%
vibe: 4 | quality: 4 | service: 3.5 | selection: 4.5 | food: 4.5
Great atmosphere. I'd say they had about 30 on tap. They had a good selection of varieties, as well as a lot of local beers. While their IPA selection was not over the top inpressive. They had about a five good ones to choose from.
Revolution has a large patio with views overlooking NoDa, right across the street from Neighaborhood Theater.
The food was excellent. The pizza was great and so were the creative specials. The ambiance was quiet and relaxed. Just a good setting to spend an afternoon with some good food and good beers.
537 characters
4.38
/5
rDev
+5.3%
vibe: 4.5 | quality: 4.5 | service: 4 | selection: 4.5 | food: 4.5
What a great bar and a great crowd, very glad I went and can't wait to go back.
Atmosphere: Lively, friendly, and upbeat. Friendly people and staff. Seats inside and out on a covered patio.
Quality: Almost all of their beers are craft or quality imports. Great local beer selection.
Service: Good, but not fantastic. Very quick when they were busy. Not the friendliest when you ask questions, but again they were very busy.
Selection: Fantastic. Probably only one place in Charlotte with a better selection.
Food: Great pizza, haven't tried anything else.
560 characters
4.3
/5
rDev
+3.4%
vibe: 4.5 | quality: 4.5 | service: 4 | selection: 4 | food: 5
This used to be a Mellow Mushroom, so they have plenty of taps. They have a very nice selection of beer including 3 from Foothills, multiple Bells, Rogue, Highland, Duck Rabbit, and Victory among others. Out of all their taps, they only had a couple of macros.
I enjoyed a Foothills Sexual Chocolate and a Red Oak Battlefield Bock.
My only suggestion for improvement would be to use proper glassware, but that's a minor complaint when they have such a great selection of beers.
The pizza is exceptional. Some of the toppings come from local farms like Grateful Growers. They also serve home made Gelado that is very good.
Highly Recommended!
646 characters
Revolution Pizza & Ale House in Charlotte, NC
4.16
out of
5
based on
24
ratings.