McPoyle's Milk Stout
| Rust Belt Brewing Company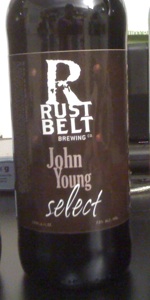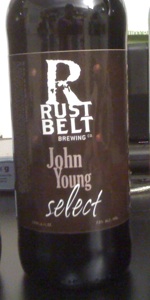 BEER INFO
Brewed by:
Rust Belt Brewing Company
Ohio
,
United States
rustybrew.com
Style:
Milk / Sweet Stout
Alcohol by volume (ABV):
7.50%
Availability:
Winter
Notes / Commercial Description:
No notes at this time.
Added by donteatpoop on 01-14-2011
HISTOGRAM
Ratings: 14 | Reviews: 9
4.2
/5
rDev
+10.8%
look: 4 | smell: 4 | taste: 4.5 | feel: 4 | overall: 4
Pours pitch black on tap at Bocktown forms a minimal shortly lived tan head with fine speckled lacing. Aroma has dark chocolate, some creamy lactose notes, and hints of dark coffee with a touch of smoke in the background. Dark chocolate, sweet syrup flavor again cream stout acidity notes as well bigger than your standard version, hints of smoke and dark coffee from the roasted malts. Mouthfeel coats the palate full bodied bigger beer from Youngstown, OH. Glad to see this on tap in the Burgh, Rust Belt must be doing okay if they're coming out with the big beer lineup now. Drinkability was solid definitely a nice dessert or after dinner beer I enjoyed a couple four ounce pours at lunch today.
699 characters
3.85
/5
rDev
+1.6%
look: 4 | smell: 4 | taste: 4 | feel: 3.5 | overall: 3.5
On-tap at bocktown
A- Body is a dark brown hue. Served with a 1 finger or so creamy creme brulee colored head. This fades to a >1/2 finger but has decent retention. No lacing left behind in the glass.
S- The nose is very good and interesting. It actually has a lot of smoked peat to it-it accents the nose. Behind this is a classic milk stout. Milk chocolate and a hint of roasted malt.
T- Taste is very similar to the smell. Upfront is that smokeyness with a chocolate malt backbone. The milk component comes through more for the finish as well as a hint of roasted malt and the smoke fades completely for the finish.
M- Medium carbonation and fairly heavy body. Smooth but slightly dry.
D- This is a very good, interesting milk stout overall. I really like the added smoke quality to the typical milkm stout profile-it adds a hint of rauchbier to it. Its just a hair dry-but overall job very well done by rust belt.
925 characters

3.63
/5
rDev
-4.2%
look: 3.5 | smell: 3.5 | taste: 3.75 | feel: 3.25 | overall: 3.75
3.57
/5
rDev
-5.8%
look: 3 | smell: 3.5 | taste: 4 | feel: 2.5 | overall: 3.5
Blind beer #3 from sitarist.
This is a bomber...
Smells "stouty" upon popping the cap so I pulled out my Darkness snifter...
Deep red coming from the bottle, but very very dark in the in the glass- almost black. It is in fact a deep brown with red hints in the legs and along the edges. Very small head, even for a vigorous pour. The head that did arrive left quickly to become a collar around the ring of the glass. No lacing.
Smells chocolatey. Some roastiness comes through too. Smells like a generic stout. Nothin really standing out, but not bad at all.
Tastes very sweet. Some roasty notes and sweet chocolate....
Body is medium with very low carbonation that leads to an oily feel.
This isn't bad. I have problem finishing the bomber...
Reveals--- Rust Belt Brewing- McPovley's Milk Stout.
Hmmm. Well knowing this is a milkstout, I'd say this is pretty decent. It isn't the best I've had, but it is tasty and meets the style guidelines.
A-3, S-3.5, T-4, M-2.5, D-4
981 characters


3.1
/5
rDev
-18.2%
look: 3.5 | smell: 3.5 | taste: 3 | feel: 2.5 | overall: 3
Poured into a Sammy Smith nonic. A massive sandstone head formed on top of the brownish-black body. The light penetrates this, causing ruby edges. Lots of lace was left behind as the bubbles vanished.
The nose is dominated by sweet malts. Coffee, bakers chocolate and molasses play a background role.
Very little of the nose is transferred into the taste. Pretty much a thin, wet coffee flavor with some sweet lactose in the background...very weak.
Light bodied, watery with moderate carbonation.
Man...I really wanted to like this...but ney. Lacking greatly in flavor and complexity. Hopefully something from these guys hits...
632 characters

3.75
/5
rDev
-1.1%
look: 3.5 | smell: 3.5 | taste: 4 | feel: 4 | overall: 3.5
Pours a dark midnight brown, impervious to light. A pleasant tan colored head quickly forms atop the brew only to fade away moments later leaving only a ring of glass-clinging foam.
The scent is sweet and dry; dark chocolate and roasted malts.
The first flavor to come through is the sweet chocolate malts, followed by toasted grain and a mild dry hop.
This pairs really well with deserts. The first time I tried it there was a chocolate cake that went wonderfully with the brew. Drank it straight this time though.
Nice creamy, silk-smooth mouthfell with a mild lingering dryness in the aftermath.
A solid milk stout, for sure; though not the best I've tried. Still though, it's a well done seasonal brew that's worth trying.
731 characters

3.65
/5
rDev
-3.7%
look: 3.5 | smell: 3.5 | taste: 3.5 | feel: 4 | overall: 4
drank on 3.3.01. this is beer #7 from sitarist from Blind Beer BIF #4.
an aggressive pour yields very little tan head in my chalice glass. the head that did decide to show up is bubbly but not frothy - nice to look at but like my high school girl friend, decided not to stick around very long. at least it leaves nice collar around the edge of the glass.
so now it is the time to put it up to the schnoz, I get lots of malts - not necessarily roasted malts - but darker malts. slight smokiness in there somewhere. some butterscotch in there blended with some earthiness. eh, its ok from a smell perspective.
taste- wow, very unique. very malty but also very hoppy and sweet and weird. not sure what to say. there is a bit of roasted malts in the aftertaste. some mild chocolate hanging in there somewhere. body is medium but light and airy at the same time. not undercarbonated but not over-fizzy.
900 characters

4
/5
rDev
+5.5%
look: 4 | smell: 4 | taste: 4 | feel: 4 | overall: 4
2.84
/5
rDev
-25.1%
look: 4 | smell: 2.5 | taste: 2.5 | feel: 4 | overall: 3
Got this one at a bomber sale at the local brew shop. Pours out a nice thick head, very dark beer. You can smell the sweetness in this brew. Chocolate/coffee notes buried a little by the overwhelming sweetness. This is just my opinion because I do prefer a dryer beer. It just seemed a little too rich for me.
309 characters
4.08
/5
rDev
+7.7%
look: 4 | smell: 4 | taste: 4.25 | feel: 3.75 | overall: 4
very dark stout with a chocolate head. Head was thin but it could have been the bartender.
Smells sweet, hints of chocolate, burnt malt.
Tastes much the way it smells, chocolately, roasted, sweet, milk was not very noticeable.
Mouthfeel was smooth, creamy, very easy drinking. Hides it's ABV well. So far my favorite beer from Rust Belt.
337 characters
4.38
/5
rDev
+15.6%
look: 4.25 | smell: 4.25 | taste: 4.5 | feel: 4.5 | overall: 4.25
I enjoyed this beer. Nice foamy head, good color for a milk stout. I enjoyed this beer. I don't like a beer to sweet or chocolateee. It was great. Smooth going down with a mocha coffe after taste that didn't linger. Sometimes I can't do more than one milk stout. But this one was perfect for a second round. Good stuff.
320 characters
McPoyle's Milk Stout from Rust Belt Brewing Company
Beer rating:
3.79
out of
5
with
14
ratings