Central Market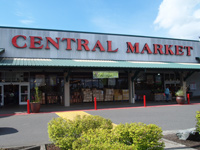 PLACE INFO
Type:
Store
15505 Wesminster Wy N.
Shoreline
,
Washington
, 98133
United States
(206) 363-9226 |
map
central-market.com
Notes:
No notes at this time.
Added by yobtaf2 on 01-20-2009
Ratings: 8 | Reviews: 7
Reviews by flagmantho:

4
/5
rDev
+0.3%
vibe: 4 | quality: 4 | service: 4 | selection: 4
I stopped in at the Shoreline Central Market today. I had been there a few times before, albeit not recently.
Beer selection is great for a grocery store, though it's not quite bottle-shop quality. They sport a large selection of craft and microbrew six packs, which is always good. Single bottle offerings weren't quite as impressive, although they had some bottles of Flanders Fred, which is pretty awesome.
There were beer personnel on-hand, although the guy in question was engrossed in conversation with a few other patrons and I didn't get a chance to talk to him. That said, it sounded like he knows what he's talking about.
In general, the Shoreline Central Market won't be a destination stop for finding any white whales or anything, but they have a solid selection and will get you some great stuff, especially if you're looking for Pacific Northwest beers.
870 characters
More User Reviews:

4.19
/5
rDev
+5%
vibe: 3.25 | quality: 4.25 | service: 4.25 | selection: 4.5
Along with U Village QFC and Roosevelt Whole Foods, I think Central Market Shoreline is probably among a handful of grocery stores with the best beer selection in town. I think their pricing generally seems reasonable and their staff is pretty helpful. A best-kept secret that I sometimes forget about. Definitely worth stopping in if you are nearby.
350 characters

3.93
/5
rDev
-1.5%
vibe: 4.25 | quality: 3.25 | service: 4.5 | selection: 4
This place is well worth a visit simply because with the abundance of beers in the Northwest, no one store has everything. I found 20 interesting beers and some breweries that were new to me. If you're travelling, it's easy to get to and would cover more beer than you want in one stop.
Lots of six backs, and a better selection than the specialty beer stores that may have some 12 oz singles but nowhere near as many sixers.
Prices seemed average for the area. The beer is next to the well-staffed wine department, and a guy came over after a while to see if I was finding everything. He offered to find a box, seeing that I had over a dozen 22 oz bottles and got the right size with a lid that could be flapped down for safer stowage.
The store is huge with some pricey stuff but truly an abundance of everything, from a very tasty mrabled rye pastrami sandwich to whole wheat tortillas baked on the spot. The tortilla guy gave me a whole warm one just to try.
965 characters
3.86
/5
rDev
-3.3%
vibe: 4 | quality: 4 | service: 3 | selection: 4.5
This is my go to beer store for the most part, simply because it is the closest good beer store to where I live. The prices are solid, and pretty much match up to the beer stores in the Seattle area. Selection is good, and they pretty much get all the limited beers that everyone else gets. Think whole foods as far as selection goes. Whole foods might be a tad better, but not by much. The beer/wine person is usually no where to be found when I'm there, but the few times I've him there, he was helpful.
505 characters
3.7
/5
rDev
-7.3%
The Central Market is one of those places that I will stop by while on the road. I wouldn't make it a drive to destination.
The selection reminds me of Larry's (for those who remember them around here). A solid selection of micros - both US and abroad.
Prices are a bit more than other places but it's a nice alternative if I'm not near one of the specialty beer stores.
If you're picky about the handling of your beers, keep in mind you're in a grocery store. I forgot this and found the bag boy/man putting all my beers on their sides to fit more into one bag.
566 characters
3.9
/5
rDev
-2.3%
vibe: 3 | quality: 4.5 | service: 3 | selection: 4.5
Just now saw this place has been added to the data base. I think it deserves to be here as invariably there is a very good to excellent selection of beer here. It's located in the North part of town, very near my friend's house, so needless to say we come here fairly often during my not nearly frequent enough visits to Seattle.
At least in my mind, it's places like this that really set the NW apart from other parts of the country, at least from a beer standpoint. Along with places like New Seasons and Market of Choice in Oregon, Central Market is another grocery store featuring high end everything, albeit with the prices to go along with that level of quality. That being said, the beer selection here is nothing short of astounding for a grocery store (or even for most liquor/beer stores). The beer selection is in the back of the store to the left, immediately adjacent to the wine section (which I guess makes sense). This place has an excellent selection of local craft beer, which can include hard to find stuff like the Abyss and Alaskan baltic porter last time I was there. There is also a very solid selection of imports, with a better then average (for the area) Belgian selection. Most of the beer here is kept in a couple of large cold boxes, which I think is a plus. They also generally have a large display of recently arrived beers out of the cold boxes, which last time I was there was made up primarily of local NW Winter beers.
Like New Seasons and Market of Choice, service here is pretty much non-existent. I believe they have a wine sommelier (this place features an outstanding selection of over-priced wine), and if you can find him, he can generally answer any questions you might have about beer as well. Prices here tend to be a bit higher than the city norm for most items, but not by all that much, and not enough to make me want to go elsewhere. Hence my rating of "reasonable" for the prices.
If you're in the downtown area I wouldn't recommend that you drive all the way up to the Central Market, at least not for just beer. However, if you happen to be in the northern end of town (perhaps after a visit to the Uber or Duck Island), then this would be a great stopping off point while you're in the area.
I would recommend this place.
2,279 characters
4.65
/5
rDev
+16.5%
i was visiting my cousin in north seattle. we decided we needed to get some beer for later that evening. he suggested we go to central market in shoreline as it is a nice friendly atmosphere to shop in. boy was he right. this store is such a great place to shop. all of the employees were very friendly and smiling all the time and actually looked like they enjoyed their job. as we approached the beer section i was amazed at how many different types of beer they have there. all kinds of beer from all over the world and all so easy to browse. not only that there was also people working in that section who helped pick out some beers that we had never heard of and explained what they were like. it was amazing how much knowledge they had about beer and it really helped us with our decisions. we left very satisfied and even a little more knowledgeable about beer. An AWESOME PLACE!
886 characters
Central Market in Shoreline, WA
3.99
out of
5
based on
8
ratings.