The Trip XIX (Taylor Shellfish Farms Oyster Stout)
| New Belgium Brewing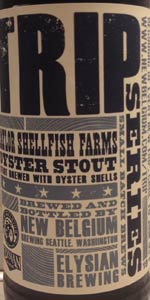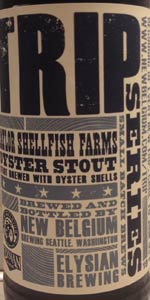 BEER INFO
Brewed by:
New Belgium Brewing
Colorado
,
United States
newbelgium.com
Style:
English Stout
Alcohol by volume (ABV):
7.70%
Availability:
Limited (brewed once)
Notes / Commercial Description:
None provided.
This beer is retired; no longer brewed.
Reviews: 6 | Ratings: 33
3.75
/5
rDev
-4.6%
look: 3.5 | smell: 3.5 | taste: 4 | feel: 3.5 | overall: 3.75
March 19th, 2015 - The Oyster Stout has a wonderful place in beer history and trivia, but the historical legacy has been lost to a kind of tokenism about strange and curious beer flavors. Still, someone in the know can find the value in resurrecting a style that was an important link in the beer family tree. This collaboration has a curiously spicy aroma, with a soapiness and black licorice. It's odd, but good, too. The flavor is even better, like a malty, light porter, with a roughness in hops and a slight brininess.
523 characters

3.98
/5
rDev
+1.3%
look: 4 | smell: 4 | taste: 4 | feel: 3.75 | overall: 4
Attractive near black brew with a surprising off-white foam in the tall Petrus goblet. Aroma is raisins and chocolate.
This makes me think of a Baltic Stout, and with the strong alcohol that's the category I would have put it in. Winey and rich, rather sweet and far from the typical English Stout. Whatever this is, it's a deep and darkly roasted malt extravaganza. Hops are minimal.
A tasty big dark brew, but one to sip. From the 22 oz bottle purchased at Barons Marketplace in San Diego for nine bucks.
509 characters
4
/5
rDev
+1.8%
A really good stout. Silky smooth and chocolaty, a notable spiciness is present as you keep drinking. There is only a faint earthiness present from the oysters, where I had been hoping for more from this ingredient. In comparison, an oyster stout like porterhouse's is much grainier/earthier/saltier and elevated by the addition of the oysters. An enjoyable stout, though, irregardless.
390 characters

3.91
/5
rDev
-0.5%
look: 4.5 | smell: 4 | taste: 3.75 | feel: 3.75 | overall: 4
Put a glass of this up to the sun and watch it BLACK IT OUT!!! Straight up motor oil baby and impressive in how deep it takes things. Very subtly nice with the smell that doesn't overpower with any distinct profile. As a typical stout goes, it ranks above average as it really does showcase what I look for in this type of ale. A little dry by some standards, but the main knock across the board is it's advertisement of being a oyster brewed ale and I didn't get a flavor or aroma of such a thing. . . I'm not asking for straight "shuck & suck" juice of the ocean, but a little touch of anything would have been nice. Still, I'm a fan of stouts and this one is fitting the bill regardless of its semi-false advertisement. . .
726 characters
3.75
/5
rDev
-4.6%
look: 3.75 | smell: 3.75 | taste: 3.75 | feel: 3.75 | overall: 3.75
RB
22 shared tonight with Derick and reinheitsgematt... Pours black with a dark brown head that sticks around for a while...
Aromas show as pretty standard Dry stout... dark malt.. fruity elements are pretty low.
I guess I am getting the "oyster stout" qualities, but don't buy into the "briney" notes... there is just a positive minerally backbone that jives well with the dark malts.
Lower body with a nice drinkability.. Well done for an "Oyster Stout" .
All 3.75's.
475 characters

4
/5
rDev
+1.8%
look: 4 | smell: 4 | taste: 4 | feel: 4 | overall: 4
Poured into an Elysian snifter. Pours a dark mahogany brown, appearing opaque in the glass, with a half finger light brown head with good retention and lots of lacing. Aroma of dark toasted malt, Mexican chocolate (chocolate and cinnamon), a hint of brininess. Flavor is toasted malt with light char, biscuit malt, hints of chocolate, mild, barely detectable sea brine. Finish is mellow toasty malt and hop bitterness. Pleasant moderately creamy body with a nice mouth feel. A well made quite toasty stout with a good touch of char and a good balance possibly from the oyster shells acting to reduce acidity. There is a slight sea salt taste, but I probably would not have detected it if I wasn't looking for it. Enjoyable example of an uncommon, but generally fun to drink stout style. Style leans more toward the English or Irish dry stout profile.
850 characters
The Trip XIX (Taylor Shellfish Farms Oyster Stout) from New Belgium Brewing
Beer rating:
3.93
out of
5
with
33
ratings