Old Aggie
| New Belgium Brewing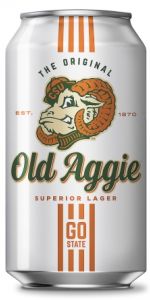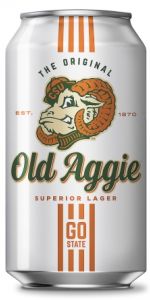 BEER INFO
Brewed by:
New Belgium Brewing
Colorado
,
United States
newbelgium.com
Style:
American Lager
Alcohol by volume (ABV):
4.70%
Availability:
Rotating
Notes / Commercial Description:
What better beer for a fall football game than a sessionable, crisp lager? For this special collaboration with Colorado State University, we brewed an incredibly easy-drinking lager that clocks in at 4.7% ABV.
Brewed with the finest malts and brightest hops, this beer floats subtly sweet honeycomb notes across the tongue, while a citrusy snap of Cascade and Chinook hops punctuates each delightful sip.
Added by superspak on 05-11-2017
HISTOGRAM
Ratings: 8 | Reviews: 5

3.52
/5
rDev
+8.6%
look: 3.75 | smell: 3.5 | taste: 3.5 | feel: 3.5 | overall: 3.5
I get what they were going for, and I think they hit it, but this beer just isn't interesting. It's a light lager, 4.7%, but there's not a lot of flavor here. Can't say I got much of a malt or hop taste out of it. I'm sure it's great on a sunny afternoon at the stadium, but I wouldn't go out of my way to buy it.
316 characters
3.25
/5
rDev
+0.3%
look: 3.25 | smell: 3.25 | taste: 3.25 | feel: 3.25 | overall: 3.25

3.6
/5
rDev
+11.1%
look: 3.5 | smell: 3.5 | taste: 3.75 | feel: 3.5 | overall: 3.5
3.04
/5
rDev
-6.2%
look: 3.25 | smell: 3 | taste: 3 | feel: 3.25 | overall: 3
Pale yellow body; foamy white head. Some fruitiness to the nose; some apple. Barely perceptible malt flavor; green apple notes; nice hop bitterness. Medium light body; fizzy coarseness on the palate; a bit warm; mostly dry finish.
A passable lager although hardly memorable.
275 characters

3.5
/5
rDev
+8%
look: 3.75 | smell: 3.75 | taste: 3.25 | feel: 3.75 | overall: 3.5
From a 12 oz can (best by February 11, 2018) to a nonic glass.
A-The beer is very light and yellow-golden in color. Old Aggie is perfectly clear with just a few lazy streams of carbonation bubbling up the glass. Head is a thin finger of white foam. Retention is OK and the foam dissipates to a film after a minute or so. Not terribly interesting but appropriate for the style.
S-The aroma gives up some pale malt notes like cracker and biscuit, as well as some sweeter notes of cooked veggies. There are hints of yeast and light hoppy notes of straw and dried grass. Again, not earth shattering, but not awful for the style.
T-The taste is simple and less impressive than the smell. The beer has somewhat muddled pale malt notes with just a light hop kick of straw. A touch of lime comes through as the beer warms up. No real off flavors, but nothing that will keep me coming back.
M-The body is medium to light in heft with a semi-crisp carbonation. Appropriate for the style.
O-I was hoping for a little more from this beer, to be honest. It is not "bad," and it is better than the the BMC competitors, but there are better cheap craft lagers out there, e.g., Upslope.
1,175 characters

3.18
/5
rDev
-1.9%
look: 3 | smell: 3 | taste: 3.25 | feel: 3.25 | overall: 3.25
On-draught at a sports bar.
C+ / ABOVE AVERAGE
47 characters
3.54
/5
rDev
+9.3%
look: 3.75 | smell: 3.5 | taste: 3.5 | feel: 3.75 | overall: 3.5
a strange new tangent for these guys, brewing a college slammer for colorado state university and branding it with their logo. i was surprised to see this was new belgium, such an established craft brand and not some local poser doing this, seems gimmicky, but the beer is a more than passable american lager, and i prefer it to dayblazer for something on the lighter side for these guys. i really could see pounding these all afternoon and watching college sports, im sure they will have no problem selling it all over fort collins, which is probably the point, but the beer is not irrelevant. golden and fluffy and crisp, with more body than a lot of these, and a nice yeast complexion in the finish, more flavorful than macro types but with all the drinkability. there is even the faintest hop note in the finish too, and i have no issue at all with a lighter lager like this coming into the mix this time of year. this will sell like hotcakes, and its really quite a lot better than i expected it to be. a bit of a surprise ploy in a way, with the college branding and all, but the beer stands up to my negativity pretty well!
1,130 characters
2.28
/5
rDev
-29.6%
look: 3 | smell: 2.5 | taste: 2 | feel: 3 | overall: 2
12 oz can. Pours clear light straw with a fluffy white head that retains well and leaves a little lacing.
The aroma is subdued - sweet bready malts with noble hops.
The flavor is sweet bready malts with slight vegetal notes and a light crisp finish. The mouthfeel is medium bodied with smooth carbonation.
Overall, I wish is was less sweet and malty with more of a crisp dry hop finish.
391 characters
Old Aggie from New Belgium Brewing
Beer rating:
3.24
out of
5
with
8
ratings