Dismiss Notice
Lips Of Faith - Clutch Collabeeration
| New Belgium Brewing
BA SCORE
83
good
226
Reviews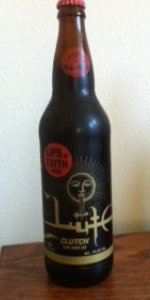 BEER INFO
Brewed by:
New Belgium Brewing
Colorado
,
United States
|
website
Style:
American Wild Ale
Alcohol by volume (ABV):
9.50%
Availability:
Limited (brewed once)
Notes / Commercial Description:
This pleasing, two-part, potion was brewed with chocolate and black malts for a rich and roasty overtone, then fused with a dry, substratum of sour for a bold and audacious flavor. Black as night, this beer is blended at 80% stout, 20% dark sour wood beer for a collaboration that begins with a sour edge and finishes with a big, dark malt character, lingering, sweet on your palate.
Added by chumba526 on 08-06-2011
This beer is retired; no longer brewed.
Reviews: 226 | Ratings: 524
2.49
/5
rDev
-32.3%
look: 3 | smell: 4 | taste: 2 | feel: 1.5 | overall: 2
Pours black with a 2-finger tan head. Reduces very quickly to nothing. Lacing is minimal too.
Such a teaser the nose- complex and swirling with sweet notes of cocoa powder, toffee, freshly ground coffee, raisin, prune, brown sugar, peach and apricot. It really keeps you unprepared for the trainwreck that is the palate. Hops are minimal, almost nonexistent. Even the sourness is hidden on the nose.
Now the palate. I guess with most of the last few LOF brews being such winners, it was only a matter of time before they unleashed a bottle of vomit. The brew is medium bodied (seems way to light to be called a stout, sour black ale maybe?) with a low carbonation, a mild and poorly integrated sourness, and a bigtime cloying sweetness upfront- the unfortunate result of the beer's sweet chocolate flavors clashing head on with the brown sugary fruitiness. The drier finish could have been a saving grace had it not been paired with a really gross sour character (think acid reflux) and a weird peach pit-like bitterness. Makes my stomach lurch just typing out my notes here.
Anyways. Like I said, the nose is nice, but it really ends there. This beer is just all sorts of confused- seems too light to be called a stout, the sourness doesn't fit at all plus it tastes like puke. I like LOF because they're weird yet solid and very approachable. I think this one became way too sweet in its approachability. Just give me another bottle of the Kick please.
★
1,457 characters

2.41
/5
rDev
-34.5%
look: 3.5 | smell: 2.5 | taste: 2 | feel: 3 | overall: 2.5
Appearance: Chocolate brown pour with a small head, minor lacing
Smell: Big malts and coffee with some sour elements that don't find in, despite the sweet dark fruits
Taste: This beer does not taste good. The sour element just doesn't fit in with the coffee, chocolate and smoak
Mouthfeel: A bit thin, good carbonation
Overall: I drain poured this one.
★
356 characters
2.34
/5
rDev
-36.4%
look: 4 | smell: 2.5 | taste: 2 | feel: 3 | overall: 2
Hooray for bringing beers to work-related training! Opened a 22 oz. bottle on December 20th, 2011, served in a mini pint taster (whatever the hell that is).
A - Very dark brown with an excessively fluffy, light tan head. Good lacing and retention.
S - Sugar cookies and roasted malts initially. Weird light, tart/acidic fruit undertone that nearly masks itself as espresso beans or something akin to that. A bit muted and bizarre.
T - Yup, bizarre fits here as well. Astringent malt grains, like caramel went bad at Willy Wonka's factory. Very light cookie dough and roasted almonds.
M - Medium body, a bit thicker than expected. Fine carbonation and okay smoothness. Very short finish.
D - As strange as I expected but not nearly as full-flavored. This was bad news all the way around.
★
796 characters
2.33
/5
rDev
-36.7%
look: 3.5 | smell: 3 | taste: 2 | feel: 2 | overall: 2
22 oz bottle. $5.99 at Beltway (Total Wine).
Richard said it best before me; this tastes like the result of blending at the end of an awesome tasting. A good idea at the time, but execution produces disappointment.
Pour is chocolate black with a fleeting khaki head and dry, web lacing. Aroma is dry, roasty and coffee bitter, light chocolate and sweet dark fruit sourness. Thin, light body with soft carbonation, watery finish. Body is smoky and roasty, a pleasant coffee American stout. Finish produces some citrus and ripe fruit sweetness with little sourness. Mmmmk. Surprisingly little alcohol presence and rather pleasant as far as drinkability goes. However to be direct, this beer sucks in execution.
★
712 characters
2.2
/5
rDev
-40.2%
look: 3 | smell: 3 | taste: 1.5 | feel: 3 | overall: 2
RATING [Stouts] = 3 / 10
Bottle poured into tulip glass
[A]
Dark brown, black-ish
[S]
Roasty, Malty, Coffee
[T/M]
Roasty. Malty. Coffee.
Hint of fruity sourness
Medium carbonation.
[O]
I took a couple drinks before pouring what was left in my glass down the drain. It was too hot; flavors weren't gelling well together.
Recapped and let it sit in my fridge for a day.
Then was able to finish the rest. Flavors melded together better after it mellowed out, but lost some of the good carbonation.
If I were to get my hands on another bottle, definitely gonna let it sit in my cellar for some time before thinking about tasting it. I would overlook it if it were on draft list somewhere. Definitely my least favorite of the Lips of Faith series.
★
753 characters
1.81
/5
rDev
-50.8%
look: 3.5 | smell: 2.5 | taste: 1.5 | feel: 2 | overall: 1
Bottled: AUG? 2011
A: pours black with a finger of latte foam which falls to a quilt of the same leaving behind rings of lace.
S: Burnt malts, some lacto tones, a bit of pepper.
T: Tastes like a poorly made stout with souring. Some coffee and soil malts. Grape and sour cherry tartness. Like a toned down Abyssident.
M: Medium bodied with hi carb. Semi dry finish.
O: This beer should never have been made.
★
408 characters
Lips Of Faith - Clutch Collabeeration from New Belgium Brewing
83
out of
100
based on
226
ratings.