Rampant Imperial IPA
| New Belgium Brewing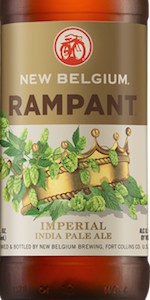 BEER INFO
Brewed by:
New Belgium Brewing
Colorado
,
United States
newbelgium.com
Style:
American Double / Imperial IPA
Alcohol by volume (ABV):
8.50%
Availability:
Year-round
Notes / Commercial Description:
A burly and bitter Imperial IPA, Rampant pours a pure copper and carries the sheen of a rightly hopped beer. The Mosaic and Calypso hops bring stonefruit to the front seat, and the addition of Centennials nod towards citrus for a well-rounded aroma. The taste expands these hops with heavy peach tones and a profoundly bitter bite. There is some malt sweetness to stand this beer up, and Rampant's finish is bone-dry.
Added by Huffaroma on 02-24-2013
Reviews: 481 | Ratings: 2,854

1.41
/5
rDev
-62.7%
look: 2 | smell: 1.5 | taste: 1.25 | feel: 1.25 | overall: 1.5
Had one from the folly pack I got not too long ago. Poured from a bottle into a Chimay glass.
A - Heavy copper color with about a 1 inch of froth.
S - Smells like an burn hops a bit. Not much to balance the smell of the abumdant alcohol.
T - A standard imperial IPA. Very unbalanced for all the hops in it.
M - Very harsh. Horrible aftertaste.
Overall, I didn't like the beer. I wouldn't get this beer even if it was given to me for free. Poor display from New Belgium.
★
474 characters

1.34
/5
rDev
-64.6%
look: 3 | smell: 1.5 | taste: 1 | feel: 2 | overall: 1
There is something definitely wrong with this beer. It has a very odd odor and an even worse taste. I would love to describe it for you, but I can't put a name to it. It is a sick, floral disgusting smell and even worse taste. I generally don't throw out beer, but am strongly considering it on the rest of this six pack. Not a fan of New Belgium in general, but this is the worst.
★
381 characters
1.25
/5
rDev
-66.9%
look: 1.75 | smell: 1 | taste: 1 | feel: 3 | overall: 1
Poured a bit light for an IIPA, good head and looked to be like the mouth feel I wanted.
Smelled like rotten grass...maybe a bad bottle i "thunk", but no the entire sixer!
Tasted like it smelled...hay, or rodent bedding..wet wood shavings with bread yeast...very little hop flavor...like they swept up the store room and hopped with the results, or used a hop schedule meant for a totally different type of beer altogether Terrible beer! I dumped 3/4 of every one i opened...could have gotten a rouge sixer, but don't plan giving it a second chance! I have NO idea how this can be over 80 on here....SERIOUSLY NASTY BEER! Just my opinion...
★
640 characters
1.22
/5
rDev
-67.7%
look: 3 | smell: 1 | taste: 1 | feel: 2 | overall: 1
12 oz bottle. Pours clear straw gold with a big fluffy white head that retains well and laces the glass.
The aroma is a lot of plasticky onion with some dank peppery hops and a little sweet malt.
The flavor is a little sweet bready malt followed by a ton of vegetal plasticky green onion that has decent bitterness. The mouthfeel is medium bodied and a bit watery.
Overall, I don't care for this at all. It's a bunch of watery onioney / garlicky hops (summit?). Like a very poor man's Gubna. From reading other reviews, I wondered if I got a bad one, since all I get is onion and no fruity piney hops. But the 6 pack tasted the same - I dumped one of them. It tasted similar on draft too, just more subdued and watery.
★
721 characters
1.21
/5
rDev
-68%
look: 2 | smell: 1 | taste: 1 | feel: 1.5 | overall: 1.5
Wow, I'm not one to drain pour a beer, especially not an IPA or DIPA. This beer smells of wet straw and dirt. This beer tastes like it smells. Awful.
Perhaps I should have poured it into a glass, but one smell after opening the bottle revealed this horrible smell. I proceed to take a couple of sips to see if the taste matched the smell. It did. I tried, I really did. Then it went down the drain.
Not sure what they were going for with this DIPA. Perhaps I missed something or my palette isn't experienced enough for this. But I've been a hard core hop head for years now and I don't remember drain pouring even the worst IPA or DIPA. This I couldn't take.
EDIT
Based on other reviews I wonder if I had a bad bottle or an old bottle. But the best by date is in July and it just hit here. Not sure what to think. But my review stands.
★
841 characters
1.17
/5
rDev
-69%
look: 1.25 | smell: 1 | taste: 1 | feel: 1 | overall: 1.75
At first I thought this would be a great every day drink, but as I tried to enjoy it I realized that taste I kept trying to figure out was a meaty after taste. While I love meat I prefer not to drink it.
★
203 characters
Rampant Imperial IPA from New Belgium Brewing
3.78
out of
5
based on
2,854
ratings.