Rampant Imperial IPA
| New Belgium Brewing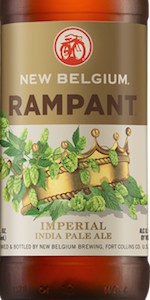 BEER INFO
Brewed by:
New Belgium Brewing
Colorado
,
United States
newbelgium.com
Style:
American Double / Imperial IPA
Alcohol by volume (ABV):
8.50%
Availability:
Year-round
Notes / Commercial Description:
A burly and bitter Imperial IPA, Rampant pours a pure copper and carries the sheen of a rightly hopped beer. The Mosaic and Calypso hops bring stonefruit to the front seat, and the addition of Centennials nod towards citrus for a well-rounded aroma. The taste expands these hops with heavy peach tones and a profoundly bitter bite. There is some malt sweetness to stand this beer up, and Rampant's finish is bone-dry.
Added by Huffaroma on 02-24-2013
Reviews: 484 | Ratings: 2,896
3.96
/5
rDev
+4.8%
look: 4 | smell: 4.25 | taste: 3.75 | feel: 4 | overall: 4
Best by 14JUL13
Golden, one to two fingers of light creamy foam, excellent clarity. Smells of grapefruit, peach, resin, pine, honey and a little bit of mint. Tastes sweet, hoppy, peaches still there, resin, some alcohol, a bit of grapefruit pith. The malt is sweet and manages the assertive hop character. medium bodied with tight and pleasant carb and an off-dry finish. Strong work New Belgium, I think this is a little too fresh (*gasp*) and that with a couple more weeks the booze will calm and the hops will meld just a touch more creating an outstanding beer - and at just over a dime an oz will be hard to beat!
619 characters

4.04
/5
rDev
+6.9%
look: 4 | smell: 3.75 | taste: 4.25 | feel: 4 | overall: 4
Served in a standard pint glass
A- Pours a nice crystal clear darkish gold color. Solid two fingers of white head that quickly dissipates and leaves a nice lacing.
S- Smell on this seemed a little bit more subtly than I was anticipating. Very piney, and resinous. Smells like a very dry beer, no sweetness detected.
T/M- Carbonation is perfect for the style. Body is on the lighter side..making it very very easy to drink. No malt presence and tastes very dry. Good piney hop flavor, with a surprising amount if bitterness. Leaves a sticky resinous aftertaste.
O- I enjoyed this beer thoroughly. Not necessarily my favorite take on the IIPA but a very good beer none the less. Would recommend to a friend.
709 characters

4.27
/5
rDev
+13%
look: 4.5 | smell: 4.25 | taste: 4.25 | feel: 4.25 | overall: 4.25
This one pours a light bodied light dark gold in color with a two finger, bright white soapy head. The nose is bright and fresh. Great fresh hop character, lightly piny with little malt sweetness to get in the way. The flavors are also bright and clean. It is resinous and soapy with great drinkability. It's floral with a touch of pine. It drinks light and incredibly clean (isn't too dry or sticky because of overbearing malt). I love how soapy and sudsy it is. This is a very well balanced DIPA and the 8.5% isn't present at all. It drinks closer to 6%. I really enjoyed this beer and see this one being very successful.
623 characters
4.1
/5
rDev
+8.5%
look: 4 | smell: 4.5 | taste: 4 | feel: 3.75 | overall: 4
Bought a refrigerated six-pack at Wilbur's in Fort Collins Feb. 27, 2013- two days before the official release date.
Pours a slightly hazy copper color. Nice white head with good retention and lacing. Aroma of hops and malt. Not especially heavy with citrus or pine notes as with other IPAs. Mouth feel is a little thin. Taste is bitter with some malt. Little or no citrus or pine hop flavor. Bitter aftertaste. This is an imperial IPA but, the alcohol is not particularly noticeable. This IPA tastes a lot like New Belgium Ranger IPA with a very similar hop profile and balance. If you like Ranger IPA, you will like the Rampant IPA too. In my view, it is a good IPA but, nothing really special..
699 characters
4.06
/5
rDev
+7.4%
look: 3.75 | smell: 4 | taste: 4.25 | feel: 3.75 | overall: 4
New Belgium Brewing Company has stepped up their game by offer a new, year-round Imperial IPA. Rampant pours a clear, burnished golden color, and it is capped by a solid and sticky white head. Citrus hops dominate the nose. The blast of citrus slowly fades to allow hints of pine resin and rich malt. The beer opens with a bit of a bitter hop bite that is quickly quelled by caramel and toffee malt sweetness. Peachy and lemony flavors pull this remarkably balanced IIPA though the finish. Moderately carbonated, Rampant is extremely well-balanced, complex, and medium in body
576 characters

3.69
/5
rDev
-2.4%
look: 4 | smell: 3.75 | taste: 3.5 | feel: 4 | overall: 3.75
Served in a Lagunitas mason jar.
Anyone else see anything overtly ovary-like when they look at hop cones? Anyway, this stuff pours a clear brass topped by over a finger of lightly off-cream-white foam. The nose comprises dank, spicy greens, lightly-funky grapefruit peel, earthy toffee, and a vague, ethereal sense of light leek on occasion in the background. The taste brings in more of the same, with a heavy emphasis on the earthy tones of the toffee and the green.s A bit of grass pokes through in patches every now and again as well. The body is a light medium, with a light moderate carbonation and a generally smooth feel. Overall, a pretty solid DIPA, one that's not entirely in your face with hoppy intensity, but more a brooding, seething mentality.
760 characters
4.01
/5
rDev
+6.1%
look: 4 | smell: 4.25 | taste: 4 | feel: 3.5 | overall: 4
Poured from 22oz bottle purchased at frugal mcdugals in nashville for $3.99. Pours a golden color with lots of lacing and a bit of lingering head. Crazy aromas of candy, citrus..lots of citrus...wow citrus (pineapple mostly). Taste is different...sweet hop and lots of something i just cant fingerprint...sweet malt maybe but way more complex than that. Lots of back of the mouth flavors here and its super heavy...(its a great brew, but way to intense to end a night)...
471 characters

3.7
/5
rDev
-2.1%
look: 3.5 | smell: 3.5 | taste: 3.75 | feel: 4 | overall: 3.75
Date: 07JUL13
A – Bright translucent straw yellow with 1" sticky white head. Lighter in color than anticipated, very very light gold.
S – Light chalky notes of lemon and peach. Some pine and earthiness here, maybe a little dirt.
T – Bitter, sweet notes of citrus, lemon, and fresh cut grass.
M – Crisp and smooth, quite light overall for an imperial IPA. Very drinkable.
O – Quite chalky and unique citrus and peach notes. Earthy and organic as well, fresh pine. Very straight-forward and approachable Imperial IPA. Nothing too complex here.
556 characters

4.96
/5
rDev
+31.2%
look: 4.75 | smell: 5 | taste: 5 | feel: 4.75 | overall: 5
Once again another winner from NB.
Just bought this tonight must have been just released.
Appearance, something I haven't seen for sometime as it was not a darker copper as other Ipa's but much more light in appearance more like a regular pale ale.
Smell, great placement of hops in my opinion, leads you down the rabbit hole of depth in the hop addition here. A slight hint of richness in the malt is what I seem to smell.
Taste, well placed IBUs I'm not sure as the level of IBUs but if I could guess it would range in the 80s-90s. Good upfront bite, but there is a slight peach undertone in the finish. Very well made Imperial IPA not so sweet but more balance.
Overall I'll go back for thirds on this one. Bravo NB!
737 characters
Rampant Imperial IPA from New Belgium Brewing
3.78
out of
5
based on
2,896
ratings.