Old Chicago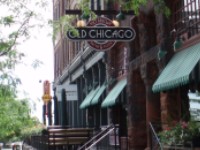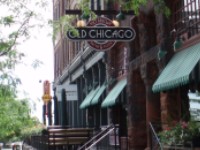 Bar, Eatery
1111 Harney St
Omaha
,
Nebraska
, 68102-1829
United States
(402) 341-1616 |
map
oldchicago.com
Notes: Per Omaha City Ordinance, as of October 1st 2006, this establishment is non-smoking throughout.
Honisbygonis from North Carolina
3.54
/5
rDev
-4.1%
vibe: 3 | quality: 3.75 | service: 3.5 | selection: 3.75 | food: 3
Many older reviews (afew years back) bash this place, but as a business traveler, where walking distance to swill down a few after a long day before heading back to hotel in a "safe" manner (without cab/taxi), this places suits one's needs.
Yes, the bar food / pizza is bad for you, so don't expect low cal, organic, or gluten free offerings.
Selections are robust enough, and this where I fell in love with Leninkugel's Snowdrift Vanilla Porter; for those interested, they have World beer night on Wednesday's (I believe) to check off certain offerings to ultimately collect a t-shirt / hat - I for one like the concept but do not need a reason to drink.
Is it a hang-out / ambiance type locale? No. But it's better "beer quality-wise" (unless they've stepped up their game in the past decade) than the Rock Bottom next door--Nuff Said. And don't get me started on the snootiness of Upstream Brewery a few blocks over, albeit not a bad watering hole.
Ch33rs factor = FINE to NEAR MINT (comic book grading-wise)
Mar 08, 2014
phenomenologian from Nebraska
4
/5
rDev
+8.4%
vibe: 4 | quality: 4 | service: 3.5 | selection: 4.5 | food: 4
Old Chicago is one of those chain restaurants that are a step up from what you might normally get from a bottom chain restaurant.
I walked in. its a nice dark atmosphere. Musics not too loud. Host immediately sat me. Waitress not too far afterward took my order.
Between orders, given that most of my orders were beer from the tap, she could have been mu ch faster; I don't know what kept her for that long of periods when I just ordered another beer. Overall the service was good. Its not like I waited long or anything; I just wondered why getting beer takes longer than 5 minutes.
I ordered, with respect to food, garlic bread and a personal pepperoni pizza. The bread was good and warm as was the marinara sauce for the bread. The pizza was great.
Now for the beer. I ordered a Guinness draught on tap, Smithwicks Irish ale, Harp lager, and Lucky Bucket Dmitiris Revenge that is only on tap and only at certain places in Omaha and Lincoln NE. The reason I went here this time is because I follow Lucky Bucket brewery on facebook and they had a post saying that their new tasty rich brew Dmitiris Revenge was on tap at the Old Chicago on 78th and Cass St. in central Omaha. so I went.
Overall its a great place. The service depends on the waiter/waitress but this one was pretty good minus the medium long waits just for another beer. The food was good as this place is known for its pizza. The atmosphere was good. I actually studied for a philosophical logic class here and was able to as there were little distractions even thought there were multiple families around me having dinner.
This place is great. Give it a try. THE SELECTION is what really blew me away!!! I love all the different beers they have. I was like "hnmmm what should I try next and I tried a few different stouts I had not had before as well as the Lucky Bucket dmitiris Revenge.
Find your nearest Old Chicago and have a few beers. You won't be displeased.
Nov 29, 2011
SurlyDuff from Oregon
3
/5
rDev
-18.7%
vibe: 2.5 | quality: 3 | service: 2.5 | selection: 3.5 | food: 3.5
So Old Chicago's are a small chain of 'upscale' pizza sports bars. They do feature an above average beer list, though macros take up a good part of that. Most of the other good beers are bottle-only.
We were seated in a sticky booth and the dark neon, mirrored, and televisiony sport-bar like dining room. Our highschool kid waiter showed up eventually, we ordered some drinks and food, etc.
Their beer selection wasn't exotic, but it had a lot of the more mainstream craft brews like New Belgium, Boulevard, Boulder Brewing, and some smaller local breweries. They have this thing called a Brew Tour, where you get an electronic card and whenever you buy a beer at any Old Chicago, you swipe it; idea being to buy 110 different beers so your name goes on a wall somewhere. Nice way to get their customers to shell out hundreds of dollars for PBR and MGD shit :p
The waiter f'd up our order and we basically got a free second pizza out of the ordeal (yay for next day's lunch). And the service was otherwise slow.
As a whole, I'd avoid Old Chicago unless you get bored with other options for good beer. The pizzas are greasy calorie-bombs, the beers only alright, and the atmosphere is drear and underwhelming.
Sep 01, 2011

CuriousMonk from District of Columbia
4.18
/5
rDev
+13.3%
vibe: 4 | quality: 4 | service: 4 | selection: 4.5 | food: 4.5
I enjoy going to this location whenever I head home to Omaha. This is my favorite Old Chicago in all Omaha. This is located downtown near different pubs/restaurants. Although this is not the same place in Tucson, Arizona where I spent the majority of my college days at this watering hole. This is your All-American bar/grill that is spacious, filled with sports memoriabla, great food (especially the wings, pizza, calzones, and burgers) full of courteous and knowledgable staff/bartenders. The Old Chicago franchise is known for its 110+ beers and its legendary "World Beer Tour" which took me about 9 months to complete. As a reward, my name and personal quote was engraved on a plaque on their "Hall of Foam" (in Tucson). An Old Chicago usually has over 20+ brews on tap and hundreds of bottles from all over the world - mostly mainstream and easily accessible however. Oftentimes, the Old Chicago establishment would serve up local beers from its state or region. Thumbs up for this place!
Feb 22, 2011
RECiPE from Nebraska
4.28
/5
rDev
+16%
vibe: 4 | quality: 4.5 | service: 4.5 | selection: 4 | food: 4
I'm sure that most BAs have visited an Old Chicago. This one is my favorite.
If you are going here for beer, sit in the bar area. The servers there seem to know a little more about beer. Jake, our server on our most recent visits is a beer fan, and knows their products well.
Food is consistent. We usually order pizza. I also like their fish and chips. They make a good burger too.
Old Chicago restaurants in Omaha seem to be migrating to a more "suburban" tap selection (industrial domestics and imports). This Old Chicago probably has the widest variety of tap beers in Omaha. Spilker Hopluia, a dry-hopped beer made by a tiny brewery in Cortland, NE is one of my favorites, and should be on tap there now.
Apr 13, 2008

woodychandler from Pennsylvania
3.68
/5
rDev
-0.3%
vibe: 4 | quality: 3.5 | service: 4 | selection: 3.5 | food: 3.5
This was the site of my last meeting with Bditty187. Granted, we went back to the Crescent Moon and met up with Hoffman that evening, but this was the last new spot that we hit.
I have to say, I was really enjoying this chain at this point. Sure, they were all the same, as Hoffman points out in his reviews, and yet, each one was different.
This one had a set of steps leading up to an outdoor patio, as well as to the front door(s)/extended vestibule. Heading in the right side would have put me in the restaurant area and the left side entrance led me to the bar. The bar was a shortened "L"-shape with a long front, but only a short leg. The back bar featured a cooler to the left and a bank of thirty-plus taps to the right. The layout featured a number of brick archways that connected the entire space. As it turned out, the bar area was in the middle, with the restaurant area on the right side, with mostly booth seating and the kitchen all of the way aft. The left side featured its own bar, a bunch of high tables and chairs, two pool tables, and the washrooms all of the way aft.
I actually ate while awaiting my friendly BeerFly Guide, and I had the turkey stromboli, which filled a major void and drank a Boulder Hazed and Infused as well as a New Belgium Skinny Dip. It was summer and I found them appropriate.
Finally, Bditty187's parting comment to me that evening as he dropped me off at the motel: "Good luck on the rest of your trip, Woody. I don't know how you do it. I've only been out with you a few days and I'm tired."
Nov 09, 2006

bditty187 from Nebraska
3.43
/5
rDev
-7%
vibe: 4 | quality: 3.5 | service: 3.5 | selection: 3 | food: 3.5
Update: Old Chicago has gone downhill. At one time the tap list was "impressive" (at least for a chain beer bar in Omaha). Nowadays, not so much; gone are the IPAs and, well, any hoppy beer. Don't expect to see any Stouts or Porters or anything dark (aside from Guinness (hardly noteworthy)). The number of seasonals has been cut back too. What a damn shame. The bottle selection is still treading water but barely, there are some good beers in the mix but not enough for me to want to go to Old Chicago.
Old Review (from 08-02-02):
Old Chicago is a chain beer bar. The selection is heavy on mediocre to lousy lagers. Every location has the same core imports (see website) with a few individual import options. The domestic beer, i.e., micro/craft beer selection is okay. I hate the fact they offer no hoppy beers! Come on! They do offer Nebraska beers, Empyrean for sure, sometimes Spilker Ales and maybe something from Gottberg Brewpub (listed as "Nebraska's Own" for some dumb reason). I would ignore the menu and visit the bar to check the taps and bottle selection in the cooler.
Old Chicago serves their beer in chilled (sometimes frosted) mugs. Ask the server for a normal glass, they seem happy to help. The prices for the beer are a touch high.
The food is good, something for everyone. The grub is American & American-Italian, everything from hamburgers to calzones. I like the nachos. Prices are good for the food.
The service is good, most of the time. Sometimes the help is clueless about beer in the "restaurant" section; you might need to walk them through what you want. In the two bar sections the help usually knows their beer. The atmosphere is good, plenty of TVs for sports, billiards tables, and big enough bathrooms. Friday and Saturday's are lively with a crowd of young and "old" alike.
Nov 29, 2005
hoffman from Nebraska
2.75
/5
rDev
-25.5%
vibe: 3 | quality: 3 | service: 1.5 | selection: 3.5 | food: 3
I will only write one old chicago review because they are all the same. I like the place, frankly because my wife likes to go there as well, I can watch a game and get a good calzone or pizza and I am not limited to SA, AB and Miller products as a strict rule. I enjoy taking part in their beer tour because it gives me a chance to chronical what beer I have tried. Typically the best brews are ine a bottle not on tap and often the newest or seasonal picks are not on the beer menu. If you ask the server they will find out what is new and serve you that. If you go at noon and eat at the bar, the bartenders typically recieve the orders or do the ordering and know what is new and fresh in the cooler, little did I know it isnt kosher to have 4 pints and head back to work for the afternoon. My mistake.
Oct 06, 2005
neonbrown82 from Nebraska
3.8
/5
rDev
+3%
vibe: 3.5 | quality: 3.5 | service: 4 | selection: 4 | food: 4
As has been said before, once you've been to one Old Chicago, you've been to them all. It's not one of my favorite places to grab a drink, but this location in particular was always fairly popular amongst my friends and I.
The atmosphere is similar to any sports bar. Plenty of TV's, sports memorabilia, neon beer signs, other miscellaneous shit hanging from the walls.
Service has always been pretty decent here, though I've usually known at least one or two servers I went to school with, so I usually tend to get what I'm looking for with little hassle. Even the random bar/wait staff seems to know what they are talking about.
Selection is decent, boasting roughly 110 brews. Most of the beer offered, however, is fairly widely distributed for micros or a macro of sorts (whether imported or domestic). Of course, each location has at least a half dozen [quasi] local beers to choose from, but nothing worth seeking out this particular restaurant for.
Like all Old Chicago's I've been to, the food is good and served in quite generous portions for the price. I usually get at least 1 meal of leftovers whenever I eat at any Old Chicago.
Final verdict: not my favorite place to drink, but worth a stop I suppose. Nothing bad about the place, but nothing distinguishing either, especially considering the hefty number of Old Chicago locations in Omaha.
May 26, 2005
mlomaw from Nebraska
3.9
/5
rDev
+5.7%
vibe: 3.5 | quality: 4 | service: 4 | selection: 4 | food: 3.5
Funny thing is, I prefer the Upstream to Old Chicago, but I think my numbers will give Old Chicago a better review, go figure. There just needs to be said something about intangibles, but I don't know what I could actually put down to have the 'human element' come over better. Of course, I do like living upstairs, but even proximity cannot make this my favorite bar!
OK, yes this is part of a chain (Rock Bottom, to be precise), but they don't produce their own beer here, instead relying on a diverse selection of bottles and tap beers. This particular location has done an admirable job of blending into the Old Market atmosphere, my only solid complaint is that the resturant section just seems a bit crowded, even when there are not a lot of people there eating. Also, I'm not a big fan of the bar seating itself, but the game room and the second (not often used bar) is much better.
The beer selection is pretty impressive (especially for Omaha) though the most interesting beers are in bottles rather than on tap. Like many places locally, they do have Fat Tire Amber (a solid microbrew from Ft Collins Colorado) as well as the ubitiquos macro brews. I suppose Old Chicago has to provide beers that the public wants, because most of what I see ordered is either from Miller or A-B; lowest common denominator in action.
The food is good, but not great; out with a party of co-workers a few weeks ago, one of the calzones ordered was still frozen in the center, but was promptly replaced by a properly cooked one. Most food is either pasta, pizza, or pub nosh; nothing to be excited about, but nothing to be afraid of either.
The real key to Old Chicago's appeal lies in the World Beer Tour. For anyone looking to keep track of beers tried and consume, this is worth checking out. Now for me, I prefer the micro tours that are seasonal in flavor with only 10-12 beers to complete the circuit. Most of the beers on that tour are seasonal and tend to be different from their standard selections. Upon completetion of the tour, the participant is typically rewarded with a piece of Old Chicago merchandise; nothing chintsy, but not expensive either.
Service in the bar is very good, but it helps to converse with your server to insure they remember you. Service on the resturant side is sometimes less than that in the bar, but nothing to be really detrimental.
In any case, Old Chicago is a good stop in the OId Market. Be aware of the eternal parking issues, so don't be afraid to pay for parking in a lot rather than hunting the streets and adding to the traffic congestion.
Feb 26, 2005
TheLongBeachBum from California
3.86
/5
rDev
+4.6%
vibe: 4 | quality: 4 | service: 3.5 | selection: 4
Now this is more like it. After a very disappointing pit-stop at the nearby Dubliner, I ended up here late on a Friday evening with a work colleague.
From the sidewalk you need to climb the small set of stairs which has a small number of tables and chairs outside in a patio area. Inside there are many Tables and booths for those that wish to eat. You have to wait to be seated though. To the left the main big bar has plenty of stools, but was busy when we arrived. A row of something like 30 taps provided a good mix of macros and micros as well as some local beers. Service is fast and furious when busy and you have to be forthright when ordering at the bar, but coming from England I am used to this, and the service was quick once you made eye contact. All the draft beers are served in large handled heavy glass mugs which I like, a nice touch.
A quick walk around the place revealed that there is a second smaller bar in an area that I called the Games Room. This portion of the building is on the far left as you enter and has some table and chairs with a more relaxed atmosphere with Pool Tables, Darts Boards, some other games and TV's etc. You have to come through here to get to the Restrooms.
A return to the main bar gave us the opportunity to sit at the end of the bar closest to the entrance. This was destiny, as this is where the beer coolers are. Large glass doors meant that we had an excellent chance to peruse the bottled beer range and sample a few of them.
I never tried the food but perused the Menu, and it was nothing more or less than you would find anywhere else.
I spent many hours in here and we finished off our Friday Nights drinking in Omaha here. Many beers were drunk and the company was just as refreshing as the beer range in what is essentially a Chain. I remember I finished with a Celebrator Doppelbock because I found my Credit Card receipt was wrapped in a red string and plastic goat when extracted from my wallet this morning.
I know that this is part of a Chain, and as such I understand that it has to appeal to all, but it does at least make an effort to provide a good beer range for those seeking it. You will have to work through the macro's and probably closely examine the coolers, but this is a great place to spend a Friday night in Omaha and drink some great beers whilst mingling in a happening environment.
Last Visit: 26th March 2004
Mar 28, 2004

far333 from Connecticut
3.8
/5
rDev
+3%
vibe: 4 | quality: 4 | service: 3 | selection: 4 | food: 4.5
Stopped into this establishment on the recommendation of some work associates while traveling on business. The atmosphere is good, and the food is pretty good. The beer selection is vast, but they cater to the swill drinkers as well as the craft brew drinkers. I don't see why they offer Bud Light and Coors Light on tap. Seems a waste of a tap handle, but I guess it keeps the prices lower for the folks that like those beers. They had a really cool row of about 30 taps behind the bar on the far wall beneath a huge mirror. Lots of regional stuff that I can't get where I'm from, so it was cool to try a few selections. I would say that the import list needs some additions. I had to request a glass when I ordered a bottled beer, but at least it was an unchilled pint glass when it got to me. One of my drafts was served with one third of the glass taken up by foam. My server was quite attentive, but not great at describing or recomending any beers to me based on my tastes. Definitely worth stopping in for a meal and a few beers.
Sep 10, 2003
Old Chicago in Omaha, NE
Place rating:
3.69
out of
5
with
15
ratings