Blue Hills Marzen Spring Lager
| Blue Hills Brewery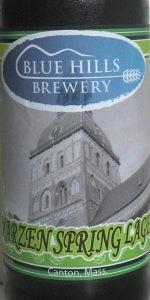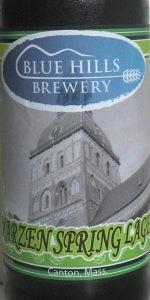 BEER INFO
Brewed by:
Blue Hills Brewery
Massachusetts
,
United States
bluehillsbrewery.com
Style:
Märzen / Oktoberfest
Alcohol by volume (ABV):
7.40%
Availability:
Spring
Notes / Commercial Description:
No notes at this time.
Added by smcolw on 05-23-2010
HISTOGRAM
Ratings: 10 | Reviews: 5
None found.
More User Reviews:
3.29
/5
rDev
+6.5%
look: 3.25 | smell: 3 | taste: 3.5 | feel: 3.75 | overall: 3
Guess they un-retired this, and now called Marzen Spring Beer, instead of lager. I highly doubt this is a well done Marzen, esp coming from Blue Bills. I keep wanting their beers to be good, at least the last one I had was decent, the double mile, so maybe this will be halfway decent, but not getting my hopes up.
Pours a smaller fizzy barely head covering that fades itself fairly quickly too, more like an 8+% beer, nothing like a nice marzen, the head still fades quickly despite many bubbles streaming up from the etch at the bottom of the Tree House tulip. All that over a very clear auburn chestnut slight reddish hue colored beer.
Nose is weird, with lots of sweet malts, caramel, dried maple like syrup and almost DME like aroma, with a little biscuit, mild toffee and nutty, little buttered toffee, maybe hint diacetyl, then sulfur, some mineral and sulfury unhappy lager notes, a weird orangey like fruit note too, and a hint of mineral salt. Just strange aroma.
Taste brings sweet malts to start but not super sweet tasting, more toasty grainy malts, reddish toasty with some biscuit and toffee again, plenty of caramel, again that dried maple syrup flavor, and more syrupy sugar-extract like characters, but also a bit of a brown syrup, little nutty toffee. Some sweetness but not a ton, little syrupy sticky but not a ton. There is also a mild earthy grassy hop with light bitterness, and then into a mild minerality note with mild salt, and just a faint sulfur but barely any. Then a hint of a fruity note, a mild booze and fairly estery, the mild sulfur and mineral notes really start to increase as it warms. Finish is a bit crisp but not a lot, dry at least and not too sticky, more bitterness with a little herbal leafy earthy bitterness that lingers for quite some time, and a touch more minerality and salty character.
Mouth is med to heavier bod but a bit soft, decent fluffy carb, hint of warming booze.
Overall, not very good, not only is it nothing like a nice Marzen lager, it has flaws on top of that, with the sulfur notes, mineral and salty characters, malts are not the best, hops are nowhere near where I would like them to be, hope were more of a bad Euro pils than a Marzen. At least it's not terrible, just not well done
2,259 characters
3.91
/5
rDev
+26.5%
look: 4.5 | smell: 3.5 | taste: 4 | feel: 4 | overall: 4
Impressive three-finger white head. Long lasting and leaves great chunky ring lace on the glass.
Fresh milk aroma. Malty as expected. I cannot detect any hops in the nose.
Creamy flavor of lighter malts with a hint of hop spice at the swallow. The aftertaste has a light bitterness. Relatively thin for the style. Has the feel of an ale--not crisp, more "round". Very rich body for the style. Good carbonation. Has a finish similar to a vanilla ice cream.
461 characters

4.17
/5
rDev
+35%
look: 4 | smell: 4.5 | taste: 4 | feel: 4.5 | overall: 4
Poured from a 22oz. bottle into a pint glass.
The color is a dark gold with about a finger or two of head and some nice lacing.
The smell is a little caramel with some nice spicie flavor that is mixed with a slight CO2 flavor.
The taste is fresh bitterness that is there at first touch and goes into a smooth light malt flavor. A peppery flavor gives this beer a really interesting feel and leads into a nice refreshing caramel flavor.
The feel of this beer is light to medium with a good amount of carbonation and is pretty easy drinking. A spring Marzen with some nice caramel flavor. This gives a nice preview of things to come.
635 characters
3.56
/5
rDev
+15.2%
look: 4 | smell: 3 | taste: 4 | feel: 3 | overall: 3.5
Caught my eye from a local brewery. Poured from 22oz brown bottle. 7.4% ABV. Pours a golden orange with small amount of carbonation and head. Smell is faintly sweet. Taste is malty with hints of caramel and grapefruit. Feel is a bit flat with a slight alcohol burn at the end. Overall a decent beer, but could probably get better 22 ouncers for the price I paid (8.95 at Charles St Liquors).
391 characters


3.68
/5
rDev
+19.1%
look: 4 | smell: 3.5 | taste: 3.5 | feel: 4 | overall: 4
I found a random bottle of this lager, and decided to crack it open to see if it held up to the test of time. Plenty of carbonation still left, so that was a good sign. Dark orange colored body. Very clear body. Moderate amount of lacing. Not bad looking in the glass at all. Smell was a bit musty and grassy. Taste was very good. Great amount of malt hits your palate up front, then just a bit of hops at the end to balance it out. The malt dominates here, like it should in a German styled marzen. Mouthfeel was crisp and smooth. Drinkability was good, as it went down quite well. I look forward to trying the newer version of this beer next spring.
651 characters
Blue Hills Marzen Spring Lager from Blue Hills Brewery
Beer rating:
3.09
out of
5
with
10
ratings