Dismiss Notice
Extreme Beer Fest:Los Angeles
Join us December 9th in Los Angeles for the ultimate throwdown of craft beer creativity!
Learn more...
Dismiss Notice
Barley House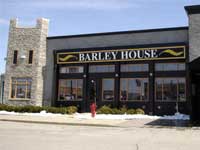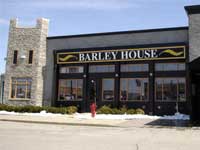 PLACE INFO
Type:
Bar, Eatery
1520 Randall Rd
Algonquin
,
Illinois
, 60102-5920
United States
(847) 658-5520
// CLOSED //
Notes:
No notes at this time.
Added by reesepzor on 01-27-2009
PLACE STATS
Reviews:

12

Ratings:

pDev:

16.1%
HISTOGRAM
Ratings: 12 | Reviews: 12
Reviews by Vdubb86:
3.94
/5
rDev
+11.3%
vibe: 3.5 | quality: 4 | service: 3.5 | selection: 4.5
I came here with my buddy TMoney2591 after a jaunt over to the best Binny's in the burbs. We each sat down for one beer to get ourselves the experience of this place. The overall vibe and decor of the bar area is very americanized irish pub. Nothing too shabby, but nothing cool that I haven't seen before. ESPN on several TVs not too bad. The place seemed to have quite the nice set up as far as taps are concerned in addition they have a serious amount of bottles to pick from. The bottles looked a bit pricey, the taps were as pricey as most places that have rarer choices. The service was pretty decent, though who knows what would be the case if we actually came when it was busy. The selection is pretty damn good, I've seen better, but not too many. It was really good, hell if it was a smidge cheaper I could see myself frequenting this place more often.
862 characters
More User Reviews:

3.86
/5
rDev
+9%
vibe: 4 | quality: 4 | service: 3 | selection: 4.5
When i walked into this pub/eatery, I had my mind set on one thing...beer. The bar was easy to find and once I stepped passed the hostess in this dimly lit building, I noticed a square shaped bar area with nice wood accents creating a classy feel.
The four square forming bars each had a row of a dozen or so taps offering mainly quality craft beer with the exception of a few BMCs for the masses. Some of the offerings on tap included FW Abacus, Founders Porter, Great Divide Colette, Stone Ruination and many others.
It was a Saturday night so the staff was covering a lot of customers between the bar and the eatery. That being said, it took me about 5 minutes before i was served. Nevertheless, i was given an Abacus and was a happy camper.
The beer was reasonably priced for the quality atmosphere and nice selection of craft. I mean, 7 bucks for a 12 oz snifter of Abacus? Thats less than half the cost of the bomber sold in stores!
Overall, great place with a great selection at a low cost. I will definitely be returning.
1,034 characters
3.13
/5
rDev
-11.6%
vibe: 3 | quality: 3 | service: 3 | selection: 3.5 | food: 3
So I stopped in here last weekend with Sweemzander and his wife. He told me not to expect much. He was right. Typical wannabe old style pub feel. With flat screens everywhere. So a sort of sports bar meets chain pub.
The beer list on paper was long and impressive. However they were out of the first beer we ordered. This was not a good sign. They were out of many beers on the list as well as many of the food items. It's early Saturday night for christ sake. How do you run out of everything this early in the weekend?
Our server had to keep going back to the bar/kitchen everytime we ordered something to see if they had it. Once we had our beer and food. I wa less than impressed. The soup was bland the fries were soggy and my sandwich was mediocre at best.
Overall nothing special here. I wished we would have went to Famous Daves across the street. At least the food would have been good.
901 characters

4.24
/5
rDev
+19.8%
vibe: 3.5 | quality: 4.5 | service: 4 | selection: 4.5
Finally dropped in here after a quick jaunt to the Algonquin Binny's. It's a normal chain-looking restaurant with a rectangular bar in the middle. A few flat screens bookend the area, all muted. The tap listing is pretty impressive, especially considering the area (we don't have too many of these badass lists around these parts). The highlights were Ommegang's Chocolate Indulgence, Southern Tier's Oat, and Leinie's Big Eddy. I figured I'd join their Beer Nerd Club, just to see if I could actually down 200 beers in a year here (easily possible, were it not for my wallet). Speaking of, the prices really aren't anywhere near as bad as others have said: If you've been to a bar, you know how they can upcharge bottles, and the upcharge here is just as bad as it is elsewhere. The taps, meanwhile, are more than typical, and pretty preiswert, as the Germans would say. The service is okay, a bit slow and aloof, but friendly enough. I do wonder, though, how it would have been had we visited on a busier evening (or an evening at all). Frankly, I look forward to coming back here often, especially since I heard they're tapping a keg o' Darkness soon...
1,156 characters

4.28
/5
rDev
+20.9%
vibe: 3.5 | quality: 4.5 | service: 3.5 | selection: 5 | food: 4.5
I started going here right about when they opened and have been a huge fan ever since. I immediately signed up for their "200 beers in a year" (finished in 10.5 months) and Beer Nerd Club and have always loved their selection.
The food is really good and they have a growing menu that changes over with time. Some of the food is a bit pricey for what you get, but then there are other plates that are enough for two meals.
Their beer selection has always been phenomenal. At one point boasting over 350 beers in selection. They try to shy away from the larger beers and focus on craft, but they do carry the usual for those who don't want to drink real beer.
Some of the beers are very pricey when you consider the fact that you could go to Binny's and get it for considerably less, or get more of it for about what you pay at the restaurant.
I'm big on atmosphere and being out with friends and people you enjoy, so paying a little extra for a beer every now and then doesn't steer me wrong. It's my favorite place to go to try new brews and they have a great selection on tap with weekly specials.
Even though the bar is at the center of it, this place isn't really your typical bar setting. It's not very loud and is a cool place to hang out, eat, and enjoy some great beer.
I understand that everyone has a different experience when they go to places, especially this one. Barley House is a place that depending on the day, you could be well attended to or be left alone for some long periods of time. The staff isn't knowledgeable about beer, but they are just servers at a restaurant, not breweries. It would only add to this place if they were but I can't knock them for not knowing about every 200 something beers on the list.
1,740 characters

3.35
/5
rDev
-5.4%
vibe: 2.5 | quality: 4 | service: 3 | selection: 4 | food: 1.5
Visited the Barley House this afternoon for a couple of beers and some lunch.
Atmosphere: Place was pretty dead. There were 2 other people at the bar. It's pretty dark in there. A couple of TV's are around the bar.
Quality and Selection were pretty good. Surly Furious, Dark Horse Double Crooked Tree, Stone RIS, 3 Floyds Gumballhead were the highlights on tap. Tons of beer in bottles.
Service: Bartender was attentive. Nothing good or bad that stands out here.
Food: Ordered some chicken nachos. The chicken was some of the most dried out chicken I've ever had. Cheese and sour cream couldn't even make it edible.
Value: Food was slightly overpriced in my eyes. $10 for some nachos with dried out chicken was a rip off. Beers were about a dollar higher than other places.
Overall the selection make it a destination in Algonquin, but I would stick to the beers and free popcorn.
890 characters

3.08
/5
rDev
-13%
vibe: 4 | quality: 3 | service: 2 | selection: 3.5 | food: 4
What used to be one of my most favorite restaraunts (The Claddaugh), now is The Barley House.
Great selection of beers on tap & by the bottle. Price-wise however, most bottles are an absolute ripoff. Most of the ones I order are out of stock anyways. If you are sold out of it, then take it off the list!
The food however is very good and many of the items were the same as on The Claddaugh menu before it closed. A cool Irish-themed atmosphere, but is pretty much the exact decor when it was The Claddaugh.
I like to go here every time I am in town, but its rather expensive for most of the beers they serve. When its busy, plan on waiting almost 20 minutes to be served since most of the staff didnt even realize you sat down; I had to walk up to one to get their attention. Most also dont know jack about the beers they are serving, so if you have questions. . . good luck.
Also, alot of typos in the beer menu: New Holland Double Trouble?
945 characters
3.9
/5
rDev
+10.2%
vibe: 3 | quality: 4 | service: 3 | selection: 5 | food: 4
I would have to say the first reviewers were a bit harsh but funny nonetheless. Yes, the waitresses and waiters dont know anything about beer. And dont bother asking unless you enjoy akward moments and holding back laughter. Its hard to find a waitstaff that knows how to do they're job and is beer knowledgeable. As long as they are friendly, curteous, and prompt I have no problems. And all servers at Barley house have treated us this way too.
The selection is fantastic in my eyes, you cant find Surely anywhere around this area, they have 3 different Surely varieties on tap. Angel's share on tap, Most of the Trappist brews, good selection of micro's from across the country. They're import selection is ok. They always have something you cant find anywhere else. They now have over 350 beers and 26 taps! how can you say the selection is subpar?
Aside from this I go with my wife on Tuesdays because moms eat free (up to $14) and selected drafts are $2. tyranena hop whore, Lost Coast Great white, Surely furious, and they switch it up weekly. The food is good. I usually get the malibu chicken, its great. My wife likes the food as well.
Another plus, this place isnt very busy. There are very few beer snobs in the area. So you are never waiting. They run many specials during the week that are awesome, where else are you going to find $3 Gumball head, dirty old man, and heavier hand? Try it for yourself.
1,421 characters
3.66
/5
rDev
+3.4%
vibe: 3.5 | quality: 4 | service: 3 | selection: 4
Seems like people like to bag on this place, had to check it out and get a first-hand impression. The conclusion that i've come to is that it's a good place for craft beer. Far from the best in Illinois, but an asset to a craft beer-deprived area. Some gripes i've read were blown well out of proportion, from my experience.
The building was on Randall Rd., accessible only by a maze of suburban strip mall parking lots. Saturday night, and the lot was completely full. Inside, it was clearly a large building parsed down to feel "small" in the cozy irish pub sense, but was not so easy to navigate. The bar had 3 sides, and 3 tap towers. Definitely quality beer on tap...Surly 16 Grit, Furious, & Bender. Tell me, where else in the NW burbs has 3 Surly taps? Also Founders, FFF, DFH, and plenty others. Bottle list was big and organized by style. There was quite a bit of filler, but there was plenty to choose from in terms of quality. The focus seemed to be US craft, but there were broken out sections for Trappists, North American Farmhouse Ales (2 from Jolly Pumpkin), and several other unique categories. This place serves as a gateway for people to get into craft beer, and not exclusively a beer geek clientele. The crowd was thankfully not rowdy on a Saturday night, and seemed to be from all walks of life.
The low point for me was the service at the bar, it took almost 15 minutes to get a beer, despite attempts at eye contact and our general thirsty appearance. Draft prices were fair, but some bottles veered into the spendy range. Value can't be judged based on the high-end only though, there were several under $4, and the Old Crustacean 750 was $30, not $40 (it's over $20 at retail).
All in all it was better than several other bland suburban chains, and I would probably go back for some of their exclusive stuff if I happened to be in the area again. One added plus, there's a new Binny's going in just north on Randall Rd.
1,951 characters
3.55
/5
rDev
+0.3%
vibe: 3 | quality: 3 | service: 4 | selection: 4 | food: 3.5
Ok, while I agree with a lot of what the previous reviewers said, I do have to say this... having lived in the area for the past year, we are desperately lacking in "good beer" establishments.
I too was very excited when I heard the Barley House was opening only 10 minutes from our house and was ecstatic to hear that we could get good beer reasonably close to home!
I was disappointed to see that they didn't redecorate at all from the old Claddaugh location in which they bought. I was a bit confused because I wasn't sure if they were intending to be an irish bar, a beer bar, a sports bar or... what really. The overall atmosphere is a tad confusing in general.
I would recommend if you wanted to try this place, to go on a weeknight. We showed up on a Saturday night and the place was PACKED beyond belief. The first time, we turned and walked out and went elsewhere. Sure, the place is still pretty new and everyone wants to check out what the hype is all about, but still, 30 minutes just to sit at the bar to get a beer? I don't think so.
However, we did finally manage to sneak in during a weeknight to try their beers. They had an impressive selection, ranging mostly from microbrews to domestics, but it was still way more variety than you see anywhere in our neck of the woods.
We had a chance to eat dinner here too, we got the frog legs, which were mediocre and lacking in flavor, and I got the Corned beef & cabbage which was pretty darn good while my boyfriend got the shepards pie which was pretty incredible. I have to say the variety of things on the menu was very interesting... it seems to offer a little bit of something for everyone.
While I don't think this place is the "ultimate in beer bar establishments" I do recommend it to people who want to get their fill and selection of good microbrews. Yes, you could go to Binny's and grab all of a lot of these beers, you'd still be missing out on the whole 'going out on the town' aspect, so definately try the place out.
Be weary of a lot of overpriced pours, some of them were pretty insanely priced, but a lot of them are average priced for the most part.
I'd say check the place out if you're looking for a good beer selection, a decent bar atmosphere and some pretty good food. Don't expect the mecca of beer bars though, or else you will be disappointed.
2,343 characters
3.4
/5
rDev
-4%
vibe: 3 | quality: 3.5 | service: 3 | selection: 4 | food: 3
Alright. The Barley House. What a disappointment in every regard. From hearing about the place I was expecting great things only to be completely turned off to almost every offering they had. My review can really be summed up with the story of going there:
As soon as my girlfriend and I drove up to the light I realized it was the old Claddagh that was closed for serving to minors on several occasions. Fine, maybe they reworked the interior design. Entered the Barley House. Nope. Same exact place from what I could tell. I was not impressed in the least bit.
We sat down and weren't approached for a few minutes. Our waiter was a very cool guy but he had absolutely no knowledge on beer. He brought me the "18 page beer menu with 250 beers" oooh! Not impressed here either. I spent 10 minutes looking through it before deciding what to order but I asked him, "what's you're best beer here?"
"120 Min. IPA" What? Are you kidding? $15 for the pour I recall. "OK, second best"
"Bell's Hopslam" Uhm, $10 a glass was total B.S. That sixpack was $16 at Binny's (for about a day before the whole pallet was gone).
I ordered a La Fin du Monde and asked for the bottle and glass. I got a La Fin du Monde glass which was surprising. So far its going ok. Then I find out our server drinks nothing but Jameson because he has an "allergic reaction to hops". He tried telling me about a beer which he clearly had no idea about but I let him talk.
I ended up reviewing the whole beer menu and was not impressed at all. The selection was large yes, but lacking in diversity for a place serving 250 beers. Most of it was from domestic micro-brews and generally it was just a lot of beer from a few breweries. The prices were totally outrageous too. $10 12oz Bell's Hopslam, $20 750 ml Sam Adam's Chocolate Bock (which aside from their lawnmower beers section with Shiner Bock, was the only Bock on the list) and a $40 bottle of Old Crustacean by Rogue.
I don't know if I'll really go back there. The atmosphere was lacking, (sort of sports bar-ish) the beer was all served cold, when I ordered a draft the pour was total garbage, the staff (at least my server) didn't really know jack about beer, the appetizer seemed mediocre, and the prices rape you.
Go to Binny's and buy all the beer for about 1/2 the price and save yourself the headache of low-level lighting which doesn't allow you a proper view of the beer anyway.
[Since my review I've been back a few times and have amended my review. Thankfully they lowered some of their prices on large bottles (as noted by the latest review with the Old Crustacean price difference) and had two separate servers who both were much, much better than the first experience I had. Needless to say, it's really not bad, just mediocre. Also, since being back a few times, I've enjoyed the place a little more but still have a hard time ordering. The last 2 times I've been, they've been out of the first three beers I ask for, no joke.]
2,972 characters
2.1
/5
rDev
-40.7%
vibe: 1.5 | quality: 1.5 | service: 1.5 | selection: 3.5 | food: 2.5
McHenry county has been in desperate need of a true beer place for quite some time now. Unfortunately, the Barley House is not that place. Actually, it's closer to a nursing home cafeteria with a beer list.
This is not a place for true beer geeks. This is simply a large, chain-like restaurant trying to take advantage of the current trendy nature of craft beer. A poorly run and managed one at that. For example:
Most of the beers are in bottles
What few are on tap are nothing really special - no seasonals or anything exotic, just "microbrews" as they like to call them
All the beers are served at the same temp - extremely cold.
The glassware is not handwashed, and is not appropriate to the beer served in many cases, though my wife ordered a Delirium and received the correct glass.
The bartenders can't pour - I ordered a pint of Surly Furious and received 1/2 glass of foam. I promptly requested a repour. We sat at the bar and saw glass after glass of 1/2 foam being poured. Guys, tilt the glass, it's not rocket science!
The employees don't know dick about beer. Just for kicks I asked "what's the difference between a stout and a porter?" Blank stare. "um, I'll have to check". He never did get back to me...
The attention to detail and professionalism in general is horrendous. Consider the beer menu: there are so many typos, grammatical errors and mis-categorizations that it's obvious it wasn't prepared by someone who knows anything about craft beer. They actually managed to misspell Guinness and Heineken! Come on! There's signs on several walls! Just look up! Also, Anchor Steam is NOT a Munich Helles... *sigh*
Even though the BH has been open only a few weeks, the place is filthy. The wine bottles in back of the bar were coated with a thick layer of dust.
The food is neither horrible, nor memorable. It's basic, reheated crap straight off the Sysco truck and comparable to any other mass-market casual restaurant such as Chili's, Applebee's, etc. There's little cooking being done here. It's simply reheat stuff as fast as possible to shove it out the kitchen door. The one difference being that the prices are significantly higher than the chains. That goes for beer prices too.
Don't get me wrong, I want businesses (well, good businesses) to make money, but there's a point where fair profit becomes downright greedy gouging. The Barley House wants $10 per 12 oz. bottle of Bell's Hopslam and Expedition Stout! Yes, it's a seasonal, but Binny's sells a sizer for $16. Assuming BH pays around $10 for a sixer, that's $50 profit! That my friends, is gouging plain and simple.
In short, pass on the BH. Spend the extra 10 or so minutes and head over to Emmett's or MT Barrels, both of which feature better food, better service, and are more professionally managed.
2,793 characters
Barley House in Algonquin, IL
Place rating:
3.54
out of
5
with
12
ratings