Snake Oil
| DuClaw Brewing Company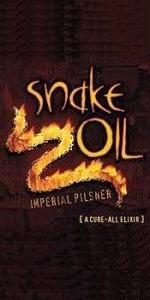 BEER INFO
Brewed by:
DuClaw Brewing Company
Maryland
,
United States
duclaw.com
Style:
American Double / Imperial Pilsner
Alcohol by volume (ABV):
7.00%
Availability:
Summer
Notes / Commercial Description:
No notes at this time.
Added by cubedbee on 07-17-2005
This beer is retired; no longer brewed.
Reviews: 15 | Ratings: 34
4.2
/5
rDev
+11.4%
look: 4 | smell: 4 | taste: 4.5 | feel: 3 | overall: 4.5
Golden lace on top with a thin with lace head. Sweater then any imperial pilsners I've had in this country. Smell was herbal and hop. The taste was spicy, almost an orange rind and cinnamon taste with noticeable hop finish. Felt lite bodied on the tongue but bubbly and crisp. Drinkable is one way I could describe this beer as it goes down easy and begs for a second.
368 characters
4.16
/5
rDev
+10.3%
look: 4 | smell: 3 | taste: 4.5 | feel: 4 | overall: 5
This was one of my favorites of the day as well. Poured a hazy blonde with a nice thick white head. The smell was average a little hoppier than some. The taste was great. Very hoppy all around with a little more malt at the end. Very crisp and smooth going down. Could have drank these all day. Alcohol is covered up very well and you almost forget that is an Imperial and not a regular pilsner. Great job!
406 characters
4.15
/5
rDev
+10.1%
look: 3.5 | smell: 4 | taste: 4.25 | feel: 4.25 | overall: 4.25
a: Slightly hazy pale golden color; served with a small ring of fizz.
s: Light bready malts, mineral water, and grassy hops.
t: Glad to find that this doesn't taste "imperial". Bready crackers and leafy, mineral-y hops plus aspirin bitterness at the finish. Nothing sweet and no heat to be found. Very nice pils overall.
m: Maybe a little more body than a regular pils, but that could be the power of suggestion too.
o: Imperial pils is a style I don't really get. I loved this beer in part because it hid its alcohol so well. So why not have a regular pils and a safer ride home?
584 characters

4.13
/5
rDev
+9.5%
look: 4.5 | smell: 4 | taste: 4 | feel: 4 | overall: 4.5
Poured from a day old growler into my .5L Bitburger glass.
Snake Oil pours a vibrant gold colour with a thick pillowy white head that eventually diminishes but never seems to go away. Very aromatic with scents of grass and flowers. The flavours are biscuity malt, yeast, and a clean hop finish. Nice delicate mouthfeel, with light but persistant carbonation, excessively drinkable. Yum!
389 characters

4.1
/5
rDev
+8.8%
look: 3.5 | smell: 3.5 | taste: 4.5 | feel: 4.5 | overall: 4
It was served a light gold with a white head. The aroma was hops over malt. The taste was quite well balanced. It was definately hop powered, but with just enough malt to make it go. The feel was incredibly clean and dry with a sweet alcohol finish expected from such a strong beer. I chose this because I couldn't resist trying an Imperial Pilsner. I was ready for the hops, but was pleasantly surprised by the great blending of tastes.
437 characters
4.03
/5
rDev
+6.9%
look: 4.5 | smell: 4 | taste: 4 | feel: 4 | overall: 4
Pours golden yellow with a thick white head that leaves plenty of lacing.
The smell is grainy with grassy notes.
The taste is of a soft grainy sweetness with grassy/hay bitterness in the crisp finish.
Light-to-medium bodied, a bit oily, alcohol reasonably well-covered, refreshing.
A deceptively drinkable beer imperial pils. Maintains a pils character that has been pumped-up - as it should be!
399 characters

3.88
/5
rDev
+2.9%
look: 4 | smell: 3.5 | taste: 4 | feel: 4 | overall: 4
Well, yes indeed, DuClaw's latest release (re-release) is the seasonal "imperial pilsner" that they describe as follows:
"Snake Oil is a crisp, medium-bodied lager with a complex maltiness and heavy hop presence – well-rounded and refreshing."
"Color: Golden
Hop Variety: Magnum, Sazz
Grains: Pilsner Malt, Wheat Malt
Bitterness: 60 BU's
Gravity: 15.5 plato
Alcohol Content: 6.5-7.5% abv"
Here's my take on it
Snake oil is a brassy straw color (actually about the hue of a healthy urine specimen), minimal head, residual float that almost resembles the thin skin/scum of a cooled soup, and thin-but-nice lacing.
The aroma is hop dominated and includes flavor notes of banana and sweet hay.
The taste is bright hoppy. The hops here are in the higher frequencies, the upper register of hopness. It's got bitterness to spare, a twang in the back of the palate, and a bitter finish that lasts. I admire a pilsner that goes this bitter, but I long for the bass notes in this flavor-world (IPA/APAs are MY favorite). But this has character, especially as it warms up.
Mouthfeel is pleasant, a bit cloying in the back as the hops attack and the brew leaves a small sticky plug in the back. Still, all in all, pleasant. There's the bite and sting of a healthy-high ABV, but this mellows out as it gets to a better drinking temperature.
Drinkability is pretty good. I'm on my third day of this growler with no desire to lay off. It's a kind of a shrill beer, but the treble harmonies are good.
A DuClaw's seasonal beer deserves mention of what great events their "release nights" are. Join their email list, and DuClaws gives away T's, beer mugs/glasses, or other free stuff for 2 special "release" evenings. This draws a nice crowd of beer lovers and aficionados. I have yet to be disappointed by the company. Kudos to DuClaws, they not only know good brew but good marketing and how to please their customers.
1,932 characters
3.83
/5
rDev
+1.6%
look: 4 | smell: 3.5 | taste: 4 | feel: 3.5 | overall: 4
This is Duclaw's latest seasonal, brought home a growler on Thursday night, reviewing it on Sunday. Pours a clear light gold with a finger of white head and some decent lacing. Aroma is simple grassy hops. Taste brings in a full biscuity malt that really balances well with the assertive hoppiness. Really smooth rounded flavor. Beer seems a little undercarbonated for a pilsner, and while I would usually attribute this to the growler, I had the same thoughts when I had the beer directly from the tap. Overall another solid seasonal from Duclaw.
547 characters
3.66
/5
rDev
-2.9%
look: 4 | smell: 3 | taste: 4 | feel: 4 | overall: 3.5
I am drinking a mason jar mug of Snake Oil, served at the Arundel Mills DuClaw, on the first release night of the pils. The ale is chilled, but the mason jar is not.
Appearance: The pils is a light goldenrod clear, clear as day with no hint of any sediment or yeast. The ale has a nice head of lace that lingers for a bit as the pils is consumed.
Smell: I was hoping for a nice earthy hop aroma, but I struggled to find one. What was there suggested hops, but nothing extraordinary to suggest an Impy Pils.
Taste: The earthen, European hops are abundant in the pils, giving it a nice flavor of the central Europe terroire. Those hops add a string bitterness to the pils without crossing into the Super Duper IPA area. I struggle to find any hint of a strong malt character.
Mouthfeel: The pils is smooth and hoppy, a nice alternative for those who are a little tired of the constant over-hopped ales.
Drinkability: The pils is very drinkable, well-balanced with a distinctive hop flavor that stands out nicely.
1,025 characters

3.66
/5
rDev
-2.9%
look: 5 | smell: 4 | taste: 3.25 | feel: 4 | overall: 3.5
Poured from a 1L growler into a Duvel tulip
A- pours a perfectly transparent gold with a two finger white head. Absolutely stunning beer.
S- bready, biscuity aroma with a bit of an earthy noble hope scent as well. Not bad at all
T- tons of lemon in the opening, and it overwhelms throughout. Finish is slightly bitter and very grassy. It's very..imperial, I guess you could say
M- medium bodied on the thin side. Actually quite nice
O- I like it, but can see why someone wouldn't. The lemon is a bit much, but it's not overly hopped and gets better as it warms. Recommended.
579 characters
3.55
/5
rDev
-5.8%
look: 3.5 | smell: 3.5 | taste: 3.5 | feel: 4 | overall: 3.5
Appearance: Arrives at the table with a clear golden body, a modest head and spotty lacing; although Istirred it up, I could not create that classic Pilsner froth
Smell: Fresh hoppy aroma; lacks that "noble hops" tone you would expect from a Pilsner; the website says they are using Magnum and Saaz hops so that might explain the untradiitonal aroma
Taste: Spicy from the get-go, the bitter hops build into a long-lasting finish; odd touch of sweetness present from start to finish; lacks the classic noble hop flavors, unfortunately
Mouthfeel: Medium bodied and well-carbonated; a touch of viscosity and a slight warming on the finish
Drinkability: Not really to style but a decent drinker
702 characters

3.5
/5
rDev
-7.2%
look: 3.5 | smell: 3.5 | taste: 3.5 | feel: 3.5 | overall: 3.5
On tap at the brewery and at an Oktoberfest beer festival in MD. Medium sized white head, good retention and some stringy lace. Clear golden hued color. Nose is soft, grassy, light citrus and honeysuckle notes, lightly bready. Med/light bodied, surprisingly crisp and lightly oily on the palate with a nice carbonation. Clean malts, a touch toasty, bready, grainy with laid back spicey flowery hop flavors, apples and a nice bitterness to cap it all off. A tastey lager indeed.
477 characters
3.47
/5
rDev
-8%
look: 3.5 | smell: 3.25 | taste: 3.5 | feel: 3.75 | overall: 3.5
A: hazy translucent yellow with the barest orange tinge, no appreciable head, but remarkable, intricate lacing.
S: lemon-citrus forward, malt support
T: reversed from the nose, I get malt-forward with lemon backing, bitterness only hit on the back end
M: medium-to-full-bodied, surprising for a beer this clear
O: better than I would have thought, it improves on reflection
373 characters
3.46
/5
rDev
-8.2%
look: 4 | smell: 3 | taste: 3.5 | feel: 3 | overall: 4
This is one of my favorites from DuClaw. I think their beers are average but this one rises above.
I live five minutes away and popped my growler cap about 10 minutes after they poured it. There is minimal head which is less than desirable in a pilsner. Color is a little darker than expected but it looks clean and fresh.
Smell is a little more malty than I expected. There was a small hop aroma but, again not what I expect from a pilsner. The hop aroma is more bitter smelling and not a floral-grass bouquet that you get in most pilsners.
Taste is decent. Being an "imperial pilsner" there is a little more malt presence and less of the clean, crisp refreshing taste you expect. There is a nice hop bite throughout to add a bit of quality to this beer.
Mouthfeel is slightly syrupy sweet and oily. The finish is crisp but as you drink this beer you are left with increasing sweetness on the lips.
This beer is exceptionally drinkable. It is flavorful and smooth without any of the alcohol presence you expect. I will go back for more each time they tap this seasonal.
1,087 characters
3.25
/5
rDev
-13.8%
look: 3.25 | smell: 3.25 | taste: 3.25 | feel: 3.25 | overall: 3.25
Enjoyed this brew on tap out of a pint glass.
A: Pours golden white hue with a fluffy white head that leaves a good trail and wispy lace.
S: Sweet pilsner aroma.
T: Similar to the smell there is a malty pilsner flavor.
M: Medium body and medium carbonation.
O: Probably one of my least favorite brews from Duclaw.
318 characters
Snake Oil from DuClaw Brewing Company
3.77
out of
5
based on
34
ratings.