Black Lightning
| DuClaw Brewing Company
BA SCORE
84
good
37
Reviews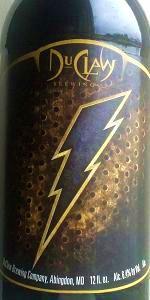 BEER INFO
Brewed by:
DuClaw Brewing Company
Maryland
,
United States
duclaw.com
Style:
American Black Ale
Alcohol by volume (ABV):
6.50%
Availability:
Spring
Notes / Commercial Description:
No notes at this time.
Added by oline73 on 03-10-2011
This beer is retired; no longer brewed.
Reviews: 37 | Ratings: 99
3.33
/5
rDev
-10.5%
look: 4 | smell: 3.5 | taste: 3 | feel: 3.5 | overall: 3.5
P: 12oz bottle poured into a perfect pint glass.
A: Nearly completely black with dark brown highlights and a two finger brown head. Head retention is okay but lacing is fantastic.
S: Slightly sweet but assertive roasted malt with a hint of toastiness and caramel.
T: Mildly astringent intensely roasted malt. A good bit of bitterness, probably as much from the malt as the hops with the slightest citrus hop finish. Some charred flavors as well that I believe add to the astringent flavor. The bitterness lingers.
M: A little heavy on the tongue with moderately high carbonation.
O: I like the intensity of the roasted malt flavor but I think the malt has added a bitterness that isn't all that pleasing. A decent beer but not the greatest black ale I've had to date.
772 characters
4.25
/5
rDev
+14.2%
look: 4 | smell: 4 | taste: 4.5 | feel: 4.5 | overall: 4
Poured in to a pint glass
A: This beer pours an opaque black with a 1/2 inch of light brown head. Head recedes at a moderate pace. Minor wisps of lacing are left on the glass.
S: Nose is roasted malts, coffee and citrus hops.
T: Taste starts with big roasted malts, some minor charred notes that hang in the back. Bitter baker's chocolate and coffee hit in the middle before moving in to a more prominent burnt malt flavoring that is accented by nice grapefruit, citrus hops.
M: Lighter side of medium body, medium to higher carbonation, crisp and clean at first with a touch sticky finish.
O: Goes down easy, very tasty, not too filling, nice kick, very good representation of style. More and more Black IPA's are just hitting the spot for me. I had never heard of Du Claw before, but this is a fantastic offering for those who enjoy Black IPA's.
854 characters
4.37
/5
rDev
+17.5%
look: 4 | smell: 4.5 | taste: 4.5 | feel: 4.5 | overall: 4
DuClaw Black Lightning is a delicious black IPA with hop and coffee characteristics.
A: Black colour and a 5 mm head that fades pretty quickly. 4
S: Roasty, earthy malt with some pleasant hop characteristics. 4.5
T: Roasty malt and sharp hops into an earthy coffee finish. The finish is dry and very slightly bitter. Delicious. 4.5
M: Silky. 4.5
O: 4
355 characters
3.55
/5
rDev
-4.6%
look: 3.5 | smell: 3.5 | taste: 3.5 | feel: 4 | overall: 3.5
A- Pours dark brown with a finger of light tan head. Retention is ok. Spotty lacing.
S- Predominately roasty nose with notes of dark molasses and espresso. Slight fruitiness and a hint of smoked meat. finishes with the utmost whisper of wintergreen hop. Black IPA? I think they forgot the IPA part.
T- Again largely roasted malt flavor with a touch of bakers chocolate and brewed coffee. Slight leafy hoppiness with an indiscernible combonation of roasted malt/hop bitterness. Finishes with a grainy malt flavor with some great longevity into the aftertaste.
MF- Smooth slick mouthfeel with a solid viscosity to the body. Average carbonation
D- Very drinkable
Overall this is a very solid slightly hoppier porter. As far as American Black Ales go I think they missed the mark.
Three words: ADD MORE HOPS!!!
813 characters

3.53
/5
rDev
-5.1%
look: 4 | smell: 3.5 | taste: 3.5 | feel: 3.5 | overall: 3.5
Served on draft at the Bowie location of DuClaw, this beer came across as a really good porter but since they talked up the hops in it I got a little depressed.
Beer is dark brown to black, mostly clear, small tan head, some lacing, low carbonation.
Aroma is a little sweet a little roasty. Interesting I suppose.
Beer is medium in body and pretty bitter at the end from this coffee like flavor. The overall beer is not spectacular but rather an average porter. Hops? Not that I can tell, perhaps a faint sense of them. Oh well, they all can't be great.
556 characters
4.45
/5
rDev
+19.6%
look: 4.5 | smell: 4.5 | taste: 4.5 | feel: 4 | overall: 4.5
Enjoyed this 12oz bottle out of a large snifter glass.
A: Almost pitch black in color with a hint of amber highlights around the edge. Thick dark brown 3-finger head after a violent poor that quickly dissipates and leaves a gorgeous trail all the way down the glass and ends in a wispy lace.
S: Strong hoppy IPA aroma and hints of roasted malts in the background fill the nose.
T: Smooth rich hoppy flavor. Hints of pine and toasted malts cross the palate.
M: Medium body and carbonation
O: I normally have Duclaw beers on tap – but tried this bad boy in a bottle and wasn't disappointed. Great smell and flavor – excellent balance between the hops and malt.
671 characters

3.7
/5
rDev
-0.5%
look: 4 | smell: 4 | taste: 3.5 | feel: 4 | overall: 3.5
From 05/07/11 notes. Got a bottle of this at RFD in Washington, DC. Poured into a pint glass.
a - Pours a very dark brown color, with two inches of tan head and moderate carbonation evident.
s - Smells of roasted malts, chocolate, citrus hops, and toasted malts.
t - Tastes of coffee, roasted malts, chocolate, and citrus hops. Also some toasted malts, and a tiny bit of bitterness in the taste.
m - Medium body and moderate carbonation.
o - Overall a pretty good Black IPA from Duclaw. Lots of roasted notes in the nose and taste, as well as some coffee in the taste. Would give another shot.
598 characters
3.83
/5
rDev
+3%
look: 4.5 | smell: 4 | taste: 3.5 | feel: 4 | overall: 4
Pours an extremely dark black, no light is getting through this puppy! It is accompanied by a gorgeous, foamy, deep-tan head. The retention is great and there is nice lacing throughout the tasting.
The aroma smells like an un-enhanced black cup of java with hints of dark, bitter chocolate. I sense hints of barley and maybe a subtle hops aroma hiding behind the stronger scents. Those hops that were hiding in the aroma, come out a lot more in the taste. Also, the bitter chocolate is a more prevalent taste than the coffee. It finishes with a nice burnt roast flavor.
The body is a medium/full body. It is very smooth with lingering carbonation. Overall, I was pleasantly surprised by this beer. The deeper I got into it, the more my taste buds warmed up to it. Quite an enjoyable beer that acts as a calming agent. Give me another!
836 characters
3.78
/5
rDev
+1.6%
look: 4 | smell: 3.5 | taste: 4 | feel: 3 | overall: 4
A - Jet black, 1 finger off white head, not much lacing going on.
S - Suprisingly hoppy, espresso, roasty.
T - Coffee bean, strong piney hops, dark chocolate, roasty malt.
M - Alot of carbonation, a pepsi cola-like burn/tingle, great dark chocolate aftertaste with coffee beans lingering.
D - I could only drink 2, it fills you up, very heavy, decent beer from DuClaw, Devil's Milk is still their best brew though!
P.S. - The ABV on the bottle is 6.4%
456 characters

4.05
/5
rDev
+8.9%
look: 4 | smell: 4 | taste: 4 | feel: 4.5 | overall: 4
DuClaw is bottling now. They'd done large bottles, but they've got 3 varieties in 6 packs now. Black coated, lightweight screwtops that really keep things fresh.
Still getting used to the "black IPA" craze, but this one was definitely the best so far. Deep, rich black with mahogany highlights from the bottle. Tan leather-colored creamy head that laced the glass nicely. Rich smoky malt in the nose with a stout-like smokiness and a roasted sweet malt flavor in the first sip, balanced nicely with a bitter hops bite that stops short of "spicy" or "fruity." Very nicely balanced, making it easy drinking.
607 characters

3.93
/5
rDev
+5.6%
look: 4 | smell: 3.5 | taste: 4 | feel: 4.5 | overall: 4
I had this on tap at the brewpub at Arundel Mills.
A: Dark, dark reddish brown, almost black, with about a one-finger, extremely foamy mocha head that kept a substantial amount of retention throughout.
S: Very faint, but I did get a few puffs of roast and coffee-like bitterness. I though this was supposed to be a Black IPA?
T: Definitely not a black IPA. Very roasty, with extremely bitter and bleached out sweetness. I would describe this as a "coffee" porter brewed with unsweetened baker's chocolate rather than coffee.
M: Very thick and creamy, yet exceptionally dry! The carbonation was good for this style. Surprisingly very impressive in this area.
O: Once again, the over-the-top bitterness hampered my judgment of this one a bit, but it was still damn tasty!
774 characters
3.74
/5
rDev
+0.5%
look: 3.5 | smell: 4.5 | taste: 3.5 | feel: 3.5 | overall: 3.5
I had this on-tap at the brewpub during the release event.
Appearance: Pours with a 1.5 finger tan head with very large bubbles. A layer remains throughout the pour. The color is almost black with a very little bit of light coming through at the edges.
Smell: Definitely the best part of this beer. Mildly sweet citrus hops dominate, but the roast is there. Overall the really nice smelling hops come through.
Taste: Again, the hops win here as well. Very bitter citrus peel hops coat the tongue, the roast is dominated and seems to fight with the bitterness a bit.
Mouthfeel: Medium body with a lot of small bubbles. I would call the finish uber dry.
Drinkability: Overall, I think this is a good beer. It would be nice if there was a little bit more roast, but I'd definitely have more.
803 characters
Black Lightning from DuClaw Brewing Company
3.72
out of
5
based on
99
ratings.