X5 Sorachi Ace IPA
| DuClaw Brewing Company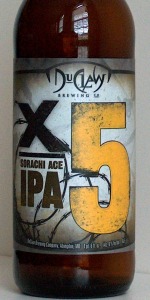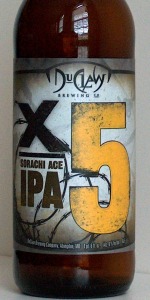 BEER INFO
Brewed by:
DuClaw Brewing Company
Maryland
,
United States
duclaw.com
Style:
American IPA
Alcohol by volume (ABV):
7.20%
Availability:
Limited (brewed once)
Notes / Commercial Description:
No notes at this time.
Added by John_M on 06-10-2011
This beer is retired; no longer brewed.
Ratings: 39 | Reviews: 17
3.8
/5
rDev
+11.8%
look: 4 | smell: 4 | taste: 3.5 | feel: 4 | overall: 4
Imperial rice ale. But it also showcases Sorachi Ace too. In fact, the bottle plays up the Sorachi Ace more than the rice aspect. From the Wine Source
A: The IPA is an orange amber color, crystal clear, with a thin white head. A steady stream of bubbles quickly dissapates, never feeding the head.
S: The nose is malty, biscuit and light toast up front. The Sorachi Ace brings lemony citrus, noticeable but not overwhelming. The rice comes through in the lightness of the malts, biscuity and present but not intense.
T: The Sorachi is a smart addition, consistent with a Japan theme, with lemony citrus hoppiness. Oily but not biting, the hops manage to linger around in the finish. Light biscuit flavors and toast complement the mild hop profile. The rice adds to the body but not much flavor-wise. The hop, in the finish, have just enough citrus to stand out. Very easy drinking.
M: Smooth and mild, this IPA stresses the delicacy of the Sorachi Ace. It's no hop bomb but the flavors go very nicely together.
1,014 characters

4.45
/5
rDev
+30.9%
look: 4.5 | smell: 4.5 | taste: 4.5 | feel: 4 | overall: 4.5
Incredibly unique aroma consisting of lemon rind, dill, lemongrass, and various other herbs. It is a very savory bouquet. Simply wonderful.
To the eye, the liquid is a very clear light honey color with a crisp white head that leaves some pretty lacing. Minor amount of carbonation bubbles float to the top.
Just like the aroma, the taste is incredibly unique. Same scents come through in the flavor, but a bit heavier on the lemongrass and rind. It's still very herbal, but that makes it sound like stew, which it isn't. The bitterness doesn't hit you until the end, and it's slightly puckering.
Medium-light carbonation with a surprisingly medium-light body, and pretty smooth. It has enough carbonation to clean your palate, but doesn't foam up on your tongue. Overall this is a beautiful beer, and should be sought out by anyone who can get their hands on it.
866 characters



2.83
/5
rDev
-16.8%
look: 4 | smell: 3.5 | taste: 2 | feel: 3.5 | overall: 3
A: Clear, gold, 1 finger white head.
S: Pine, calypso, fruity, grapefruit.
T: Over the top bitter. Herbal, astringent, piney, citrus, over sparged or hopped. BU/GU is out of whack.
M: Light to medium with a snappy crispness.
O: Smells waaay better than it tastes.
267 characters


4
/5
rDev
+17.6%
look: 4 | smell: 4 | taste: 4 | feel: 4 | overall: 4
On draft at DuClaw in Bowie, MD.
The beer is yellow hued with a mild haze, sporting nearly a half inch of pure white head that leaves ample lacing on the glass.
The aroma brings spice, malt, coconut, milk, rice, hops. Interesting.
Sorachi Ace hops emerge in the flavor more than in the aroma. A delicate milky coconut flavor blends well with a mild hop character. Some herbal/tea notes add a touch of intrigue and complexity. Much better than I expected.
Medium bodied with appropriate carbonation. The aftertaste carries a subtle but lingering sweetness with hints of fruit and coconut.
Overall, an interesting and enjoyable brew. I'm glad I branched out and gave it a shot.
682 characters

3.68
/5
rDev
+8.2%
look: 4 | smell: 3.5 | taste: 3.5 | feel: 4 | overall: 4
appearance: light yellowish orange in color with a 2" head that lingers a while. Nice lace develops.
Smell: big citrus and floral hop bitterness comes through to the nose.
Taste: caramel, some grapefruit, floral hops, lemon zest, and a late biting bitterness kicks in.
Mouthfeel: medium bodied. Lightly crisp from start to finish with some dryness late.
Overall: a very tasty IPA that has some refreshing qualities to it. Easy to drink.
441 characters
3.2
/5
rDev
-5.9%
look: 4 | smell: 4 | taste: 2.5 | feel: 4 | overall: 3
On tap at DuClaw Arundel Mills Mall.
DuClaw advertised this as an Imperial Rice Pilsner at the bar. No mention of "IPA".
Poured deep golden, not amber, with a tight lace head that dropped quickly. Heavy essence of lime and grass on the aroma with sweet malt backbone. Whiffs of sake-like rice notes made their presence known.
BIG Sorachi Ace presence dominates the flavor profile. So much so that the hop oils coat the tongue heavier with every quaff. Halfway through the pint my palate was fatigued by the intense lime peel/citrus bitterness. Hop bitterness overtook the rice and malt and held their presence to a minimum.
This was my first experience with Sorachi Ace hops. I enjoyed the citrus profile it provided this beer, but in the end, it became over the top intense. This beer is out of balance and too hoppy to thoroughly enjoy. Less IBU's would improve its overall rating.
889 characters
3.66
/5
rDev
+7.6%
look: 4.5 | smell: 3.5 | taste: 3.5 | feel: 4.5 | overall: 3.5
I had this on-tap at Duclaw. Poured into a standard pint glass.
Appearance: Clear amber with a golden hue. There is a half finger of off white head that leaves a layer and some nice lacing.
Smell: Sweet malt, quite herbal with some lemon notes. Crisp.
Taste: Very herbal. Sweet and light from the malt. A bit fruity with hints of citrus and lemongrass. The hop profile is a bit herbal with some citrus peel and the finish is quite bitter.
Mouthfeel: Medium body, mild smooth carbonation, and a dry finish.
Overall: A pretty good beer. I love the herbal notes and the light citrus as well. The bitter finish crushes the other flavors, could have gone for a little more gentle hop profile.
692 characters
3.5
/5
rDev
+2.9%
look: 3.5 | smell: 3.5 | taste: 3.5 | feel: 3.5 | overall: 3.5
On tap at Max's today.
The beer pours an amber copper color with fairly decent head retention and light lacing. Have to say right off that I'm not encouraged by the way this IPA looks. The nose is a bit worrisome as well, as I get considerable malt, some underlying dry citrus and tobacco, and maybe some light cherry. On the palate the beer is a bit better, as the hoppy bitterness in the finish counters the moderate sweet malt fairly well. I guess there's something of a wild rice flavor in the mid palate as well, and the finish is fairly dry. The alcohol is a bit more noticeable than I like to see, especially for an IPA with such a relatively low abv. Mouthfeel is medium bodied to light, with a fairly long, bitter finish.
Have drunk a fair amount of DuClaw beers, and frankly this quality level is pretty much what I've come to expect from them. Oh well...
867 characters
X5 Sorachi Ace IPA from DuClaw Brewing Company
Beer rating:
25.6%
out of
100
with
39
ratings