31 Pumpkin Spiced Lager
| DuClaw Brewing Company
BA SCORE
81
good
12
Reviews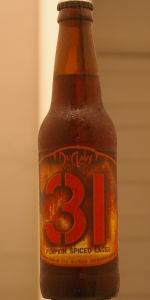 BEER INFO
Brewed by:
DuClaw Brewing Company
Maryland
,
United States
|
website
Style:
Munich Dunkel Lager
Alcohol by volume (ABV):
5.70%
Availability:
Fall
Notes / Commercial Description:
No notes at this time.
Added by Kegatron on 11-14-2011
Reviews: 12 | Ratings: 31

3.56
/5
rDev
+2.6%
look: 3.75 | smell: 3.25 | taste: 3.75 | feel: 3.5 | overall: 3.5
12 oz bottle served in a snifter. 5.7% ABV listed on label.
Clear copper body with a good head.
Start as a lightly spiced amber lager but cinnamon and nutmeg build to a spicy finish. Still not over spiced as are so many pumpkin beers.
Medium body and carbonation.
★
270 characters
3.68
/5
rDev
+6.1%
look: 4 | smell: 3.5 | taste: 3.75 | feel: 3.5 | overall: 3.75
Poured from a brown 12 oz. bottle. Has a copper/amber color with a 1/2 inch head. Smell is of pumpkin, nutmeg. Taste is pumpkin, nutmeg, cinnamon, some malts. Feels medium bodied in the mouth an although this is not a true example of the style, it is a tasty and enjoyable beer.
★
278 characters

3.82
/5
rDev
+10.1%
look: 3.5 | smell: 4 | taste: 3.75 | feel: 4 | overall: 3.75
Pours a clear amber that turns a lovely garnet in intense light. Normal head volume and retention, outstanding lacing.
Nice light nose of biscuit, caramel and hints of cinnamon and nutmeg.
Medium body with an almost creamy texture. Outstanding carbonation with a nice effervescent middle and a prickly finish.
If the flavor profile were a bit more intense, it would be outstanding. Balanced to perfection, the complexity is allowed to shine. Pumpkin makes a subtle appearance in the base, while light caramel and biscuit form the true backbone. Hops and bitterness are hints rather than main components. Spices float over the base and become most noticeable from the middle on but never dominate. The finish is a slow fade of the base with spice overtones.
★
766 characters
3.74
/5
rDev
+7.8%
look: 4 | smell: 3.75 | taste: 3.75 | feel: 3.5 | overall: 3.75
Had two different DuClaw seasonals on successive nights: Although I preferred the imperial pumpkin
ale(62) head-to-head, 31 is also a well done seasonal, that like 62, provides the experience you'd expect from a seasonal without under or overwhelming. This beer is essentially a decent mazen-like lager that builds a little spice into the opening. Again, not overpowering, just enough to let you know you're drinking a seasonal, but without discrediting the core flavor of the beer. Great head on this one.
★
511 characters

3.61
/5
rDev
+4%
look: 3.25 | smell: 3.5 | taste: 3.75 | feel: 3.75 | overall: 3.5
12oz bottle poured into a pint glass. Pours a hazy copper with auburn hues; tan head that fades quickly leaving little retention and no lacing. The aromas have lots of sweet caramel along with subtle hints of ginger. Doesn't smell bad, it's just faint. Everything becomes alive in the flavor department. Lots of grains. Lots of caramel. It has a very nice spice profile in the finish. The cinnamon and ginger are pleasant. Some syrup. Sometimes I forget this is a lager. Alcohol goes unnoticed. I'd say this is light-bodied, but it still feels heavy. Moderate carbonation making it creamy and slick. Smooth and easy drinking.
Nothing too crazy, but I like the flavors. Unique for a pumpkin beer.
★
696 characters

3.53
/5
rDev
+1.7%
Strikingly clear and bright ruby-copper. Nose is a bit soapy. Malt profile is decent. Not really getting any pumpkin. Spices are added tastefully and not overwhelming.
Supposedly, this is a Munich Dunkel with pumpkin and spices. As already stated, the pumpkin is not really present. Also, the spices don't compliment the base beer so much as they detract from it.
★
368 characters
2.24
/5
rDev
-35.4%
look: 3.5 | smell: 2 | taste: 2.5 | feel: 1.5 | overall: 2
Not great. Too sweet, which was reinforced by the spices. Looked good: nice amber color, fairly clear. Smell was driven by the spices; taste was driven by the spices; mouthfeel was a bit thin, even a little grainy. Overall, happy I tried it, but won't try it again. Not enough balance of the normal beery flavors to go along with the spices.
★
341 characters

3.49
/5
rDev
+0.6%
look: 3.5 | smell: 4.5 | taste: 3 | feel: 3 | overall: 3.5
When I began pouring this beer, the room seemed to be slowly overcome with this cinnamon scent. I didn't realize it was the beer at first, but when I did I was happy. On the nose I get (like the label says) lots of cinnamon, and sharp nutmeg. It smells like a rich pumpkin spice beer.
Pours clear with nice carbonation and a pretty tan head built out of larger sized bubbles. Sadly, no lacing whatsoever leaves. I can't stop smelling this though, it's almost distracting.
Kind of like candied caramel to the taste. It is very nice, however the mouthfeel is off-putting enough to distract me. Finishes with cinnamon and nutmeg, as expected.
Bubbly! Very highly carbonated, to the point where I get a bit of carbonation bite. Its a tad rough on the palate. Medium body though, and quite drinkable but not quite sessionable.
★
824 characters
4.09
/5
rDev
+17.9%
look: 3 | smell: 4 | taste: 4.5 | feel: 3.5 | overall: 4
A: Dark rosewood color, allowing light to play in both brown and red colors underneath a small white strip of head that fades to a ring. No lacing.
S: Wonderful "Christmas Beer" scents. Lots of cinnamon scent, that goes well with the rich malty scent.
T: More of those great spices, with a toasted malt backbone that tastes delicious. There is a slight tartness to the beer.
M: Medium-bodied, with great carbonation. Doesn't feel too heavy or too light. It is crisp and clean, but maintains a great malty mouthfeel without being heavy.
O: Overall I really liked this beer. It spiced just right, and had a wonderful malt profile that would stand well on its own. I really enjoyed it, and would buy it again!
★
710 characters
3.05
/5
rDev
-12.1%
look: 3 | smell: 3 | taste: 3 | feel: 3.5 | overall: 3
A- pours a copper color with a finger of off white head. Poor retention.
S- big spice in the nose with the allspice and nutmeg in the front with notes of the cinnamon and clove sprinkled in. Light bready malt on the finish.
T- bready malt flavor blends with the predominant spice flavor. The allspice comes out the most with the other spices blending in. Tastes like a lighter cleaner pumpkin beer with out the pumpkin. Finishes clean.
MF- slick crisp mouthfeel with a light medium body and average carbonation.
D- good drinkability 
★
541 characters

3.06
/5
rDev
-11.8%
look: 4 | smell: 3 | taste: 3 | feel: 3 | overall: 3
On draft at DuClaw in Bowie, MD.
The beer is transparent and copper/orange in color with a small, white head that leaves sparse lacing in it's wake.
The aroma carries heavy spice, particularly cinnamon. Light fruit and misc. autumn spices are in there as well.
I find this too heavily spiced, detracting from any Munich dunkel flavors that may be there. Spices simply overrun the beer, making this more of a fall seasonal brew than any type of German lager.
Thin bodied with fairly low carbonation. Ehh...
Overall, I wasn't a big fan of this brew. Pass.
★
560 characters

3.97
/5
rDev
+14.4%
look: 3.5 | smell: 4 | taste: 4 | feel: 4 | overall: 4
On tap @ the Arundel Mills location on 11/10/11. Served in a pint glass. The name says it all. This is a double spiced version of their annual fall release Munich Dunkel.
Pours a deep clear copper, with thin covering of smooth slightly off-white head. This retains with some rich edging around the sides of the glass, which throws up a foamy cascade that quickly slides down and doesn't leave much in the way of sticky lacing back. The aroma smells of spice immediately, with notes of cinnamon and nutmeg that sits on top of a tangy mix of caramel, bread, and some tight citrus flavor. The spicing here isn't coming off as overbearing at all and I'm actually finding it to be quite nice.
The spices carry over to the taste but like the nose, aren't overdone in any way, as they are set against a caramel flavor and sweet doughy sugars. The sugars and spice work nicely together here, giving this a bit of a gingerbread feel. A touch of citric hops is present as well, which lends the profile a pleasant green crispness. The spice really comes out in the finish here, where it lingers with a dry mix of light bitterness and roast. The mouthfeel is medium bodied, with a firm and crisp carbonation the whole way through. The slickness on the edges of the feel mostly carries the sweetness of this.
I enjoyed this and overall found it to be much fuller flavored than the regular 31. I personally don't mind the spicing of these beers and this case; I really liked how they worked with the hop presence here to really give this a lively and crisp feeling punch. This was tasty and drinkable. I'm glad I gave it a shot.
★
1,638 characters
31 Pumpkin Spiced Lager from DuClaw Brewing Company
3.47
out of
5
based on
31
ratings.