Anti-Venom-Green Bullet
| DuClaw Brewing Company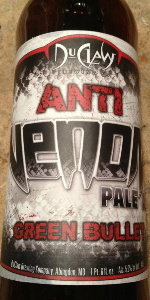 BEER INFO
Brewed by:
DuClaw Brewing Company
Maryland
,
United States
duclaw.com
Style:
American Pale Ale (APA)
Alcohol by volume (ABV):
5.60%
Availability:
Rotating
Notes / Commercial Description:
No notes at this time.
Added by Kegatron on 03-02-2012
This beer is retired; no longer brewed.
Reviews: 7 | Ratings: 17

3.85
/5
rDev
+10%
look: 4.5 | smell: 4.5 | taste: 3.5 | feel: 3 | overall: 4
A a nice head of white foam in a cooper body, good retention and epic lace.
S fruity hops wi a strong mango tinge and some caramel it he background.
T sweet malt with some toffee up font. Orange and grapefruit in the middle with a sweet, malty finish.
M medium thick body, moderate carbonation, and a sweet finish.
D an enjoyable beer, but very thick and sweet for the style.n lots of hops, but not enough to balance..
422 characters
4.06
/5
rDev
+16%
look: 5 | smell: 4 | taste: 4 | feel: 4 | overall: 4
Single finger head with excellent retention on a clear copper with golden hue body. Excellent lacing. Musty citrus mostly orange and tangerine hops with slight herbal sense. Very fruity with candied fruits up front fading to a tart and tangy fruit flavor with intermixed malt and metallic notes. Light to moderate carbonation and creamy body. I liked this one a lot. A touch too tangy hurts drinkability though.
411 characters
3.53
/5
rDev
+0.9%
look: 4 | smell: 3.5 | taste: 3.5 | feel: 3.5 | overall: 3.5
Enjoyed this bomber bottle out of a large snifter glass.
A: Pours a dark copper-amber hue with a nice frothy, white, 2-finger head that quicky dissipates leaving a 360 trail down the glass and ending in a wispy lace.
S: Hoppy aroma with a decent malt background.
T: Very bitter tart flavor with a very hoppy body. Malty middle with hints of caramel.
M: Medium body and medium carbonation.
O: Really good pale ale. Easily drinkable and went down smooth.
457 characters
2.72
/5
rDev
-22.3%
look: 4.5 | smell: 2.5 | taste: 2.5 | feel: 3.5 | overall: 2.5
Poured from a bomber into a standard pint glass.
Appearance: Pours a mostly clear caramel like amber color with a finger of off white head that sticks around pretty well. Nice looking beer.
Smell: Not a whole lot going on here. Mild malt sweetness with just a touch of hops. Kind of boring.
Taste: Like the smell, this is a bit boring. Bready malt but no real sweetness. The middle of each sip showcases the hops, but it's quite underwhelming. I would have liked some fruity notes or more sweetness to back up the taste. Not particularly memorable.
Mouthfeel: Medium body with fluffy/tingly carbonation and a dry finish.
Overall: I'm enjoying the creativity coming out of Duclaw of late, but this one wasn't a hit for me.
726 characters

3.51
/5
rDev
+0.3%
look: 4.5 | smell: 3.5 | taste: 3.5 | feel: 3 | overall: 3.5
Don't believe I've ever experience Green Bullet hops before, this should be interesting...
A - Two fingers worth of light airy fluffy off-white colored head... Solid retention and the heads becomes much creamier as it settles a bit... Light caramel in color... Completely translucent... A moderate bit of slightly sluggish carbonation... A bit of lacing clings to the glass...
S - Subtle aroma... Lots of caramel... Lots of cracker... Lots of bready malts... Very little in the way of hops... Those that do present themselves take on a earthy character... Perhaps a hint of spice as well...
T - Starts a bit malty... Mostly bread and cracker with only a slight touch of caramel... Then the hops present themselves are are much more assertive on the palette... They are a mix of piney and earthy... A bit pungent...
M - Medium bodied... Sturdy... Very light carbonation... A bit on the dry side...
D - Not a bad beer by any stretch, but nothing really to get excited by either... The is an uniquely hopped surprisingly dry American Pale Ale... A got bit of flavor and character for 5.6% ABV... Du Claw is a brewery that I've become quite found of given the wide range of offerings and the creative liberties they take... While this isn't my favorite offering from them, it is a perfect example of what they try to accomplish...
1,335 characters
3.92
/5
rDev
+12%
look: 4 | smell: 4.5 | taste: 3.5 | feel: 4 | overall: 4
A- Amber colored body with a very clear transparency. Very thick off-white head with good lacing.
S- Tropical hops dominate the nose with a slight malt back bone.
T- Taste is fairly dull until the finish which provides the tropical hop notes. Middle of the taste is a balance of hops and malt.
M- Good body, good carbonation.
O- I like the idea of using different hops and making a series. This one is pretty interesting and pretty good.
441 characters

2.66
/5
rDev
-24%
look: 3.5 | smell: 2.5 | taste: 2.5 | feel: 3.5 | overall: 2.5
22 oz bottle into a couple of tulip glasses.
This is the first of new single hop takes on their Venom Pale Ale with this one featuring the New Zealand Green Bullet varietal.
Pours a bit dark for an APA, with a crystal clear coppery amber body that is topped with roughly a finger of white sudsy head. This retains with some rich edges and a frothy dollop of foam in the center of the glass which rings the sides with sticky lace. The aroma smells of toast and caramel right off the bat, with some lighter tropical fruit notes working themselves in as well. Fresh floral hops and citrus actually come in more along the back of the nose, with some gentle notes of spice and pine maybe showing themselves a bit here as well.
That roast is just dominate here though and adheres to the herbal and tropical character and gets to be pretty distracting at times.
The taste is bitter citric hops, with a softer edge of herbal and tropical fruit flavors to it. Like the nose, an uncharacteristic amount of caramel and toast come out across the back of the profile, adding an almost darker molasses feel to this. Pine and spice linger a bit on a relatively dry finish. The mouthfeel is medium bodied and crisp on the tongue with more of an oily smoothness across the back of the palate. Just a touch of alcohol warmth lingers on the finish.
Well this certainly is the Anti-Venom, as it has absolutely nothing in common with the regular Venom Pale Ale that I find to be a pretty solid take on the style. This beer just has WAY too much influence from those Caramel malts to the point that it was extremely distracting and covered up any crispness they were trying to achieve or what they were trying to showcase here with those Green Bullet hops. This beer supposedly has the same malt bill as the regular Venom but it seems like this batch maybe had the quantities mixed up. Hopefully they get things worked out for future batches, because as this stands right now, it's more of a Red Ale than an APA and not a very good one at that.
2,033 characters
Anti-Venom-Green Bullet from DuClaw Brewing Company
3.5
out of
5
based on
17
ratings.