Funk (DUPLICATE)
| DuClaw Brewing Company
BA SCORE
81
good
13
Reviews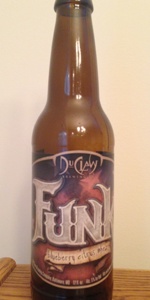 BEER INFO
Brewed by:
DuClaw Brewing Company
Maryland
,
United States
duclaw.com
Style:
American Pale Wheat Ale
Alcohol by volume (ABV):
5.00%
Availability:
Limited (brewed once)
Notes / Commercial Description:
Duplicate of http://www.beeradvocate.com/beer/profile/1924/12160/
Added by stephenjmoore on 07-10-2013
This beer is retired; no longer brewed.
Reviews: 13 | Ratings: 156
3.68
/5
rDev
+6.1%
look: 3.5 | smell: 3.5 | taste: 3.75 | feel: 3.75 | overall: 3.75
Smelled blueberries as soon as I opened the bottle. Pours a nice cloudy golden honey color, with a small white head. As far as taste, there is a hint of blueberries at the start, but not overwhelming. The finish is kind of bland though. Overall, I like this beer, I could drink this all day long. The blueberries give it a little something to make it different, but not ruin the pleasure of drinking it.
★
409 characters
3.53
/5
rDev
+1.7%
look: 3.5 | smell: 3.5 | taste: 3.5 | feel: 3.75 | overall: 3.5
A: Pours a relatively clear golden honey in color with moderate amounts of active visible carbonation and a hint of amber + golden yellow highlights. The beer has a half finger tall sudsy fizzy foamy white head that quickly reduces to a large patch of thin film covering about 75% of the surface of the beer and a medium thick ring at the edges of the glass. Light to moderate amounts of lacing are observed.
S: Light to moderate aromas of wheat, citrus/orange, and just a hint of blueberry. Light amounts of funkiness become present as it warms up.
T: Upfront there is a moderate flavor of wheat, pale malts, and Belgian witbier yeast. That is followed by a light flavor of barnyard funkiness with a light amount of citrus/orange. Finally, there is a hint of blueberry in the finish which is neither tart nor sweet. Minimal amounts of bitterness.
M: Just shy of medium bodied with moderate amounts of carbonation. Light amounts of acidic tartness and dryness in the finish.
O: Interesting but the blueberry and citrus are much more mute in the flavor/aroma than I expected. Nice amounts of funkiness. Easy enough to drink but not interesting enough to want another.
★
1,170 characters

3.54
/5
rDev
+2%
look: 2.75 | smell: 3.75 | taste: 3.5 | feel: 3.75 | overall: 3.5
Brewed in the style of an American Pale Wheat Ale. Available in 12 oz. bottled 6 packs and on draft.
Poured from a 12 oz. bottle to a snifter glass. Served above 55 degrees Fahrenheit.
(Appearance) Pours a crisp frothy head of an off white color over a pale amber body with moderate haziness and lots of sediment in tow. Soft carbonation is visible. Retention is below average and there is no visible lacing. 2.75
(Smell) Strong aromas of juicy and sweet blueberry extract up front, with subtle notes of orange peel over a pale and soft wheat body with a moderate sweetness. Light blueberry tartness predicts a wider range of blueberry flavors. Low hop profile and a low bitterness. The aroma is reminiscent of blueberry-heavy beers, of which local SweetWater Blue comes to mind. 3.75
(Taste) The flavor starts and ends with lingering dried blueberries and blueberry extract, softly sweet but very potent in flavor. Chewy wheat malts and light pale syrups make for a sufficient malt profile, whereas hop flavors and bitterness is nowhere to be found. The little bit of balance that this beer has comes from a subtle inclusion of orange peel, which doesn't contribute much to flavor and isn't quite enough to balance the blueberry syrup fruitiness. The fruit profile isn't as startling and over-the-top as fruit syrup beers (Leinenkugel's Sunset Wheat and Wild Blue come to mind), but the lack of balance is still notable. 3.5
(Mouthfeel) The texture is slightly chewy, smooth and lightly dry. Carbonation is moderate, generating a medium frothiness and a moderately crisp finish. Body is medium+ for the style, shy of medium overall. Balance is moderately sweet over bitter. Alcohol presence is low and there are no off characters. 3.75
(Overall) Blueberry is one of the more challenging flavors to capture in a beer and many breweries resort to blueberry extracts over the actual fruit. Wheat beers sound like the best candidate for blueberry flavor, and due to the popularity of large name brands popularizing the liquid Fruity Pebbles flavors of artificial blueberry, there will always be a market and a desire for beers like Funk and SweetWater Blue, even though the balance of flavors involved is often too sweet and imbalanced to impress a seasoned Pale Wheat drinker's discriminating palate. Funk will do in a pinch as one of the better balanced blueberry-infused wheat ales, but the blueberry flavor still comes off as far too artificial and one-dimensional and combined with the malt profile too boastful to generate an interesting array of flavors. I would have enjoyed more tart notes of blueberry or a more pronounced bitter citrus flavor. Looking back at the title of this beer I had even anticipated even some sourness, but it looks to be little more than a play on the color of blueberries. 3.5
DuClaw Brewing Company's
Funk Blueberry Citrus Wheat
3.54/5.00
★
2,879 characters
3.95
/5
rDev
+13.8%
A: Medium hazy gold. Short of burnished in my opinion. No head to speak of. Fast rising bubbles are a plus (3.5/5)
S: Very sweet. Lemonhead candy, moderately tart blueberry syrup smell. Not overbearingly sweet though (3.75/5).
M: Really light and crisp. Effervescent. Cuts down on sweetness and makes the beer very easy to drink despite high sweetness. Perfect for sweetness level and flavor of beer (5/5).
T: Blueberry lemon pound cake. Sugary blueberry sweet at first. Doughy wheat malts, light pepper notes. Tart lemon finish cleanses the palate well. Lingering fresh picked blueberry taste even though the origin of that flavor is far from it. One of the better btled blueberry beers that I have had (3.75/5).
★
716 characters
3.99
/5
rDev
+15%
look: 3.75 | smell: 4 | taste: 4 | feel: 4 | overall: 4
Found this mixed and marched at the House of 1,000 beers. Very cheap just $1.85 for the single.
A - Quite cloudy orange yellow color slightly dark with a 1/4 inch of head that settles quickly to a light lace ring. Sticky lacing.
S - Very fruity waves of citrus and intense blueberry, but not sour like a iambic more like pie filling. Hope it's at least tart.
T - Well it does have a distinct blueberry taste not tart or intense. The wheat is done well rounding out the flavors of both the citrus and blueberry. Sweet, fruity, light.
M - Light to medium easy to chug but better to sip. Very tasty.
Overall this is good stuff only available for a limited time. Will try and get another 6 pack I am liking it as much as O'fallon Wheach which I now have a case of!
★
762 characters
4.1
/5
rDev
+18.2%
look: 3.5 | smell: 4 | taste: 4.25 | feel: 4.25 | overall: 4
This beer has a thick malty appearance, and a wonderful blueberry smell. It also has a strong blueberry taste, with a clear blueberry aftertaste. This beer clearly achieves the blueberry taste that the name implies. A strong malty flavor, with a kick of blueberry, this a great sweet fruity beer, yet I do not think it is overly fruity, the taste of blueberry was just the right amount in my opinion.
If you like blueberries, and like beer with a slight fruit flavor, you will likely enjoy this beer. I felt the levels of blueberry taste was the right amount, enough to clearly taste and smell it in the beer, but not overly done.
★
631 characters

2.91
/5
rDev
-16.1%
look: 3 | smell: 3.75 | taste: 2.5 | feel: 2.75 | overall: 2.75
12 oz. bottle poured into a Flying Dog goblet
A: Straw/Blonde that is hazy but has lots of carbonation bubbling up.
S: It smells like old blueberry muffins from a box mix. Not much of a funk but a bit of lemon bars in there as well.
T: Standard bland wheat beer with a hint of what seems like artificial blueberry. This one will be put to better use in the form of blueberry pancakes. Sorry DuClaw, again with the miss.
M: Bubbly and effervescent.
O: Not to my palate. Tastes like standard "beer" or what I associate it as, to me. I've been meaning to make pancakes anyway, so this will do great.
★
603 characters
3.23
/5
rDev
-6.9%
look: 3.25 | smell: 3.25 | taste: 3.25 | feel: 3 | overall: 3.25
12 oz bottle into a pint glass.
A: Pours a clearish golden color. The head is a finger high and white in shade. While it has a nice creaminess, it doesn't have good retention. A minute ring of lacing is left on the glass.
S: The first thing I smell is pure Fruity Pebbles. Additional notes of candied sugar and wheat are prevalent. If I really concentrate, I can even pick up a touch of lemon. It's fairly simplistic in its aroma. On the plus side, it knows it's a simple fruited wheat beer instead of posing as a witbier or hefeweizen. It does what it purports to do admirably.
T: The fruitiness is quite prevalent at first, bringing both blueberry and lemon. It seems a bit artificial, unfortunately, but it doesn't screw it up completely. A simple wheat flavor finishes it off. It's just another fruited wheat beer at the end of the day, but it's pulled off decently.
M: Body-wise, it's a bit viscous, and not exactly bone dry on the finish. Sweetness lingers, but not annoyingly. The texture could be creamier, though. High carbonation wills it down quite easily - indeed, this one is fairly refreshing.
O: Back in the day, right before I got into craft beer, I mainly drank Leinie's Sunset Wheat. Drinking this reminds me of those days, so I've grown a bit of a soft spot toward it. This won't win any awards, or even be my first choice for a warm weather refresher, but I'll probably drink it again at some point.
★
1,426 characters
3.27
/5
rDev
-5.8%
look: 3.5 | smell: 3.25 | taste: 3.25 | feel: 3.25 | overall: 3.25
Picked up a bottle randomly at Pin's.
Pale yellow-gold color, with a bubbly white that sank to a thin ringlet, leaving some light lacing on the glass. Light citrus and toasted wheat in the aroma, not as much blueberry as I would have expected. Largely the same in the taste, toasted grains, light hints of lemon, and the blueberry was candy-like but quite faded. This was a lighter bodied brew, drinkable, lacking the harshness that I get from the grainy quality in many wheat beers. Decent, but not something I'd drink regularly.
★
531 characters
3.46
/5
rDev
-0.3%
look: 3.25 | smell: 3.5 | taste: 3.5 | feel: 3.25 | overall: 3.5
This beer has a hazy orange color body with a thin small head to it. The aroma has a blueberry, citrus smell to it. The taste is of blueberry and lemon upfront then some wheat comes in on the finish. Mouthfeel is smooth but thin and overall is a tasty beer.
★
257 characters

3.34
/5
rDev
-3.7%
look: 3 | smell: 3.25 | taste: 3.5 | feel: 2.75 | overall: 3.5
Du Claws "Funk Blueberry Citrus" is actually a pretty good Brew as a whole,not too Sweet,with a nice Blueberry finish and hints of citrus,I enjoyed it quite a bit actually,however it has a rather Thin mouth feel and a somewhat watered down taste,if it had a bit more body,I think it would be an outstanding fruit beer,and I would have gave it a Much higher score,as it stands I still think it is a good,Decent fruit Brew,and a good choice when you are in the mood for a non traditional Brew~
Cheers and Peace2All:)
★
514 characters
3.01
/5
rDev
-13.3%
look: 4 | smell: 3.5 | taste: 2.75 | feel: 2.75 | overall: 2.75
A- Pale golden body with crystal clear transparency. Thin white head that hangs around for a while and leaves lacing.
S- Blueberries, orange, lemon, wheat. Very fragrant and sugary.
T- Fizzy blueberry and citrus up front, with some wheat mixed in. Really as advertised, but the fruit tastes somewhat artificial. Almost like you would expect from a Capri-Sun.
M- Fizzy and thin. Would be drinkable except for the artIficial aftertaste.
O- The fruit flavor is just not good unfortunately. I did not get the artificial chocolate peanut butter in sweet baby Jesus, but this one does taste artificial unfortunately.
★
623 characters
Funk (DUPLICATE) from DuClaw Brewing Company
3.47
out of
5
based on
156
ratings.