Heartland Wheat
| Lucky Bucket Brewing Co.
BA SCORE
82
good
15
Reviews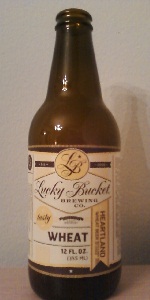 BEER INFO
Brewed by:
Lucky Bucket Brewing Co.
Nebraska
,
United States
luckybucketbrewing.com
Style:
American Pale Wheat Ale
Alcohol by volume (ABV):
4.80%
Availability:
Year-round
Notes / Commercial Description:
No notes at this time.
Added by dbossman on 06-04-2012
Reviews: 15 | Ratings: 65
3.5
/5
rDev
-1.7%
look: 3.5 | smell: 3.5 | taste: 3.5 | feel: 3.5 | overall: 3.5
this is a bit unconventional, and my first nebraska brew! pours a moderately hazy pale pale straw color with a jovial white head. smells very lemony, rind and juice, almost from concentrate smell. also nice fresh wheat malt that imparts a nice bready aroma, and a clever yeast with a touch of spice. the flavor is very lemon forward, tart and crisp, perfect for summer. the yeast ties it all together in a fruity flavorful ribbon, and it totally works. super easy drinking with a light body and intense carbonation. i was impressed with this and will have to visit the brewery next time through. solid summer drink.
615 characters

3.92
/5
rDev
+10.1%
look: 3.5 | smell: 4 | taste: 4 | feel: 3.5 | overall: 4
Poured from bottle into pint glass
Appearance – Pours a hazy yellow/golden color with a two finger white head. The head fades in a moderate amount of time to leave a lighter amount of lacing.
Smell – The aroma is heaviest of wheat bread and lemon citrus. Mixed with these aromas are some lighter notes of a grassy smell as well as a light yeasty smell.
Taste – The taste begins with a good grainy wheat flavor. It is relatively on the more sweet side. Flavors of a light lemon citrus hop flavor accompany the wheat in the start. As the flavor advances, some bitter flavors intensify while the beer dries out a bit. In the end some flavors of yeast and pepper combined with the rest to leave a crisp wheat flavor on the tongue.
Mouthfeel- The body of the beer is on the lighter to medium side with the carbonation level being very average.
Overall – The beer had a great wheat flavor and was quite easy to drink. Quite grainy but very nice overall.
961 characters
3.81
/5
rDev
+7%
Entry No. 2 of Craft Beer Expo. I was pleasantly surprised by this offering. Notes are from my rating scale and manual I carried with me while I was there. There's not much to this description as I was chatting it up with some girls at the tasting table. What I've jotted is all I got.
Serving style : 6 oz taster glass
Appearance (3.75) : Hazy orange glow. Around 70% opacity.
Aroma (3.5) : Strong wheat and orange fruit. Bouquet, while simple, is medium to strong.
Flavor (4) : Pleasantly hoppy, lots of malt too. Barley, orange rind, pine, and a lightly woody character.
Mouthfeel (3.5) : Light bodied, creamy, wet, ending semi-dry.
Overall (3.81) : "Good wheat character with a hop bite, refreshing and sessionable." Would Buy - Yes; Would Try Again - Yes.
767 characters

4.16
/5
rDev
+16.9%
look: 3.75 | smell: 4 | taste: 4.25 | feel: 4.25 | overall: 4.25
Heartland Wheat pours a hazyish straw color, with a small lacing head. Their is a wheat like aroma, with hints of citrus. The taste has a nice easy wheat grain taste, with a nice lemon note, and just a small bit of hoppy bitterness. So easy to drink, and very full flavors. Overall one of the better wheat beers I have had.
323 characters
3.78
/5
rDev
+6.2%
look: 3.25 | smell: 4 | taste: 3.75 | feel: 3.75 | overall: 3.75
Golden straw colored body hosts a quick fading off white head that stands at a half inch. Nose has notes of honey comb, lemon pulp and fresh cut clean straw. This beer hits the tongue with a bang of lemon zest and big bold wheat. This is a clean and refreshing wheat beer while also being nicely flavorful. It carries a simple level of complexity that makes it a well rounded and overall exceptional basic wheat beer.
421 characters
4.07
/5
rDev
+14.3%
look: 3.5 | smell: 4 | taste: 4.25 | feel: 4 | overall: 4
Had this one a few times before since it is just made 15 miles from the house! Last sampled on 10/28/13. Chilled down to 36 degrees F in my beer cooler and poured into a pilsner glass.
Pours a straw-yellow in color with a very thin white head. Leaves some spotty lacing when sipped. The aroma is of course mostly wheat grain with a hint of citrus. The taste is of wheat right up front with a sweet light corn flavor. Very easy to drink with the right amount of carbonation. Well balanced and a great wheat beer that is made locally.
533 characters

3.58
/5
rDev
+0.6%
look: 4 | smell: 3.5 | taste: 3.5 | feel: 4 | overall: 3.5
A: Pale, cloudy yellow hue with a huge frothy head; lacing is good
S: Grainy with a big dose of citrus; lemon rind, lemon, pepper, coriander, very grassy and grainy--this smells pretty good though maybe a touch one dimensional
T: Simple but tasty; quite grainy; lots of the wheat along with grass but also lots of lemon and lemon rind--really pretty refreshing
F: Well carbonated; medium body; a touch thin on the back end
O: This is a summer session beer; really drinkable; it's simple and I"m not always a huge fan of the style but this is pretty good nonetheless
577 characters

3.55
/5
rDev
-0.3%
look: 3.5 | smell: 3.5 | taste: 3.5 | feel: 4 | overall: 3.5
Heartland wheat pours a clear golden-yellow color with minimal foam. The aroma is a mixture of wheat and malt with some sourness peaking through. Not sure what the source of the sourness is, but it is a little too much. This continues on the palate where citric acidity is balances some light malt. The body is wheat all the way. I would prefer a little less sourness, but overall a drinkable summer brew for a hot summer day.
426 characters

3.26
/5
rDev
-8.4%
look: 3.5 | smell: 2.5 | taste: 3.5 | feel: 3.5 | overall: 3.5
My coworker is signed to a beer of the month club and was kind enough to share this with me.
This pour hazy yellow with a rock white head.
There is a crispy kind of sharpness with soft wheat and citrus hops aroma at first in the with moderat sulfar note that diminishes after a couple of minutes.
Moderate wheat flavor with a moderate hop bitterness both lasting into the crisp finish. There is a medium-low citrus hops flavor in there as well
This has a medium light body with a medium-high level of carbonation.
This is an easy to drink refreshing beer. It's too bad the nose is off for the first couple of minutes but the flavor is just fine.
653 characters

3.88
/5
rDev
+9%
look: 4 | smell: 3.5 | taste: 4 | feel: 4 | overall: 4
Hazy yellow beer with nice hints of amber and a sea-foamy shock white head on top. Nice retentive sheet on top. Fresh and citrusy on the nose, big notes of wheat that combine with the citrus to make for a nice nose. Even something a little funky in there, a hint of that farmhousey yeast that goes with Belgian wheat beers. Not bad.
Nice and soft body from the wheat that lets the flavors come out pretty nicely. Pleasant notes of citrus and wheat with a touch of toasty bread notes from the barley. The citrus comes in on the back side, partly from the very mild bitterness from the hops. These hops seem to have imparted more of their flavor than the bitterness, giving out a nice lemony citrus in the back end that brings the beer around into a big refreshing circle. A hint of that yeast comes through, imparting a slight bit of funk to the citrus and wheat flavors. It is a welcome taste. Great with the smooth mouthfeel and easy going nature. Clean and crisp mouthfeel that puts a bow on it.
Nice little hints of complexities with this beer, but it is better enjoyed as an easy going sipper on a hot summer day that you could drink while barbecuing.
1,158 characters

2.63
/5
rDev
-26.1%
look: 3 | smell: 2.5 | taste: 2.5 | feel: 2.5 | overall: 3
Cloudy gold, just a finger of dying white head on mine.
A previous description of old pretzels is apt for the nose - like those that may have been at the bar for a few weeks.
Led by a predominant yeasty sourness, do we really need to go further? The wheat is there, but comes through dry, like have to separate the grain from the chaff with your tongue - this isn't fun.
The taste being as it is, the carbonation doesn't matter much, though it overly pops the tongue.
Parched in the desert? This is ok. Otherwise? Look elsewhere.
537 characters

2.73
/5
rDev
-23.3%
look: 3 | smell: 2.5 | taste: 2.5 | feel: 4.5 | overall: 2.5
poured from a bottle into a goblet
clear straw color before the bottle swirl, which caused it to be a little opaque, but the yeast never settled
smells like sour pretzels and funky bread
taste is mostly sour and a bit bready -- as a general rule, I don't add fruit to my beer, but I think a lemon might add some sweetness that this beer needs
the mouthfeel is really good. crisp and clean with a dry finish, which makes it easy drinking
overall, it tastes very sour to me and overall seems very average. I wouldn't go out of my way for this one
549 characters
3.76
/5
rDev
+5.6%
look: 4.5 | smell: 4 | taste: 3.5 | feel: 3.75 | overall: 3.75
Poured from a 12 ounce bottle into a Shaker pint glass, there was no date on the bottle that I could find.
APPEARANCE: pours a beautiful cloudy, straw color with one-finger white head that soon dissipated leaving a thin, almost unbroken layer of small bubbles, moderate lacing and lightly carbonated as is normal for the style.
SMELL: bread and lemon citrus.
TASTE: the taste follows the nose, bready with lemon citrus, very mild hop profile.
PALATE: this beer has a creamy mouthfeel, medium body and carbonation.
OVERALL: this beer looked and smelled better than it tasted, it's good but not my favorite wheat beer so will probably not have this one again.
667 characters
3.67
/5
rDev
+3.1%
look: 3 | smell: 3.5 | taste: 4 | feel: 3.5 | overall: 3.5
Upon opening there is one finger white head maybe less than a finger. It laces a bit and the head does not retain that well. The color is a straw gold. Bubbles sporadically rise to the top but there is no consistency in the carbonation by appearance.
Smells of grain to a certain extent and amounts of wheat here and there. Malts here and there. The smell is not incredibly aromatic but its at least there.
The taste makes up for the appearance and smell. The taste is much more strongly of wheat than anticipated. Some grain and a little malt comes in thereafter. It has a nice wheat-y bitterish taste that is pleasing.
This beer has a good amount of carbonation maybe a bit much. Its slick and not too sticky which is good. Overall is goes well with the taste.
Overall, I have tasted wheat beers that have been much better in all aspects that are aromatic and have strong tastes which I look for. However, it presents a lighter wheat beer for those who aren't into the strength of most.
996 characters

3.97
/5
rDev
+11.5%
look: 3.5 | smell: 4 | taste: 4 | feel: 4 | overall: 4
Pours a smooth golden color, two fingers wide head at the top, poured into a wheat beer glass. Smells strongly of wheat and citrus. More lemony smell than any other wheat beer I've had. Mouthfeel is pretty light, feels like a wheat beer. Tasting of lots of lemon, just like the smell. Goes down smooth, you can definitely taste the wheat behind the citrus. Lemon aftertaste, but not sour. My favorite wheat beer.
412 characters
Heartland Wheat from Lucky Bucket Brewing Co.
3.56
out of
5
based on
65
ratings.