Havana House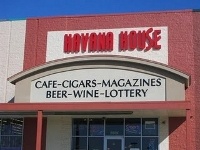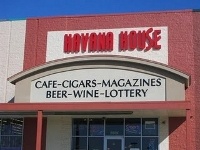 PLACE INFO
Type:
Bar, Beer-to-go
5801 Youngstown Warren Rd
Ste 200
Niles
,
Ohio
, 44446-4709
United States
(330) 544-0500 |
map
premiumcigaryoungstown.com
Notes:
No notes at this time.
Added by Rhynes2 on 01-29-2009
PLACE STATS
Reviews:

10

Ratings:

pDev:

8.12%
HISTOGRAM
View: Place Reviews
Ratings: 12 | Reviews: 10
Reviews by Rhynes2:
3.65
/5
rDev
-15.3%
vibe: 4 | quality: 4 | service: 3.5 | selection: 3.5 | food: 3
Havana House is a great establishment for those people who enjoy refined tastes. Not only is this a place to go for craft beer, but also has a wide selection of wine, fine cigars, and coffee. Your ability to smoke in the shop also sets it apart considering the Ohio laws prohibiting smoking in most public venues. Weekly tastings attract quite a crowd on the weekends. Not only is this a good value as far as price is concerned, but its atmosphere is great. Very relaxing and low key. One of the best shops in our area for sure. Staff is also very friendly and knowledgeable.
575 characters
More User Reviews:

5
/5
rDev
+16%
vibe: 5 | quality: 5 | service: 5 | selection: 5
DISCLOSURE: I'm the manager (2014-present). I'm super glad to see the mostly positive feedback from patrons. Our beer selection continues to grow and we now have 12 taps (albeit one is coffee: our house-brewed cold brew nitro). Sorry if this reads like an ad but I just want to make sure the correct and most recent information is out there.
For those of you who felt like our prices were high, about 2-3 years ago we remodeled our beer pricing system.
All Carry-Out Beers, even singles used for "mix-a-six" packs, are STATE MINIMUM. (I.e. $11.99 six-pack equates to $2 singles.) On-Premise Beers are State Min + $2 Corkage Fee across the board. Same idea with Wine, but with a $5 corkage fee.
Additionally, we've added a healthy selection of high-quality bourbons, scotches, tequilas, gins, rums, and other spirits that you can have straight, on the rocks, or in a cocktail.
885 characters
4.04
/5
rDev
-6.3%
vibe: 4.25 | quality: 4.25 | service: 3.75 | selection: 4

3.89
/5
rDev
-9.7%
vibe: 2.75 | quality: 3.5 | service: 4.5 | selection: 4.25
DATES! DATES! DATES! If there's one thing I've learned from visiting Youngstown area craft beer spots, it's this: CHECK THE DATES! If there's no date, don't buy it unless you can be absolutely certain that it's fresh/just released. /rant
So, as you have probably surmised, old beer was an issue here when I went about 2 weeks ago. Very good selection. That's not in question. However, I mixed a six pack from their large selection of singles (thankfully all in a cooler), but I probably put back at least 12 other bottles due to old/no dates. They also had a Weyerbacher tap takeover going on, so I was able to enjoy a fresh Double Simcoe. I assume their taplist is generally pretty solid, but this was my one and only visit (so far).
Atmosphere, is, well, not great if you're not a smoker. EVERYONE was smoking cigars or cigarettes, and it was a bit overwhelming to be honest. I'm not anti-smoking, but I've become accustomed to no smoking establishments. I'm not sure how they get away with allowing smoking, since as far as I know Ohio has a smoking ban in place. I guess there's a loophole. Anyway, if you're not a smoker, be prepared to deal with a shit-ton of second-hand cigar & cigarette smoke.
Service was good. Employees were cool and I had a good convo with a few peeps about the Portland beer scene. Being a Youngstown native, it's good to return to find more and more people into good beer.
Prices: I don't know. There weren't prices on the bottles, but also wasn't really worried about it. From reading the other reviews, I guess they're high? I paid around $25 for a mixed sixer (with three Prairie bottles in it) and a glass of Double Simcoe.
Overall, I'd recommend this place. Mostly because there really aren't a ton of options in the area. But it's worth checking out if you're in the area (and if you can handle second-hand smoke). I'll probably go back next time I'm in town since my sister lives close by.
1,934 characters

4.21
/5
rDev
-2.3%
vibe: 4 | quality: 4 | service: 5 | selection: 3.75
I was in Warren Ohio this past weekend due to a death in the family. While I was there I visited the Havana House to check out the beer selection. The beer selection was pretty good but the service was great!! Ben was very helpful in picking out beers and even provided some beers that are pretty tough to get. I walked out with Hop Slam, Hi Res and a few others. This place is also a cigar store so be prepared for the cigar smoke but it's well worth checking out if you are in the area!!! Thanks BEN!!!
504 characters
4.46
/5
rDev
+3.5%
vibe: 4.75 | quality: 4.5 | service: 4.25 | selection: 4.5
Listen up, this is a craft beer drinking cigar smoking son of bitch's dream lounge. Remote Ohio strip malls, what do they have to do with world class beer and cigars...the Havana House Niles location, that's what. Awesome selection I picked up a sixer of White Rajah IPA, but they had at least 40 beers I had never seen before, myself I was itching my other new obsession while here, smoking the finest hand rolled cigars America has to offer. Havana House Boardman, Niles, and Bath locations offer exactly that. Small boutique cigar offerings found in the same roof as full service bar alongside small batch beer, coffee roasts, and wines. Well produced videos available on youtube describe their selection on cigar, beer, and wine line at a time with heir of the Havana House Tony Bellato and friends doing their Vice Picks videos. Well thought out beer, cigar, and wine talk highly entertaining and keeps me up to date on in house specials on all three offerings. Do yourself a favor and make it out to Niles, OH to check the selection out...believe me you won't be let down and sit on the leather couches in the back of the house smoking Tony's new line of cigars La Barba, and drinking some of your favorite craft beers, and small production fine wines.
1,258 characters

4.08
/5
rDev
-5.3%
vibe: 3.5 | quality: 4 | service: 4.25 | selection: 4.25
Atmosphere - set in a strip mall, they have cigars in the front of the store, a small section of craft beer to the right and in the back they have about 6 coolers full of singles and bombers
Quality/Selection - some of the beer had been sitting a long time as evidenced by the layers of dust. Most of the beer in the coolers had best by dates. Selection for domestics was good as there were a lot of regional choices available (Bell's/Founders/Dark Horse/Columbus/Fat Head's, etc). Selection for Germans/Belgians wasn't as extensive.
Service - young man working was helpful, had suggestions on things to try, yet wasn't pushy
Value - Items here can get pricey, everything sold at singles pricing, no six pack pricing. Not unreasonable, though.
Worth checking out if in the area.
782 characters

4.53
/5
rDev
+5.1%
vibe: 4.75 | quality: 4.5 | service: 5 | selection: 4
Atmosphere- was very cool. Friday afternoon and there was a steady crowd in and out, as well as a handfull of people sitting and enjoying the wares.
Quality- Excellent selection of beers in a massive set of coolers as well as cigars and wine. Excellent selection although it looked like they have been selling out of many of the popular rare finds. This is expected.
Service- Absolutely 5 star service. As I was picking out my mix n match 6 pack, one of the sales rep came and struck up a small conversation asking if I needed any help. I mentioned a beer that I have been searching for that wasn't on the shelves and he went into the back and brought out a bomber from the same brewery that is also a hard to find excellent beer that I wanted to try. Absolutely went out of their way for me, Thanks.
Selection- Very solid wide veriety of beers, wines, cigars. I am ipressed.
Value- It was pricey, but that is expected and it was still cheaper than buying 6 packs before trying beers and I also bought rare and beers out of our area.
Thanks !
1,048 characters
4.5
/5
rDev
+4.4%
vibe: 4.5 | quality: 4.5 | service: 4.5 | selection: 4.5
Atmosphere: The Havana House has a nice atmosphere with plenty of seating and wall-to-wall floor-to-ceiling coolers filled with just about any beer you can imagine (JUST about.) There are plenty of tables to sit at and enjoy a beer or wine of your choice and a smoke or two, and they have a TV or two in there as well.
Quality: The place is always nice and clean, and the quality of the selection is great. They have something for everyone there; from some of the rarest and finest craft beers, to the crappiest macros.
Service: The service was good the two or three times I've gone there, although I don't go there much because of the prices (more on that later) unless I'm looking for some particular rarity that I can't find anywhere else. It took a few minutes, but the staff eventually came over and asked if I needed help finding anything, and they have always been very knowledgeable about fine craft beers and provided helpful suggestions based on what I like. I discovered a couple of really excellent stouts and porters because of the staff there.
Selection: The selection is second to none for this area. It's not a huge place, it's basically a hole in the wall, but they've managed to pack as much as they possibly can in what little space they have, and they've done it efficiently and elegantly. There is a walk-in cooler with fine rare cigars in humidors and a good selection of fine wines. The rest of the store is lined wall-to-wall, floor-to-ceiling with coolers of beer (one side is shelves on the wall about halfway down the length of the store). It's one of those stores in a plaza that's very narrow, I'd say only 20-25 or so feet wide, but about 60 or 70 feet long.
Food: They don't serve or sell any food to my knowledge.
Value: VERY expensive. Very. This may depend on what you get - I've never gone there and priced a case of Coors Light, but the craft brews are (mostly) sold in individual bottles. The bottles are typically $2 - $3+ apiece, so it's akin to how much you might spend if you go to a bar (only this bar would have a huge selection of craft beer at $2 a bottle instead of macros at $2 a bottle). They have a "deal" (if you can really call it that) called "Mix a Six" where you get to choose individual bottles for a variable price into a custom 6-pack. If I remember right, the deal isn't set to a specific price, but it's based on the prices of each bottle (which varies), minus a (small) percentage or something. The calculation is a bit weird, I do know that much.
I believe I spent something like $40 on three "Mix a Sixes" the last time I went, which is QUITE expensive for ANY 18 12 oz. beers, and that was at a "deal" price. It scores high in almost every area, but the prices make it so difficult to recommend. The problem is that they don't have much competition in selection, so they get away with charging outrageous prices to people who want to get their hands on some rare gems. This is the only reason I only go there MAYBE once a year. If they lowered their prices even just a little bit, they would have got a lot more than $40 out of me this year, but as it stands, I can't justify spending $40 for 18 beers on a regular basis, even for craft beer. I usually spend something like $15 - $17 on craft beer 12-pack samplers or buying a couple 6-packs at my local IGA (about $21 - $24 on average for 18 beers - almost half the price I'd pay at HH), which has been sufficient for me the majority of the time thus far.
3,475 characters
4.6
/5
rDev
+6.7%
vibe: 4 | quality: 5 | service: 4.5 | selection: 4.5
I have been to Havana House several times since moving to the area. They have probably the best selection around save for Vintage Estate in Boardman. My only gripe with the selection is I wish they had a few more import options, but that's forgivable for the area. If you're in the Warren area and looking for an excellent selection of American craft options, this is definitely the spot.
The only other issue I have with the place is the smoking, although I completely appreciate the vibe they are trying to promote. It is definitely a cool idea, but I have to admit I don't particularly enjoy walking into a smoke-filled room just to pick up a six pack and head out. I should also mention that their prices are slightly high, and a bit difficult to figure out exactly what's going on with them since they aren't really labeled, and since the prices are different for on site or to go consumption. Not completely unreasonable, but definitely on the pricey side.
Overall my new go to spot when I need to pick up some nice locals for a trade or when I'm looking for something I can pick up cold to drink that night. Definitely a great place to stop if you're in the area!
1,172 characters
4.56
/5
rDev
+5.8%
vibe: 5 | quality: 4.5 | service: 5 | selection: 4
Location: Niles, Ohio next to Best Buy and Dicks Sporting Goods.
Atmosphere: Very nice place to hangout. Plenty of coaches, chairs and tables. Recently they just installed a new LCD T.V. and are currently undergoing renovations to their ceiling.
Quality: All of their wine, beer and tabbaco seem to be pretty good. However I wish they wouldn't chill all of their beer in illuminated cases. For those who like to age beer, chilling beer at these temperature and bombarding them with light can adversely affect them.
Service: Service is always great. The workers are knowledge able and always ready to help.
Selection: As far as wine and tabbaco goes they seem to have a decent selection. Their beer selection used to be fantastic, but recently they have drastically reduced their selection.
Food: They don't serve food, but have a nice selection of coffee.
Value: They are pretty expensive compared to alot of other local shops. Especially when it comes to their mix-a-six deal.
984 characters
Havana House in Niles, OH
Place rating:
4.31
out of
5
with
12
ratings