Captain James Jack Pilsner
| The Olde Mecklenburg Brewery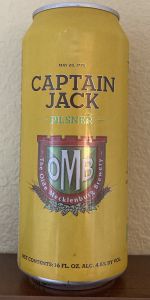 BEER INFO
Brewed by:
The Olde Mecklenburg Brewery
North Carolina
,
United States
oldemeckbrew.com
Style:
German Pilsener
Alcohol by volume (ABV):
4.80%
Availability:
Rotating
Notes / Commercial Description:
Summer - Captain James Jack Pilsner - OMB developed this smooth, refreshing pilsner beer as our salute to the spirit, courage and resolve of Captain Jack and the members of the Mecklenburg Convention (see www.May20thSociety.org for more information). A classic northern German "Pils", this straw-colored lager is smooth, with a subtle yet assertive hoppiness that doesn't overwhelm your palate or the beer's malt backbone. A perfect summer refresher.
Added by CBlack85 on 05-12-2011
Reviews: 38 | Ratings: 142

4.25
/5
rDev
+8.1%
look: 4 | smell: 4 | taste: 4.5 | feel: 4.5 | overall: 4
Ive heard so many good things about this beer, and now I finally get to try it! Bottled on Nov. 16.
Nice clear yellow body. Initially, it had a soda pop fizz (hell it even sounded like pop), now theres a shell of the once 3/4 inch bright white head and a small amount carbonation.
Slick, grainy malt dominate the smell. Slight earthy hops and malt round out what is a light, slick, drinkable German Pilsner.
Earthy malt dominates the taste exactly like it should. Earthy, spicy noble hops just come and go intermittently, and i love it. Very slick taste and feel, which nicely balances out the super earthy characteristic from the malt and spicy, herbal hops.
This is a very good German Pilsner, and precisely what Ive come to expect from Olde Mecklenburg. Well done, guys!
★
777 characters

3.88
/5
rDev
-1.3%
look: 4 | smell: 3.5 | taste: 4 | feel: 4 | overall: 4
@ Olde Mecklenburg
Served in a tall pilsner glass, appears pure gold with a small, frothy white head on top. Nice drippy lacing. Aromas of flowers, light spice, cereal grain, and biscuits. Fresh, crisp floral hop flavor over some light crackery grain and dough. Light bodied and very crisp. Another quite authentic take on a classic German style from these guys. Super drinkable and refreshing.
★
395 characters
4.23
/5
rDev
+7.6%
look: 4 | smell: 3.5 | taste: 4.5 | feel: 4.5 | overall: 4.5
More from the East Coast -- the typical Olde Meck 19 ounce bomber, bottled on 8.21.12.
A -- Pours a brilliant, clear gold with a firm, creamy and long-lasting, off-white head.
S -- Mellow bready malts with light DMS back. Maybe the vaguest of citrus hops in the finish.
T -- Fresh, bready malts up front with a mild tinge of spicy to lightly citrus hops in the middle, finishing with a smooth cracker character and lightly bitter hops in the aftertaste.
M -- Mouthfeel is soft and smooth with a light body and lightly dry finish.
O -- A very nice brew in a style that's difficult to recreate away from the source. The lingering, but not overpowering bitterness in the aftertaste along with the dry finish -- on top of the great malt breadiness, make this a very nice German-style Pilsner. This is a great, afternoon in the beer garden sort of beer. Nothing vying for your attention but the easy-to-drink characters.
★
920 characters

4.18
/5
rDev
+6.4%
look: 4.5 | smell: 4 | taste: 4 | feel: 4.5 | overall: 4.5
OK, I admit, I'm friends with the employees and owner of Olde Meck... but this really is a superior Pilsner.
REAL Pilsner--in the brewer world--really is, as a large American-originated (but now foreign owned) brewery calls it's caricature of it, "the champagne of beers." Unlike that excuse of a beer...a solid good pilsner...is the ultimate of the brewer's art.
For some reason...the American craft-beer revolution--has been all about EXTREMES. Extremely hoppy...extremely dark....extremely (imperially) stout... Whatever the style is, craft-brewers in the USA, HAVE to be over the top....
Even the big guys, AB/Miller/Coors/PBR etc. are EXTREMELY...bland, mild & tasteless.
TRUE Pilsner, however, as the Germans & Czechs invented it...is extremely...refined, balanced...and un-extreme. Hence the irony, how in the world does one become EXTREME in perfection?
Enough philosophy: This beer is an EXCELLENT example--in AMERICA no less...of what German & Czech tastes consider the finest permutation of beer.
It is incredibly well balanced--one can simultaneously taste the noble hops and the fine German malt--and has a terrific aroma, and light bread aftertaste. Drinking this beer is a trip to Germany.
If you DON'T like it (and many craft-beer aficionados have a hop-&-other-extremes-burned-out palate....)--than you really should consider yourself NOT one who understands fine beer, period.
Prost!!!
★
1,412 characters

4.02
/5
rDev
+2.3%
look: 3.5 | smell: 4 | taste: 4 | feel: 4.5 | overall: 4
Bottled on 05/18
The beer pours a crystal clear yellow with no head. No lacing and no head. The nose is a slightly fruity with lots of sweetness from the malt. It's a very drinkable lager with no spice and reserved sweetness. The aftertaste is slightly fruity and fades very quickly. It's exactly what I expected and much better served fresh.
★
344 characters
3.58
/5
rDev
-8.9%
look: 4 | smell: 3.5 | taste: 3.5 | feel: 4 | overall: 3.5
Has this on-tap poured into a pint glass. It had a nice straw, golden colored appearance with a decent head. The taste was what you might expect from a pils. Pretty basic one note malt backbone with german hops. The mouthfeel was good and had proper carbonation. Overall, the is a decent pils. While ABV isn't a factor in the overall taste or rating, most of the ones I have had in the past are more than 4.8%.
★
410 characters

4.56
/5
rDev
+16%
look: 5 | smell: 4 | taste: 4.5 | feel: 5 | overall: 5
Very true-to-style German Pils.
Light body, no chill haze. Beautifully clear.
Light hop and hay aroma.
A real nice euro-hop with a clean finish and good malt backbone.
Good mouthfeel.
Excellent choice for those stuck on this side of the Atlantic!
★
252 characters
3.79
/5
rDev
-3.6%
look: 4.5 | smell: 3 | taste: 4 | feel: 4 | overall: 4
Enjoyed at the brewery. Single finger head with nice retention and lots if lacing. Clear golden. Aroma is mostly malt, light hops and touch of citrus but is overall meager. Flavor is mostly malt and grain up front with a nice noble hop character in the finish. Not getting the citrus u picked up in the aroma. Light body and high carbonation. Semi dry. Overall a nice fairy aggressive pilsner. Lighter than Sam Adams noble pils but probably more drinkable too.
★
460 characters
3.96
/5
rDev
+0.8%
look: 5 | smell: 4 | taste: 3.5 | feel: 4 | overall: 4.5
650l bottle. Bottled 11.04. 11.
It pours a beautiful clear gold with a big white head.
It really smells like it came from Germany. It has a bit extra yeast and American water smell but other than that it is pretty close. The hops are done right.
It is a nice Bavarian-styled brew. Perhaps slightly hardier in maltiness than the average but with a beautiful noble hop flavor. The sweetness definitely gets more noticeable as it goes, but still a good one.
A true German styled pilsener.
★
489 characters
3.45
/5
rDev
-12.2%
look: 1.5 | smell: 4 | taste: 3.5 | feel: 3 | overall: 3.5
A beer under 5% made in ameirca and sold in bombers? I wasn't aware such a thing were possible. Hand written bottled on date of 5-10-11. I guess with the elections nearly in full swing what better time to cheers to independence and democracy, and once again mixing politics with beer. Truly no two things were more made for each other!
Crystal clear light golden straw colored body, mild carbonation, and a thin head with decent lacing. So yeah as most pilsner's fizzy yellow beer. Nothing stands out here to make me expect much.
The nose is a blast of Euro smelling hops (think Nobel Pils) with intensely sweet caramel malt. Two very distinct aromas that comes one after the other. The sweetness starts to turn to toffee and toast while never turning to the darker malt bills like an irish red would.
Citrus dry hops open, but they are quickly dominated by a very strong malt bill. This beer actually does remind me of some of the better milds and even reds I've had from England. I am a bit surprised at the malt's flavor here as the 4.9% would lead me to expect a touch less sweetness. Instead this beer comes off rather malt forward even with a pretty aggressive hop profile.
A lot thicker in body thanks to being well carbonated without going over the top. Still I was hoping for a bit more crisp and clean summer like effects and instead this one drinks heavier than it is.
A rather surprising offering from an American brewer and I'm glad to have received this extra. I personally never would have picked this one up as I imagine the price was high given the bomber format and the style leads to rather unimpressive beers normally. This is for somewhat interested in malt a FAR better beer than Sam Adams Nobel Pils and even this hop head would go for this on tap before the Sam. Cheers to the brewer.
★
1,826 characters

4.2
/5
rDev
+6.9%
look: 4 | smell: 4 | taste: 4.5 | feel: 4 | overall: 4
Impressive offering from one of my hometown breweries. Their flagship Copper has slowly grown on me since my first "meh" reaction to it. I was in my neighborhood pizza joint, saw the tap handle, knew they introduced this the other night when the Alstrom bros were in town, but what sold me to try it was when someone asked the bartender what kind of beer it was and he said "it's a pretty stout pilsner, it's got lots of hops". Hit me, I sez to the waitress.
Excellent lacing for a pilsner, very nice hops, more than Sam Adams Noble Pils, maybe even more than Victory Prima Pils, almost veering into IPA territory. Highly recommended, one of the best pilsners I've ever had.
★
675 characters

4.55
/5
rDev
+15.8%
look: 4.5 | smell: 4.5 | taste: 4.5 | feel: 5 | overall: 4.5
I hesitated to review this beer for a few days, as my previous reviews of OMB already probably make me look like a company shill...but this Pilsner is so outstanding I had to review it.
Served from the 50 l keg in my kegerator into a pilsner flute.
A: Very pale yellow with that subtle greenish hue you sometimes see in northern German pilsners. Crystal clear with a two-finger head that dissipates but leaves nice lacing all the way down the side of the glass.
S: Light grains, with maybe some graham-cracker hints. The malt is balanced by a spicy note from the hops. Very subtle overall.
T: Sweet pilsner malt backbone followed by a spicy, almost black peppery hop character and a crisp, dry finish. Delicious and, as always with OMB, perfectly balanced.
M: What else can be said about the mouthfeel of Olde Meck's beers? Perfection.
Overall I find this to be one of Olde Meck's strongest offerings. I didn't expect to like it as much as I do, but somehow OMB never fails to exceed my expectations, so I shouldn't be surprised. Perilously drinkable.
★
1,057 characters

4.2
/5
rDev
+6.9%
look: 4 | smell: 4 | taste: 4.5 | feel: 4 | overall: 4
On tap at the brewery, served in a mug
The beer pours a clear straw color with a respectable amount of foamy white head. The head slowly recedes leaving behind lots of lacing
The nose is lightly grainy with a nice noble hop aroma. Not as hoppy as some other examples of the style that I have tried, but nicely hoppy in a subtle way. Like most of OMB's offerings there is a lightly bready quality in the nose.
The beer is very refreshing, clean, and crisp. A nice hop profile that is slightly spicy and floral compliments the grainy malt backbone of this easy to drink light bodied beer. There is a slight tingle of carbination on the tounge. This has the right mixture of flavors and is easy enough to drink that it keeps me coming back for more.
This is a great example of the style, and reflects OMB's commitment to excellence.
★
842 characters
Captain James Jack Pilsner from The Olde Mecklenburg Brewery
3.93
out of
5
based on
142
ratings.