Rein Pale Ale
| The Olde Mecklenburg Brewery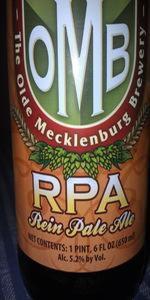 BEER INFO
Brewed by:
The Olde Mecklenburg Brewery
North Carolina
,
United States
oldemeckbrew.com
Style:
American Pale Ale (APA)
Alcohol by volume (ABV):
5.20%
Availability:
Rotating
Notes / Commercial Description:
A "Reinheitsgebot Compliant" Pale Ale: a hybrid between an American Pale Ale and a crisp, refreshing German lager; it has a nice malt backbone courtesy of premium Pilsner, Vienna, Caramel and Honey malts, perfectly balanced with a pleasant and mildly spicy bitterness courtesy of Tettnang and Saaz hops. Very satisfying.
Added by CBlack85 on 02-07-2012
This beer is retired; no longer brewed.
Reviews: 9 | Ratings: 34

3.5
/5
rDev
-4.4%
look: 4 | smell: 3.25 | taste: 3.5 | feel: 3.75 | overall: 3.5
Poured into a standard pint glass a nice clear rich copper color with a half finger white head that left a fair amount of lacing as it settled.Mild aromas with some lightly toasted bread dough a hint of caramel malts,not much hop presence to be found.Light and crisp on the palate with a little sweet dough-like flavors,the hops are restrained giving off some leafy/spicy notes in the finish.No frills here and not alot of hops but it goes down easy,more malt tilted.
467 characters

3.94
/5
rDev
+7.7%
look: 4 | smell: 3.75 | taste: 4 | feel: 4 | overall: 4
Bottled On: 07.15.13
Brilliant yellow-gold covered with a thick, creamy head. The aroma is mostly grassy, spicy hops and a little crackery, wort-like malt. Clean, crisp noble hops, citrus, and sweet malt. Floral, peppery, a little toasty. Medium-light, bitter, and snappy. This is a very nice, German take on the pale ale. Hoppy, just in an atypical way.
355 characters

3.84
/5
rDev
+4.9%
look: 3.5 | smell: 3.75 | taste: 4 | feel: 3.75 | overall: 3.75
22 ounce bottle -> Highland Brewing snifter
A - clear medium gold, thin head, no real retention, no lacing.
S - subtle pine and grasses, whiff of citrus.
T - fairly mild with an initial floral taste giving way to a mild bitter finish
M - sort of thin
O - very drinkable but of the three beers I've had from this brewery, this is the weakest offering.
358 characters
3.9
/5
rDev
+6.6%
look: 4.25 | smell: 3.5 | taste: 4 | feel: 4 | overall: 4
A bright, clear copper-gold color with a classy white froth soundly capping the top with very impressive costing of lace throughout. The aroma is very weak and hard to identify, just a hint of crisp wheat , that's about all I can pick up. The first swig seems similarly weak but then the subtle floral hops and bright cereal grains evolve into a very pleasing , delicate medley. There's a sort of creamy quality that's se neatly with the fine effervescent carbonation in this light bodied ale. A surprising pale ale. Not your typical offering but quite good on its own right.
575 characters

3.93
/5
rDev
+7.4%
look: 4.5 | smell: 4 | taste: 3.75 | feel: 4 | overall: 4
A: Pours a clear straw yellow with two fingers of white head that fades into a thin cap with nice lacing.
S: Clean, biscuity aromas with crystal malts up front with a light grassy hop character. Nice bread aromas bring up the finish.
T: Similar to the aroma, crystal malts with clean biscuit and bread flavors. Grassy and piney hop flavors come through before a dry, clean finish.
M: Light body with medium carbonation, this beer is dry and drinkable, though could use a little more carbonation.
O: An enjoyable beer, overall. More like a lightly hopped pilsner, but this beer is still drinkable and tasty.
610 characters
3.76
/5
rDev
+2.7%
look: 3.5 | smell: 3.75 | taste: 3.75 | feel: 4 | overall: 3.75
bomber into a tulip. 7/15/13 bottling date.
Pours a brass color with a 2 inch thick head. A bit too carbonated. Smell is malty and crisp. Taste is more like a german pils than an APA. citrusy and crisp. Very much like a lager. Great malt backbone. Medium bodied, but fuller than an APA. Easy drinking and refreshing.
Overall a good drinking lager. OMB has impressed me thus far and ill look out for more from them.
417 characters

3.78
/5
rDev
+3.3%
look: 4.25 | smell: 3 | taste: 4 | feel: 4 | overall: 4
On-tap, while in Charlotte, July 2012:
The beer appeared a nice copper color with thick white head, very well retained and left thin cap. Some lacing. The beer gave off a light grain aroma and maybe a hint of biscuit. The had a nice German pils taste to it, sweet malt taste with that hint of biscuit. I would say that this is a nicely balanced beer. The beer had a light feel to it, good carbonation, and was very smooth. Overall, a nice beer in OMB's stellar line of beers. I will be heading to the brewery...again...the next time that I am in Charlotte. Keep up the good work.
580 characters
2.61
/5
rDev
-28.7%
look: 3.5 | smell: 2.5 | taste: 2.5 | feel: 3 | overall: 2.5
Served from tap into a shaker. Poured a slightly hazy yellow-orange with a minimal white head. Maintained excellent lacing throughout the glass. The aroma was comprised of sweet malt, earth, earth hop, and hair salon. The flavor was of sweet malt, earth, earth hop, and wet hair. It had a light feel on the palate with medium carbonation. Overall this was a fairly average brew. This was definitely not one of the better beers of the style that I have in my days of ticking. I only drank this one due to this fact despite the concern from my fellow BAs and our server. I should have listened. What the Hell gives beer a hair salon/wet hair flavor/aroma??? I want to know so I can avoid using it in homebrew in the future. No me gusta.
734 characters

3.45
/5
rDev
-5.7%
look: 3.5 | smell: 3.5 | taste: 3.5 | feel: 3 | overall: 3.5
On tap in the brewery tap room, served in a pint glass.
Pours a crystal clear straw/light orange-ish color with a medium sized white head. The head recedes fairly quickly, and leaves behind a fair amount of lacing.
The nose is fairly well balanced. The hop profile is mainly spicy and floral, I believe they have Tettnang, and Saaz hops. Very clean and straight forward. The malt presence is light and crisp with just a bit of graininess from the pilsner malts.
The taste follows the nose very closely. Noble hop profile; earthy, floral, and spicy. The malts slightly sweet with notes of caramel, and a lightly bready profile. Medium bodied and moderately carbonated. Very easy to drink.
Overall this is a decent pale ale but nothing that really blows your socks off.
783 characters
Rein Pale Ale from The Olde Mecklenburg Brewery
3.66
out of
5
based on
34
ratings.