Blind Lady Ale House & Automatic Brewing Co.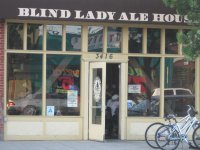 PLACE INFO
Type:
Brewery, Bar, Eatery
3416 Adams Ave.
San Diego
,
California
, 92116
United States
(619) 555-1234 |
map
blindladyalehouse.com
Notes:
Automatic Brewing Co. is a nano-brewery of sorts brewing in the back of Blind Lady Ale House. http://automaticbrewingco.com
Added by BeerAdvocate on 01-30-2009
Reviews: 49 | Ratings: 75
3.15
/5
rDev
-23.4%
vibe: 4 | quality: 3.5 | service: 3 | selection: 3 | food: 2
Love the vibe, very mellow, brick-and-wood interior. Cozy in terms of personal space. Had a video screen playing skateboarding at the time. Loud, don't expect to have a quiet conversation. Beer selection was small for an "Ale House." Sadly, it was dominated by Oktoberfest and other lagers at the time, and the Stone 13th was out. The pizza was weak. However, in the interests of full disclosure, I am a pizza snob. Prices were unimpressive, probably $2 more than anywhere else; well anywhere but Toronado SD. In short, this is not Pizza Port, so don't go there thinking it is a suitable alternative.
600 characters
4.14
/5
rDev
+0.7%
vibe: 4 | quality: 4 | service: 4.5 | selection: 4
Blind Lady is a solid beer bar. dark wood and worn-in metal make up the basic aesthetics, along the line of an old warehouse. the place works off of a storefront strategy with the kitchen and bar at the back end and various seating out front. a supergraphic for Hamm's is on the left wall, placed over a wooden plank surface. the other walls were somewhat bare, with hand-written menus around the bar and kitchen and some random signage around as well. the bar itself doesn't have much seating at it, it is just used to order.
the quality and selection are great. though the focus is on pales and IPAs mostly, a couple malt gems do exist. beers are served in the proper glassware, clean, with very fresh taps (at least the four types that this BA had were fresh).
service was informative, knowledgeable, and excited about craft beer. the local beer scene seems to be an interest for the bar staff.
food was available, mainly pizza and some appetier-esque options.
overall this is a good place to enjoy a brew, although one can see it getting crazy on the weekend, due to the open nature of the design and the somwhat cramped layout of seating. the beers are fresh, the barkeeps are easy to talk to, and the overall mellow aura was excellent. cheers!
1,253 characters
4.29
/5
rDev
+4.4%
vibe: 5 | quality: 4.5 | service: 4 | selection: 4
As others have mentioned, this is a nice alternative to a place like Toronado or Hamilton's. Although those places are excellent, Blind Lady is much more laid back and you can actually sit down comfortably to enjoy your beer. More spread out and not quite so claustrophobic. One downside is the beer selection is not as impressive, but they did have some decent choices. I had a Delirium and an Allagash Curieux.
There were also some Green Flash reps that night, but we got there kind of late, so I think we missed some of that fun. Beer prices were definitely fair, especially the Delirium. A couple bucks cheaper than you will find at "other" places. Bartenders could have been a little more knowledgeable, but its ok. I need to try the food next time. I kind of liked the line-type situation to order beer. Seems more organized and an easier way than your average bar.
873 characters
4.08
/5
rDev
-0.7%
vibe: 4.5 | quality: 4.5 | service: 4 | selection: 3.5 | food: 4
The Blind Lady is a small establishment that serves pizza and beer. Not hard to find but parking can be problematic once there. Looks like all parking is on the street. After walking in, there are two lines- one for beer and one for food. After getting a beer it's every man for himself in regards to seating. I stopped by on a Sunday afternoon so finding a a seat wasn't hard. Selection of taps is nice and included: Ballast Point, Green Flash, Alpine, Mission, and DuPont. Bottle selection was pretty thin but they at least had Consecration. One big letdown was no Blind Lady ales at the Blind Lady Ale House. Only guest taps available during m visit. Food (pizza) looked good but my party didn't partake. Overall vibe was laid back and the people there were nice. I would definitely stop by again for a brew.
811 characters

4.36
/5
rDev
+6.1%
vibe: 4.5 | quality: 4.5 | service: 4.5 | selection: 4
came in here on a late saturday afternoon to find it pretty busy, but not overly crowded. a good selection on tap, with some stuff that's a little more difficult to find around here. the staff seemed to be into beer, but i didn't really talk to them so i don't know of their knowledge. this isn't a bar at all, it's a walk up, order your beer and sit down type place. they've got pizza, and it looked pretty good, but i honestly doubt it's better than newport pizza.
for what they do (pizza & beer) the location is pretty good. it's nice not having to drive to ocean beach to get a good beer and a pizza. i'm going to have to try their pizza the next time i go.
i'll definitely go here again.
694 characters
4.08
/5
rDev
-0.7%
vibe: 4 | quality: 4.5 | service: 3 | selection: 4.5 | food: 4.5
WeeHeavySD took me here on my trip to San Diego.
Cool little bar with open seating. The place was packed but we did find a seat. You order first and seat yourself.
I ordered a pizza which was very good. Lots of flavor and toppings for a more than fair price. The beer is all on a chalk board with a nice number of selections.
Lots of San Diego gems along with some from elsewhere. Not the best beer selection in the world, but not one I would turn my nose up at.
Overall a cool bar with great food.... there is a pretty nice beer selection to boot.
552 characters
4.08
/5
rDev
-0.7%
vibe: 4 | quality: 4.5 | service: 3 | selection: 4.5 | food: 4.5
Checked out The Blind Lady on a Friday night around 6:30. Was pouring rain, so I hoped it would keep the crowds down a bit. Wrong. However, with an outstanding beer selection it wasn't hard to stay occupied. Although there isn't much room to just stand a drink a beer, the layout is a bit awkward. You have to be a jackal to get a table, but eventually it will happen, and that's when I got to order some food. Got a couple pizzas and a caesar salad. Food was very good, and well worth it. Actually the prices are reasonable too. Beer prices are a bit steep for small pours, but I find it hard to complain too much about this place. Overall good, but I wish it wasn't a seat yourself style place like Pizza Port where it's just total mayhem finding a table. Oh well, I'll go back, worth the hassle.
798 characters

4.18
/5
rDev
+1.7%
vibe: 4 | quality: 4 | service: 4 | selection: 4.5 | food: 4.5
Went here today for a belated birthday lunch with family. Decor is cool, there's a kickass giant Hamm's mural on one wall and next to it on the wall, some beat up old hardwood flooring planks (sounds weird but looks cool). You get in one line to order pizza and another to order beer, so no wait staff to speak of, not necessarily a bad thing.
Pizza is pretty good, thin crust. Delicious. We had the spinach pizza with a fried egg in the middle, and we all agreed it was one of the best pizzas we've had in a while. We also had a sausage pizza that was outstanding.
Awesome selection of beer. There's not only a lot of choices, but they're all primo options. We had Pliny the Younger (open a couple of weeks and Lee Chase already has access to PtY! awesome). The "direct draft" system seems to take a litle longer to pour, but if it means no lines to possibly intrude on beer flavor then that's a great thing. We were drinking PtY along with chewing a few bites of white anchovies from our Cesar salads, I'd have to say it was a pretty good unintentional pairing.
A couple of negatives though. First off, what kind of "family" pizza place, as they purport to be, doesn't serve soda?? While us guys were fine with beer, the ladies wanted some Diet Cokes, but the guy at the front said they don't serve soda. Huh? If we had actually brought kids, I could see that being a bigger issue, but the ladies just had sparkling water instead. If the lack of soda is intentional because of the "organic" nature of the restaurant, that's just as silly as a place not serving ketchup because they think you shouldn't be eating it, sorry Stone (although to be fair you just have to ask for ketchup at Stone and they'll bring it out, albeit reluctantly). So it's just beer and water, and I'm fine with beer, but non-beer drinkers and kids need options too. Poor form.
Second, the price/size ratio on the beers is clearly off, and I don't mean the Pliny the Younger, which due to the rareness I expect to be served in smaller servings for more $, but I mean the other beers on the menu. The glassware is awesome, but is clearly smaller than your average pint and more expensive to boot. That makes for a bad combination.
They certainly are not dealbreakers, but they are problems, at least in my eyes. Hopefully those kinks will be worked out the longer this place is open. All in all, a great experience though. May the Blind Lady live on in good health!
2,445 characters
4.53
/5
rDev
+10.2%
vibe: 4.5 | quality: 5 | service: 4 | selection: 4.5 | food: 4.5
I got an opportunity to visit the recently opened Blind Lady this afternoon. Upon first entering I was very excited to see a nice open space. Off to the right was a chalkboard with current beer offerings. We stood in short line, place a pizza order, and then sat and waited.
As I sipped my Allagash Curieux, I admired their unique decorative style. The giant Hamm's sign on the west wall was cool. I then stared at all the great beer offered.
The food arrived and was great. Thin, crispy crust was incredible. The toppings were very fresh. I wanted to go for my next beer, but was in a rush. I'll be back often and I'm sure I'll get the chance to go up and down that beer list.
Overall, Blind Lady was impressive for only having been open just recently. I think they are a very welcomed addition to the beer rich 30th Street area.
836 characters
Blind Lady Ale House & Automatic Brewing Co. in San Diego, CA
3.77
out of
5
based on
58
ratings.