The Page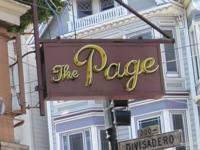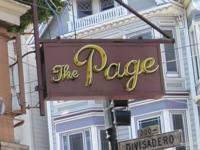 PLACE INFO
Type:
Bar
298 Divisadero St
San Francisco
,
California
, 94117-3253
United States
(415) 255-6101 |
map
thepagebar.com
Notes:
No notes at this time.
Added by oggg on 01-31-2009
Ratings: 8 | Reviews: 7
Reviews by AdamBear:

3.93
/5
rDev
-1.8%
vibe: 4.5 | quality: 4 | service: 3.5 | selection: 4
Atmosphere: pretty classy inside...classy and clean. there's a nice downstairs area that has pool and foosball. very nice. From what I can tell, average customer seems to be well tamed, and the place itself doesn't get too crowded. its a great place to chill with your friends.
Selection: they have not a large selection, but what they do have, they make up for in quality. they have pliny on tap always. they also have random RR sours in bottles.
Price: $4 Pliny....what else needs to be said? the bottles are a bit more expensive, but just get those somewhere else.
Service: not too personable, but not rude either.
621 characters
More User Reviews:
3.36
/5
rDev
-16%
vibe: 3.5 | quality: 3.5 | service: 3 | selection: 3.5
This is the spot to get your pliny on tap, especially during happy hour...$4 pints. Hung out and had a few plinys, talked to a couple people, enjoyed a slice of complimentary pizza that they apparently provide for happy hour...pretty cool.
Overall vibe, yeah older drunks I guess. Shots and beers at 5. Whatever, I do my fair share of beer consumption during the day.
Another dive bar with good stuff on tap, (like Toronado) but is a bit more friendly. Guess this is the way you guys do it in SF, not really a dive bar kind of guy, but you do meet some interesting people now and again.
Theyv'e got a clean bathroom, nice enough staff, pliny on the cheap and a pool table if interested. Guess you can't really ask for a whole lot more. Be careful though, those 4 buck pints of pliny creep up on you...
804 characters

4
/5
rDev 0%
vibe: 4 | quality: 4 | service: 4 | selection: 4
One of the better Divisadero Street beer bars. The place consists of three rooms, which means you can usually find somewhere to sit, even on busy nights. Cash only, which is a drag when it gets packed. Draft selection is generally pretty solid. They always have Old Rasputin (which they serve in pint glasses) for like 4 bucks. Most of the selection leans towards American micros, with the occasional Belgian/German beer. Tends to be a slightly older crowd than some of the other Divisadero street bars with lots of regulars.
525 characters

4.44
/5
rDev
+11%
vibe: 4 | quality: 4.5 | service: 4.5 | selection: 4.5
Old Rasputin (nitro-tap): $4.50 / pint
Pliny the Elder (on-tap): $5.00 / pint
Yes, those are the prices by the pint. Crazy. I know. I got stupid drunk ordering multiple rounds of each on Saturday night. That was my first experience at The Page - likely the first experience of many.
The Page is dressed up much like an old lounge. There's a polished, rounded bar area up front that's surrounded by cushy, leather booths. Past that, a short staircase leads down to the billiards room. Faux brick siding, old paintings, and electric candles exude a sort of dime-store elegance. It was all grand in my opinion. Then again, everything looks and feels much nicer when you're sipping a nitrogen-infused Old Rasputin.
There was a pretty good-sized crowd in The Page from the moment we entered (around 10:00pm) until the moment we left (sometime before the sun came up). That didn't slow down or upset the bartenders though. They were kind, patient, and very attentive all night long. It was great!
As for the beer selection, they had Pliny, Old Rasputin ... ummm ... Sierra Nevada Tumbler ... and a dozen or so other craft beers. Plus Guinness! I remember that! Yeah, I had a bad case of tunnel vision at The Page, but I feel pretty confident that their overall selection was legit.
Hit this place up if you're in the city! You won't find better beers for better prices WITHOUT THE CROWD anywhere!
1,395 characters

4.13
/5
rDev
+3.3%
vibe: 5 | quality: 4 | service: 5 | selection: 3
From extensive notes dated T, 28 July 2009.
It strikes me as amusing that two of us from the same general locale would have the same take on its ambiance. Well done, jp11801!
Located just a block north of the (in)famous Phuket Thai Restaurant (not pronounced the way you might think), it sits on the southeast corner of Viz and ... Page! Wow, who knew?!? I was in here a bunch of times in the late-1980's, stumbling back from The Haight, awaiting the #24 Viz MUNI bus back to my uncle's pad in Noe Valley, cursing a one hour headway during Night Owl service. Back then, it was a smoky, dive-y hole of a stripe that does not seem to exist in the current day and age.
Now, it is a pleasant first floor bar in a three-story brown-and-tan Vic. The door was angled to the corner with the inverted "J"-shaped bar at a right oblique to the entry. A short window overlooked Viz and a slightly longer window, fronted by circular tables and red vinyl armchairs, ran along Page. Further aft was a red-velvet pool table with the lavs off to the right. Down a flight of steps was The Trophy Room, a monument to sport hunting for heads, an activity that I neither condone nor shun, but it is all on display if that turns you on/bothers you because either way, now you know. Also down there were another red velvet pool table, a foosball table and an ATM. Why mention the latter? They are "Cash Only - NO Checks or Credit Cards, Thank You!" This may include Johnny and/or June Carter, but since neither were with me, I needed Paper Cash.
Ambiance: This is where jp11801, call me woody17603, comes in. Listen, if you want to drink old school, back inna day, then this is the place! The nicotine has been scrubbed away, but this is how I came up as a barfly. You kids nowadays have no clue ... Pheh. I hate hearing that or laying it on anybody else. It is definitely a throwback, though. Jazz on the stereo, red shaded lighting. Hell, if I were a director, I'd shoot a scene here.
Service: A friendly, bubbly honey honey with sparkly eyebrows and twin pigtails who has the handle of Raquel. Hey, I generally steer clear of personal mentions, but the occasional server surfaces who bears mention. Sue me. Plus, she bought off on it. Do you think my notes are secret?
Beer: Twenty (20) CO2 taps, including four on the smooth, brown-Formica bar that could have doubled as a shuffleboard table with some dust/powder. Lots of locals, including Racer 5, Speakeasy Prohibition, two from Anderson Valley, Lagunitas, Stone, Anchor and SNPA. Boddington's and Guinness on N2. About a dozen (mostly) pedestrian bottles plus Hamm's and Tecate in a CAN.
2,629 characters
4
/5
rDev 0%
vibe: 4 | quality: 4 | service: 4 | selection: 4
I'm a neighbor of the Page and, frankly, I don't go there as often as I should.
Beer: they have a really solid offering of draft beers (~20 taps). I'd say that about 5-10 are interesting at any given time for the BA crowd. They get a lot of local stuff from Russian River, Magnolia (which is just up Haight St.), etc. but they also will have some good non-local choices (Ommegang or Dogfish Head, for example). There are a number of bottle choices as well but I don't keep track of those as I'm more a tap beer guy. A few years ago The Page struck me as slightly more expensive than other places in the neighborhood but I think their prices have stabilized lately and it's more in line with typical prices. All in all, I'd recommend this to any beer lover who wants to stop (slightly) off the beaten path.
non-beer: no food but you can bring in whatever you want. The occasionally will have food during happy hour. Full bar so you can get whatever boozy drink you want. I think there a few different wines available.
atmosphere: The bar itself feels like a throwback. Red lights, carpeting, vinyl seats, and a couple of pool tables. It's a place that just feels good.
They have a couple of TVs that aren't too obnoxious. This bar does get packed on weekend nights and it can be hard to move around. I recommend stopping in before 8 or so. Otherwise, it packs up with people who seem to doing a Divisadero bar crawl (Minibar, 821, Fly, Madrone).
This place does have an internet jukebox (an item I hate in any bar) so the music can be great or terrible and is totally at the whim of whomever put their cash in the thing. "Bleh" to that.
Crowd during the day is a mix of friendly neighborhood folks mostly 40+ with a few student-age kids hanging around the tables. Bartenders are decent. I've always liked the service here.
1,826 characters
4.14
/5
rDev
+3.5%
vibe: 4 | quality: 4 | service: 4.5 | selection: 4
I love this place it is a complete throw back bar, the kind of place your old man would drink in. Right around the corner from Toranado and more relaxed and fun.
Decent tap selection for SF, I had a Pliny the Elder but the real deal was they had a really nice Bourbon selection with 1792 shots for $5 and George T Staggs available as well.
Service was friendly and timely, our bartender had a great attitude and serves at a few places in town.
If you are looking for an alternative on days when Toranado is overcrowded or when the bartender tude there gets to you drop in around the corner. No where near the beer selection but good enough. Nice Mexi place next door if you are hungry.
691 characters
The Page in San Francisco, CA
Place rating:
0
out of
100
with
8
ratings