Highlands Wine & Liquor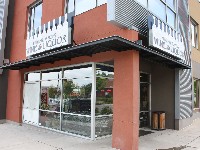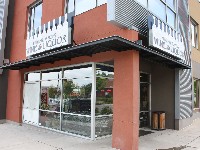 PLACE INFO
Type:
Store
4650 W 38th Ave
Ste 100
Denver
,
Colorado
, 80212-2161
United States
(303) 327-4972 |
map
highlandsliquor.com
Notes:
None provided.
PLACE STATS
Reviews:

6

Ratings:

pDev:

11.54%
HISTOGRAM
View: Place Reviews
Ratings: 14 | Reviews: 6
Reviews by locoformavs:
4.14
/5
rDev
-0.5%
vibe: 4 | quality: 4 | service: 4.25 | selection: 4.25
More User Reviews:

3.93
/5
rDev
-5.5%
vibe: 4 | quality: 4 | service: 3.75 | selection: 4
V-Highlands is a medium-sized shop in a busy shopping center anchored by a grocery store and a 24-Hour Fitness. Despite the busy parking lot, I have been in the place multiple times and it is always pretty quiet inside. It is well-lit and clean. Nothing unusual or inviting in here, but nothing bad about it.
Q-There is an above-average selection of good beers, nearly all of which are kept in coolers in the back. I have yet to come across anything amazing or super rare here, but Highlands won't leave you dry if you want good beer.
Ser-Highlands is a hands-off type place and the staff is happy to let you browse for as long as you like. I'm OK with that approach. I think the staff has a basic beer knowledge, but I'm not sure that anyone has a deep knowledge of beer based on the few questions I have asked.
Sel-Highlands is not a mega-store with everything under the sun, but it does stock more craft than the smaller stores in town. They even do a good job of avoiding the lazy approach that some stores take by just buying a ton of New Belgium and Odell. You can find a good amount of smaller craft suppliers from Colorado and elsewhere, and a few well-known imports.
O-Highlands is a nice shop with a solid selection. That being said, I notice that a lot of the reviews are from a few years, and like a lot of Denver, this part of town has developed considerably. I think Highlands fits well in the development of the area, but it isn't the only joint nearby with good beers around this part of town.
1,513 characters
4.44
/5
rDev
+6.7%
vibe: 4 | quality: 4.5 | service: 4.5 | selection: 4.5

4.15
/5
rDev
-0.2%
vibe: 4 | quality: 4.25 | service: 4 | selection: 4.25

3.75
/5
rDev
-9.9%
vibe: 3.75 | quality: 3.75 | service: 3.75 | selection: 3.75

4.89
/5
rDev
+17.5%
vibe: 4.75 | quality: 4.75 | service: 5 | selection: 5
fantastic shop, great selection. always a few rarities and special release beers in the back, just ask for them by name. knowledgeable staff.
141 characters
4.62
/5
rDev
+11.1%
vibe: 4.25 | quality: 4.75 | service: 4.5 | selection: 4.75
Surprising great selection. Helpful staff.
42 characters


4.86
/5
rDev
+16.8%
vibe: 5 | quality: 5 | service: 5 | selection: 4.5
Truly a diamond in the rough type of store. In an up and coming section of town that you almost stumble upon after driving through a few blue-collar type neighborhoods.
Staff was very friendly and extremely helpful. Their selection of high-end crafts and their vast knowledge will be tough for other stores to match. Certainly had no issues with the cellar program as a previous poster did, but there is two sides to every story.
Overall, a great experience and im one happier camper for stopping there
502 characters
3.04
/5
rDev
-26.9%
vibe: 4 | quality: 4 | service: 1 | selection: 3.5
I recently took a business trip to Denver, but it also counted as a beer trip for me. I was excited to bring back loads of beer that we can't find in Wisconsin (Southwest Airlines: 2 bags fly free!). I mapped out the breweries, bars, and stores to hit over my 4 day stay. Highlands was not on the list. However, while enjoying great food and beer at Hops & Pie on a Thursday afternoon, the bartender suggested I try Highlands. I had already been to Mondo Vino. He said Highlands wouldn't have anything more than Mondo's, but if I ask, they may have some stuff hiding in the back. Hmmm. Worth a try.
As predicted by the bartender, the selection was decent. Lots of cooler space for craft beer as stated in previous reviews. Nothing new though. I approached the woman at the counter, who was very polite and friendly, and asked if they had anything "off-shelf". She said I'd have to speak with one of the two guys. So she called one over.
He asked what I wanted, in almost a threatening way. I informed him I was in town from Wisconsin, and was looking for anything special I could bring back. He told me I'd need to be more specific. I re-stated that I'd be happy with anything off-shelf that we can't get back home. He again asked me what I'm looking for. I said I liked anything barrel-aged. In a frustrated-you're-wasting-my-time tone, he again said I need to be more specific. I really wasn't looking for a particular beer. So I informed him I don't care for sours or belgians. He then educated me that barrel-aged beers are sours, and the technicality of how they become sour from the wood in the barrel. Not wanting to alienate him, I simply said I don't like true sours, i.e. The Bruery style.
He then took me to the coolers and showed me beers I had already spent 15 minutes looking at. I was beginning to feel really awkward. Maybe I should just thank him for his time and leave. After all, I still had 3 days and many venues hit.
Finally, he goes to the "back room". He proceeds to bring out 4 beers, one at a time. Three of them were already out on the shelf. All four of them were average beers. I obviously didn't express shock or appreciativeness, which I think pushed him over the edge. He concluded "That's all I have!".
I took three of them just to be courteous. While checking out, he came up by the register and informed me "For future reference, most customers don't have so many limitations on styles". What???
As I drove back into the city, I had time to reflect on how poorly I was treated. Why was I courteous to buy beer after that kind of interaction? I decided to return the beer the next day, despite being out of my way. I knew I would be unhappy during every sip of that beer when I was back home. Unfortunately, one of the caps broke loose in the trunk of the rental car...3/4 of a bomber all over. I could just imagine his reaction to me returning 2/3 bottles.
2,897 characters
4.22
/5
rDev
+1.4%
vibe: 4.5 | quality: 4.5 | service: 3.5 | selection: 4.5
I had finished my hunt through Denver the day before I stumbled across this honey hole. Was about to leave town when i stopped with some friends at the market that is across the parking lot. My buddy pointed this place out so I might as well run in. Great spot. Very clean atmosphere and probably the best beer to wine ratio I saw in Denver. Stopped an employee and asked about the 120 min since other places with this kind of selection had some the day before. Employee had to get the manager as he was the one "regulating" the 120 but I did get my hands on 1 as that was the limit. Always ask if you want something. This will be one of my first stops every time I swing through Denver.
687 characters
4.1
/5
rDev
-1.4%
vibe: 3.5 | quality: 4.5 | service: 4 | selection: 4
This store in located in a relatively newly renovated part of the northern Denver area. A new shopping center and condos/apartments support this mini marketplace.
As you walk through the door you're greeted with open space and relaxed atmosphere. The check out counter is straight ahead with the wine to the right. Along the right hand wall is the cooler with about 20 doors. Most of which are filled with craft beer. I'd say 4 have macros, one has wine, and one has cider-stuff.
Nice selection of bombers. Not quite the size of Davidson's Total Bev or Lukas, it's still quite impressive and varied. I bought 2 1999 JWLee harvest, 2 DFH Imort Ales, and a Mikkeller single hop. Then walked down the street to Brickyard BBQ (or was it Brickhouse?)....anyways, it's good.
Staff was friendly, although I didn't interact with them much on my own account.
Nice place for the area. Mix it in with Mondo Vino down the road and you have quite a selection for the neighborhood.
970 characters

4.35
/5
rDev
+4.6%
In an area of Denver dominated by seedy liquor stores selling only the basics, Highlands is a refreshing change of pace.
Even though space in this relatively small store is at a premium, they stock a tremendous variety of beer. They seem to do it by keeping only a minimal stock of macros. I'm guessing that about 70% of the cooler space is devoted to imports and craft beers The beer coolers dominate the entire south wall of the store and contain all of the beer. Nothing is out on shelves at room temperature. Because of this, the quality of everything I've purchased there has been excellent.
I've shopped this place against the big stores in the Denver area. Their prices are on par with them. It would be nice if more beer was on sale at any given time, however. But then, I can be a bit of cheapskate.
The store is very clean, and the staff is friendly and seem pretty knowledgeable.
Overall, I'm very pleased to have found this place.
946 characters
Highlands Wine & Liquor in Denver, CO
Place rating:
4.16
out of
5
with
14
ratings