Re Hop
| Birra Toccalmatto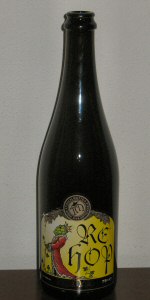 BEER INFO
Brewed by:
Birra Toccalmatto
Italy
birratoccalmatto.it
Style:
American Pale Ale (APA)
Alcohol by volume (ABV):
5.00%
Availability:
Year-round
Notes / Commercial Description:
No notes at this time.
Added by stcules on 08-17-2009
Reviews: 11 | Ratings: 23
3.2
/5
rDev
-15.1%
look: 3.75 | smell: 3 | taste: 3.25 | feel: 3.5 | overall: 3
My first from Toccalmatto. Categorized here as a pale ale, described on the label as an "intensely hoppy blonde ale".
A - Hazy, somewhat disturbing light brown pour into 2 pint glasses. Small white head retains fine as a mostly full cap, bits of lace left.
S - Kind of a weak scent of grapefruit, apple, herbal, bread, toffee.
T - A little better. Citrus/grapefruit forward, herbal hop, apple flavors, weird sweet grainy malt. Not bad, seems off though.
M - Lowish carbonation, decent body, low bitterness, somewhat chalky feel.
O - Meh, not bad but just seems off and pretty weak overall. Reminds me of mediocre homebrew.
628 characters

3.38
/5
rDev
-10.3%
look: 3.5 | smell: 3 | taste: 3.5 | feel: 3.5 | overall: 3.5
On-tap. Shaker glass enjoyed @ Freiburg (Barcelona). Golden color & chill haze appearance. White foam shows fairly good retention. Floral hop aroma. grassy & piney notes with citric zest tones. Light malty upfront yields to an increasing bitterness. Medium body. Moderate carbonation.Oily to watery texture. Slight spicy & fruity notes - apple & pear- in the middle as well as citric zest hues. Long resinous/citric finish & herbal notes on the aftertaste. Refreshing & easy drinkable.
485 characters
3.64
/5
rDev
-3.4%
look: 3 | smell: 4 | taste: 3.5 | feel: 4 | overall: 3.5
Pours amber with a fading head.
Big floral, grapefruit and peach hoppy notes in the aroma, along with clean malt underneath.
Fairly aggressive flavours with lots of hop bitterness in the very dry finish. Some grapefruit and pin along with a green plant-like notes.
Nice moderately high carbonation suits the beer well.
318 characters
3.65
/5
rDev
-3.2%
look: 3.5 | smell: 3.5 | taste: 3.5 | feel: 4 | overall: 4
Pours a hazy, bright yellow orange hue with a pure white head that came out to be about a finger and a half before just turning into a thin white, bubbly film. Some residual lacing, but not much.
Citrus fruits, and perhaps even a hint of ripe mango, are predominant in the nose. Light candy sweetness in the aroma as well. The sweetness doesn't really come into play in the flavor as much, which is really nice IMO. A bit of a drier body, and a delicate hop flavor. Definitely citrusy, crackery malt. Pretty nice stuff. Thinner, and a bit oily MF. Pretty bubbly carbonation that lifts the beer a bit. Nice drinking, and clocks in at a sessionable abv for me. Tasty, and a good take on the style.
697 characters
3.73
/5
rDev
-1.1%
look: 4 | smell: 3.5 | taste: 3.75 | feel: 4 | overall: 3.75
At Beodo Craftbeer, Seville. In Shaker glass. With yakisabi with iberic secret. Soft taste, very drinkable, some citric. Maybe drinking a 60 IBUs beer before this one (Sansa) numbed my taste, but found it a bit weak
215 characters
3.78
/5
rDev
+0.3%
look: 3.75 | smell: 3.75 | taste: 3.75 | feel: 4 | overall: 3.75
Pours a murky golden-yellow with a foamy white head that settles to a partial film on top of the beer. Foamy rings of lace line the glass on the drink down. Tiny particles of sediment are seen suspended in the beer after the pour. Smell is of malt, yeast, and earthy hop aromas. Taste is much the same with yeast, floral, spice, and earthy hop flavors on the finish. There is a mild amount of yeast and hop bitterness on the palate with each sip. This beer has a good level of carbonation with a crisp mouthfeel. Overall, this is a pretty good beer that is much more yeast and earth forward versus the hops that are present in this one.
Serving type: bottle.
660 characters
3.87
/5
rDev
+2.7%
look: 3 | smell: 3.5 | taste: 4 | feel: 3.5 | overall: 4.5
Quite hazy orange color, with thin floating particles. White and creamy head, quickly falling down.
At the smell, hop. Tangerine and grapefruit. Dry, balanced by the right maltiness.
Same for the taste, dry, tangerine.
Pleasant and drinkable.
It has a good balance.
Good italian interpretation of an american style. And just 5%.
Light body, with a plesant aftertaste of tangerine and citrus fruits.
405 characters
4.05
/5
rDev
+7.4%
Pours a clear, gold color. 1/3 inch head of a white color. Good retention and decent lacing. Smells of hops, hint of resin, sweet malt, hint of alcohol, and a hint of pale malt. Fits the style of an American Pale Ale. Mouth feel is smooth and crisp, with an average carbonation level. Tastes of hops, resin, hint of pine, sweet malt, hint of pale malt, hint of alcohol, and a hint of tea. Overall, good aroma, body, and blend.
433 characters
4.05
/5
rDev
+7.4%
look: 3.5 | smell: 4 | taste: 4.25 | feel: 3.75 | overall: 4
75cl brown bottle purchased from Domus Birrae in Rome.
Pours a bright, but faintly hazed golden colour, with a fine head of white that leaves minimal lacing. Carbonation is also pretty minimal, even when swirled, only light streams form. Body is fairly weak, but then it's only about 5% ABV.
Nose is very pleasant indeed. Clean, bright and crisp citrus, with sweet lemon dominant. then underneath is a lovely interleaved floral character: fragrant but still fresh, with a little greenness thrown in. It reminds me a little of a pleasant NZ hop character, although they don't mention what it is on the label. Very nice.
Taste is even better though. Clean, bright, fresh and lovely, while maintaining a lightness and a cleanness throughout. More citrus/lemonade characters, slight upturns of herbal greenness with a spritzy finish. Feel is very light throughout, and the aftertaste has a slightly aspirin quality to it, but overall, it's remarkably fresh, fragrant and flavoursome for only being 5% ABV.
Cracking APA, and a good example of a light, hoppy ale that you don't need to call a "Session IPA". Really nice use of hops, but with balance and drinkability. I really liked it a lot.
1,190 characters

4.07
/5
rDev
+8%
look: 4 | smell: 4.5 | taste: 4 | feel: 3.5 | overall: 4
750ml bottle, bottled 19 june 2012
A- Light orange colour, nice clarity. Perfectly white, soft looking head. Retention does not seem to hold very well at first, but a thin layer always remains on top, and lacing is pretty nice and dense
S- Wonderful aroma, brightly fresh i would say. Fresh herbal/flowery feel, citric notes of orange, lemon as well as maybe peach. A pleasantly sharp/pungent hint of spiciness on the back of things. Really strong and persistent
T- Pretty much what the smell suggested, though maybe not as bright and strong. Some vague malts on the back of things but pretty much just a foundation, maybe a hint of caramel. Slightly sharp, super-refreshing herbal/grassy feel, with a nice dose of bitterness to it (you could easily define this as a very sessionable american ipa). Citric notes of orange, lemon, grapefruit, a touch of some flowery feel. If i must find a flaw i would say that citric notes tend to fade away quite too quickly, while from the aroma you could have expected something more vivid. A clean note of herbal bitterness in the super-refreshing aftertaste
M- Light to medium body really helping with drinkability, quite dry for the style. Average carbonation, brings a pleasant sharp feel on the palate that helps giving this beer some life
O- Pretty hoppy APA, sessionable IPA; whatever you may call it this is a very nice take on the american style. Amazingly drinkable and refreshing, i'm still just a bit biased as the smell promised huge things that the taste didn't actually achieve
1,534 characters

4.26
/5
rDev
+13%
look: 4 | smell: 4.25 | taste: 4.25 | feel: 4.5 | overall: 4.25
On tap at Mikkeller Bar in Copenhagen... Served in a 20cl Mikkeller glass.
A: Light gold; light cream head; spotty lace.
S: Granny Smith apple peel; light citrus zest / hoppiness; inviting aroma.
T: Light hops and a touch of bread; simple and good; zest and apple notes present in aroma are also in the taste.
M: Medium-bodied; moderate carbonation; refreshing!
O: Wow... a really refreshing pale ale - would be great for summertime in Charleston.
*from notes 3-30-13
473 characters
Re Hop from Birra Toccalmatto
3.77
out of
5
based on
23
ratings.