Highway 128 Session Series: Keebarlin' Pale Ale
| Anderson Valley Brewing Company
BA SCORE
81
good
35
Reviews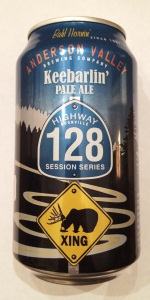 BEER INFO
Brewed by:
Anderson Valley Brewing Company
California
,
United States
avbc.com
Style:
American Pale Ale (APA)
Alcohol by volume (ABV):
4.20%
Availability:
Limited (brewed once)
Notes / Commercial Description:
Brewed with 100% Columbus hops and loaded with hop flavor and aroma, Keebarlin' Pale Ale takes aim at what a session beer should be. The use of Caracrystal® Wheat malt imparts subtle caramel and smooth dark toast flavors to perfectly balance the earthy, herbal hop profile.
Added by MacQ32 on 03-10-2014
This beer is retired; no longer brewed.
Reviews: 35 | Ratings: 126
3.51
/5
rDev
-0.3%
look: 4 | smell: 3.5 | taste: 3.5 | feel: 3.25 | overall: 3.5
No matter how many Anderson Valley beers that I drink, I'll never quite understand their "Boontling" jargon. However after a six-pack of Keebarlin', I feel that I'm getting close.
Their new American Pale Ale kicks off with a bright golden color that glows elegantly in the glass. Releasing a voluminous column of foam, its head slowly trickles with intricate lacing on the glass, en route to a long and sturdy retention of cottony-white froth.
Its juicy aromas come alive with a caramel malt backbone and a wrap of citrus- grapefruit, orange peels and apricot. Somewhat honey-like, its sweeter scents are met with a calm butterscotch note that marries up seamlessly with a marmalade character as that first sip draws near.
With hints of shortbread, caramel and honey at its core, the beer's malt character greets the palate with biscuit and creamy starch. But its middle rises with those citrusy tones in balance- grapefruit, oranges and a supple tropical fruit tone takes hole. Yet diving into the finish, a playful grassiness, herbalness and slight sprucy taste captures the bitterness that closes the beer and outlasts its malt sweetness and fermented fruitiness, but only ever so slightly.
In body, the starchy malt sweetness holds on like biscotti, caramel and butter- coating the mouth pleasantly with fullness, richness and roundness. Yet its slow and steady procession across the palate becomes patient and crisp with a linger of bitterness and butterscotch.
It seems that the unique character of the Anderson Valley community is met with unique taste- the hop tilt over malt sweetness isn't anything new to American Pale Ale, but its gently rolling fruitiness and its richer butter tone gives a favorable fullness to the ale that brings it more in line with English Pale Ales- a far cry from the dry and hop dominant taste that's normally associated with California brewers.
1,888 characters

3.9
/5
rDev
+10.8%
look: 3.75 | smell: 3.75 | taste: 4 | feel: 3.75 | overall: 4
Poured into an IPA glass.
Look: Light clear rusty tangerine color with a soapy eggshell colored head. Good sudsy retention, big splotches of foamy lacing.
Aroma: A sharp caramel candy sweetness cuts through the hops, but otherwise notes of sharp cheddar cheese, pine, grapefruit.
Taste: Much like the aroma, there's a sweet malt note that balances the hops. There's some sharpness in here that carries a sharp cheddar cheese notion with plenty of grapefruit and pine for a very hoppy finish.
Mouthfeel: Medium to light in body, crisp finish.
Overall: Really loaded with flavor, and it looks great in my IPA glass. Pretty decent session beer.
646 characters
3.8
/5
rDev
+8%
look: 4 | smell: 4 | taste: 3.75 | feel: 3.5 | overall: 3.75
Serving type: Served from a can into a pint glass.
Appearance: Pours a light orange color, less than a finger head on a semi aggressive pour. Lots of carbonation and lots of lacing.
Smell: A small hop aroma, really pleasant, the smell is there, not overwhelming, it doesn't hit hard, but it's a nice hop aroma.
Taste: Taste is bitter, less than some pale ales I have tried, a little hop flavor up front, malt on the backside. This is a 4.2% session pale ale, so the flavors are not as prevalent as an APA that is 5% or above.
Mouthfeel: LIght, easy mouthfeel.
Overall: For what it is a session pale ale, this is outstanding. I hope this remains a year round that is great to keep in the fridge. I would consider this a pale ale that would be a bridge between craft and BMC. A great introduction to craft, something lighter than a Sierra Nevada Pale Ale. Great beer for what it is.
886 characters
3.79
/5
rDev
+7.7%
look: 3.75 | smell: 4 | taste: 3.75 | feel: 3.5 | overall: 3.75
Pours a light orange ish color with a white head and plenty of lace. The aroma is very citrusy and just a hint of sweetness. In the taste, grapefruit pith, herb and dusty pine work well to bridge the gap between pale ale and ipa territory. Light pale malts do a decent job at balancing, but make no mistake this is a hop forward ale. Light to medium bodied with a small hop bite. Overall, this is a very good pale.
414 characters

3.35
/5
rDev
-4.8%
look: 3.25 | smell: 3.25 | taste: 3.5 | feel: 3.25 | overall: 3.25
Serving Type- From a can poured into a Tulip glass
Appearance- Bright golden color, a true west coast pale ale, it almost glistens in the light, a bit to thick head foam when poured into the glass but goes away somewhat quickly
Smell- West coast hops, citrus, pineapple, dank hop aroma, garlic or chives, a solid malt backbone that gives this beer a well rounded aroma
Taste- Citrus notes, pineapple, garlic, chives, solid malt almost biscuit type malts, smooth taste put somewhat bitter in the front of the palate...just a solid beer
Mouthfeel- Medium body not to thick but solid mouthfeel from this beer
Overall- A solid beer from Anderson Valley I must admit I love all of the beers I have ever had from them they are in my opinion one of the most under appreciated Breweries in California with the likes of Stone, Firestone Walker and the like Anderson Valley keeps pumping out great beer after great beer and this is one of them its a MUST TRY....CHEERS
964 characters

3.53
/5
rDev
+0.3%
look: 3.75 | smell: 3.75 | taste: 3.25 | feel: 3.5 | overall: 3.75
12oz : tulip
Clear, golden yellow with a thick, bubbly white head, and decent retention.
Earthy, spciy, citrus hops with a malty backbone.
Crackery, pale malts with a light spicy, earthy hop character. Faint citrus notes.
Medium body, mild foamy carbonation.
A well done low ABV pale ale. Simple, crackery flavor with just enough hop notes to keep it balanced.
365 characters
3.49
/5
rDev
-0.9%
look: 3.75 | smell: 3.5 | taste: 3.5 | feel: 3.25 | overall: 3.5
Pours a clear yellow with a foamy off-white head that settles to a partial film on top of the beer. Foamy swaths of lace form around the glass on the drink down. Smell is of malt, citrus zest, and onion and garlic hop aromas. Taste is much the same with citrus zest and onion and garlic hop flavors on the finish. There is a mild amount of hop bitterness on the palate with each sip. This beer has a lower level of carbonation with a slightly crisp and medium bodied mouthfeel. Overall, this is a pretty good beer with a tolerable onion and garlic presence, but the mouthfeel is a bit off in my opinion.
603 characters
3.5
/5
rDev
-0.6%
look: 3.5 | smell: 3.5 | taste: 3.5 | feel: 3.5 | overall: 3.5
Clear golden yellow pour with a frothy two finger head. Big citrus hop aroma. Taste follows the smell. Very hop forward with flavors of grapefruit and pine. Body also has a bit of biscuit flavor as well but it very much dominated by the hops. Bitterness lingers to a nice piney finish.
285 characters

4.24
/5
rDev
+20.5%
look: 4 | smell: 4.25 | taste: 4.5 | feel: 3.75 | overall: 4
Had this at an Anderson Valley tasting. Was thoroughly blow away by this beer. Upfront you get a massive amount of hops, not overwhelming and extremely pleasant. It gives way to subtle biscuity malt flavors, finishes dry. This is currently one of my favorite pale ales, and I'll write a more in depth review when I get my hands on some cans of my own.
351 characters
3.97
/5
rDev
+12.8%
look: 4 | smell: 3.75 | taste: 4 | feel: 4.25 | overall: 4
A - Pours a very clear and very light blonde/golden color with 2 fingures of fluffy off white head. Good retention and lacing.
S - Light citrus hops, slightly spicy, light caramel notes. Simple but nice light fresh hop aromas.
T - initially mild citrus notes, spiced hops, rather biscuity and dry. Minimal caramel sweetness. Aftertaste is dry, minimally bitter, not overpowering and doesnt overstay its welcome. Really just enough to keep me picking up the glass and constantly wanting more. Kind of leaves the impression of an english ipa with a much lighter malt character. I dig it
M - Light, crisp and refreshing, well carbed, smooth drinking and definitely begs to be in my mouth. I shall grant it its wish... definitely a solid session brew
O -
754 characters
Highway 128 Session Series: Keebarlin' Pale Ale from Anderson Valley Brewing Company
3.52
out of
5
based on
126
ratings.