Summer Solstice
| Anderson Valley Brewing Company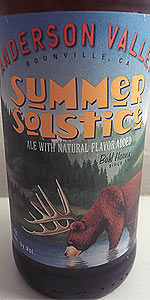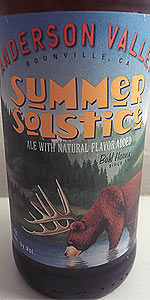 BEER INFO
Brewed by:
Anderson Valley Brewing Company
California
,
United States
avbc.com
Style:
American Cream Ale
Alcohol by volume (ABV):
5.00%
Availability:
Summer
Notes / Commercial Description:
Also known as Summer Solstice Cerveza Crema
Our Summer Solstice Seasonal Ale is a slightly sweet, malty session beer with a creamy mouth feel and clean finish. With hints of caramel in the nose and a touch of spice, it's become affectionately known as "cream soda for adults". The unique flavors and superior drinkability make for the ultimate refreshment on a hot summer day.
Added by xlperro on 05-09-2005
HISTOGRAM
Ratings: 1,612 | Reviews: 499

4.7
/5
rDev
+28.1%
look: 4.5 | smell: 4.5 | taste: 5 | feel: 4.5 | overall: 4.5
This beer has a subtle resemblance to it's cousin, winter solstice. The copper coloring and tint give a smell of wheaty caramel and toasted honey. The taste is that of creamy, sweet, spicy velvet. It's bit heavier than the usual summer brew but oh so drinkable. I can't think of anything better on a hot, lazy summer day.
321 characters
3.79
/5
rDev
+3.3%
look: 3 | smell: 4 | taste: 3.5 | feel: 4.5 | overall: 4
On tap at the Sunset Grill & Tap.
Dark brownish copper with a thin but steady head, clarity is fine.
Aromas of toasted grain and mild hop mirror the flavor, crisp wheat and bready ... very smooth. Suggestions of pears and vanilla come to mind. Quite malty but to big of a body for a summer brew. Very mild hopping though the palate does dry out in the end.
A tasty switch from the usual pale summer brews.
414 characters
4.05
/5
rDev
+10.4%
look: 4 | smell: 4 | taste: 4 | feel: 4.5 | overall: 4
Medium copper-colored body with outstanding clarity capped with a dense tan collar of foam...very dark for a summer-themed beer. Nose is light with swet malt and vanilla amid hints of toffee and nuts.
Entry is creamy smooth with barely discernable carbonation. Midtaste pulls a quick fake immediately luring the taster into thinking that this is a one-dimensional brew.
HA!
The complex finish is pure summer fireworks worthy of the best that the 4th of July has to offer. It begins with a very short hop intro, quickly followed by a deeply roasted malt thrust followed by a smooth vanila bean fade leaving just a wee bit of slickness on the tongue.
Possibly my new favorite Anderson Valley brew as it boasts all of the good things of an ESB without and of the shortcomings...
787 characters
2.96
/5
rDev
-19.3%
look: 2.5 | smell: 4 | taste: 2.5 | feel: 3.5 | overall: 2.5
Couldn't understand this brew at all. Nice-looking but not overly creamy appearance -- for a "cream ale". Dark brown body. Nose is pungent vanilla, sweet and not much else. Buttery vanilla in the mouth -- like vanilla flavored lotion. Heavy. Yuk! Even, on the upper end of carbonated beverages, but solid feel.
Way over the top on the cream soda vanilla taste -- and way against expectations. A summer seasonal beer shouldn't be this dark -- reading the title I think a light cream ale, like a creamy mexican-stlye lager. And definitely not something this overpowering in taste and this heavy. Could barely get this down.
625 characters

3.65
/5
rDev
-0.5%
look: 3.5 | smell: 3.5 | taste: 3.5 | feel: 4 | overall: 4
Pours a pretty bright amber color that is at most lightly hazy. It is topped by a frothy tan head that quickly dissipates after a few minutes. Wow, the aroma is quite interesting, it reminds me of some sort of candy. Perhaps a mix of butterscotch and strawberry candies. The butterscotch definitely becomes the dominant note in the nose. Interestingly enough, I am not sure that this is entirely driven by diacetyl, I am usually quite sensitive to it, and this somehow seems different. Looking at the bottle I see that this beer has some "special" spices, so this must be where that note is coming from.
The taste is lightly sweet up front, and my first overall impression is that this is like drinking the beer version of cream soda. The beer is fairly light on the palate, with a finish that has a carbonic bite to it. I really do like the soda analogy for this beer, I am reminded of both a light rootbeer, and a cream soda, caramel popcorn would also be an apt flavor analogy. I am really curious as to what the spices were in this beer. Overall this is definitely and interesting beer to try, though I am not sure that I would want more of it.
1,151 characters
3.97
/5
rDev
+8.2%
look: 3.5 | smell: 4 | taste: 4 | feel: 4 | overall: 4
I love cream soda...and this is cream soda in beer form...Appearance is nice...dark copper, but with little head. Smell is malty and vanilla..inviting! Taste is malt nad vanilla...very smooth with slight hops in the finish. Mouthfeel is smooth with a hint of dryness in the finish. Smooth on the palate...good drinkability.
323 characters
3.92
/5
rDev
+6.8%
look: 3.5 | smell: 4 | taste: 4 | feel: 3.5 | overall: 4
The beer evacuates the 12-ounce brown bottle a crystal clear mahogany color with a modest semi-creamy light tan head that evaporates rather quickly leaving a fine covering of lace upon the glass. Nose has a sweet malt aroma, hints of caramel, with a touch of vanilla; start is sweet with a fair to middling grain presence and the top light to medium in feel. Finish as a pleasant acidity with the hops pleasing in their spiciness, aftertaste dry and a nice beer on this hot 2nd day of June 2005.
495 characters
4.05
/5
rDev
+10.4%
look: 4 | smell: 4 | taste: 4 | feel: 4.5 | overall: 4
Had on draft at Bukowski - Cambridge. Kind of a strange beer... but really good! Served in a shaker pint glass, nice deep copper color with a thick, everlasting, tan head.
First thing I noticed was a creamy, vanilla aroma. I am thinking this might be a spiced beer... Very drinkable, and similar to the aroma, there are cream and vanilla notes all over this beer.
Please keep sending fresh Anderson Valley beer to Boston!!!
430 characters
4.5
/5
rDev
+22.6%
look: 4 | smell: 4 | taste: 4.5 | feel: 5 | overall: 5
This is a damn good beer, and very unique too. I really tastes creamy and figured it would be listed under cream beers. But it is very amber looking. got a sixer on a trip to the brewery.
smell: perhaps a weak point in the beer. faint sweet malts and vanilla. not much
Taste: ah yes. no other beer is quite like this. Tastes, well very creamy. vanilla seems to dominate the flavors here. there is little to no hop bitternense. this is not a overtly sweet beer though, nothing aproaching anything beligum. The people at the brewery told be that this is just their winter ale with less malt...but it tastes very different from that beer.
mouthfeel: creamy. like drinking milk.
drinkablitly: great for warm weather. very good ice cold but good lighly chilled as well. uh...two thumbs up...
799 characters
4.85
/5
rDev
+32.2%
look: 4.5 | smell: 4.5 | taste: 5 | feel: 5 | overall: 5
Poured from a twelve ounce bottle into a sturdy beer mug, the head couldn't be more perfect: rises at a mid-level pace, light tan (white, with light brown highlights), fair retention. A thin collar of lace clings to the glass. The body is dark, translucent amber. Smell: Subtle drop of vanilla extract, slight grassy hop presence and caramel maltiness on the finish. Taste: Ah, nice kick of creamy vanilla upfront, encompassing my entire palate, the middle brings out the vanilla even more by being balanced out against a black peppery hop profile, and some soft malt sweetness. The finish is a powder sugar sweetness, as the vanilla is all played out, and very thin hop bitterness. Slick mouthfeel, plenty carbonated. Great summer beer, better than the usual summer (read: boring) offerings from otherwise awesome breweries.
825 characters
3.85
/5
rDev
+4.9%
look: 3.5 | smell: 3.5 | taste: 4 | feel: 4 | overall: 4
Ahh, Anderson Valley, a brewery among breweries. I was actually at the brewery in Boonville in December of 2004 and I would highly recommend visiting the taproom and getting some of the freshest beer this side of the Universe. AV is an exceptional brewery made epic if you sample the beers on tap there.
But on to the real deal: the review of AVBC's Summer Solstice "Cerveza Crema."
The aroma of the beer is slighly malty with low hoppines and slight vanilla. The malt profile is slightly fruity with a hint of graininess. The mouthfeel is light for an amber colored as such as this, but finishes with a nice creaminess.
The hops are mild and combine with the yeast to form a "pseudo-Corona" flavor, which helps round out the refreshing quality of this beer.
This beer isn't terribly complex, but that's not what it's designed to be. It's still full of flavor and very drinkable on a hot summer day.
I never used to be much of a seasonal summer beer fan, but it seems more breweries these days have been able to strike the balance between flavor, drinkability, and refreshment than ever before. The Boonville addition is certainly one of them.
1,161 characters

3.5
/5
rDev
-4.6%
look: 3.5 | smell: 3.5 | taste: 3.5 | feel: 3.5 | overall: 3.5
05/08/05- Purchased at Wine Exchange of Sonoma.
Presentation- 12oz bottle, no dates, poured into my Englander pint glass.
Appearance- Copped-amber hued pour. 1 inch head that soon disipates and leaves a slight rim throughout. Very faint lacing.
Smell- Very malty with a hint of sweetness. Maybe even a slight whiff of vanilla.
Taste- Well, with a name like Cerveza Crema, I was expecting a combo of Little Kings and Corona (which would have been weird to say the least), but what I got was fairly decent if not actually dare I say pretty good. You can definitely feel and taste the creamy part of it. A very malty and a fairly sweet malt to boot. Tack on a creamy vanilla like taste and texture and add some spice (nutmeg)?? And put it together and this is the outcome. Not very much of an aftertaste.
Mouthfeel- Pretty darn smooth and creamy. Medium carbonation rounds it off. Maybe a tad watery in the finish.
Drinkability- I would have taken this brew over just about all of them if it was available when I was in Cancun last October. Different, tasty and refreshing.
1,088 characters
Summer Solstice from Anderson Valley Brewing Company
Beer rating:
3.67
out of
5
with
1,612
ratings