Switch Monkey
| Roanoke Railhouse Brewery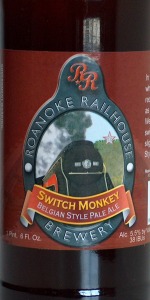 BEER INFO
Brewed by:
Roanoke Railhouse Brewery
Virginia
,
United States
roanokerailhouse.com
Style:
Belgian Pale Ale
Alcohol by volume (ABV):
5.50%
Availability:
Year-round
Notes / Commercial Description:
No notes at this time.
Added by cyclonece09 on 08-06-2012
This beer is retired; no longer brewed.
Reviews: 9 | Ratings: 25

2.66
/5
rDev
-22.4%
look: 2.25 | smell: 3.75 | taste: 2.25 | feel: 2.25 | overall: 2.5
My first review for this brewery.
Looks watery as it pours from the bottle. A hard pour manages a scant half finger head that is basically gone withih a minute, leaving only a ring around the glass and a slight haze on the surface. No lacing. Yellow against my white screen, but a weak orange against a darker wall. Similar to tea.
Smell is very nice. Malty and sweet with spiced fruit
Taste seems very watered down compared to the aroma. Some light sweet malt upfront, earthiness and very light bitterness in the end.
Very light bodied. Rather flat, just a hint of carbonation. Decent burn in the throat.
Overall, very watery and light, but very easy to drink
665 characters
2.72
/5
rDev
-20.7%
look: 3 | smell: 3.5 | taste: 2.25 | feel: 3 | overall: 2.5
This beer had no head at all, and minimal lacing. I expect that with any Belgian pale ale, and even more so when it costs 4 dollars for a 22 ounce bottle. This beer had a weird additive taste to it, which really made it take a hit in my book. The flavor was not exactly bad, but it did not seem like it was a part of the natural brewing process. I actually live walking distance to the brewery, and know that it was super fresh as well.
Overall, not a bad beer, but in no way is it a good beer. Beers like this make me question the entire popularity of the craft beer movement, and wonder if people are just being hard on more commercial brews because of the big business aspect; there is no way this product is superior to the majority of beer I can get in my market.
If you see Roanoke Railhouse Switch Monkey, save your money unless you just want to try it for the sake of trying it. This is a very mediocre beer.
920 characters
3.25
/5
rDev
-5.2%
look: 3.25 | smell: 3.25 | taste: 3.25 | feel: 3.25 | overall: 3.25
Golden in color with minimal head and lacing. Aroma is of both Belgian and some sweet malts. Taste has somehops, sweet malts and has some of the characteristics of a Belgian. Vary interesting balance and beer
208 characters

3.25
/5
rDev
-5.2%
look: 2.75 | smell: 3.25 | taste: 3.25 | feel: 3.5 | overall: 3.25
A- pours a hazy golden-yellow with a small foamy white head that has short retention and no lacing, expected more of a lively pour for the style
S- light Belgian yeast notes with a bit of fruity esters, a touch of banana and cellar must
T- sweet bready & doughy malt with some dark fruit notes of raisin bread, light fruity esters, dry and yeasty finish with almost a chocolaty malt flavor, definitely odd for the style
M- light body and carbonation, slits foamy mouthfeel leads to a bit of a creamy finish
O- some traditional Belgian flavors in there,mouthfeel a bit more malty than expected. Very drinkable but average
625 characters
3.29
/5
rDev
-4.1%
look: 3 | smell: 4 | taste: 3 | feel: 3.5 | overall: 3
This beer pours a nice dark cloudy straw color, but with a thin head and no lacing. The aroma is right on target, but the taste is a little underwhelming for the style. It's a good, drinkable beer, but not a great example of the style. The taste is a little bland with no yeast. Probably the best beer I've had by Roanoke Railhouse, but again, a little on the average side for the style. Might be a good way to introduce people to Belgian beers though.
452 characters
3.8
/5
rDev
+10.8%
look: 4 | smell: 4 | taste: 3.5 | feel: 4 | overall: 4
Poured from a 22 oz bottle into a mug. Pours a cloudy light/dark amber with a small white head that has staying power. Smells of sweet fruity hops and slight sweet grain, very inviting. Tastes of sweet grain with definite hop bite from fruity hops. Light bodied beer has great carbonation and finishes very smooth. Overall, a very good beer
340 characters

3.83
/5
rDev
+11.7%
look: 4.5 | smell: 4 | taste: 3.5 | feel: 4 | overall: 4
A gift from my niece Jane. Thanks! My first beer from this brewery.
Pours beautiful: A pale gold with a huge white head.
Light aroma of earth and fruit.
The taste is dry with hints of fruit and biscuit.
Crisp body.
Overall, this is a fine beer. Kudos to Roanoke Railhouse for brewing something outside of the ordinary.
323 characters
3.84
/5
rDev
+12%
look: 3.75 | smell: 4 | taste: 3.75 | feel: 4 | overall: 3.75
Poured from a 12 OZ bottle into a pint glass. The appearance is hazy golden yellow color with a huge white head. The aroma is of yeast and a hint of banana. The taste is slightly sweet with plenty of malt and fruit with a cocoa and yeast blend at the end. Overall, a good beer and a nice representation of a Belgian Pale Ale.
329 characters
3.85
/5
rDev
+12.2%
look: 3.75 | smell: 3.75 | taste: 4 | feel: 3.75 | overall: 3.75
The Switch Monkey is a solid Belgian ipa. It poured a yellow with white head that did not lace. The scent had some floral and spice notes mixed with the typical Belgian twang. The taste was good typical of most Belgian ipas. The mouthfeel was lighter in body with good carbonation. Overall it was a good offering. It was unfortunate to learn the RRB is going out of business.
381 characters
Switch Monkey from Roanoke Railhouse Brewery
3.43
out of
5
based on
25
ratings.