Bully's Restaurant & Pub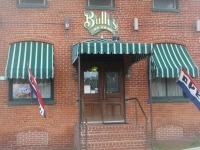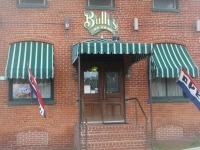 PLACE INFO
Type:
Bar, Eatery, Beer-to-go
647 Union St
Columbia
,
Pennsylvania
, 17512-2211
United States
(717) 684-2854 |
map
bullys-restaurant.com
Notes:
No notes at this time.
Added by Wheeble on 02-13-2009
Ratings: 10 | Reviews: 7
Reviews by Tucquan:
3.78
/5
rDev
-11.9%
vibe: 4.5 | quality: 3.5 | service: 4 | selection: 3.5 | food: 4
2012-06-26 Update - Prices for draft beers have gone up quite a bit so I'm changing the value rating. As an example, the price of 10oz of 7.5% Cigar City Jai Alai is $6.00!!
I've visited this place quite a few times over the years. It's pretty close to my house. I like the exterior and interior of the building. It sits on a hill with parking on the side and on the street. The interior is inviting with a nice big wooden bar, tiered dining areas and tinned ceiling panels. It's clean and well maintained.
There are craft beers on-tap but they tend to stay mostly with tried-and-true favorites with a couple of rotating taps. The standards are pretty safe. The rotating taps may or may not be interesting. The bottle selection is extensive and the beer list documents this well. The website updates as to the current on-tap brews is infrequent. I think they are missing the mark to draw craft beer lovers into the place with a bigger, rotating selection and frequent website and Facebook updates.
I've enjoyed the food here. It is well-prepared although some dishes have been a bit too salty for my tastes. Probably just right for many.
The service has been good, knowledgeable and attentive.
There is a cooler for cold bottles of craft beer.
1,249 characters
More User Reviews:
4.41
/5
rDev
+2.8%
vibe: 4 | quality: 4.5 | service: 4.5 | selection: 4.25 | food: 4.75
Cozy place, laid-back vibe. Solid draft list, nice mix of US craft brews and some harder to find imports. Bottle list is extensive but well organized. Staff is knowledgeable and does a good job answering questions. Food is a bit on the upscale side but top notch.
267 characters
4.69
/5
rDev
+9.3%
vibe: 4.5 | quality: 4.75 | service: 5 | selection: 4.25 | food: 5


4.34
/5
rDev
+1.2%
vibe: 4.5 | quality: 4 | service: 5 | selection: 4
After my recent trip to New York City and visiting The Blind Tiger, I thought, you know there are some great local places too, and this is one of them.
Bully's is a wonderful, very comfortable, place to drink.
The bar is small but you never feel claustrophobic. The very high tin ceilings no doubt help. The Hotel was built in 1903 and has been beautifully restored by the current owner Dave Zahm. There is a vintage full length oak back bar and a nice wide wooden bar for drinking. Comfortable chairs. Classic period woodwork throughout and some stained glass window dressing finish off the old time feel of the place.
Dave always seems to have a limited release Dogfish Head on tap. I have recently had the 120 IPA and last evening enjoyed Hellbound Ale. Also he always seems to have a great stout or other dark beer on draft; currently it is Saint Boniface Black Current Stout (delicious!). There are six taps of rotating craft beer. There is always something different. Dave knows his beers.
If you don't see what you want on tap Dave has a large bottle selection including many hard to find brews.
The enjoyment of visiting is greatly increased by the friendly and helpful service provided by Maria, the top server in my opinion. Nothing ever seems to stress her out and she always serves with a smile. If not overly busy she finds time for a little friendly talk, making you feel right at home.
If you have not visited yet I highly recommend it.
Caveat: Like so many places they have fallen into the habit of serving their high end craft beers in those miserable little 10 oz. tulip glasses, and you are still charged $6 to $8.
You receive a full serving, but these glasses leave no room for the brew to "breath" and for an aroma to develop.
I am not nit picking as this is seriously my only complaint, and I keep going back.
1,849 characters

4.08
/5
rDev
-4.9%
vibe: 3.5 | quality: 4 | service: 4.5 | selection: 4
upon walking into this place, i thought it seemed like a nice mellow place. it had a older rustic look to it. from the list of beers they had i assumed the singles cooler would be much bigger, but one of the bar tenders said they have a lot more beers available not in the cooler. i thought the selection was very good. they have a four page list on their website of some of the regular beers they carry if you want to check it out. i would say the prices are pretty reasonable. one thing i did not like, was their mix six deal. they only give 6 dollars off your six pack, where as others in the surrounding are do 25% off (brass rail) or even 50% off (McCleary's). Both bar tenders were very friendly and helpful and seemed to have a good knowledge about the beers they carried.
779 characters
4.28
/5
rDev
-0.2%
vibe: 4 | quality: 4.5 | service: 4 | selection: 4.5 | food: 4
First time visiting. Old victorian style bar with a good tap selection and a great bottle selection that would beat just about any other place in Lancaster County. I had an appetizer, half-rack of ribs, that was tasty. It paired nicely with my Double Mocha Porter from Rogue, which was on tap. Some other draft offerings were Victory Old Horizontal barleywine, Weyerbacher Merry Monks triple, Sea Dog, Warsteiner, and Ommegang. Plus Yuengling, Guiness, Stella, Miller etc. The bottle selection was large and in charge. I had an Ayinger Celebrator for $6. Good service with a knowledgable bartender, good food and most importantly, good beer. Bully's is worth the trip to Columbia for sure.
689 characters
4.08
/5
rDev
-4.9%
vibe: 3.5 | quality: 4 | service: 4 | selection: 4.5
I stopped in after work on my way home since Columbia is between Lancaster and York and my friend Shertz recommended the place.
I was greeted immediately after reading the sign the boasts the best selection in York, Lancaster and Harrisburg areas. I beg to differ, but that is beside the point.
The place has an atmosphere that is old style casual similar to Gingerbread Man if you are from the area. They have tins with candy and plastic caraffes with snack mix on the bar and tea-stained clear plastic pitchers behind the bar for the sake of visualization. The interior is slightly victorian with carved wooden pillars and what appears to be a hand crafted wood bar.
The old style brass taps add to the ambience
Service is pretty basic and standard but friendly. I helped the bartender who admitted only pedestrian beer knowledge find the price for the bottle I ordered, but I get there are those who are knowledgable about beer that work here. The attention to detail is there and I get the feeling they are genuinely interested in a good level of customer service.
Selection - The tap selection is just ok, with Victory, Tommyknocker and Blue Moon on w/ Yuengling, Stella, Smithwicks, and the usual Macro choices totalling around 10 choices, but the bottle seleciton is crazy good, I give it 4.5 for Columbia since nothing close is anywhere rivalling the bottle selection. The cooler is well stocked with Belgians, German lagers, Craft seasonals (Nugget Nectar, Wild Devil) and some special releses like He'brew Jewbelation 12. I think more than the # - 100 listed, the actual choices are very good which makes you want to return. Stone, Allagash, DFH, Weyerbacher -Unfiltered double simcoe, Schneider and Tripel Karmeleit for example. I dare you to find better within a 10 mile radius
Food - I will try next time since eveything sounds good like: roast duck florentine
Quality - Very good -the draft and bottles were both well taken care of and served fresh, high quality + fresh is a good combination w/ the seasonals like St Boisterous being served in the appropriate timeframe. (nugget nectar is a few months old, but not a big deal)
Overall - a nice drinking establishment. I was able to chat w/ a fellow craft beer fan and the mood was laid back and casual which I enjoy. I like a quiet out of the way place, but I can see this becoming a place to frequent if the tap selection improves. I will return for the chance to try some bottles I haven't tasted yet.
2,479 characters

4.44
/5
rDev
+3.5%
vibe: 4 | quality: 4.5 | service: 5 | selection: 4
I had a very nice time at Bully's this past evening. Just thought I'd take advantage of an opportunity to check it out and am very glad I did. It's a very nice room with the bar down the left side, some tables in the middle and an eating area up a level to the right. As usual, I didn't sample any of the offerings although two patrons at the bar were served some good looking and mighty fragrant entrees. I did avail myself of some tasty snack mix set out in carafes at the bar. Tap highlights included Victory Horizontal, Warsteiner Dunkel, and Weyerbacher Fireside; which kicked and gave way to Sam Adams Double Bock during my visit. Shoo-Fly Pie Porter was the local representative. Guinness, Smithwick's, a "Lite" (I was afraid to look!) and some other usual suspects rounded out the selection. Unfortunately, they had Chesterfield Ale on recently; I'd have liked to try that on tap again.
Jared was an extremely gracious host from behind the bar and provided some insights into current and future offerings. The bottle list is extensive and reasonably priced, from which I selected a Troeg's Scratch 17 (Glacier Pils); something I very rarely do. Interestingly, one of the patrons was Jim from Canton (Baltimore) with whom I occasionally drink at Max's in Fells Point. I've got to believe that increased demand from local beer aficionados might result some more taps dedicated to the rare and excellent. Be on the lookout for a "frequent flyer" program in the immediate future as well as specials and new beer announcements.
1,532 characters
Bully's Restaurant & Pub in Columbia, PA
Place rating:
100%
out of
100
with
10
ratings