Alley Bar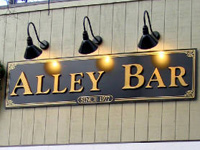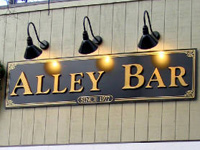 Bar, Beer-to-go
210 W. Kirkwood Ave.
Bloomington
,
Indiana
, 47404
United States
(812) 336-2216 |
map
thealleybarusa.com
Notes:
Reviews by fredmugs:
fredmugs from Indiana
3.76
/5
rDev
-3.6%
vibe: 4.5 | quality: 3.5 | service: 4 | selection: 3.5
Great vibe to dive ratio. Tap list can be sketchy. It's the kind of place you never start at but end up at by the end of the night. DO NOT eat the pickled eggs.
Mar 29, 2015
More User Reviews:
btownbeers from Indiana
5
/5
rDev
+28.2%
It's the "Cheers" of Bloomington. Great lil hole in the wall bar. Wide selection of brews and the spicy peanuts are delish
Sep 01, 2014

emerge077 from Illinois
3.14
/5
rDev
-19.5%
vibe: 3 | quality: 3 | service: 3.5 | selection: 3
Not really a beer bar by most standards, but decent. Part of the Kirkwood trifecta with Crazy Horse and Irish Lion.
A hole in the wall, tiny bar seating 12 at most, flanked by a few tables. 20 decent bottles, 1-2 decent taps max. Upland Ard Ri and a Widmer beer were the extent of the craft beers on tap. Some bottled highlights were Gumballhead, Dragons Milk, and Chouffe. Otherwise nothing too exciting.
A bunch of peanut shells and lottery tickets littered the floor. Basketball on the tv's. A large photo of a historical sports team on one wall. 5 Budweiser neon clovers in the front windows. Tons of macro decorations in the bar.
Service was ok, got a beer after 5 minutes. Not a destination, more a footnote in a pub crawl, if worth a visit at all.
Apr 04, 2010
erz316 from Indiana
3.56
/5
rDev
-8.7%
vibe: 4 | quality: 3.5 | service: 4 | selection: 3
You go to the alley bar for one reason: thursday night Maßkrüge of beer for five or seven bucks, and the spicy peanuts. they have four or five taps, one is always from upland. the bottled selection has arrogant bastard and thats about the only thing I noticed that was good, but they absolutely kill you in price for the bottled beer. there is no food aside from the heavenly spicy peanuts, which you just throw on the floor. the jukebox is pretty good, they have queen and some other good guys. the bartenders are nice and outgoing, but the place is always cramped so they are usually busy. the pace is incredibly small and one shouldnt look to bring more than 5 people with them as getting a table, let alone a spot at the bar itself, would pretty much be impossible. Oh, also, look out for the cute budweiser promotion girls, they hand out free bottles of bud, and they have a quota to hand out, so you might get lucky and meet one who is trying to get rid of a bunch of beer. a grungy, intimate place.
Aug 06, 2009

chrizzle from Indiana
4.06
/5
rDev
+4.1%
vibe: 4.5 | quality: 4 | service: 4 | selection: 4
Ah the Alley Bar here in good old Bloomington. Let us begin!
i asked that beer advocate list the alley bar because it's a little known establishment that deserves some recognition. and here are some of the reasons why:
A: the atmosphere in the alley bar is wonderful. it's a dive bar so nothing fancy here. however, they have a nice bar which wraps around their beer selection and a few tables along the wall. best of all, they have a jukebox and a yahtzee game, which for $1 a roll you have a chance to win the "pot". any questions, go check it out for yourself!
Q: good quality here in terms of beer selection, rotating taps and glassware to serve your beer properly. imperial pint glasses for guinness, pilsner glasses for the appropriate beers, etc. the quality is equally noticed in the selection... more on that later.
Ser: i gave the service a 4 here. while the service is good, it's nothing special. the alley bar is a small bar so there's usually one person tending to things. if the place gets even remotely crowded you might have to wait a while for a drink. but on most nights things run smoothly and efficiently.
Sel: this is where the alley bar shines. not only do they have a rotating selection available on tap, they bring in local brews, craft brews, and the occasional suprise. in addition to the beers on tap they serve only beer, no hard alcohol here. check out their bottled selection of belgians. or look into their other craft brews. there's something for everyone.
F: n/a the alley bar only serves peanuts; regular and spicy. cool thing is that you can eat your peanuts and then throw the shells on the floor!
V: great overall value. the bar has a nice array of specials and their bottles are not too over priced. for a college town they tend to go easy on ones wallet. and where else in town can you get a 34 oz. mug of hoegaarten for under $5?! cheers to you alley bar.
Feb 17, 2009
Alley Bar in Bloomington, IN
Place rating:
3.9
out of
5
with
7
ratings