Double D Blonde
| Hop Valley Brewing Company
BA SCORE
81
good
13
Reviews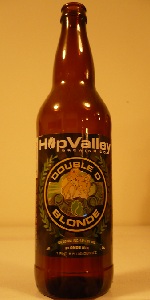 BEER INFO
Brewed by:
Hop Valley Brewing Company
Oregon
,
United States
hopvalleybrewing.com
Style:
American Blonde Ale
Alcohol by volume (ABV):
4.90%
Availability:
Year-round
Notes / Commercial Description:
No notes at this time.
Added by RedDiamond on 07-25-2009
Reviews: 13 | Ratings: 52
4.07
/5
rDev
+18.7%
look: 3.5 | smell: 4 | taste: 4 | feel: 4 | overall: 4.5
22 oz. bottle picked up at Belmont Station upon recommendation of awesome staff.
One finger billowing white head, medium-slow dissipation, with significant lacing. Light gold clear body, multiple streams of carbonation bursting on top of body, thin broken layer of head retained long after pour. Fruity hops, grapefruit in the nose, balanced with sweetish and bready malts. Taste mirrors nose, this is a pretty hoppy blonde ale. Good effervescent medium mouthfeel. IMO quite sessionable and drinkable. Another fine offering from the new kid on the Eugene brewing block.
570 characters

3.84
/5
rDev
+12%
look: 3.5 | smell: 3.75 | taste: 4 | feel: 3.75 | overall: 3.75
22 oz bomber from Fred Meyer in S.Salem. $3.99 Pours a nice clear sunny golden colour with a largish frothy white head. Aroma is nice and fresh bready,caramel malts with a touch of citric hops. Taste very balanced bready,caramel touch of nuts,lemony hops very nice really Really great mouth feel fizzy yet complex ( for style ) semi-dry finish. Very nice drinkable blond would be great in six-pack!
( oh i see here it is in 12 oz cans! Great)
442 characters
3.79
/5
rDev
+10.5%
look: 4 | smell: 4.25 | taste: 3.5 | feel: 3.75 | overall: 3.75
Appearance : Blonde colored body, slight haze, 60% opaque. Hilly lace on the sides of the glass after the 1 finger head recedes.
Smell : Pale malts, barley, wheat, some light spice and floral. Mostly clean aromas. Spot on for a Blonde - nothing more, nothing less.
Taste : Had to expect this being a NW beer. A bit too hoppy for my tastes, but the pine note subsides into a more traditional golden blonde ale with bread and yeast following. It ends on a slight marshmallow note and the finish is better than the beginning in my opinion.
Feel : Medium bodied, light creaminess, dry finish.
Overall : If it weren't for the pine at the beginning this beer would be a home run. I don't like the overhopping of the NW style beers, it's just too much. This is another example of the overhopping going on in this region.
821 characters

3.63
/5
rDev
+5.8%
look: 3.5 | smell: 3.5 | taste: 3.5 | feel: 3.75 | overall: 4
First, crack open the can and enjoy a few gulps straight from the can. It's such a familiar feeling with its own pleasure, but it reminds me how drinking the stuff from a lovely glass is the way I enjoy it these days.
Rather crisp and carbonated, which gives this Blonde a little more drinkability. Also gives it some of the club soda taste. More bitterness than I usually expect with this style. Even reminds me of a watery Pilsener with a very light body. Rather grainy but not flabby.
488 characters

3.63
/5
rDev
+5.8%
look: 3.75 | smell: 3.75 | taste: 3.5 | feel: 4 | overall: 3.5
Poured from 12oz can into a pint glass.
Appearance: golden-yellow hue with a moderate haze and a strong effervescence. Head poured two fingers of creamy white foam. Decent head retention with a little chunky lace left on the glass. Not bad!
Smell: sweetish malty aroma with a hint of grain and a little bit of fruitiness, probably due to the hops. There's almost a spiciness to it, like grains of paradise or something, which doesn't particularly work for me. Overall, though, pretty decent.
Taste: the flavor is similar to the aroma, but a bit drier and grainier. The overall effect is of harshness, unfortunately. It's not bad, per se, but it's a bit rougher than I'm looking for in the style.
Mouthfeel: moderate body and a big carbonation give this brew quite a creamy texture; this is the beer's best feature.
Overall: not bad, but a bit on the harsh side for my taste. A blonde ale should be smooth and easy drinking.
928 characters
3.58
/5
rDev
+4.4%
look: 4 | smell: 3.5 | taste: 3.5 | feel: 3 | overall: 4
Served on tap into a shaker glass at The Bridge
A- Poured a clear golden color with a frothy head that left spotty lace
S- Very pungent grapefruit aroma, nothing else
T- Big pungent grapefruit flavor with a mellow cracker malt and lemony finish
M- Fizzy carbonation, lighter to medium body, semi-dry finish
O- Not very complex, but great punch of pungent (cascade?) hops and very easy to drink. Drinks like a session IPA.
426 characters
3.58
/5
rDev
+4.4%
look: 4 | smell: 3.5 | taste: 3.5 | feel: 4 | overall: 3.5
This ale is named for a hefty bra cup size. Putting aside the ethics of naming a beer for the size of a woman's undergarments, Double D is pale daisy yellow with a smiling cap of white head and a sweet, distant aroma. The beer serves its purpose well enough. It features gentle contours with a light blush of sweetness, minimal bittering, and a clean, refreshing persona. Despite its name, this blonde deliberately lacks excitement in favor of succinct, entry-level functionality.
480 characters

3.53
/5
rDev
+2.9%
look: 3.5 | smell: 3 | taste: 3.5 | feel: 4 | overall: 4
Pours a pretty standard one finger white head into my standard pint glass. The head is very soapy looking and has mostly small bubbles, but a fair amount of medium sized ones too. The head really doesn't look too great, a soapy look is never good, even though the bubbles are small, it looks very soapy. The head has decent retention, but it has already faded almost all the way. Not much in the way of lacing at all in this beer. The body is slightly cloudy, which is nice to see for this style The color of the body is pretty standard though, blonde, yellow, whatever you want to call it, it reminds me too much of a lager. At the beginning, when I first poured the beer, bubbles were sticking like crazy to the side of the glass, leading me to think the carbonation would be wayyy too much, but it has since settled down and now the few bubbles rising to the top lead me to think that I might be under carbonated. The head has left a tiny tiny layer of bubbles on top of the body, which is nice, but overall the head was nothing impressive. I did like the cloudiness of the body, but the body wasn't too amazing either. Overall the look is ok. The smell is very light, crisp, refreshing, but not necessarily an amazingly good smell. I get a little bit of lemon, maybe a touch of hops, light malt, and unfortunately I get a bit of a sour adjunct smell, reminds me of an adjunct beer, just slightly, but it's for sure there. The smell really isn't blowing me out of the water at all, not that great of a smell. The only redeeming factor is the possibility of lemon and maybe some other light fruits, other than that the hops are too small and the adjunct smell shouldn't even be there. Maybe 3 is too low for this beer on the smell, but I'm not smelling anything to grade it otherwise. Well it's better than I thought it would be from the smell, but it's still not amazing. Very smooth, almost creamy feel to it that really just dominates the beer, it's hard to notice any flavors with a mouthfeel as awesome as this. I usually don't grade the mouthfeel first, but it's just so overpowering that I have to. For sure a 4 on mouthfeel. The carbonation is for sure there, but not at all overpowering. The feel overall is just really smooth and creamy, which is surprising for the style, but oh well. As for flavors and taste: well there are some hops that I can notice, but they are mostly in the finish/aftertaste, still better than nothing though I suppose. No adjunct flavor at all in this beer, which is very good, the malts are solid and they do their part well. Maybe a tiny lemon flavor, but really not much at all. Overall there is nothing wrong with the flavor at all, it's just that it's nothing out of this world. I can't give the flavor points just because the beer itself has such an amazing mouthfeel, because the flavor alone is just good, not great. I can however give the beer overall a better grade, which is exactly what I'm going to do. Overall on flavor, good, not great. Overall on the beer, kinda all over the place from appearance, smell, taste and mouthfeel, but the final product is very nice to drink and even if it's just the mouthfeel alone, I think it deserves a 4 overall, because it's so easy to drink, and the taste isn't half bad. Overall good beer.
After drinking this beer more and more I have a few updates, the appearance really barely makes the cut for 3.5, bad lacing and not much in the way of a head like I already mentioned, the only reason it holds a 3.5 is it's cloudiness and decent foam on top of the body. The taste is the same for the most part, but I do get somewhat of a vanilla taste hidden in there somewhere, it's a very creamy beer and it reminds me a lot of Ninkasi's cream ale. Like I said before the mouthfeel is the most dominant part, but there are some nice flavors hidden in there. I am tempted to give this a 4 for taste, but it's not quite there.
3,909 characters
3.25
/5
rDev
-5.2%
Poured out of a 12oz can into a pint glass.
Color is staw almost mango yellow with a very small head, which leaves a very light lace. Smell is upfront grains and a light citrus peel undertone. Taste is is grain forward with almost a Belgian spice to the middle. Finish is of a ligt hop bitterness. Mouthfeel is very light and watery with a very mild to minimal carbonation. Overall a good golden ale but doesn't have a complex enough body to have me returning frequently.
471 characters
3.14
/5
rDev
-8.5%
look: 3 | smell: 2.75 | taste: 3.25 | feel: 3.5 | overall: 3.25
Appearance- Pours up a below average amount of head which has poor retention. The head is a pure cotton white while the body is a dull straw to pale amber which looks golden straw in the light. No lacing has been left behind yet.
Nose- Rather thin and boring. At first, I got a bit of bubblegum (very light and not bothersome) with some grain and cereal. After a minute, there is nothing but a light hint of grain. Almost indistinguishable from your basic AAL. In fact, some AALs have more of nose or, at least, more presence.
Taste- Starts off with mild citrus that has both orange and lemon with a touch of lemon peel. Caramel is very pronounced on the middle while a little bit of pine and resin bring up the finish. Slight spicy tingle on the linger. Caramel seems to be dominant component with notes of lemon, orange, and matchstick hanging around the edges. Pretty much nothing more complex than the notes that I've mentioned before. Maybe a slight chalkiness with the somewhat dry finish. No flaws but not a terribly interesting beer. I think it was better in the can- I felt like I got more of the hop profile. Just above average to average. Muted notes of grain in the background.
Mouthfeel- Between light and medium bodied with a good amount of syrup. Carbonation is a bit light but still works well with the overall beer.
Drinkability- Seemed to live up to the label when it was in the can. It's rather boring in a glass. Decent for 8 bucks a six pack but nothing compared to all the better blondes out there.
Overall- Just a bit over average but mostly average. Fairly true to the style. If you like lighter beers, you will probably like this one. For most others, it's probably not worth a try. I will not be buying it again.
1,748 characters
3.08
/5
rDev
-10.2%
look: 3.75 | smell: 3.25 | taste: 2.75 | feel: 3.25 | overall: 3.25
12oz can from Brewer's Haven... Clear light straw golden with a surprisingly good white head. Grainy wheat... Citrus/floral/lesser grassy hops... The finish is a touch heavily leaning toward the malty side of things... Decent balance, but I want more hops from my blondes especially from the PNW.
3.75/3.25/2.75/3.25/3.25
322 characters

2.79
/5
rDev
-18.7%
look: 2.75 | smell: 3 | taste: 2.75 | feel: 2.5 | overall: 2.75
Hazy yellow, very thin white head after an aggressive pour and no retention. Sweet, light grassy aroma. Hoppy bitterness up front with a light linger that gets much stronger. Light body with light to moderate carbonation.
I guess what else do you expect from a brewery named Hop Valley? Flavorless save for hop bitterness. A boring beer with no off flavors just nothing to be enjoyed.
385 characters

1.95
/5
rDev
-43.1%
look: 2 | smell: 2 | taste: 2 | feel: 1.5 | overall: 2
Poured from a 12oz can into a pint glass. Reviewed from notes.
A- Finger width white head. Low retention and some white lacing. Pale gold color with crystal clarity.
S- Crystal malts, some piney hops and a hint of grassiness. Light and unattractive smell.
T- Light hops, crystal malts, some sugar but very weak flavor.
O- Wet air. Light and insubstantial.
O- Do yourself a favor and pass on this one.
409 characters
Double D Blonde from Hop Valley Brewing Company
3.43
out of
5
based on
52
ratings.