The Local Pub & Teahouse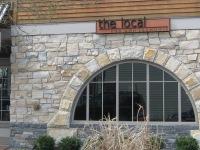 PLACE INFO
Type:
Bar, Eatery
142 Grand Ave
Saratoga Springs
,
New York
, 12866-4016
United States
(518) 587-7256 |
map
www.thelocalpubandteahouse.com
Notes:
No notes at this time.
Added by ChellyNY on 02-18-2009
Reviews: 7 | Ratings: 14
Reviews by harsley:

3.83
/5
rDev
-4.3%
vibe: 4 | quality: 4.5 | service: 3 | selection: 3.5 | food: 4.5
Been to this place twice now on visits back home. My Dad's friend's kid owns this place with a couple of this friends and they are talking of trying to brew a little at some point.
Everything is wood in here. Tables and chairs are all hand made by the owners/friends/famiy, and very sturdy although maybe not the most pleasing to the eye (or your ass). It's pretty cozy with a fireplace inside and good place to crawl into during a snowstorm...there's also a big back deck which is open in warmer weather. Lots of TV's around for sports watching and some dart boards.
Beer choice is good for the area and I think they want to add more taps. They had maybe 8-10 taps of some good beers (Brooklyn, Flying Dog, etc) and a supply of bottles probably 20-30 deep or so...I remember seeing some Middle Ages bombers but don't remember much of the bottle list. Service is average at best. There are some waiters if you're sitting down otherwise you have to get the bartenders attention. Didn't try any food, or tea which this place has a huge selection of.
All in all for the area this is the best place to go for a good beer selection.
Edit: tried the food recently and was quite impressed. Best fish & chips I've had away from New England; homemade fries; good sandwiches & good steak had around my table.
★
1,302 characters
More User Reviews:
3.95
/5
rDev
-1.3%
vibe: 4 | quality: 4.25 | service: 3.75 | selection: 3.75 | food: 4
The Local Pub & Teahouse is a charming spot in Sarasota Springs that's pleasantly off of the main drag. Driving down the street you could easily pass it by not noticing that it's not just another house. Upon closer inspection you'll note that it's got some beautiful stone work, and a small dining area right on Grand Ave. (there's also another spot out back). Inside it's just as nicely appointed, and new but with charm. It's comfortable and cozy. It has a warmth to it that makes the experience more enjoyable.
The service is very good for the kind of place it is, and I wasn't disappointed.
The food is decent, basic pub food, and they're apparently known for their burgers and fish & chips. I enjoyed the fish & chips and thought they were good, but not great, probably hitting about a 7.5 out of 10, which is impressive given that I've taken fish & chip tours in England and had some "recommended" shops there deliver less. On the other hand, they also offer poutine, which is tasty, but I'll have to say, not like anything I've found in Canada (it's cheese curds, not thinly shredded cheese my friends!). My wife had a burger and was pleased, but felt the same way about her meal: very good but not stellar. Still, in these times I'll take that and smile.
There are 9 (or was it 14?) taps and an occasional cask of pretty much all good stuff. It's hard for me to say what's what as I'm not local, but there wasn't a lot of junk on tap. I enjoyed a Great Adirondack John Brown IPA and something else that I don't recall, but couldn't get where I'm from. I'd call the beer selection good but not great, and keep in mind, it's more of a restaurant than a bar. I did think the prices were slightly high, but again, I'm not from the area so it's hard to say.
As for the "teahouse" part of it, they do offer a variety of teas - I thought it was just a word they'd tacked on to make it seem quaint. I'll also say, I've never seen a tea house in England that looked like a pub! Totally different animal.
Conclusion: I'd recommend it. It may be on par with Applebee's or Friday's to a great extent, but it's so much more charming.
★
2,136 characters
3.96
/5
rDev
-1%
vibe: 4 | quality: 4 | service: 4 | selection: 3.75 | food: 4.25
4.6
/5
rDev
+15%
vibe: 5 | quality: 4.5 | service: 4.5 | selection: 4.5 | food: 5
4.13
/5
rDev
+3.3%
vibe: 4.25 | quality: 4.25 | service: 4.25 | selection: 3.75 | food: 4.25
4.39
/5
rDev
+9.7%
vibe: 4 | quality: 4 | service: 4.5 | selection: 4.75 | food: 4.75
Good quality food and brew. Ever changing tap selection.
56 characters


4.3
/5
rDev
+7.5%
vibe: 5 | quality: 4.5 | service: 4 | selection: 4 | food: 4.5
The Local is a great hole-in-wall place if you're looking for somewhere that has a nice beer selection, cheap (but really good) pub food, and a nice vibe. It's located in the art district of Saratoga and when you go, you have the option of sitting inside, at the bar, or outside; I always prefer to sit outside. Outside, they have a cozy layout with basket lights in the trees, river rock walkways, artistic furniture and what not. It's very chill. The food there is amazing and very inexpensive. I don't think I saw anything over $15 for an entree and the serving sizes are HUGE. The service is fast and friendly as well. As for beers, they always have a decent size tap line up and a good bottle selection. If you're in the area, I would recommend this place to anyone.
★
771 characters
4.16
/5
rDev
+4%
vibe: 4 | quality: 4.5 | service: 4 | selection: 4
I like the atmosphere of this place. It's stone outside, polished wood inside, nice and open. There's seating at the bar or table all down the wall. There's also outdoor seating, although it's small and, whicle inconsequential, i found it odd that there's no smoking in an outdoor area at a bar.
There are 8 taps and around 20 bottles and cans avaiable along with a few additional macros. I was excited to see they serve cask ales.
The bartender did a good job, not as helpful as he could have been at times, but he did his job well and was both friendly and quick to serve. Prices were reasonable and within the range I'd expect to pay.
This is a nice, big, relaxing place to have a good beer in Saratoga.
★
707 characters
3.45
/5
rDev
-13.8%
vibe: 4 | quality: 4 | service: 3 | selection: 3 | food: 3.5
I stopped here with a coworker while in town. This strikes me as a new place, at least newly redecorated, nice stone exterior and good woodwork inside. Cool window shapes too. Very small, I guess you could call it cozy, only 8-10 tables, other than that there are maybe 10-12 seats at the bar.
There were about 8 beers on tap, also a cask that wasn't being served (too bad). The beers included some Irish themes (we were there the day before St Patricks Day), also beers from Harpoon, Lagunitas, Left Hand, etc. Prices were average, not too expensive. No appreciable bottles list, maybe 12 deep.
The food was decent, WAY too many fries but that's no problem. I guess I'm going to recommend it, it's a cool place for dinner and you might get better beer selections than I did if you come on a different night.
★
811 characters
4.18
/5
rDev
+4.5%
vibe: 4 | quality: 4 | service: 4 | selection: 4.5 | food: 4.5
I live in Saratoga County and The Local is by far my overall fave.
It feels like my score of the place is low, but I'm trying to rate absolute vs. just comparing to others in area (and I'm even including several places in Albany).
The food though limited mostly to Brit pub fare is great. The fish and chips are head and shoulders over the local Irish restaraunt's (Parting Glass).
9 taps and a recently added cask. 3 are devoted to rotating Belgians, two dedicated to Guiness and Stella. The cask seems to be hit and miss as I've been in twice that they had nothing on. That "only" leaves 4 spots for beers I'd normally drink, but they rotate them frequently. I'd say no week goes by that at least 2 of the 4 aren't new, and always quality. Frequent offender's are Rogue, Sierra, Southern Tier, and a host of others. Always the premiums and seasonals, not their standard varieties you can get anywhere. They also have some premium bottles, but I'm a believer in "bottles at home, draught at the bar".
Friday and Saturday nights can be standing room only, so I avoid those times. Also nice that they aren't right on the main drag in Saratoga, so not as much crush in Track season.
BEST IN SARATOGA, hands down!!!
★
1,213 characters

4
/5
rDev 0%
vibe: 4 | quality: 4 | service: 4 | selection: 4 | food: 4
Checked out this place on my recent trip to Saratoga. The Local is a little off the beaten path but the cabs are cheap in Saratoga so that was really no problem at all.
We arrived at about 8pm and the place was slammed with a predominantly 20-something college type crowd. I am quite a bit older than most of these folks but that didnt bother me in the least.Everyone was friendly and nice enough.
We opted to sit outside as it wasnt quite as busy and had a few beers and dinner. I opted for a Stoudts Pils and also had a Southern Tier IPA.The beer selection was pretty good and the food (ploughmans lunch and home made pasta) was quite good and reasonably priced. Overall, a good place for some beers and I would definitely go back. I might try to do it at a less busy hour next time and to take in the rustic aspect of the place a little more.
★
848 characters
The Local Pub & Teahouse in Saratoga Springs, NY
4
out of
5
based on
14
ratings.