Ashley's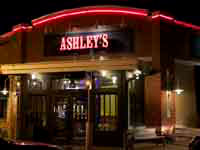 PLACE INFO
Type:
Bar, Eatery
7525 Wayne Rd
Westland
,
Michigan
, 48185-2001
United States
(734) 525-1667 |
map
ashleys.com
Notes:
No notes at this time.
Added by arcadiajon on 02-20-2009
Reviews: 14 | Ratings: 28

4.4
/5
rDev
+6%
vibe: 5 | quality: 4.5 | service: 4 | selection: 5 | food: 3
One of my favorite places to visit when I travel back home. This bar has a wonderful rotating taplist (40+ brews) and large bottle/liquor selection. Once a year, they throw a Belgian Fest, which lasts for over a week. Ashley's does a great job bringing in craft beer, and imports (as well as some ciders and meads.)
Atmosphere: Dimly lit with red brick walls and a lot of wood. Beer signs EVERYWHERE
Service: Acceptable + (can be slow, at times.) Prices of certain beers can be high
Beer: Outstanding (just a bit pricey)
Food: Average - most of the dishes aren't all that exciting, but the pizzas are great
Note: I've been to the Ann Arbor location. It's also great, but since it's in downtown Ann Arbor, it is a bit more expensive to visit.
756 characters

3.81
/5
rDev
-8.2%
vibe: 3 | quality: 4 | service: 3.75 | selection: 4 | food: 3.75
Probably a much much different vibe evenings and weekends compared to the Monday mid-afternoon time I was there.
Great beer selection and decent food. Service was good and overall a good experience. I think it has the potential to be great - again if they were in the swing of things.
Can't wait to go back during peak times to see if the vibe can match the Ann Arbor location.
385 characters
4.79
/5
rDev
+15.4%
vibe: 4.5 | quality: 4.75 | service: 4.75 | selection: 5 | food: 4.75
While the tap selection isn't as large as the Ann Arbor location, the selection is still all quality. Bottle stock is still huge. Foods always been great, and service friendly.
177 characters
4.18
/5
rDev
+0.7%
vibe: 3.75 | quality: 4.25 | service: 3.75 | selection: 4.75 | food: 4
W have been here numerous times. About 3 miles from the house. Typically 30 -35 beers on tap and another 75 in bottles. The food is very good with a good variety. Most of the servers know their beer and can recommend one if you tell them what you are looking for. A beer Garten just opened with live music. Two bars, the D bar is away from the restraint and a typical bar. The long bar is in the main eating area.
I have never been to the A2 location but, I have recommended this place to many people and no one has been disappointed.
534 characters

4.15
/5
rDev 0%
vibe: 3.75 | quality: 4.25 | service: 4.25 | selection: 4.25 | food: 3.75
Ashley's, a national level beer destination, has done some nice things here. This has a nice selection of beers, american micros, some nice imports. Food is pretty good, it is a restaurant area with really good beer and a bar area, the bar area is pretty fun. They have a real ale festival which is a lot of fun and a nice way to taste cask ales. Over time they are doing more and more events here like the Belgian fest. This has moved it to the beer destination in western wayne county. Good to see them upgrading things over time. The thing they have over Ann Arbor is space and are using it for really great events.
620 characters
4.14
/5
rDev
-0.2%
vibe: 4 | quality: 4 | service: 4.5 | selection: 4
I rolled up on this joint yesterday. It looked like it used to be a chain restaurant (found out it was originally a Pizzeria Uno). Upon entering it looked like a chain restaurant. I was happy to see that they had two bars and a lot more space than the one in Ann Arbor. I was disappointed to see only about 20 beers on tap. I guess I'm spoiled from going to the other location.
The bartender could not have been more friendly. We talked beer and about differences in the two locations. He suggested beers that this location had and were not available in AA. I met a guy that knew beer and was a fan of Michigan, Tigers, and Red Wings.
The place was not crowded, but it was 1:30pm on a Satruday. Not everyone starts at noon and finishes at midnight like me. I loved the space this place had to offer but it seemed like they lacked the selection or the ambiance of the AA location. But I am biased and trying to be objective. I would definitely recommend it though.
967 characters

4.45
/5
rDev
+7.2%
vibe: 4 | quality: 4.5 | service: 4 | selection: 5 | food: 4.5
My most recent visit was on Sunday for chocolate and beer pairing during the Belgian Beer Festival. I've been here many times before, but when they put on an event, they go all out. The special dinner menu, the dessert menu, all the Belgian beers on tap and in bottles, and the special Schokolad chocolates that they had made, infused with different beers, really display dedication.
The service has always been solid, not spectacular. The atmosphere is very comfortable and relaxing. There is always a great selection of beers on tap, and they are very good at letting people know when they get a keg of something special. The food on the regular menu is good; I generally have appetizers and samplers. However, the food on the Belgian menu was fantastic. I had mussels steamed in Duchesse de Bourgogne, and my fiance had a burger with Orval cheese. Both were spectacular.
I will admit that there is a charm at the Ann Arbor location that is missing here. However, I also have to admit that I like having the extra space for events and not having to deal with waiting forever. I will continue to support this place, especially the special events that it puts on.
1,165 characters
4.63
/5
rDev
+11.6%
vibe: 4 | quality: 4.5 | service: 4.5 | selection: 5 | food: 5
I have been to Ashley's in Westland quite often. The atmosphere here is up to you're personal preference, I personally enjoy it very rarely is it extremely packed (unless they are have some type of event). The people who frequent Ashley's are usually some pretty knowledgeable beer drinkers, which helps me usually get good beers that I would like.
The staff for the most part provide awesome service, and there pretty knowledgeable of the beers they have and also beers they don't have on hand.
The food they offer is quite diverse, and everything i have tried has been very good. The Ashley's club sandwich is my favorite hands down, not just of they food they offer but better than any other club sandwich I've had at any other food establishment.
They also have what is known as the "Beer Tour", in which you get a card with 131 different types of beer on it. If you do this card it will have you trying different beers that you wouldn't normally try, just so you can complete the card. This is what really opened my eyes and taste buds to the whole spectrum of beer styles and tastes. The more beers you try will earn you free stuff from Ashley's (appetizers, pizza, hats, t-shirts) and when you finish the card you get your name on a plaque at the front door.
I will admit that I may be a little biased about this place, but this establishment is the reason i have become a beer connoisseur, instead of just a beer drinker. They showed me that there is way better beers to drink than what i was used to.
1,515 characters

4.18
/5
rDev
+0.7%
vibe: 4 | quality: 4 | service: 3.5 | selection: 5 | food: 4.5
This is the best local multi-tap.
Beer: They have a ridiculous selection of both bottled and draft beer. The feature rotating taps from many of the good Michigan breweries. Tuesday is the best day to go because it is $3 pint night. No matter what there is always something to drink that is good.
Food: They feature a large selection of foood. y menu favorites are the various types of fries, the Texas Burger and the Buffalo Chicken Fingers.
Service: Depending on who you get as a server the service can be great or mediocre. Nicole in the bar is great and very knowledgable about beer. Laura the manager is also very helpful and knows her ber. Stu the bartender is also a beer aficionado and knows his stuff.
713 characters

4.7
/5
rDev
+13.3%
vibe: 4.5 | quality: 4.5 | service: 5 | selection: 5 | food: 4
I've been trying to find a better beer bar in the area but keep coming back to Ashley's because nobody can compete with the selection. 40 taps and they always seem to have something that is a one off batch. Like B-Craft black IPA that was incredible. Every Tuesday is $3.00 pint night (Higher ABV sometimes are not included). Been there pretty much every night of the week and it's never over crowded. Wait-staff knows their beer, they serve everything in the proper glass. Service is excellent. They also have festivals throughout the year. Stop by maybe I will see you there.
577 characters
4.3
/5
rDev
+3.6%
vibe: 4 | quality: 4.5 | service: 4 | selection: 4.5
A_I gave the atmosphere a 4. Maybe I should've given it less because it was pretty dead for a Friday night.I like beer bars that aren't crowded. If you do too this a nice place to chill while exploring new craft beers.
Q_ I had three beers on tap. Arcadia B-Craft,Ayinger Celebrator Dopplebock, and Shorts Bellaire Brown. All were fresh as were the four my buddy had.I also had a bottle of Dogfishhead Indian Brown Ale. The date on the bottle was late June 2010. This was late August so the bottle was still pretty damn fresh.
S_ Our waitress was fast,friendly,and new a little about the beers they served. Even if she didnt know shit about beer I know enough to navigate through their beer menu and understand that it would be a pain in the ass for the owner to fill his staff with only beer geeks for a bunch of beer snobs.
S_Selection was great. About as good as anywhere else in South East Michigan. They now have 40 taps instead of 20. 20 of those taps are year round and the other 20 are rotating.Their bottle selection is more extensive than most beer stores.
V_Average is 4-5 bucks a beer.A little more for the rare stuff. Didn't see a beer over 7 dollars. Not gonna find much better.
1,197 characters

3.95
/5
rDev
-4.8%
vibe: 3.5 | quality: 4 | service: 4 | selection: 4 | food: 4
I've now been in here a few times (see original review below). Although I am sure the waitstaff varies in their beer knowledge, the bartenders are reasonably knowledgeable and the beer selection itself is very nice. Every meal I've eaten here has been quite good, every beer fresh and served in appropriate (approximately) glassware, and I have yet to be disappointed. Beyond that, I think the price is actually not bad. For example, a few nights ago my wife and I split a cup of clam chowder, we each had different (and tasty) burgers with upgrades, she had a soda, and I had a DFH 90 min and a Hofbrau Oktoberfest. I believe the total was $35. I consider this quite reasonable for a full dinner for 2 that included two great beers (each beer was only $5).
I have not been to the AA location but I am reviewing this as its own place, as it should be reviewed. My wife and 6mo daughter went in today for lunch. We were immediately greeted by a nice lady who told me she was the bartender and would also be our server. I was leary of anyone being able to describe the beers to me so I went straight to the bar to see the taps for myself. What I remember included Founders Double Trouble, GD 15th, Southern Tier Creme Brule, Monk's Flemish, and a few other goodies. I found the food to be quite tasty (albeit a bit on the high end) and the beers were very good and fresh (no old kegs). I am not sure what another reviewer had up his ass when he was here (probably another AA snob) but I had a good time and could see myself becoming a regular.
1,542 characters
3.8
/5
rDev
-8.4%
vibe: 3.5 | quality: 3.5 | service: 4 | selection: 4 | food: 4
The atmosphere was decent, with a friendly waitress. I sat outside on a beautiful day with a few friends and we had a great time. The service was good and the beer selection was pretty good although I have to admit that I have not been to the Ann Arbor location yet which I hear has a better selection. I really enjoyed the food. I think it's better than your typical bar food. It is a bit pricey, however. But if it has good food, good beer and good service, I'm willing to pay a little extra for it.
501 characters

2.5
/5
rDev
-39.8%
vibe: 3 | quality: 3 | service: 2 | selection: 2 | food: 3
Went out for a burger and beer this past week to Ashley's, thinking that I would get the same experience as the location in AA.
Not quite.
The bartender and another person behind the bar looked at me like I was an idiot as soon as I sat down, and I had to prompt them to ask me if I wanted a beer.
They seemed to be too busy doing whatever it was they were doing than to take a little time out of their busy workday to see if I wanted anything.
The selection was not very deep either. The burger was 10 bucks and came with a little pickle and a small child's handful of fries. I wasn't asked what kind of cheese I wanted on it, although there were a lot of choices.
I doubt this location will be open long, Westland is an economic disaster area, and with the kind of nasty, mean service they have here, typical for a lot of metro-Detroit locations, why go back, I won't.
878 characters
Ashley's in Westland, MI
4.15
out of
5
based on
28
ratings.