St-Ambroise Vintage Ale

McAuslan Brewing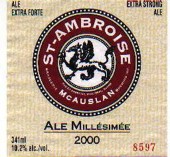 Write a Review
Beer Geek Stats:
| Print Shelf Talker
Style:

ABV:

10.2%

Score:

90

Avg:

4.23

| pDev:

7.8%

Reviews:

15

Ratings:

From:

Avail:

Retired (no longer brewed)

Wants

Gots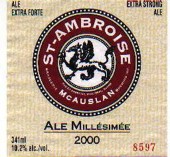 Notes:
Reviews: 15 | Ratings: 23

4
/5
rDev
-5.4%
look: 4 | smell: 4 | taste: 4 | feel: 4 | overall: 4
2009 vintage in a snifter from the 11.2 oz bottle. This decent barleywine
pours a murky muddled brown color with a light head of off white foam
that settles to a thick big bubbled ring and shows scant lacing. Nose of
raisins, figs, dates, and dark brown sugars. Flavors follow with light
exceptions----dark fruit notes of raisins and figs twist about a light
bed of subtle lightly sweet pie cherries with brown sugars and
bittering herbal hop notes. Nice mouth feel; medium body, smooth,
low carbonation, and a moderately rich caramel and brown sugar finish
with a touch of warming booze.
overall, a decent little barleywine that aged decently for being 10 years
old.
Cheers
689 characters

3.05
/5
rDev
-27.9%
look: 3.75 | smell: 3 | taste: 3.25 | feel: 2.5 | overall: 2.75
I got a real chuckle out of the elaborate cardboard tube it came in only to find a twist off. The delivery same twist off that let out no hiss when I cracked it... yikes.
2009 vintage. Snifter pour. Murky, tawny mahogany colored. Essentially no head.
Smells of raisins, dates and water. Wait water smells? I'm not sure what it is that I'm smelling but this gives me an indescribable aroma cueing me to believe that this is going to be a thing watery beer.
What do you know. It taste like the oxidized caramel-y dark fruit of a jew Lee's poured over the rocks and left to melt... yes, its watery.
Flat.
Overall - pffft. Scam job with the packaging. Nice con st ambroise, you got me.
687 characters
4.38
/5
rDev
+3.5%
look: 4.25 | smell: 4.25 | taste: 4.5 | feel: 4 | overall: 4.5
2009 vintage drank in 2017
Actually fluffy 1/2 finger head, murky sediment auburn color
Nose soft aged malt, sweet candy, raisin, brandy candied fig, big date, nougat, hint oxidized
Taste sweet but not really, soft aged malt, brown malt, caramel toffee notes, syrup brandied raisin, big date, candy, hint bitterness
Mouth is thinner med bod, touch syrupy, softer, decent carb
Overall held up well, great aged character and fruits, wish I had more.
453 characters

3.7
/5
rDev
-12.5%
look: 3.5 | smell: 3.5 | taste: 4 | feel: 3.5 | overall: 3.5
This special 2007 vintage is courtesy of tpd975. It pours clear copper with gold edges and thin off white head. The aroma is rich sugary malts, some fruity esters and a bit of alcohol fumes. The taste is much the same but starting with a hoppy bite followed by light skin fruity esters and malt sweetness. Smooth and tasty with just a bit of heat. Will improve with age.
370 characters
4.27
/5
rDev
+0.9%
look: 4 | smell: 4.5 | taste: 4.5 | feel: 3.5 | overall: 4
Deep tawny with a large and well developed light tan head. Aromatics begin with a deep caramel, fruit accented maltiness, hints of soy sauce, molasses, oranges and a touch of mint laden hops. Pretty unbelievably good quite honestly. The front palate shows hints of caramel and chocolate which continues onto the mid-palate, which also involves a variety of fruits, mainly plums. The longevity of the finish is pretty baffling, showing hints of pit fruits but mainly serving to balance the spicy, minty hop finish. Damn, I forgot how much I love beer. This one definately reminded me.
583 characters

4.41
/5
rDev
+4.3%
look: 3.5 | smell: 5 | taste: 4.5 | feel: 4 | overall: 4
Bottle 2001 edition: the pour revealed a dark amber clouded ale with a rocky 2 finger cap that reduced to a modest ring and laced the glass. Soft carbonation. Aroma was marvelous for this aged ale: sweet tangerine peel over musty dried fruits and a persistant sweet grass smell...very inviting and not at all oxidized. Silky smooth mouthfeel large body, very mellow...no sharp edges at all...excellent. Flavour profile: Orange peel and treacle up front balanced by a thick plum pudding body...complex...some cocoa, figs,nuts, fruits and a floral hop background....finish is long, mellow and warming with sweet anise filling the palate...this ale ages wonderfully and with a few years on it I have to say this is the best domestic barley wine I've sampled...beating out my favorite Old Deuteronomy...only because I have never sampled Old Deut with a few years mellowing because it is so drinkable when young.
908 characters
4.31
/5
rDev
+1.9%
look: 4 | smell: 3 | taste: 5 | feel: 4.5 | overall: 4.5
2001 vintage. Dark ruby red in colour with medium carbonation. The aroma betrays a touch of oxidization (a bit of sherry) along with some strong caramel notes, alcohol, and a bit of floral hops. The flavors are amazing for a beer this old: strong floral goldings hops, christmas pudding, orange, peach, apricot, caramel, and even the slightest hint of chocolate. Great body too, as one would expect. A nice way for me to mark the first -30 degree day of winter here in Winnipeg this season.
490 characters
4.55
/5
rDev
+7.6%
look: 4.5 | smell: 4.5 | taste: 5 | feel: 4 | overall: 4
Sampled the 2000 vintage, so it has significant aging to it. The last one of the 2000 in my stash (I initially had 12 which cost me $80 cdn but well worth it).
A thing of beauty in the glass as it pours a very rich and clean caramel colour with the slightest of burgundy highlights. A surprisingly generous amount of foam builds atop the brew but dissipates rather quickly leaving a dainty cream coloured halo to comtemplate.
Aromas are very powerful and spicy up front buttressed by a firm malt and alcohol underpinning. The complexity then unfurls as waves of vanilla, caramel, honey, candied fruit, a hint of tanned leather and a touch of oak succeed each other in an olfactory pagent that leaves the senses wanting more.
The flavours will not be outdone by the aromas and assault the tongue with a rounded and heady maltiness that slowly allows notes of holiday spices and a solid madeira to surface. The oxydation caused by the aging have produced refined sherry flavours that pair well with the honeyed sweetness and the dried fruit notes in the middle. You even find hints of bourbon and Southern Comfort near the end before a firm alcohol and resiny bitterness sweep in and settle for what seems an eternity. Complexity builds as the brew warms and unleashes a wave of marzipan that nestles in between the fruit and bourbon. This stuff is really incredible.
McAuslan have stopped brewing this because of a lack of capacity I have been told. I sure hope they manage to eventually insert it back into their brewing schedule as this was the only barleywine available in Québec as a seasonal offering, and as far as I'm concerned, was one of the finest brewed in North America. Thank god I still have 3 bottles of 2001 left.
Santé
1,752 characters
4
/5
rDev
-5.4%
look: 4 | smell: 4 | taste: 4 | feel: 4 | overall: 4
I think this brew deserves different ratings for different vintages. In any case, I just had a 2000 vintage bottle about #6200, thanks to Doug Shoemaker. I think it has a mellowed barleywine taste, closing in on a UK aged style. Much malts, which cushioned the aftertaste. Enjoyable with dinner. Had 2001 Vintage late spring, which I would rank about the same.
360 characters
4.44
/5
rDev
+5%
look: 3.5 | smell: 4.5 | taste: 5 | feel: 3.5 | overall: 4
2001 vintage
The head is small, yellowy-tan and dies to a sticky ring. The beer is hazy orange-brown and darkish. Kind of like hazy dark tea. The nose is intensely sweet, matly, woody-corky, fruity and shows ample alcohol. The front is alcoholic, malty and stuffed with ripe fruit. The middle is thick, malty, buttery, tingly but flattish. Finish is strongly port-vinous. Thick, tart, berry fruit. This is absolutely delicious. Outrageously fruity. Thick, rich.
464 characters
4.45
/5
rDev
+5.2%
look: 4.5 | smell: 4.5 | taste: 4.5 | feel: 4 | overall: 4.5
Appearance – This is absolutely gorgeous! The orangish-brown body is thick and inviting and the orangish-tanned head was quite full. It showed decent retention on an aggressive pour and left lots of pits and lacing.
Smell – This one is big. The wonderful, darkened malts are laden with alcohol and juicy sweets that will knock your socks off. The overly ripe bananas, peaches, Bing cherries, and apricots are nicely spiced with cinnamon, white pepper, and a hint of nutmeg. The dark, substantial malt base has some incredible bready undertones as well.
Taste – Just like the nose promised. The alcohol came on strong enough to add some medicinal notes, but otherwise the taste matched up rightly with the aroma. The juicy ripe fruits especially are huge on the pallet. Two to three years cellaring seems to be just right for this vintage.
Mouthfeel – Medium to full in the body with sweets that will have you licking your lips and teeth. This ale is probably a bit chewier right off the shelf. There's a bit of an alcohol sting that seems somewhat overdone, but otherwise this is awesome in the mouth.
Drinkability – I haven't had a good, Strong/Old Ale since Thomas Hardy at #800 (32 reviews ago). What a treat. This is a classic that will/should go down in the annals of Canadian beer-making history.
Comments – A huge, and I mean HUGE, thumbs up to Rastacouere for sending me this fine, Vintage Ale. I can't wait to see how later vintages turn out.
Comments2 – This is a 2001 and the ABV is 9.6%.
1,526 characters
3.86
/5
rDev
-8.7%
look: 3 | smell: 4.5 | taste: 3.5 | feel: 4 | overall: 4
Bottle (2001 vintage): Poured a deep red/amber colored beer with a small but nice head with minimal retention. Aroma is quite sweet, very reminiscent of uncooked chocolate cookie dough. Taste is quite complex with a nice touch of prune or port and spicy aftertaste. Overall, this is a very good barley wine but a notch below the 2000 version.
342 characters

4.5
/5
rDev
+6.4%
look: 4.5 | smell: 4.5 | taste: 4.5 | feel: 4.5 | overall: 4.5
2001 edition, 12oz bottle, served in an Orval chalice. This is a burnt orange/golden colour with light edges of white foam. The head quickly dies, but leaves thin lace patterns all over my glass. The aromas are heavily boozy, malty, spicy, and hoppy. Nice. The taste is very full. Spices are everywhere and the malt backbone of this brew is quite excellent. The mouthfeel is creamy, thick and "chewy" and the drinkability is excellent!
435 characters
4.49
/5
rDev
+6.1%
look: 4 | smell: 5 | taste: 4.5 | feel: 4.5 | overall: 4
1999: In a red wine glass: Hazy amber body with an off-white/orangey head. It's not too generous though and while aging probably is a cause, this remains one of the only blames I can give this fine beer. The aroma is to dream of, aroma itself is warming with alcohol peaks, complex dark malts giving it a nice balance of fruits(berries, and caramel with. The taste is very good, but not quite up to the delicious aroma. It remains rather complex with hints at bread, spices, caramel and a nice balanced hoppiness. Bitter, but mostly sweet grapes aftertaste. Excellent full mouthfeel. It sure did age well, especially that the keeping conditions in the store I found this in .(Liqueurs Populaires on Taschereau Boulevard in Montreal's South Shore). 9/3/8/5/17=4.2 | 2000 version: Massive caramel and vanilla scent. The aroma is great really, very inviting. Sweet taste of caramel flirting with good drew hop bitterness while alcohol watches on top of it all. Marvellous degustation ale: Total of 4.1/5 | 2001 Version: Evocative malt layers aroma with obvious C-hops -that are, imo, not overexpressed as in a Hog Heaven for instance- which resembles to Columbus (pine, vanilla, toffee). As it enters the mouth, what surprises me is the very creamy sensuous body, I don't remember it being that corpulent from earlier vintages, very pleasant to say the least, the malts are chewy, not too sweet, but complex and pronounced. The hops are abundant, but not necessarily providing much bitterness, just giving it a chewy biting aspect. I'm really hooked on that malt profile though, desperately trying to suck the flavors out of my tongue as I finish the glass. 9/4/9/5/17=4.4
1,669 characters
4.05
/5
rDev
-4.3%
look: 4 | smell: 4 | taste: 4 | feel: 4.5 | overall: 4
This is the 2000 vintage #5620.
This beer pours a hazy medium dark brownish red color with a largish creamy clingy tan head. The mouthfeel is firm and oily. The smell is toasty malt tea and cedar like. The taste is sweet earthy toast in front an ascending warming alcohol middle and cedary hops. This is a strong alcohol sweet malty tasty night cap beer.
356 characters
St-Ambroise Vintage Ale from McAuslan Brewing
Beer rating:
90
out of
100
with
23
ratings