Executioner IPA
| Beer Here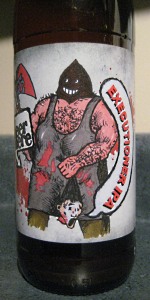 BEER INFO
Brewed by:
Beer Here
Denmark
beerhere.dk
Style:
American IPA
Alcohol by volume (ABV):
7.00%
Availability:
Rotating
Notes / Commercial Description:
No notes at this time.
Added by ADZA on 09-25-2012
Reviews: 7 | Ratings: 23
3.71
/5
rDev
-3.6%
look: 4 | smell: 3.5 | taste: 3.75 | feel: 3.75 | overall: 3.75
500ml bottle. Rather gruesome label art - I guess it does do the name of this beer proud, however. 'Spild ikke din tørst!' does sound particularly evil, in a Scandinavian way, but apparently it's just an entreaty to not waste your precious thirst on lesser beers, or something like that.
This beer pours a mostly clear, medium golden yellow hue, with three fingers of aggressively puffy, densely foamy off-white head, which leaves some chunky, fuzzy webbed lace all around the glass as it slowly wafts away.
It smells of biscuity, crackery pale malt, a subtle caramel/toffee sweetness, edgy dry yeast, generic citrus rind, leafy pine needles, and a bit of perfumed alcohol. The taste is musty orange and grapefruit pith, bready caramel malt, lightly funky yeast, a further bit of neutered tropical fruit, and somewhat isolated earthy, leafy hops. A bit of metallic warming alcohol arises as things warm up.
The bubbles are duly present, but at the same rate, present nothing further than a minor, simmering frothiness, the body a mediocre medium weight, and so very unassailed in its smoothness, that I'm now kind of questioning the pedigree of the hops here. It finishes off-dry, the bready, yeasty malt mostly adhering to a minor detente with the waning hops.
A bit of a different animal, this one, as the yeast (from bottle reconditioning, I surmise, a particular predilection of this gypsy brewer) informs on the whole here. The hops are bitter, sure, but easily dismissed, somehow, the other astringent flavour just that good, and possibly spiteful. Though my tastebuds have maintained a stay of execution here, this is an agreeable enough, and easy-drinking IPA, with the extra, upticked alcohol just an added bonus to its quiet, lurking creepiness.
1,760 characters

3.84
/5
rDev
-0.3%
look: 4 | smell: 3.75 | taste: 3.75 | feel: 4 | overall: 4
Served in a snifter at Firkin.
Diggin' the random imports showing up here in the 'Burbs lately. This stuff pours a hazy golden-amber topped by a finger of lightly off-white foam. The nose comprises lemon zest, grapefruit peel, sweet flowers, and light toffee. The taste brings in more of the same, along with some light orange zest and a touch of lightly-funky grass. The body is a light medium, with a light moderate carbonation and a drying finish. Overall, a very nice, pretty straightforward IPA, a solid option for someone looking for a pleasant blast of hops without wanting to thrash the tongue.
603 characters

3.75
/5
rDev
-2.6%
look: 3.5 | smell: 3.5 | taste: 4 | feel: 4 | overall: 3.5
Pint down at Beer Revolution 24/9/12 from notes
A hazy dark orange with a few streams of bubbles going up the side, not much room for head or lace due to top filled glass
S reminds me of Tang or chewable vitamin C pills, has some floral and tropical notes with some dry cereals
T reminds me of a hopped up wheat beer with loads of citric hops and cereals, there's some caramel malt and sweet orange peel
M soft carbonation and its pretty smooth with a Tang thing lingering, just a little heat hits the chest
O I liked it but I didn't love it, tastes better then it smells but the malt has more control then I'm used to in IPA's
Another random offering down at Beer Revolution that I tried based on the pleasant surprise I got from their Baltic Porter
768 characters
4.01
/5
rDev
+4.2%
look: 3 | smell: 4.5 | taste: 4 | feel: 4 | overall: 3.75
Pours gold with a fading head.
Nose shows floral, fruity and spicy hops along with a fair whack of sweet malt and soft wheat.
Very dry flavours, some pine and resinous hops along with grainy wheat followed by an aggressive, sharp, bitter finish.
Nice light body, carbonation could be higher though.
298 characters
3.88
/5
rDev
+0.8%
look: 4 | smell: 3.5 | taste: 4 | feel: 4 | overall: 4
A killer IPA named after the famous Roman beer bar Mastro Titta and it pours a hazed golden yellow hue with a fluffy two finger head that stays and leaves nice lacing everywhere.
The smell is pineapple,peaches,mangoes,paw paw and sherbet.
Taste is nice and hoppy almost exactly to smell with hints of fruit salad,tropical fruits,lemon sherbet,candy and finished with a nice hoppy citrus bitterness.
Mouthfeel is full bodied,well carbonated and creamy.
Overall a very tasty and sessionable IPA that i would revisit any day of the week cheers.
545 characters
4.31
/5
rDev
+11.9%
look: 4.5 | smell: 4 | taste: 4.5 | feel: 3.75 | overall: 4.5
L:
-pours a hazy golden-orange with a big,foamy,white head
-low to medium carbonation visible
S:
-grapefruit,oranges,tangerines,resin,spicy,passionfruit,lemon
T:
-Grapefruit,oranges,tangerines,lemon,grassy
-medium bitterniss for the style
F:
-medium to high carbonation
-light to medium,slightly creamy body
O:
Great IPA
320 characters

3.82
/5
rDev
-0.8%
look: 3.75 | smell: 3.5 | taste: 4 | feel: 4 | overall: 3.75
A - golden colour, thin white head that leaves sticky lacing
S - lots of citrus and pine, a hint of sweet malts
T - starts with a very bitter pine taste and edges to sweet malt and citrus. Very well balanced
M - smooth with medium carbonation. Very clean for an IPA but also quite dry
289 characters
Executioner IPA from Beer Here
3.85
out of
5
based on
23
ratings.