Cherny Bock
| Bohemian Brewery
BA SCORE
84
good
37
Reviews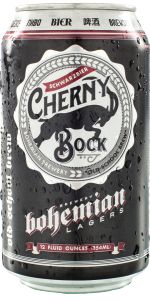 BEER INFO
Brewed by:
Bohemian Brewery
Utah
,
United States
bohemianbrewery.com
Style:
Schwarzbier
Alcohol by volume (ABV):
4.00%
Availability:
Year-round
Notes / Commercial Description:
The word Cherny litteraly means 'black' in Czech referring to the color of the rather surprising dark Schwartzbeir with gentle bitterness to appeal your palette. A true gem to be discovered by specialty beer lovers.
Added by BeerAdvocate on 04-16-2004
Reviews: 37 | Ratings: 59
3.58
/5
rDev
-3.8%
look: 4 | smell: 3.5 | taste: 3.5 | feel: 4 | overall: 3.5
Thanks to blutt59 for sharing this can.
The beer pours a dark reddish-amber color with a white head. The aroma has a lot of dark fruit, as well as some toffee and caramel malt. The flavor is similar, with toffee, caramel, cocoa and a lot of dark fruit. There is also some dry nuttyness in the flavor. Thin mouthfeel and medium carbonation.
★
340 characters
3.55
/5
rDev
-4.6%
look: 3.5 | smell: 3.5 | taste: 3.5 | feel: 4 | overall: 3.5
Beer #20 in my great Utah Brew Hunt.
Oh, this is a schwarzbier. Right on. I just figured since it had the word "bock" on there, that it would be, you know, a bock.
It's a bit to sweet, which, oddly, reminds me of a bock. Quite malty as well. Pretty easy to drink, but the sweetness just seems to be overdoing it. A decent beer. Just not sure it really fits to style
★
367 characters

3.48
/5
rDev
-6.5%
look: 4.5 | smell: 4 | taste: 3.5 | feel: 2.5 | overall: 3
Poured into a New Belgium globe. Pours a deep, deep garnet, almost black without intense light to shine through. With a big, light tan head that drops fairly quickly. Leaves nice lacing.
Aromas of light roasted malts, caramel malt. Earthy hoppiness.
Flavors of light roast, light maltiness. No real hop bitterness. A touch of sacchrine sweetness.
Mouthfeel is thin, almost watery.
Overall a decent beer, not very aggressive, thin, but that artificial sweetener flavor is a real put off.
★
491 characters

3.45
/5
rDev
-7.3%
look: 3.5 | smell: 3.5 | taste: 3.5 | feel: 3 | overall: 3.5
Sampeld from a sampler size glass at the brewpub.
Pitch black with brown highlights and a tall tan head
Aroma is roasted fruits and nuts.
Deeply roasted with an almost stout like approach the beer. Honest approach is this is a stout with a lager yest which isn't bad but isn't a bock.
Good smooth flavor but for the roast.
If you look at this one as a stout with a twist, I think you've got an understanding of it. But it is tasty so don't let the Bock thing throw you for a loop.
★
498 characters

3.4
/5
rDev
-8.6%
look: 3.5 | smell: 3.5 | taste: 4 | feel: 2.5 | overall: 2.5
Source/Serving: Draft
Smell: Slightly smoky, a bit like asian barbecue sauce. Not too intense, but since it's quite odd that might be a good thing.
Taste: Roasty and slightly smoky caramel malts up front but still retains its crisp refreshing quality. Interesting. Bitter smoke and light, really diluted coffee in the middle. Finishes clean, real clean. Too clean.
Note: Interesting, but not complex and not too intense. But kudos for doing something different.
★
464 characters

3.26
/5
rDev
-12.4%
look: 4 | smell: 3 | taste: 3.5 | feel: 3 | overall: 3
My dear CANQuest (TM) buddy, indiapaleale, sent this to me in order to have me pose the question "When is a Bock not a Bock? When it is a Schwartzbier!" Now I know, but low marks for truth in advertising.
From the CAN: "Beer-IINBO-Bier-Biere-Cerveja-Birra-Pivo-Cerveza-[plus some Japanese or Chinese]"; "Handcrafted"; "Brewed to the strict standards of the German Purity Law - The Reinheitsgebot. This dark & rich award winning lager is brewed using only the finest European barley, malts & hops. We hope you enjoy our small batch craft beer as much as we love making it. Na Zravi! [Undersigned] Brewmaster".
The Crack & Glug produced a finger of foamy deep-tan head with good retention. It may not have been a Bock, but it was certainly Schwartzer (black) in color - black as a witch's heart, allowing zero light penetration and only deep-ruby highlights at the edges. Nose gave off notes of coffee, charcoal and chocolate. Nice. Mouthfeel was a little thin but the taste was both roasty and smoky, very much like a smoky chocolate. Nice. Finish was lingering with that same smokiness, especially, with the chocolate bringing up the rear. I probably would not take this to the beach, but as something for the winter and Hula in the Coola Day, it would be suitable.
★
1,268 characters
3.2
/5
rDev
-14%
look: 4.25 | smell: 3.5 | taste: 3 | feel: 3 | overall: 3
Deep cola color with reddish hues. Sparkling clear as best I can tell. Good sized tan head, creamy and long lasting.
Some rich malt sweetness in the aroma, also a slight metallic smell. Hint of a buttery, diacetyl smell.
Taste - Nice malt sweetness up front, but also a tartness that seems out of place. Can't find an expiration date, but might be slightly oxidized. Has that "off" bitter flavor, and other items discussed in the mouthfeel.
MF - light-moderate body and surprisingly high carbonation. A bit drying on the sides of the tongue, reinforcing the idea that this beer is past its prime.
Overall - Think this beer has promise for a 4% bock, but will withhold judgement on this one given what may be an out of date sample.
★
734 characters

3.17
/5
rDev
-14.8%
look: 4 | smell: 3.25 | taste: 3 | feel: 3 | overall: 3.25
Dark black colored beer with a medium sized brown colored head, could pass for a stout.
Smells of chocolate covered cherry only not so sweet. Slight smoke and medicinal smells. Distinct smoky cherry scent.
Starts out dry and smoky beer. Smoke char and coffee with just the slightest cherry flavor. Mostly this is dry and smoky.
Mouthfeel is good.
Overall an OK beer that is best with smoky food.
★
399 characters
3.13
/5
rDev
-15.9%
look: 4.5 | smell: 4 | taste: 2.5 | feel: 3 | overall: 3
Appearance: Pours a slightly translucent chocolate color with a sturdy tan head that leaves some webs of lace
Smell: Toasted black bread and walnuts
Taste: While the black bread flavor leads off, the flavor moves in a sour cherry direction (perhaps thinking this was a cherry bock when I looked at the can) by mid-palate; after the swallow, the roast and black bread returns but the sourness lingers in the finish
Mouthfeel: Light to medium body with moderate carbonation; a bit puckerish
Overall: Not sure why I am detecting flavors in this beer that other reviewers haven't noticed but my can definitely had a sour edge in it that didn't fit the style
Thanks, Douglas88, for the opportunity
★
697 characters

3.06
/5
rDev
-17.7%
look: 4 | smell: 3 | taste: 3 | feel: 3 | overall: 3
Served from a can at SAVOR 2011 into my nifty new SAVOR goblet.
Pours a fairly-dark brown color with a light tan head. Some lacing as it goes down, though not too much. Thin collar throughout. The nose starts off with a few nice notes of chocolate, roast, and bitter coffee, though this eventually fades into some grain and accompanying tannins. The flavor is equally grainy, but the beer isn't ruined, as there are some nice roast and coffee elements to fill things out. Light to medium body with good carbonation. Too grainy, but not all that bad.
★
550 characters
2.71
/5
rDev
-27.2%
look: 3.5 | smell: 3 | taste: 2.5 | feel: 2.25 | overall: 2.75
I'm surpised by the "BA Score" and rating "The Bros" keep giving to these Bohemian Brewery beers. I've yet to find one I enjoy, and the Cherny Bock isn't an exception. Like all of the other beers from Bohemian, it's watery and weak. A bock should be bold and full, but this is just...impotent. As I've said on reviews for other Bohemian brews I've tried, this one just isn't worth the time to articulate everything about it. Don't like it. Won't have it again. It's another deterrent for ever visting the Bohemian Brewery and restaurant that's less than 5 miles from my abode.
★
583 characters

1.84
/5
rDev
-50.5%
look: 3.5 | smell: 2 | taste: 1.5 | feel: 2.5 | overall: 1.5
Dark brown in the glass with plenty of foam and regular carbonation. But what a weird flavor. Sourish, oxidized, dishwatery. A spoiled fruit nose as you try to sip. Totally undrinkable.
The story with this is a few days ago I opened a can I had bought a year ago. Gahhh! So I dumped that one and bought a new one. So I was amazed to find this can has the same taste. I have had this on tap at the brewpub as well as local restaurants over the years, and always thought it was really good. So they must have some problem.
From the 12 oz can bought at Emigration Market in Salt Lake.
★
583 characters
Cherny Bock from Bohemian Brewery
3.72
out of
5
based on
59
ratings.