Cherny Bock
| Bohemian Brewery
BA SCORE
84
good
59
Ratings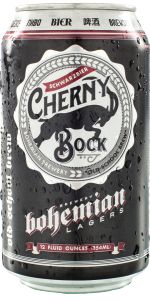 BEER INFO
Brewed by:
Bohemian Brewery
Utah
,
United States
bohemianbrewery.com
Style:
Schwarzbier
Alcohol by volume (ABV):
4.00%
Availability:
Year-round
Notes / Commercial Description:
The word Cherny litteraly means 'black' in Czech referring to the color of the rather surprising dark Schwartzbeir with gentle bitterness to appeal your palette. A true gem to be discovered by specialty beer lovers.
Added by BeerAdvocate on 04-16-2004
Reviews: 37 | Ratings: 59

3.71
/5
rDev
-0.3%
look: 4 | smell: 3 | taste: 4 | feel: 4 | overall: 3.75
Poured from a can into a pokal glass.
A-Deep black; not translucent. A thick, creamy tan head. Excellent retention and nice lacing on the sides of the glass. The bubbly head remains on the surface throughout consumption. Great looking brew!
S-It smells of burnt molassess, licorice, coffee, and sweet malt.
T-Burnt molasses and coffee; hints of licorice; sweet roasted malt goodness! I could smell small traces of hops. Nice dry and bitter aftertaste. Refreshing!
M-Light-medium bodied. A little watery and it is almost disappointing, but the complex taste saves this beer from becoming a below average brew.
Overall-This brew is a good beer that needs to be marketed in more states. I know it would be popular. If you want a nice tasting, lighter black beer, buy this and enjoy. It is well-balanced and sessionable. Cheers!
832 characters

3.4
/5
rDev
-8.6%
look: 3.5 | smell: 3.5 | taste: 4 | feel: 2.5 | overall: 2.5
Source/Serving: Draft
Smell: Slightly smoky, a bit like asian barbecue sauce. Not too intense, but since it's quite odd that might be a good thing.
Taste: Roasty and slightly smoky caramel malts up front but still retains its crisp refreshing quality. Interesting. Bitter smoke and light, really diluted coffee in the middle. Finishes clean, real clean. Too clean.
Note: Interesting, but not complex and not too intense. But kudos for doing something different.
464 characters

4
/5
rDev
+7.5%
look: 4 | smell: 4 | taste: 4 | feel: 4 | overall: 4
12 oz can purchased through an actual grocery store here in SLC. Poured into my beer goblet.
Appearance: A solid brown with hints of ruby near the edges. I did not get too much head with this pour, but I think my glass may be not be totally clean.
Smell: Roasted malts with some coffee hints. Maybe a little bready as well.
Taste: A rich beer for 4.0 ABV. This one packs a lot of flavor into a low ABV beer. Roasted malt sweetness up front with some hops bitterness near the back end.
Mouthfeel: For 4.0 ABV this one has enough mouthfeel, but it is still slightly lower than I like. The carbonation is good and the finish is solid.
Overall: Next to BaBa, this is my favorite beer available in a Utah grocery store. I know that is not saying a lot. If you ever get the chance to have this on tap while travelling through Salt Lake City, give it a try. A very well done beer!
879 characters
4.05
/5
rDev
+8.9%
look: 4 | smell: 4 | taste: 4 | feel: 3.5 | overall: 4.5
After a poor experience with Bohemian's Weisse (read: lemonade), I was wary about hitting this Bock, but it was the only dark beer at the slopeside bar. Happily surprised. Poured very dark -- nearly black, with chestnut highlights near the bottome. Nice head, but the bubbles were large, leaving a fine lace on the glass, but no retention. Subtle smell for a bock -- malty with a raisiny red wine scent. Nice taste -- toffee, hazlenut, and prunes, slightly sour. Slightly too fizzy, but I'd drink a few pints -- leaves a really nice sweet & sour finish.
553 characters
3.68
/5
rDev
-1.1%
look: 4 | smell: 3.5 | taste: 3.5 | feel: 4 | overall: 4
At the brewery itself.
Dark tall 22 oz glass poured with an inch of maple head.
Smell was toasty, roasted, nutty - not harsh and a bit on the subtle side.
Taste is initially sweet and heavy on the malt. Turns to a more nutty/coffee flavor. finishes very smooth, heavy, with just a bit of bitter on the finish.
Nice beer, great for a slow sipping moment.
357 characters
3.87
/5
rDev
+4%
look: 3.5 | smell: 4 | taste: 4 | feel: 3 | overall: 4
I first tried this beer several months ago and I remember I really loved it. I just tried it again and still liked it, but not as much. It still had a fantastic burnt/nutty flavor with lingering chocolate aftertaste that stays with you long after the beer has gone down (in a good way). It just seemed like it was a big too fizzy. The head started out sizeable and stiff but dissipated relatively quickly, leaving behind a nice lacing for the remainder of the glass. Overall a very enjoyable pint, and worth drinking again.
523 characters
4.65
/5
rDev
+25%
look: 4 | smell: 4 | taste: 5 | feel: 4.5 | overall: 5
Another canned beer I absolutely love. This one is probably on the top of my list. It's funny getting used to dark beer coming out of a can. But this one is full of surprises.
A - It's a dark dark red,brown. Unfiltered but leaves a nice thick head with great lacing. I've had this straight from the can and poured into a glass. The head from pouting into a glass is beautiful!
S - Malt... Nice roasted malt.
T - Wow... great tastes come through some bitterness but a sweet coffee and chocolate undertones to pull it above. I actually have had this beer on a separate occasion paired with a chocolate brownie. It went really well with it.
M - This beer is alive. Nice carbonation to it. Small tiny bubbles. I guess that's because it's a lager and not a force carbonated Ale.
D - Very drinkable. It's not a heavy beer. My girlfriend loved this beer too. That's saying something! I could session this beer. Very drinkable!
924 characters
2.71
/5
rDev
-27.2%
look: 3.5 | smell: 3 | taste: 2.5 | feel: 2.25 | overall: 2.75
I'm surpised by the "BA Score" and rating "The Bros" keep giving to these Bohemian Brewery beers. I've yet to find one I enjoy, and the Cherny Bock isn't an exception. Like all of the other beers from Bohemian, it's watery and weak. A bock should be bold and full, but this is just...impotent. As I've said on reviews for other Bohemian brews I've tried, this one just isn't worth the time to articulate everything about it. Don't like it. Won't have it again. It's another deterrent for ever visting the Bohemian Brewery and restaurant that's less than 5 miles from my abode.
583 characters
4.2
/5
rDev
+12.9%
look: 4 | smell: 4 | taste: 4.5 | feel: 4 | overall: 4
I just tried this tonight and being a fan of Bohemians Czech Pilsner I was anticipating a good brew.
I'm not disappointed
Next to a Pils, Schwarzbier is my next favorite.
At first I was hesitant about it saying it is a Bock since I'm not really a fan of Bocks and I didn't know what "cherny" mean't (I do now). but I took a chance.
My main experience with schwarzbier is with Kostritzer so I am doing a comparison with what I know.
All in all, it is a good, drinkable beer, but I wish there was just a touch more chocolate sweetness to it and it could be a bit more creamier but living in Utah, I know that the law restricts how far they can go with it.
All in all, it's a beer I will buy again and being only 4% you can have a "session" with it.
750 characters
3.83
/5
rDev
+3%
look: 4 | smell: 3.5 | taste: 4 | feel: 3.5 | overall: 4
Served from a can, poured into a glass.
Appear: Deep brown, nice head and some lacing.
Smell: Subtle but nice, slightly roasted grain and dark bread.
Taste: Pretty nice, subtle roast and caramel. Hop bitterness is doing a pretty good job of counteracting some of the sweet malt.
M: Good body, creamy.
Overall this is a good session beer, subtle enough that I can drink a lot of them yet interesting enough that I won't get too bored.
439 characters
4.2
/5
rDev
+12.9%
look: 4 | smell: 4 | taste: 4.5 | feel: 4 | overall: 4
From a can into a 12oz Epic Brewing glass
A: Very, very deep brown, almost black. Pretty well totally opaque. A bit of creamy, off white head at the start that laces nicely.
S: Toasted malt, bread. Not exactly a strong aroma overall.
T: Roasted malt, caramel, and a very vague hint of coffee. A bit of hop flavor balances this out without stealing the show.
M: Carbonation seems spot on. Body is a bit thinner than I was expecting. Finishes somewhat dry, which I really like as I wouldn't want the malt in the beer to stick around and become cloying.
Overall, I am impressed with this beer. A good one to sit and have a few of at a go.
640 characters
4.16
/5
rDev
+11.8%
look: 4 | smell: 4.25 | taste: 4.25 | feel: 4 | overall: 4
Nice thick head and a smooth coffee finish. I really enjoy this beer and wish it were easier to pick up in stores. I am not complaining I work across the street from the brewery but its not easy to pick up where I live.
I like this beer immediately after their Pilsner or mixed with the Pilnser or Viennese lager.
I have to say that as much as I can respect that they have the beer in the can for the sake of recycling ease but I hope to see this in a bottle some day.
If you have tried this beer, but only out of the can I highly recommend going somewhere they have it on tap. You can find that on their website.
Drink. Enjoy.
635 characters
Cherny Bock from Bohemian Brewery
3.72
out of
5
based on
59
ratings.