Épicerie Au Coin Duluth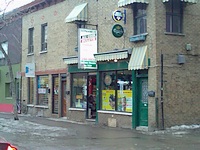 Recent ratings and reviews.
| Log in to view more ratings + sorting options.
Ratings by Shanex:
Rated by Shanex from France
3.6
/5
rDev
-12.2%
vibe: 3.75 | quality: 3.5 | service: 3.5 | selection: 3.75
Jul 05, 2016
More User Ratings:

Reviewed by heymikew from California
4.1
/5
rDev 0%
vibe: 3.5 | quality: 4.5 | service: 3.5 | selection: 4.5
A little hole in the wall convenience store off St Denis with an impressive craft beer selection packed into a few coolers in the back. Found a good assortment to bring to a nearby House party.
Aug 06, 2018

Rated by huuvola from Massachusetts
3.79
/5
rDev
-7.6%
vibe: 4 | quality: 4 | service: 3.5 | selection: 3.75
Solid selection and a good option if you can't make it over Dépanneur Peluso.
Jun 25, 2015

Reviewed by cbutova from Massachusetts
4
/5
rDev
-2.4%
vibe: 4 | quality: 4 | service: 3.5 | selection: 4.5
Tiny convenience store which is packed full of all the beer it can hold, mostly in coolers. The beer is located in the back of the store. The coolers are packed with singles of many different Canadian microbreweries. There is also a wall of DDC 4/6 packs and some random 750s throughout the store, like Unibroue 17. I am not sure of the exact number of singles but it had to be around or over 200. Everything looked to be arranged by brewery, which was nice. Didn't check much of the freshness but there wasn't any dust that I noticed and the dates I saw were good. There is a few different mix-a-six programs of differing prices, $9, $11 or $13 if I remember correctly, based on color codes for each bottle. The prices were on par with everything else I saw in Montreal, $2-3 for 12oz, $4-6 for 500ml, $7-13 for larger formats. I wish I could name more specific breweries but I am a noobie to Quebec beer so it was like a kid in a candy shop moment. Seeing 200+ beers that I have not encountered in the USA was very nice. Just pick the ones that look good/sound good. Lots of different styles represented and like I said, many different breweries. It is a block from Au Pied de Cochon and other good restaurants. Probably 4 blocks from the Sherbrooke Metro station. The lady working was very nice but not the beer geek people might come to expect in US specialty stores. They were open until 11PM on Saturday night, which seems to be the case with similar stores throughout Montreal. Definitely worth a stop for someone visiting from the US. They also carried wine and some snacks, general convenience store things.
Feb 21, 2012
Reviewed by TheSevenDuffs from Canada (ON)
3.8
/5
rDev
-7.3%
vibe: 3.5 | quality: 4 | service: 3 | selection: 4.5
Visited this place recently on a day trip to Montreal to grab some bottles not available in Ontario.

The selection was very good with multiple offerings from almost all of the good Quebec breweries. One of the impressive things was that almost all of the beer was refrigerated, specifically the IPAs, which was refreshing to see.

The atmosphere was nothing special. This place is basically a convenience store with a little beer and wine section in the back.

My one complaint was the service. The guy working there was not very helpful at all. He spoke English but seemed very disinterested in helping me find a few beers that I was seeking out.
Sep 08, 2011
Reviewed by slowfade from Canada (QC)
4.3
/5
rDev
+4.9%
vibe: 4 | quality: 4.5 | service: 4 | selection: 4.5
Very nice store. Typical depanneur from the outside - some beer signs and specials. Walk in and it is tiny but nicely laid out. Beer is in the back. 2 giant fridges and a walk-in. On the left wall, the macros and "imported" beers. Back wall is all Quebec.

They have almost every bottled microbrew in Quebec except Hopfenstark, Trou de Diable, and the brand new Brasseurs Du Monde (but I'm sure they will get them eventually). There may be a few other breweries missing but none that I can think of at the moment.

The beer is all fresh for the most part. They are really up to date on new products. Always a safe bet if you are looking for Dieu du Ciel seasonals.

I think the prices might be a bit cheaper than Peluso - but Peluso's selection might be slightly bigger. I've seen stuff at Au Coin Duluth that Peluso didn't have, however.

Also, they have some nice glassware from a lot of random Euro breweries and Quebec breweries. A few t-shirts too.

Probably the best beer store within walking distance of any Metro and certainly the best in the Plateau.
Jun 15, 2011
Reviewed by blackie from Oregon
4
/5
rDev
-2.4%
knew the name through my research, but happened upon this store completely by chance while wandering back towards blvd. Saint Laurent after dinner on Duluth

to start, Boni Soir does have a wider selection, but everything that I was in search of could be had at either place, so stop here if on this side of town

beers kept in the back, all in cold cases, maybe 5 cases in total of Quebecois brews, nicely arranged by brewery, lots of tempting stuff to be had here, but do some research first so you've an idea of what to look for, the two top names on my list - Tres Mousquetaires and Charlevoix were well represented

prices were fair and seemed on par with what I'd expect to pay most anywhere

service wasn't offered, but I'm not entirely sure it would have been of much use either
Jul 10, 2010
Reviewed by PaWa from Canada (QC)
4.85
/5
rDev
+18.3%
A mon avis, le meilleur endroit sur le plateau et au centre ville pour de la bonne bière a bon prix!

In my opinion, the best place downtown Mtl to get good beer at good price,
They have a pretty decent selection of craft beer from all around quebec,
And their selection is quite improving with time,!
If you travel in montreal, and are located in downtown/plateau area be shure to hit that place for your beer needs...

And go have a picnic in "Parc Lafontaine" just beside...
Wonderfull times ahead!
May 14, 2010
Reviewed by CBA from British Indian Ocean Territory
4.7
/5
rDev
+14.6%
Found this place by chance on our return from a dinner at Au Pied Cochon. The night was excellent as it was, just having finished one of our best dinners of the trip, and this capped it off perfectly. Awesome selection of what I could gather is an almost all encompassing representation of great Quebec beer. Having done little to no reading about beer in the province before going (mistake) I was overwhelmed by the selection. With some help, I picked up bottles to drink during the remainder of our road trip across the province and knew I would stop back at the end for bottles to bring home. Great glassware selection as well. Highly recommended and located conveniently (I would guess) for most travelers right in the middle of the Plateau.

*Bieropholie Calumet Grand Chef
*Bieropholie Gros un Merci
*Orleans Laforge
*Orleans Mgr d'Esgly
*Corne de Brume
*Simple Malt Imperial Stout
*and a great oatmeal stout I cannot remember
Apr 10, 2010
Reviewed by ReFill31 from Canada (QC)
4.3
/5
rDev
+4.9%
I walked by this store by luck when I was looking for something else. I could not help but to but some of the beers they have on site.

Their choice is pretty impressive in the refrigerated section. We can make our own 6 packs also and, as I am a beer glass collector, I am happy to find that there is a section with glasses on the right of the store. There is also gift packages available.

The Maître-Brasseur brewery makes also make special brews for them (they do it for every big beer store like this one).

We can find anything to industrial beers to microbrewery beers that are more difficult to find.

The service is also good, with the staff helping us if we have any questions regarding the beer they have on hand. I will for sure come back there.
Jan 20, 2010
Reviewed by Goldorak from Canada (QC)
4.15
/5
rDev
+1.2%
I found this place by accident, driving down Berri street from the Kanuk coat store on Rachel. I saw a few ads for local micros, alarm bells went off in my head *gotta get Beer for CanBIF5!* and so parked my car in a semi-legal spot to check this place out. I had no idea that this place was called 'Épicerie au coin Duluth' or that it even was on this site!

It's a very typical Québec style convenience store, called Dépanneur, but this one seems to have a good emphasis on local Brews most of whom were piles into fridges, from cases to singles, neatly grouped by brewery.

As I stood there checking out the selection, the young lady behind the register came by and asked if I needed any help, or looked for a particular Beer or style. I said I was just looking and she was happy to oblige. While she was ringing in my Beers she said they host tastings every Thursday afternoon, a great idea if you ask me.

Selection was what you expect for a place that sells micros in Québec. The bigger micros are well represented, but with plenty of room for the little guys as well, such as Microbrasserie Charlevoix, Dieu du Ciel, Au Maitre Brasseur and Trois Mousquetaires, to name a few. No huge rarities - although I did see some Équinoxe du Printemps which you can't find everywhere - but for someone from out of town this place is a goldmine. And it's somewhat cleaner, with way better service than at Rahman.

I put a bit pricey for value, not really because it's more expensive than other places, it's just a reflexion that craft Beer prices have slowly shot up in the past couple of months.
Apr 22, 2009
Reviewed by papat444 from Canada (QC)
4.15
/5
rDev
+1.2%
One block from St-Denis & in Le Plateau is this depanneur that has recently been giving attention to local craft beers.

As i walk in, i'm struck as to how small the store is. It seems packed but neat & organized, not cluttered at all. The beer is split in two sections, refrigerated in the back & room temp on the right side of the store.

Prices are very competitive & the layout is very well presented. All prices are marked & there are even some notes on beer styles. The owner seems to have put a lot of effort into this and it shows.

Almost all beers are here except Bieropholie & Hopfenstark but i think that will change maybe as the owner's father was telling me that he is just starting and wants to keep more breweries. The only down side is that they don't have every beer of each brewery but they have enough to keep satisfied. There is also a small selection of glassware.

Service was very nice and knowledgeable, my daughter even got a free banana from the guy :) The man was telling me that he was almost going to close but his son wanted to give this a try and i am very happy he did.

This place is definitely worth stopping at and is very accessible as it's very near the heart of the Plateau. I'm amazed that even though this store is in it's infancy, he already has a lot of breweries. I expect big things i think from this place. A new must-stop beer store in Montreal for sure.
Mar 08, 2009
Épicerie Au Coin Duluth in Montréal, QC, Canada
Place rating:
4.1
out of
5
with
13
ratings