Antigoon By Robert Wiedmaier
| Brouwerij De Musketiers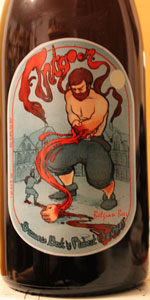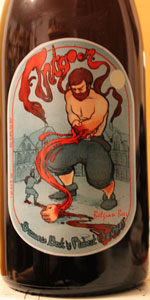 BEER INFO
Brewed by:
Brouwerij De Musketiers
Belgium
troubadourbieren.be
Style:
Belgian Pale Ale
Alcohol by volume (ABV):
7.00%
Availability:
Year-round
Notes / Commercial Description:
Brewed for Brasserie Beck.
Added by hopsaplenty on 02-27-2010
HISTOGRAM
Ratings: 188 | Reviews: 63
3.81
/5
rDev
-4.5%
look: 4.5 | smell: 3.5 | taste: 4 | feel: 4 | overall: 3.5
750ml bottle - $9.99 at Total Wine & More in Kennesaw, Georgia.
Appearance: Pours a clear, lightly hued yellow body with a large, growing, white head.
Smell: Lightly sweet-scented maltiness in the nose, with a dash of ground spice, dried lemon rinds, and humble, low-priced floral arrangements.
Taste: Lightly malted barley, perhaps with a trifling inclusion of pils. Soft sugary sweetness at the start. Citrusy boosts of lemon juice, lemon verbana fold into a slight grassiness and underlying spice element. Lightly bitter. Growing Continental hop character and bitterness as it warms, though not overly so. Small bit of yeast. Dry, fruity, and certainly fizzy finish.
Mouthfeel: Medium-light body. Highly carbonated.
Overall: A tasty, refreshing Belgian ale. Sure, it's a bit gassy, but it's still quite good.
816 characters

4
/5
rDev
+0.3%
look: 4 | smell: 4 | taste: 4 | feel: 4 | overall: 4
Pours a cloudy, lemon yellow colour with a large, snow white soapy head. Sticky lacing clings firmly to the sides of my glass.
Smell is delightfully citrusy with a bit of the dank basement, 'barn yard funk' smell associated with many Belgian styles.
Flavour is mildly spicy with a touch of citrus and a pleasant, earthy bitterness.
Mouthfeel is very smooth and well carbonated. A classic Belgian pale ale and wonderful example of the style.
440 characters
4.58
/5
rDev
+14.8%
look: 4.5 | smell: 4 | taste: 5 | feel: 4.5 | overall: 4.5
Pours a somewhat hazy dark golden with a thick and rather persistent off-white head that leaves some decent lacing. The bottle I got foamed like crazy, so open with caution! Strong aroma is fruity, mainly apple with hints of pear and orange, with a yeasty undertone and just a hint of hops. Rich, mouth-filling flavor is malty and fruity, a little sweet, with hints of butterscotch, banana and caramel as well as a touch of hops - it seems as though each sip is a little different. Dee-lishus! Texture is creamy and fizzy, leaving behind a tingly, fruity, slightly sweet, slightly hoppy and edgy finish. Heartily recommended!
625 characters
4.38
/5
rDev
+9.8%
look: 4.5 | smell: 4 | taste: 4.5 | feel: 4.5 | overall: 4.5
Brouwerij De Musketiers - Antigoon
25.4 fl. oz bottle; $9.99 @ Total Wine & More, Claymont, DE
I love the painted label bottle, and the artwork on it. It's a great looking bottle, even if it is a little gory. It illustrates the Roman soldier Brabo cutting off the hand of the giant, Druon Antigoon, who, according to myth, guarded the river Scheldt and cut off the hand of anyone refusing to pay his toll and threw it into the river. Thus, supposedly, the name of Antwerp - "hand thrower".
Appearance: Its slightly hazy deep golden body teems with life as hundreds of tiny bubbles race upwards, taking their place in line beneath the frothy head of white that caps it. The head retention and lacing are both excellent.
Smell: Chalky yeast; grainy, lightly sweet malt; spicy; floral.
Taste: The spiciness and sweet malt dominate the flavor, with the spiciness bouncing atop the malt like a trampoline. Yeasty fruitiness remains in the "golden" arena with mostly apple, and perhaps a hint of pear. Quite floral. Some leafy and grassy hops are present as well; but the chalkiness of the yeast fails to cut through until the finish. It's backed by a solid bitterness that doesn't appear at first as it's masked by the sweetness of the malt but then becomes more apparent towards the swallow, and finally rises to its highest point in the long-lingering, bitter, spicy, and floral finish.
Mouthfeel: Medium-light in body with a creamy texture due to the effervescent, tiny-bubbled carbonation.
Overall: Charming!!! A surprisingly full-flavored golden ale with a brisk, spicy edge but an overall balance. Nicely rounded and polished. Quite drinkable!
1,651 characters

4.65
/5
rDev
+16.5%
look: 5 | smell: 5 | taste: 4.5 | feel: 4.5 | overall: 4.5
Got this beer in Total Wine Jacksonville. It's now bottled and retailed.
appearance: lovely cloudy and golden glow with nice white very fluffy head rentention
smell: very high belgian yeast aromas, spicy, citrus
taste: wow, like it smells exactly. the spiciest belgian Ive had without the addition of spices. Nice. heavy clove, lavender mixed with citrus, and tropical fruits, best belgian pale Ive had.
mouthfeel: thin bodied, loaded carbonation
drinkability: a rare treat and amazing beer
498 characters

4.03
/5
rDev
+1%
look: 4.5 | smell: 4 | taste: 4 | feel: 4 | overall: 4
Beer on tap at a local Belgian restaurant. The menu claimed that the beer was brewed for that establishment and something else about a giant and a severed hand...I didn't read the whole thing.
Beer served in an Antigoon glass. Whoa. Beer is yellow and completely hazy with a big soft white head of small and medium bubbles, nice levels of lacing and moderate carbonation, head has some retention to it.
Aroma is spicy and yeast with a mild sweet and some nice grains. Smells like La Fin Du Monde's little brother.
Beer is relatively thin, mild sweetness up front but a relatively dry finish. Overall the beer is really nice, the yeast comes up on the midpalate like a flower and fills out the midpalate with this complex array of esters. I would have it again. I should research to see if this beer is truly only available at that restaurant or just in DC.
859 characters
4.5
/5
rDev
+12.8%
look: 4.5 | smell: 4.5 | taste: 4.5 | feel: 4.5 | overall: 4.5
25 ounce bomber bottle
A - cloudy gold with extensive lacing and nice long lasting head.
S - wheat bread and spicy yeast aroma.
T - peppery wheat citrus = yum yum
M - crisp carbonation to balance the wheat residue.
D - very easy drinking.
I will be having more of this one.
273 characters
3.95
/5
rDev
-1%
look: 4 | smell: 4 | taste: 4 | feel: 3.5 | overall: 4
Had on-tap at Brasserie Beck in Washington, DC.
A: Served in its own branded tulip. Gorgeous hazy, radiant gold with a solid white head that foams and laces on the side.
S: Yeast and fresh tulips. Some resonant spiciness that was reminiscent of tellicherry peppercorns.
T: Yeasty and bready with floral hops. Quite strong freshly-cracked pepper taste at the end. Very typical of a well-made Belgian Pale Ale, almost bordering on Tripel.
M: Slightly thin body but the spiciness and carbonation that hit at the end made up for it.
D: Delicious and complements Belgian cuisine well.
588 characters

4.03
/5
rDev
+1%
look: 4.5 | smell: 4 | taste: 4 | feel: 4 | overall: 4
On tap at Brasserie Beck, Washington, DC (9/14/10):
The beer appeared a nice hazy golden color, with a nice white head that had good retention to it. Noticeable carbonation as well as some other sediment floating noticeably in the beer.
The aroma was good, a nice sweet smell of yeast and fruit, citrus perhaps, but also a very nice splash of spices and pepper as well, that really made the aroma seem very rich.
Taste was similar to the nose, a very nice Belgian flavor, sweet with that nice blend of the spices.
The beer had a medium feel to it, good carbonation, smooth and very easy to drink. Overall, I enjoyed the beer very much and the next time that I am in DC I will probably stop by for some more.
712 characters
3.95
/5
rDev
-1%
look: 4 | smell: 4 | taste: 3.5 | feel: 4.5 | overall: 4.5
First off, let me note that this has the sweetest bottle art I have seen since Caldera's "Vas Deference." The bottle is, in fact, the sole reason my friend picked this out.
The beer itself pours a slightly dimmed golden color with a rocky parchment head that has great staying power and leaves decent lacing.
The aroma is pretty standard BPA with a very bready base, notes of herbal hops and grass, and just a touch of pepper. There are also plenty of fruity notes in the nose like pear and apple.
The flavor seems to have a bit more spice to it with more pepper, as well as some clove. The malt is bready and sweet, but not too interesting. There is a definite yeastiness to this beer, and a fresh juicy fruity character that is quite tasty.
The mouthfeel is on the light side of medium with just about the perfect amount of carbonation. The finish is clean, short and very pleasant.
This beer goes down super easy and is very enjoyable, but besides the label, there is really nothing compelling me to have another.
1,023 characters
4.13
/5
rDev
+3.5%
look: 4.5 | smell: 4 | taste: 4 | feel: 4 | overall: 4.5
Very pleasing and quaffable Belgium Pale Ale.
Presentation: 750 ml synthetic cork brown bottle. Screen-printed label shows an illustration of giant Antigoon bleeding profusely with a hand cut-off by soldier bravo. Shows a not very clear and easy to smear best by date on the cork (09/12 12). Notes Alc. by Vol. (6.8%). Served in a tulip glass.
A - Hazy deep gold pour, rich frothy head, nice retention and rich surface memory with fine lacing.
S - Fresh and pleasing nose, with sweet, fruity notes woven with spices and a yeasty touch. Peppery, shy clove, citrus, and a bit of honey in the fruity esters.
T - Taste expand in sync the nose with a rich spiced sweetness, nice and unusual hoppy touch. Fruity sweetness, a bit of pepper, clove, maybe cardamon...
M - Medium body with medium carbonation. Bubbles are a bit more assertive early on but go down a bit to provide a sweetly tamed body that works rather smoothly.
D - This works fantastically as a Belgium Golden Ale, almost a session brew like the chef suggests but with a slightly bigger alcoholic range. Very nice and a rather welcome addition to the local landscape.
Notes: Nice and rich DC offering, with Chef Robert Wiedmaier providing a quality surprise with this house ale from Brasserie Beck. It reminds me that I´m long overdue to visit his establishment.
My impression, given that this brew is a Brasserie Beck by Robert Wiedmaier, and that it is contracted to the Musketters in Belgium is that it should be listed under Brasserie Beck and not under the contract brewery as it is typically the norm in these situations.
Likewise, I understand that this is far from being a saison, more so a Belgium Golden-Pale Ale, which would also seem to be backed up by the way that menu and brewers describe it.
1,778 characters

3.88
/5
rDev
-2.8%
look: 4 | smell: 3.5 | taste: 4 | feel: 4 | overall: 4
from 3/6/10 notes. Picked up at Rick's in Alexandria and brought to a local DC tasting.
a - Poured a murky, pale gold color with about one finger of white head and moderate carbonation. Lots of sediment evident.
s - Smells of yeast and fruit, mainly apples. Also smells of some spices. Nice Belgian smell.
t - Similiar to the nose, mostly belgian yeast and spices, as well as a little apple. A little bit of a sweet fruit taste to it.
m - Medium body with moderate carbonation. Very easy to drink.
d - Overall I enjoyed this beer quite a bit. Typical Beglian smell and taste, with some nice sweet apples coming through. It was very enjoyable and very easy to drink. Could definitely drink more of this.
707 characters
3.95
/5
rDev
-1%
look: 4 | smell: 4 | taste: 4 | feel: 3.5 | overall: 4
This beer was commissioned by Robert Weidmaier of Brasserie Beck and is their house beer. There is a story behind the name of the beer. It starts with the Roman general Silvius Brabon (Brabo). Brabo is in the service of Caesar and is a personal friend of the emperor.
After a successful battle against the combined forces of the Belgic Nervii and Eburones, Brabo and Caesar decided to take a break in the town of Kleef. (Germany, - North-Rhine-Westfalen) One day, Brabo went hunting and saw a swan pulling a boat. He jumped on the boat and was taken to a fort. In this fort, they had imprisoned 'Swane', the sister of Caesar and widow of the King of Tongeren.
Brabo liberated Swane and asked for her hand in marriage. Brabo marries Swane and Caesar gives him the land between the East Sea and the land of the Nervii. Caesar makes Brabo the first Duke of the area and Brabo
names the area, Brabant.
The old Belgians lived in peace near the river Scaldis (now called the river Schelde). They were hunters, fishermen and traders. All was peaceful until the arrival of the giant Druon Antigoon.
He built a castle near the river and demanded that people pay a toll to pass the castle. In the beginning all is well. After a while, Antigoon increases the toll higher and higher. Those folk who could not afford to pay the toll had their hands cut off. Amongst the victims are a few of Brabo's men. Brabo fights Antigoon and afterward, he cuts of the hand and throws it in the river Schelde. Hand = Ant, Throwing = Werpen > Hand Werpen > Antwerpen > Antwerp (English).
The label is a picture of Antigoon with a bleeding left arm that has just been severed by Brabo.
750ml brown bottle with a caged cork, no date information, but this was purchased fresh within the week. The synthetic cork slips out with a soft pfft and a wisp of gun smoke. A towering head of eggshell colored and loosely piled bubbles builds and slowly recedes leaving wisps of lace. Hazed golden caramel with a solid column of firing carbonation. Aromas of spicy Belgian yeast, lemon rind, golden apples, and hints of cracked pepper subtle sweetness rise. The taste closely follows the nose. Bits of pepper up front along with distinct Belgian yeastiness leads to a spicy dry finish that lingers. The pepper notes builds as it warms, and it becomes a bit mineral. Medium carbonation tingles along the tongue, but calms over the course of the bottle. The mouthfeel is soft and crisp. Easy drinking at 6.8%. $12/bottle.
2,495 characters
Antigoon By Robert Wiedmaier from Brouwerij De Musketiers
Beer rating:
3.99
out of
5
with
188
ratings