Tavern At The End Of The World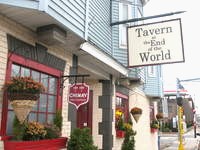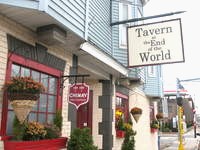 PLACE INFO
Type:
Bar, Eatery
108 Cambridge St
Charlestown
,
Massachusetts
, 02129
United States
(617) 241-4449 |
map
tavernattheendoftheworld.com
Notes:
No notes at this time.
Added by Stockfan42 on 03-13-2009
PLACE STATS
Reviews:

9

Ratings:

pDev:

7.84%
HISTOGRAM
View: Place Reviews
Ratings: 11 | Reviews: 9
3.88
/5
rDev
-4.9%
vibe: 3.5 | quality: 4.25 | service: 3.75 | selection: 3.75
Awful location with a true dive bar feel. Located near the elevated section of I-93 on the Charlestown Cambridge line. It's on a busy road with little to no parking.
All this said, there are some excellent beers here, albeit with an average selection: 14 taps and approximately 50 different bottles/cans.
Short, 12-seat bar and four 4-top tables in the front. More space in the back.
If one is looking for something new and different, the brew selection is limited. But if you'd like to get a decent offering of superior beers, this is a very good place.
560 characters


4.45
/5
rDev
+9.1%
vibe: 4.5 | quality: 4 | service: 5 | selection: 5 | food: 3
The outside has a very visible Chimay sign hanging out front. For me, that means craft beer, which is awesome. When I first walked in, I recieve an overwhelming whiff of pundgent beer, it was a very unpleasant aroma. However I fought through the stench and walked up to the bar where the smell over time faded from my senses. The beer selection is actually quite good. Wienstephaner on draft and a couple local crafts as well. The food was your average pub fair. Absolutely nothing special, fries looked to be from freezer container. Other than that, i had no real complaint about the food. The only thing I was surprised by was that they had pbr, heinekin, and new castle on draft. Seems a little out of place for these sub quality beers to be next to the good stuff. However, I guess you have to cater to your demographics needs and wants. Overall, go after you know they mopped the floor, have a couple beers, and don't be upset if you skip the food menu. Other than that, enjoy the bottle selection because it is that equisit.
1,030 characters

4.06
/5
rDev
-0.5%
vibe: 4.5 | quality: 4 | service: 3.5 | selection: 4.5
Met some friends at the Tavern At The End of the World before NERAX. The bar is a typical Irish bar with lots of funny signs, wobbly stools and dark paneling. I got a kick out of the wooden Indian near the bathrooms. It's the kind of bar you could hang out in for hours at a time.
The beer selection was great in both bottle and on tap. It was way better than other Irish bars I've been to lately. I had a bottle of Maine Brewing Lunch and my friends split a Peeper ale. I also had a Narragannset Cream Ale while I was there. They had a pretty wide selection of brands and styles. The bottles were served with a glass.
We didn't eat any food but what I saw go by on trays looked good. Saw lots of burgers & fries and other pub food.
Service was a little slow for a lightly crowded afternoon. I think it may have been a shift change, but it took a while to get a round of drinks. Servers were nice folks and friendly.
Prices were descent and a bit lower than Boston bars. However, for 2 beers with tip I paid almost $20. I didn't know Lunch would be a $12 beer.
The pub is less than a 5 minute walk from the Sullivan Square T stop. It's a great place to hang out with a fantastic beer list. I'll definitely be back when I'm in the area again.
1,246 characters

3.88
/5
rDev
-4.9%
vibe: 4 | quality: 4 | service: 3.5 | selection: 4 | food: 4
Nice little spot on the Somerville, Charlestown line. Its a pretty straight shot from downtown/north end and costs about $10 + tip for a cab ride here which isnt too bad. The decor is like an Irish craft beer bar with some Belgian influences thrown in for good measure. You kind of know based on the Chimay sign hanging outside that they're gonna have a better than average beer selection.
The draft selections werent too exciting but they had some decent offerings like DFH, Berkshire, Radeberger, Wachusett, Fisherman's etc. I had a house lager that was made for them by Cape Ann and then tried the Pumpkin porter by them as well. The beers tasted fresh and clean and the prices on them were pretty reasonable too. I assume this is due to the neighborhood that they are in as its a bit deserted over here. They also had a pretty extensive selection of bottled and canned beer in their cooler and the more expensive beers were served in branded glassware.
The food was definitely much better than average pub food--we split a burger and this salmon boxty thing and both were quite good. Service was a little cold at first but seemed to warm up after we had stayed for a while. I'd defiinitely enjoy hitting this place again but I dont know if I would be willing to go too far out of my way to get here.
1,306 characters
4.68
/5
rDev
+14.7%
vibe: 4 | quality: 5 | service: 5 | selection: 4.5 | food: 4
Ol trusy I call this place. Always a easy decision where to go on short notice. Plus it only being about 10 minutes away doesnt hurt either. This place has some decent tap selections including dfh, rogue, sam adams, berkshire, harpoon, radenburger and a few taps they normaly revolve around specials. Beer fridge has a nice selection too including beers from victory, flying dog, smuttynose, unibroue, chimay, rogue, dfh, pretty little things, left hand, Brouwerij Bosteels, southern tier, troegs, Brouwerij Huyghe. I could go on but it's a pretty long list. The food there is great too not to mention. The bangers and mash is delicious. Also have pretty good burgers and sandwhiches and always have weekly specials on soups and dinners. They have an irish breakfast on the weekends that goes till 4pm. Live music and entertainment 5 days out of the week. If your ever in the area, this place is a gem.
902 characters

3.63
/5
rDev
-11%
vibe: 3.5 | quality: 3.5 | service: 3.5 | selection: 4 | food: 3.5
My friend and I both had Friday off from work, so we decided to meet up for lunch. I chose this place because it was not a place that I would normally think to go, and I wanted to go somewhere new. It's right down the street from the Sullivan T stop on the Orange Line. When you walk in, the bar area is in the front, and there is a room in the back with dining tables. Lots of craft beer signs on the walls. One tv in the corner showing sports. We grabbed two seats at the bar. The bartender was a nice enough guy, not overly friendly but helpful. We ordered some Buffalo wings, which were mediocre. But my burger and my friend's bbq pork sandwich were better. Beer selection was quite good. About 10 crafts taps and 30-40 bottles within easy sight in the cooler behind the bar. Draft beers were decent, such as Long Trail, Radeberger, Sam, Harpoon, DFH, etc. I had drafts of Rogue Dead Guy and Harpoon Munich Dark. The selection of bottled beer was more extensive. Several different varieties of Victory, Brooklyn, DFH, Abita, Pretty Things, Rogue, Wachusett, some Belgians like Chimay, Affligem, and Hoegaarden, plus some canned beers. I had a bottle of Smutty Old Brown Dog and Harpoon Leviathan Barleywine. Nice selection of branded glassware too, but I found it odd that my friend was served a Wachusett Blueberry with a Chimay chalice. Our total bill for one app, two sandwiches and eight beers for the two of us was $75, so fairly reasonable. I would recommended the Tavern to any BA who happens to be in this part of Boston.
1,533 characters
4.18
/5
rDev
+2.5%
vibe: 4.5 | quality: 4 | service: 4.5 | selection: 4 | food: 4
I understand why people find this pub to be out of the way. If you live in Somerville or Cambridge, or just take the Orange line T to Sullivan Square however, it is spectacular. Really, that end of Washington street is best known for a Hess station, the T stop, and a auto repair place that used to have a sign offering a "free tranny check." Transsexual jokes aside, the name makes sense. This is an area that will resist gentrification a bit longer than others, despite the condos that went up in the neighborhood. It's still the border of East Somerville (aka East Ville) and in the shadow of 93. But what a location for a pub!
The neon signs for Chimay and Radeberger in the windows hint that more is going on here than you might imagine. I picked my partner up from Sullivan Square and she requested a drink. Knowing it was right there and offered some promise from the previous ownership, we took a look in and were very surprised. Very cozy location, nice homemade seats for the bar, and a bright bottle cooler just behind the bar definitely hooked me. The Irish landlord (would you rather publican?) was professional and very accommodating, without being condescending at all. Ordered a Pretty Things Jack d'Or and a Southern Tier Gemini both in the bottle. Bottles were opened and presented to us with nice clean Chimay goblets. 12-15 taps were present, with a good and accessible range from Guinness to Rogue Dead Guy, Seadog Hazelnut Porter to Rapscallion Honey. Took our time with the stronger beers (it was early!) and soaked in the environ. Locals for sure, but the place felt really good.
We decided to have some food. I opted for bangers and mash, while she had a bacon/bleu cheese burger, and we shared curried fries. The curry was good, sharp but not that strong (I always like it harsher), and my bangers came with outstanding fresh mashed and seasoned potatoes, a few firm and delicious asparagus spears, and the bangers had enough char on them for the grill flavor to come through. Roundly good, possibly some of the best bangers I've had in Boston, which is saying a lot. Her burger was closer to medium than the requested medium-rare (hardly unusual in Boston), but still very good, with grilled onions, requisite toppings, and quality skin-on fries on the side. I had the landlord Raymond (very nice guy) make me a radler, but called it a shandy, with draft Franziskaner and 7Up, while the partner had a Seadog Hazelnut Porter. Drafts were also poured in proper glassware, and the place had a very Irish touch-- but progressively so, not a stodgy old place that wouldn't stock "unusual" beers.
We'll definitely be back. Outstanding first visit. Oh, and the ladies' room has a picture of Sarah Palin on the door, wearing a stars and stripes bikini poolside while brandishing a rifle. If it wasn't already obvious, this stellar neighborhood place is a keeper.
2,886 characters

3.94
/5
rDev
-3.4%
vibe: 3.5 | quality: 4 | service: 3.5 | selection: 4.5
While sort of out of the way, this place is very accessible via 93; I visited for the first time last night, and spent less than 20 minutes getting to/from the place from northern Dorchester.
I was impressed with both the tap selection and bottles; while not extensive, there's a solid set of offerings here. I was particularly surprised to see Tripel Karmeliet on tap. They have a good selection of Belgians and crafts; the bottles are displayed well in a fridge behind the bar.
All in all a nice little place to drop in for a pint or two.
544 characters
3.7
/5
rDev
-9.3%
vibe: 3.5 | quality: 3.5 | service: 4 | selection: 4 | food: 3
This place is really out of the way and at least I do not have a reason to be over in this part of Boston to often. The one advantage of the location is that there is plenty of parking. We went with a couple of friends who are from Charlestown and they said it has only been open for a couple of months. Very clean and new and kind of bright on the inside with lots of light wood. The beer selection consisted on mostly domestic craft beer with a couple of Belgians thrown in. The bar tender was very friendly and attentive. The food seems to be attempting to be upscale bar food but it just is not there yet at least. One of our friends ordered a pizza which looked good but was cold. Overall I liked the place and if i am in the area would definitely stop in for at least a beer and maybe give the food a try again.
817 characters
Tavern At The End Of The World in Charlestown, MA
Place rating:
4.08
out of
5
with
11
ratings