Hop JuJu Imperial IPA
| Fat Head's Brewery & Saloon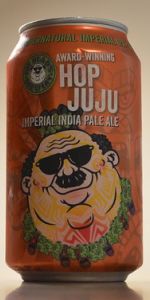 BEER INFO
Brewed by:
Fat Head's Brewery & Saloon
Ohio
,
United States
fatheadscleveland.com
Style:
American Double / Imperial IPA
Alcohol by volume (ABV):
9.00%
Availability:
Rotating
Notes / Commercial Description:
The magical hops cast their spell, the natives chant and the drums beat... First let us confirm that there is no witchcraft used in creating this fine brew. None. Really. Well maybe a little. A supernatural beer with a powerhouse of hops creating aromas and flavors of citrus, pine and tropical fruit with a juicy resiny hop finish. Hakuna Matata.
Added by AltBock on 09-26-2009
Reviews: 260 | Ratings: 2,084
4.16
/5
rDev
-6.3%
look: 5 | smell: 4 | taste: 4 | feel: 4 | overall: 4.5
Fatheads Hop Juju
Poured into a 12 oz snifter. Bright shiney new copper colored beer, almost neon. Sweet dank nose. Pine, lime citrus and alittle malt sweetness. Some tropical fruit (pineapple,mango) notes go well with a moderate level of bitterness. Good carbonation, light to medium bodied feel. Another awesome Fatheads IPA.
329 characters

3.68
/5
rDev
-17.1%
look: 4 | smell: 3.5 | taste: 3.5 | feel: 4 | overall: 4
Pours a clean orange-ish color with an off white head. In the aroma, mango and peach citrus. In the taste, pine like hops and dehydrated peaches. A small bite and medium bodied mouthfeel, with a dry pine like hop in the aftertaste. Kind of summery with the nice fruitiness in the nose, but pine hops in the taste.
313 characters
4.14
/5
rDev
-6.8%
look: 4 | smell: 5 | taste: 4 | feel: 4 | overall: 3.5
An interesting double IPA with a very malty edge and bitter finish. Smells of floral hops, much caramel and honey and autumn mornings. Taste is very caramelly and sweet. Honestly it smells a lot better than the taste. JuJu goes down smooth but comes back for a bitter bite that allows you to really feel the alcohol. Two pints though and I felt like I had a full meal. Overall I would say it was quite good but a bit too rich and bitter.
437 characters

4.82
/5
rDev
+8.6%
look: 4.5 | smell: 5 | taste: 5 | feel: 4.5 | overall: 4.5
9-1-2010
Imperial snifter served at the brewpub the day after it was put on tap. Super fresh batch. Looks nice, oranger than headhunter. Some nice head that sticks to the sides. Overall, it's a nice looking beer, very west-coast inspired.
Huge tangerine and pine smells in the nose. In talking to the brewer, he mentioned CTZ hops and simcoe. You can def. pick out the spiciness of the CTZ and the slight cattiness of the simcoe. Pineapple, orange, and grapefruit. Intense and expressive. Just a touch too spicy for me.
The taste is intense and hoppy as hell. The pine and citrus flavors are lush and intense. Very bitter with just a touch of pale sweet malt underneath. This beer isn't messing around.
Medium body with nice carbonation. Overall, I liked this beer but it is ruinous and very, very brash. Not a lover, certainly a fighter. This beer will knock out your tastebuds, but it's worth getting in the ring.
Edit - the first bottled batch, released 2-2014 is much more refined, less brash, and pretty much the best beer these guys have ever made. Updated smell and taste to 5's!
1,091 characters
4.49
/5
rDev
+1.1%
look: 4 | smell: 5 | taste: 4.5 | feel: 4.5 | overall: 4
Had on tap at the Cleveland location. The menu notes: Double IPA brewed with incredible amounts of hops giving this beer supernatural hops aroma, flavor, and bitterness.
The beer is kind of dark copper color, mostly clear with a little haze, and a wet looking white foam. Lots of lacing on the glass as the glass emptied. The aroma was all citrus hops, grapefruit and lemon, really mouthwatering. This is exactly the approach I like to see with a DIPA, some go too far with malt balance but not Hop JuJu. The taste was no disappointment either, The hops citrus flavors come through in a big way, and here the malts showed up a little more than in the aroma. The initial tastes are sweet but with a strong bitter edge in the aftertaste.
Full bodied and filling, a strong mouthfeel to complement the strong flavors. This is another great IPA from Fat Heads, a brewery that makes nothing but good beers. This microbrewery should consider bottling.
948 characters
4.3
/5
rDev
-3.2%
look: 4 | smell: 4 | taste: 4.5 | feel: 4 | overall: 4.5
Got this at Fatheads in Pittsburgh on tap, the only place you can get this stuff. Pours a deep amber orange, no carbonation, thin light lacing around the top of the glass.
Smell is Tart grapefruit, orange, light malt sweetness, and some pepper. Smells a little acidic in the hop department, almost dank in nature.
Taste is surprisingly much BETTER than expected. Has a HUGE grapefruit presence, slight malt sweetness on the palette, a little peppery, orange citrus, but the grapefruit bitterness definately dominates. Has a mild sweetness up front before the bitterness immediately takes over and slams the malts into submission. The malts do linger underneath to keep things in check, but definately plays a back seat to the bitterness. As a side note, I definitely dig the flavor of this private label D-IPA.
Mouthfeel is smooth, finishes dry, medium to full body, and leaves a metallic orange citrus coating in the mouth with a modest warming in the throat from the ABV.
Drinkability runs very, very high. Fatheads hit a home run with this recipe. Hey, can you bottle this stuff? This is an absolutely fabulous beer. I bought a growler to take home and if I had easier access to this, I'd keep it in my fdridge as long as they had it on tap. Very well done and a definite surprise. Nice job.
1,298 characters

4.32
/5
rDev
-2.7%
look: 4 | smell: 4.5 | taste: 4.25 | feel: 4 | overall: 4.5
Had on draft last night at Fat Heads in Pittsburgh. Joe is the best bartender there and we also mixed this with Head hunter to create quite an awesome IPA.
A-copper color with a thin white head that lingers for a moment and leaves a light lacing.
S-big nose of tropical fruits and floral aromas. Grapefruit, apricot and some citrus make up the fruits with a light hint of pine to back up all the sweetness.
T-follows the nose and is quite big! the grapefruit and apricot dominate with a touch of citrus bringing up the font of the flavor. a resigny pine comes in next with lots of bitterness coming in at the finish.
M-medium body with a fair amount of carbonation. it is syrupy but extremely smooth and it coats the mouth as it goes down.
D-extremely easy drinking hiding the alcohol very well. solid DIPA and will have to go back to grab a growler.
855 characters
4.44
/5
rDev 0%
look: 4 | smell: 5 | taste: 4.5 | feel: 4 | overall: 4
Well another phenomenal Fat Head effort at the Double IPA festival.
Looks like a Pliny clone, its light in appearance. That is the only thing it is "light" in. Massive grapefruit hop aromas. The best. Taste is more of the same, but without any heavy malt bill, or feeling of unbalanced bitterness. Bitterness subsides before its even there. Delicious.
Mouthfeel, relatively straightforward, there is no evolution here, which is good, because its phenomenal from the first waft. Could drink this all day.
506 characters
3.72
/5
rDev
-16.2%
look: 3 | smell: 3.5 | taste: 4 | feel: 4 | overall: 3.5
Review from notes taken earlier tonight at the brewery. Poured into a clean, clear pint glass. Notes from brewery: Double IPA brewed with incredible amounts of hops giving this beer supernatural hop aroma, flavor and bitterness. It's witchcraft on tap like a temporary hop tattoo on your tongue.
A Translucent orange brown body with little head and not much lacing either. 3.0
S Floral hops but nicely balanced with nice malt sweetness. 3.5
T Hops are the center but really they are not unbalanced. This beer luckily has a nice malt balance to it. 4.0
M Moderate with some hop bitterness but a very welcome smoothness too that really helped me enjoy this beer. 4.0
D Fair to good. 3.5
Notes: I really enjoyed this beer that I was not sure that I would. I do not enjoy hoppy beers as much as most.
802 characters
4.1
/5
rDev
-7.7%
look: 4 | smell: 4 | taste: 4.5 | feel: 4 | overall: 3.5
I was able to try Fat Heads take on a Double/Imperial IPA there on 9/25/2009. The beer menu stated that it had an ABV of 8.7% and 100 IBUs. Fat Heads served it to me in a 12 oz. Snifter.
This Double/Imperial IPA poured a semi clear dark golden amber with a few minor sunshine yellow highlights along the sides. Sitting on top of this beer was a creamy head of white foam. It wasn't an off white color, it was a solid cotton white color. This pure white head of foam had good retention that left behind a string of white rings and some big ass streaks of lace all around the glass.
The aroma was citrus all the way! It was one of those Double/Imperial IPAs that you can smell from a long distance. The aroma was strong with bitter citrus hops, bitter grapefruit, a hint of pine, a splash of lemon, and any other citrus fruit you can think of. Was there any malts to help balance out all the citrus aromas? Hell No there wasn't! This was the scent of a great Double/Imperial. Let's see if the taste matches the strong bitter citrus aroma.
The taste was extremely bitter with citrus fruits, bitter citrus hops, plenty of bitter grapefruit, a splash of lemon, and a touch of pine. Sometimes this taste got so bitter than I turned my head, but not in disgust. It was more of a reflex because the beer was too bitter. If you plan on drinking this beer, I sure hope you really like bitter beers because the malts will not come in at all to help balance out the beer. In other words, this was one great super bitter beer.
This was clearly a full bodied Double/Imperial IPA with the correct amount of carbonation and a full flavored bitter aftertaste. This strong bitter aftertaste was chock full of citrus hops, citrus fruits, pine, and grapefruit. This was the malts last chance to show up, but I'm thinking that all the citrus flavors combined all their citrus powers to completely kick out the malts. This aftertaste had nowhere to go anytime soon, so it stuck around in the back of my throat for quite a few minutes.
I know that Fat Heads makes some really good beers, but they raised the bar with this one. There was absolutely no shortage of citrus hops or fruits. The only thing missing from the taste was the malts and I couldn't care less about that. A 12 oz. glass is good enough for a beer this big. A growler might be a little too excessive. If you're a hop head (if you're on BA you probably are) and you see this on the beer board or menu, get it!
2,469 characters
Hop JuJu Imperial IPA from Fat Head's Brewery & Saloon
4.44
out of
5
based on
2,084
ratings.