Hop-a-Long Cascady (2010 Beer Week Collaboration With Black Box)
| Fat Head's Brewery & Saloon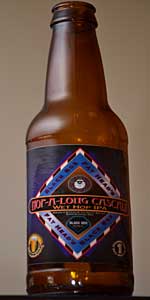 BEER INFO
Brewed by:
Fat Head's Brewery & Saloon
Ohio
,
United States
fatheadscleveland.com
Style:
American IPA
Alcohol by volume (ABV):
7.30%
Availability:
Limited (brewed once)
Notes / Commercial Description:
No notes at this time.
Added by jampics2 on 10-09-2010
This beer is retired; no longer brewed.
Ratings: 9 | Reviews: 8
Reviews by mwa423:
4.45
/5
rDev
+8%
look: 4 | smell: 4 | taste: 4.5 | feel: 4.5 | overall: 5
A - Pours a slightly hazy gold color with a finger of white hazy head with good retention.
S - Hoptastic smell, mostly a thick pine aroma but a bit of citrus and a tiny amount of malt. From the smell alone you have a hoppy beer.
T - The taste starts with tons of in your face hops, the cascade really comes out and has the wet and dirty hop taste suggested by the bottle. The taste mellows into a sweet vanilla flavor that slides down the throat. An excellent IPA with tons of flavor and a clean finish.
M - Mouthfeel is a hard hit followed by a mellowing maltiness and ends with a slight bite on the tongue.
An excellent IPA overall, tons of in your face hops but not tongue burning and well balanced with malty smoothness. I hope it isn't a only a 2010 beer week collaboration.
784 characters
More User Reviews:
3.58
/5
rDev
-13.1%
look: 4 | smell: 3.5 | taste: 3.5 | feel: 4 | overall: 3.5
Massive thanks goes out to beeruser for sharing this one during one of our weekly tastings! Served from bottle into a Mikkeller flute. Poured a cloudy yellow with a three finger white head that subsided to one finger slowly. Maiintained decent lacing throughout the glass. The aroma was comprised of sweet malt, fruit, fruit hop, and subtle funk. The flavor was of sweet malt, cream, fruit, and slight funk. It had a light feel on the palate with high carbonation. Overall this brew wasn't very great. Not sure if the funk is supposed to be here or not, but it definitely tastes like it is out-of-place. Also there was no presence of hops in this one at all that I detected. Glad I got to try this one, but doubt I will be doing so again. Looked nice.
751 characters
4.5
/5
rDev
+9.2%
look: 4.5 | smell: 4.5 | taste: 4.5 | feel: 4.5 | overall: 4.5
thanks to nick for sending this one out to me, glad i got a chance to try it!
Rich amber in color with a light copper touch to it. Perfect head rises up to about an inch and a half and never really settles down below that level. Sticky lace all over this thing, just dripping down the sides of the glass. Pungent orange and citrus notes just rip through the air. Intense pineapple and some subtle sweet biscuit like notes as it warms. Just fresh, crisp, resin filled goodness. As I take a sip, wave after wave of crushing fresh hops just collide on my tongue, remarkable. Lots of ornage with a light biscuit like flavor mid palate before a sticky, dry hoppy finish just wins me over. Insanely drinkable, almost too drinkable as it went down like candy.
753 characters
4.26
/5
rDev
+3.4%
look: 5 | smell: 4 | taste: 4.5 | feel: 4 | overall: 4
12 ounce bottle. Lets see what age has done to this IPA. Pours extremely hazy amber color with a nice dense 2 finger off white head with amazing retention that reduces to a fairly thick lacing cap. Some fairly thick lacing is left on the glass as you drink. Aromas of lots of orange, grapefruit, pine, caramel, and some spices. Fairly strong and balanced aromas here. Taste of strong grapefruit, orange, pine, caramel, and spices. Fairly strong bitterness shows up on the finish and lingers for a bit with orange, grapefruit, and pine flavors. Medium carbonation and medium bodied. Great balance of bitterness and sweetness. No alcohol noticed in taste or finish. Overall a fantastic IPA that was very delicious. Too bad the collaboration 12 pack only included 1 of these.
772 characters

3.53
/5
rDev
-14.3%
look: 4 | smell: 3.5 | taste: 3.5 | feel: 3.5 | overall: 3.5
Great looking pour. Deep copper, cloudy, semi transparent with an erupting white pillow of a head holding long retention leaving sticky lace.
Aromas of citrus, flowers, light pine. Toffee malt aromas are followed by more grapefruit, orange, lemon, and sunflower, dandelion aromas.
The hop flavors in this have faded it seems yet still the bitterness is hanging around. Finishes very bitter and dry and slightly astringent. Toffee dominates with some leftover flowery hop flavors, oily, resiny mouth, citrus lead by grapefruit and lime zest. Still drinking pretty well but would have been much better fresh.
608 characters
4.32
/5
rDev
+4.9%
look: 4 | smell: 4.5 | taste: 4.5 | feel: 4 | overall: 4
I never had any Fate Head's in a bottle before. This one tells me what I will be having the next time I go to the restaurant. But good luck finding it on the still horrible beeradvocate search engine!!
It's nice and hoppy. Extremmely and uniquely so. But almost no malty taste. Nothing but hops, and unbalanced. I will need an antacid after this too - it is going to be rough on the stomach.
But I like it.
409 characters

4.17
/5
rDev
+1.2%
look: 3.5 | smell: 4 | taste: 4.5 | feel: 4 | overall: 4
Picked up the long awaited the 2010 Cleveland Beer Week Collaboration pack the day it came out. WIth it being six months late I wanted to make sure I cracked open this IPA first. I poured the 12oz bottle into a snifter glass to find a great bright clear orange body with a one inch white head with a little lacing. This is a great smellng beer, you notice the hops first with citrus & grapefruit notes.
The taste is fantastic, the hops hit your mouth strong right off the bat. You notice a lot going on in the flavor, citrus, piney hops, grapefruit, malts and a hint of sweetness. The beer is very balanced, its crisp & clean and you notice the carbination but its not very strong.
Overall I was impressed with the beer. I really wish I had the chance to have this beer fresh back in October but I was very happy with it. I hope to be able to snag a single or two to enjoy it again.
884 characters

4.42
/5
rDev
+7.3%
look: 4 | smell: 4.5 | taste: 4.5 | feel: 4 | overall: 4.5
On tap @ Fat Heads. Served in a really cool branded 20oz Fat Heads mug during the Harvest party.
This harvest ale was a collaboration with Black Box in West Lake for the 2010 Cleveland Beer Week Collaboration 12 pack. Certainly the bottle in the pack I was looking forward to trying the most, it's a shame that the bottles aren't coming out for another few weeks as this beer is mean, green, and ready for prime time right now! If you're a harvest ale fan, get to Fat Heads now and get it on tap before even a single hop starts to mellow.
This beer looks nice in my 20oz mug. A bright orange color and pretty clear, it looks just a bit less "punchy" than Head Hunter. A decent head considering the less than ideal pour, and some lace. A good start!
The smell is full of hops, green, sticky icky hops. There's a ton of cascade, lending citrus and some pine notes to the minimal sweet malt base. In particular, some orange, grapefruit, and pineapple with an herbal leaf note too. Just a touch of pine resin. This is a great smelling beer!
The taste continues the experience with a nice sweet kiss of malt, providing some caramel and a touch of toast, setting the stage for the fresh hops to tap dance all over my tastebuds. The A medium-bitter taste becomes an afterthought as more hops blast my tongue and mouth. Lemon, grapefruit, pine, and peach are all there. A great tasting harvest beer!
The beer is light to med in it's body. The carbonation is crisp and clean, and the only poor part of the experience as a whole is the slightly watery taste once the hops stop doing their business. Some medium bitterness lingers, but the malt dissipates and leaves me just wanting a touch more substance. This reminded me a lot of the excellent Founders Harvest Ale with just a slightly different hop bill. Actually, I can't wait to do the bottles side-by-side. While the biggest flaw of this beer is the drop-off of flavor in the finish, the huge hop taste more than makes up for it.
Is this the first Fat Heads beer that will ever be bottled? I think so, and I guess I need to mark the occasion by saying it's a winner. I know their plan to begin bottling their flagship beers has stalled out a bit, but, as one owner put it, they don't want to 'trip over their dicks'. I'm not sure that should be a concern, but I do think they are ready. So, I need to say congratulations and good luck. Anyone picking up the CBW 12 pack or, even better, enjoying this on tap is lucky!
2,481 characters
Hop-a-Long Cascady (2010 Beer Week Collaboration With Black Box) from Fat Head's Brewery & Saloon
4.12
out of
5
based on
9
ratings.