Valhalla Golden Ale
| Kooinda Boutique Brewery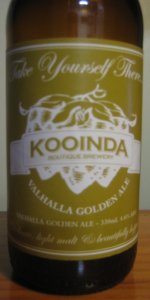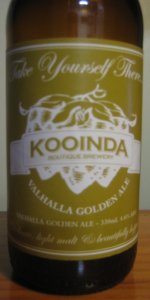 BEER INFO
Brewed by:
Kooinda Boutique Brewery
Australia
kooinda.com.au
Style:
American Pale Ale (APA)
Alcohol by volume (ABV):
4.60%
Availability:
Year-round
Notes / Commercial Description:
No notes at this time.
Added by spicelab on 08-26-2011
HISTOGRAM
Ratings: 12 | Reviews: 7
None found.
More User Reviews:

2.05
/5
rDev
-35.5%
look: 2 | smell: 2 | taste: 2 | feel: 2.5 | overall: 2
330ml bottle from Beermasons, poured into a Lost Abbey tulip.
Has a hazy old-golden colour, mixed with a shade of Irn-Bru in its look. Slightly off-white head of foam that disappears almost completely, pretty well off the bat. No lacing.
Smell has some passionfruit and citrus and candied hop aroma. Not fresh smelling, sadly, but distinct.
Taste is more of the same, citrus and passionfruit, both not fresh or vibrant.
Mouthfeel goes from flat in the front to decently carbonated in the back end.
Consistent with each mouthful in they way that it does it, just not consistent within each mouthful.
Nothing to excite, seems stale, lacking any qualities that would make you consider coming back for.
705 characters
3.15
/5
rDev
-0.9%
look: 3 | smell: 3 | taste: 3 | feel: 3.5 | overall: 3.5
Pours hazy amber with a large head.
Nose shows light fruity and floral hops at first, with grape, pear and passion-fruit notes. Under that there's a butterscotch not and a strong cooked corn note.
Flavours are instead malt-centred, with cookie dough and bready notes taking over. Finishes quite dry with soft grapefruit hops.
Carbonation is a pretty high, suits the beer well.
Well made apart from the cooked corn character, that ruined it a bit.
446 characters
3.3
/5
rDev
+3.8%
look: 3.5 | smell: 3.5 | taste: 3 | feel: 3.5 | overall: 3.5
Mandarin colour, heavily hazed, with a finger of white frothy head that falls to a slight ring.
Grass clippings, overripe apples and candied citrus with plenty of caramel and rather doughy malt character. The interaction between the doughy and vegetative aromas is a bit off-putting.
Taste drops off somewhat, courtesy of a substantial crude grain presence. Hop character becomes a bit muted as a result, but there's some pear and organic notes. The malt backbone is solid.
Above average spritzy carbonation gives a bit of body and length. As promised on the bottle, bitterness is low.
Pretty good drinkability, albeit let down by a flavour profile that falls a bit flat.
683 characters
2.97
/5
rDev
-6.6%
look: 4.5 | smell: 2.5 | taste: 3 | feel: 3 | overall: 3
Looks spot on in the glass. Clear light golden with low medium carbonation. One centimeter frothy white head. Good stability and lacing. Everything I should expect in a golden/pale ale.
Little aroma to speak of. Hops are nearly nonexistent leaving only a slight malt sweetness to reward your sniffing.
Taste is a bit more interesting. The light maltiness is joined by a balancing hop character. Really nothing too adventurous for most on this site but no faults to speak of and they would not be easy to hide here.
Doubt this was intended as an APA so cutting it some slack. As a blonde ale it fits much better and considering its not labeled APA raises my suspicions even more.
681 characters
3.5
/5
rDev
+10.1%
look: 3.5 | smell: 3.5 | taste: 3.5 | feel: 3.5 | overall: 3.5
Pours a hazy pineapple juice hue with a fast vanishing two finger head that leaves a rim of lacing and sporadic islands,the smell is fruity hops,pale malts,vanilla and butterscotch,the mouthfeel is just over light bodied and has tastes of vanilla,a light touch of creme brulee,butterscotch candy and finished with a pineapple/citrus hoppy dry finish that counteract each other to give you a neutral finish neither sweet nor sour and for that the drinkability would be rather easy and sessionable for me and to be honest i would buy again if the price was right and just for a session but in saying that i really like the way this brewery is only young and has already released 5 beers that i would not knock back if offered and for me thats a big pat on the back in the right direction looking forwards to the next release cheers.
830 characters

3.58
/5
rDev
+12.6%
look: 3.75 | smell: 3.75 | taste: 3.5 | feel: 3.5 | overall: 3.5
330ml bottle. No freshness date.
A-pours a huge creamy white head,gold,opaque,trace of sediment
S- tangy floral hops and biscuit malts,present but not too strong
T-nicely balanced at first with buscuity malts over lapping with a hint if underripe Mandarin. A sour finish though, like grapefruit.
M-feels quite fizzy with moderate carbonation.neutral texture, moderate body
O-too malty for an APA,too bitter for a golden ale. Not offensive at all however, could be a good session beer.
491 characters


4.05
/5
rDev
+27.4%
look: 4 | smell: 4 | taste: 4 | feel: 4.5 | overall: 4
Hazy golden colour with a medium sized, smooth, white head.
Bright, floral, fruity hop aroma with some wonderful pineapple notes.
Bright, fruity hop character with distinct notes of Australian Galaxy hops. Light malt and only moderate bitterness. Sort of like Stone & Wood Pacific Ale.
Medium-light body with moderate carbonation.
A delightful Pale Ale from Kooinda with lots of hop character and not too much bitterness. A great summer quaffer.
449 characters
Valhalla Golden Ale from Kooinda Boutique Brewery
Beer rating:
3.18
out of
5
with
12
ratings