Dismiss Notice
Extreme Beer Fest:Los Angeles
Join us December 9th in Los Angeles for the ultimate throwdown of craft beer creativity!
Learn more...
Dismiss Notice
The Local Taphouse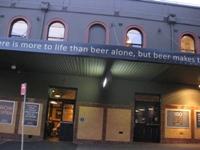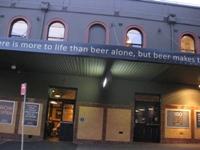 PLACE INFO
Type:
Bar, Eatery
122 Flinders St
Darlinghurst
, NSW 2010
Australia
+61 2 9360 0088 |
map
thelocal.com.au
Notes:
No notes at this time.
Added by charlesw on 03-17-2009
PLACE STATS
Reviews:

12

Ratings:

pDev:

14.32%
HISTOGRAM
Ratings: 14 | Reviews: 12
Reviews by admiral:

3.98
/5
rDev 0%
vibe: 3.75 | quality: 4 | service: 4 | selection: 4 | food: 4
One of my favourite beer destinations in Sydney - a focus on quality beer, with great food to support it.
Tasting paddle is great value with 5 small beers for $15 - I always start with this as there are always new beers on tap I haven't tried.
Always a relaxed place to drink with friends/family, either downstairs or on the rooftop, with a nice atmosphere to allow easy socialising. Could easily spend a lazy few hours or more, drinking, eating, talking and kicking back at this great establishment.
Overall, an excellent beer destination to sought out when in Sydney.
572 characters
More User Reviews:

4.05
/5
rDev
+1.8%
vibe: 4 | quality: 4.25 | service: 4 | selection: 4 | food: 3.75
Great rooftop patio, the tasting paddle was a perfect way for a American to try some local flavor. A refreshingly well crafted tap list makes this a wonderful find.
164 characters

3
/5
rDev
-24.6%
vibe: 2 | quality: 3 | service: 3 | selection: 3 | food: 4
Honestly need to update this review, the original will remain below the update.
Ok once you're no longer a newbie to craft this place holds very little to offer on a day to basis. The vibe is frankly not hugely enjoyable, the location is pretty horrible (on a major road which often requires a frustrating and potentially dangerous crossing due to the lack of lights). The tap list is usually mediocre and the bottles are a bit too overpriced to be viable (also the bottled selection isn't even very impressive these days). On any given day compare the Sydney Taphouse's draught list to that in Melbourne and you'll see that Sydney gets pretty much royally screwed. Melbourne almost invariably has better and more interesting beers on tap. Why, I do not know. Perhaps they just do not care as much about their Sydney location.
Worth going during Takeovers (the Mikkeller one was frankly fantastic and very enjoyable) and perhaps during Makeovers, as long as the advertised beers happen to actually be available on the day! They have announced 43 beers for the Great Australasian Beer Spectapular next May! Oh wait, they will probably only be available in Melbourne because Sydney only has 20 taps.
On the positive side...um the food's still pretty nice.
Used to go here whenever I could drag friends out but now I just don't bother unless there's a special event. Even the Mikkeller one left a bad taste in the mouth as they tapped a keg of Mikkeller 10 (not available in the original Takeover) a few months after the event, and it tasted stale and crap.
___
Excellent place, probably the best to try new releases in Sydney. As well as getting a bunch of new beers they also mix it up quite a lot, tapping some European pilseners, English/US beers, Australian classics and of course a lot of Australian micros.
Sure they might serve a few duds but generally there's a lot of good stuff on offer there, with many viable choices from their tap list. If you stray into bottles though it can get very pricey.
Food is of a high quality and well priced. Perhaps a little more variation in their menu would be desirable but I really appreciate the fact they give you large servings of good food at decent prices.
The atmosphere is good and generally very relaxed and cordial.
The people behind the bar are generally relatively knowledgeable and very friendly.
2,362 characters
3.15
/5
rDev
-20.9%
vibe: 3.5 | quality: 3 | service: 3 | selection: 3 | food: 4
A-- European feel with Australian touches. Wood,iron, dark, noisy, small tables, uncomfortable chairs. Smaller than it appears from outside but a good outside deck and some cool small places to hide away and have a beer.
Q-- Can be hit or miss. Generally beers are a bit on the cold side, even with the sign that says beers are warmer than usual. Sometimes have to be a bit patient with bigger beers to warm up to proper drinking temps.
S-- Average at best. Staff does not know the beers or the flavor characters of the beers they serve. Very transactional, even in the tasting flights. Knowledge is also lacking. Ask a server about an event that they were hosting and could not tell me more than one beer they were serving the next night. Just that they were big beers for an extreme beer event. Thanks for the info.
S-- Australian wise quite good. See some harder to find beers in Australia on tap. Had Murray's Wild Thing on tap and usually see several offerings from Feral on a consistent basis. Then again get a James Squire. Lacks the selection that St. Kilda gets and that is quite frustrating and in a lot of ways a turn off. Bottle selection is small and rather dull. Then again when you have 20 taps to choose from why get a bottle.
F-- Food is always good and well priced. Burgers are quite good.
V-- Imports are way overpriced and really offer no value at all. Bottles are very overpriced as well. Not paying near $11 for a Scrimshaw Pils or near $10 for Sam Adams. Go for the tap beers and you will find some value and some good things. I can find enough LCPA and Squire for cheaper at other venues.
When they do tap takeovers or special events it is worth going.
If you live in Eastern Sydney, work in the CBD, or at an event at the SFS or at Fox studios it is a god send. if you are in Western Sydney it is a challenge as very little parking and not close to a decent rail station. The money and time I spend to go and buy stuff from there really offers no value. More frustrating is seeing what St. Kilda offers as opposed to the Sydney location. Almost better off buying a plane ticket to Melbourne and hitting that location. Special events are the ticket for that location only.
2,209 characters
4.2
/5
rDev
+5.5%
vibe: 4.5 | quality: 4.5 | service: 3.5 | selection: 4.5 | food: 4
I've been here three times now, and my overall feeling of the place remains consistent.
This is, for Sydney, a beacon in the wilderness. I haven't sampled its older brother down south, but understand that's even better.... So St Kilda must be as close to heaven as a beer drinker can get.
As for Darlinghurst, I love the comfy, dimly lit, cozy feel about the place. The Royston in Richmond, Victoria has a similar homely warmth about it. Upstairs, and there are rooms galore, including a small, wooden-panelled bar area, which was an ideal escape for us once the band came on downstairs.
Heygeebee pretty much summed up the place in his review below. I was with him on that trip, and again on my most recent. He has an eye for detail that I don't.... where was the TwR UAG ?
But my eye was elsewhere. Lindemans Gueuze on tap ? Fantastic. BrewDogs Citra (IPA is Dead) - outstanding. An Aussie pilsner that tastes like a European (Hix) - brilliant.... at last.
Food is a good mix. On both occasions I have elected a burger. Good value, good quality, and filling.
It's a great joint. I wish I lived closer, but thankfully have an arrangement that will see me make the pilgrimage every 3 months or so.
1,203 characters

4.18
/5
rDev
+5%
vibe: 4.5 | quality: 4 | service: 4.5 | selection: 4 | food: 4
A seemingly legendary venue, at least in beer-pov Sydney. Could it live up to the hype on a first visit?
Well, mucho planning was undertaken to get there. An hour on the train from the suburbs, plus distance enough from Central to mean that a staging venue was called for (Schwartz Brewery) and after that a walk up the Hills that Surry is well named after, meant that the hype was almost tangible when I arrived.
First up, its a pub. Don't even think about calling it a bar. It's a PUB. It's also very small, which is a good thing in Sydney, where most bars are of a size that could be loaned out to Qantas to house some of their fleet whilst in for repairs. It's a slim triangle in shape, with stools around the edges, and comfy, well-beaten leather sofas in the middle. Nice to recline on after a day of the usual corporate rubbish. Fit-out almost looks 'original' which must be kudos to the guys, to re-create such a retro-vibe. Thursday night is quiet around the post-working day times, but livens up as the evening progresses. Candles on the table are a nice touch later. It's also noisy! Buses idling in standstill traffic outside the door don't help, and are a distraction. The crowd is decidedly non-office. Three levels are:- Ground level - the bar. On the first is an eatery (not sampled) but dead-nice looking, and on the second floor is the roof-top area, which has high walls around and quite frankly looks odd, as the only way you know you are outside is to see the stars, the walls are that high.
Second, the beer changes regularly. And I mean regularly. I had done my homework on the Tuesday, and a lot of the beers I had planned to sample were already 'off' by the Thursday. Never mind. I won't bang on about the beers, save to say the serving temperature is just right, all beers (we ordered in threes) were poured identically, and the staff knew exactly what they were on about. I believe samples in small glasses were also offered, but don't quote me on that. The funny-looking vertical tube on the bar is a Randall, and some beers can be put though it. Oh boy, be careful, as it hops your beer beyond belief.
Third, the prices are Ok, but it's gonna be an expensive evening, trust me. Around $11 for a pint. Up to $10 for a small pour of the strong beers. food is good, we had burgers, and $16.50 didn't break the bank. Bottled beers are a different matter, price wise...
Other things to note? Well, there are OHS posters to tell you how to sit on a bar stool. (!) Elbows in by your sides, not sticking out - that kind of thing. Personally I suspect they should note your right elbow is normally to be found in the classic 'upturned position' while sculling the last drops. I am also sure that the letters on the wall
TwR UAG z
mean something... but I am not sure what
A good pub, but I am unsure if it is a great pub. Is it legendary? No. Is it out of the way for those taking public transport from the burbs? Yes. We went on a Thursday, where it was quieter than I thought it would be. I'd have to defer ultimate 'vibe' judgment once I have been on a Friday or Saturday.
What I am certain of is that Sydney needs more of this style venue.
EDIT
Sept 2011
Ok - I have been on a Saturday night now - what a transformation from mid-week. We got there at 5:45 and the place was already packed. And it wasn't full of beer-drinkers, either. Bottles of wine everyhwere in ice-buckets. Quite a change. Trendy, bubbly, lively. You name it.
Vibe score revisited, as is service, which was better from staff who were run off ther feet, than when they were quieter.
Quote from 16-y/o son 'these are the best chips I have ever had'.
3,656 characters
4.1
/5
rDev
+3%
vibe: 3.5 | quality: 4.5 | service: 4 | selection: 4
The Local Taphouse Darlinghurst is the second outlet from the guys behind the Local St Kilda. The beers are all high quality local craft or imports with a good number of limited releases cycling their way through the taps. The atmosphere is a bit shabbier than Melbourne and it just isn't as comfortable. Likewise, I find the staff here a bit more abrupt and less friendly than those in St Kilda. Again, there is a great selection of 20 taps here all served well and at the appropriate temperature. If one thing lets The Local down it is that prices are a little high but they aren't awful for Sydney.
601 characters
4.44
/5
rDev
+11.6%
vibe: 4 | quality: 4.5 | service: 4.5 | selection: 4.5
Being a regular at the Melbourne Local Taphouse, I just had to check out the Sydney version.
I rocked up around 7ish on a Tuesday night and had a look downstairs, it was like Deja Vu.
Basically the same theme/style/fitout as the Melbourne one. But that's fine, there needs to be a common link apart from the beer.
Speaking of beer it was "Little Creatures" night with a guest visit from Alex, the head brewer.
Along with Alex as a guest the new single batch Little Creatures IPA was on tap, along with 19 others from small, new micros such as The Rocks Brewing Company & 4 pines to the classics like Trumer Pils.
It was quite busy for a Tuesday night, so I can see where people are coming from when they say Friday & Saturdays are packed. Also similar crowd to Melbourne, quite a mixed bunch of people drinking there.
Had a brief look at the food menu but decided not to eat. Some same/similar items as Melbourne but a few others. All the meals coming out looked pretty tasty.
I've been to most Sydney beer venues now and this is one of the better ones, well worth checking out.
1,083 characters

2.89
/5
rDev
-27.4%
vibe: 3 | quality: 3 | service: 1.75 | selection: 3.5 | food: 3.75
2 December 2010
These guys take their beer seriously, which is somewhat rare in Sydney.
However, where these guys stand out is the lack of pretence and attitude in the staff...almost all the staff are great to deal with (and i deal with them on a regular basis - at least weekly).
There are 20 rotating taps and a solid bottle selection of world classics (think Saison Dupont, Meantime IPA, Cantillon et al). Around 200 kegs are tapped each year, the majority of which are local, however numerous overseas imports have been on tap including (a good dozen Rogue ales, Sunner Kolsch, Meantime IPA, Budweiser Budvar etc).
Each month there is a brewery showcase of 3 taps dedicated to a brewery and 4 times a year there are themed SpecTAPulars which are paper events!
Customers can sign up to a free service notifying them of new beers that have been tapped via SMS and their blog is always regularly updated as to the latest beers on tap.
The feel of the place is fantastic, always a comfortable place to go for a drink.
The food is great for a pub, having had pasta and salad dishes a number of times...the servings are quite large relatively speaking and dishes range from about $15 to $25 and for quality food, this is a real bargain.
The only thing i find a little puzzling at times is the pricing...some beers are cheaper than others for a 310ml serving, however can be a $1 or so more expensive for a pint...not saying it is bad, just odd!
Overall what do i think of the place...well it is a 30 minute drive from home and a 40 minute walk from work and i get there a lot, so that pretty well sums it up...if you are an Aussie, well it is the best beer bar i've come across and if you are from overseas, it will give you a good guide to Australian beer and the local brewing scene.
Edit 16 August 2013
I gave this place a 4.75. I remember those days.
Lots have changed since then.
The beer seems like a bit of a side-thought and not the main part of the business. Service has fallen off a cliff. I asked about an upcoming event and was told to walk outside and see if i could get the information off a poster. But it isn't just that sort of rudeness. Last night i was the first of 3 to the bar and the third one served after 10 minutes...there were 3 bar staff, all in their own hipster world.
The bottle list has been pared back, no longer 70 bottles, at one stage it dropped to 20 and now it is back up to 37. No more Cantillon, just the glasses on display. Some hefty markups still apply.
The brewery showcases, once monthly, have been dropped and other than the $45 per head AleStars sessions there is lucky to be a beer event each month. SpecTAPulars are also fewer with the focus now on GABS in Melbourne.
The SMS updates of new beer tappings have gone by the wayside and it took countless emails and Facebook messages to get updated Taplists published on social media...in the interim though we had no shortage of Facebook posts about what upcoming films were showing for silent cinema.
I get there about 4 times a year now. Once it was almost weekly. This place still gets some good beer in, but it is more fun drinking with friends elsewhere at the growing number of Sydney better beer venues or at home.
3,232 characters
4.47
/5
rDev
+12.3%
vibe: 4.5 | quality: 5 | service: 4 | selection: 4.5 | food: 4
I've actually lost count of how many times I've been here now. Although it's a good forty minute walk from my place, it feels like an old friend, and getting close to being my local pub. Ah well.
This is a pretty relaxed place - I remember worrying before my first visit that it would be too trendy for its own good, or full of wankers, but despite its amazing range, and its undeniable boutique appeal, it remains first and foremost a local pub. The furniture is all comfortable and old-fashioned, an eclectic mix of decor, biased towards wood and leather. There are a number of hidden nooks around the place, so you can usually grab a seat except when it's particularly busy, although when it does get crowded it's almost unbearable (the German SpecTapular was one of these times).
They have twenty taps, which they rotate very frequently. It's almost a given that whenever I show up they'll have something I've not tried on before, plus their blog keeps you up to date with what's on and what's coming in the near future. When the most generic beers they have on a tap-listing of twenty are Little Creatures and Trumer Pils, you know you've got a winner. They generally have a couple of taps dedicated to their Showcase brewery which seems to rotate monthly (recently they've had Rogue and the Little Brewing Company as showcases). They also seem to get a fair few one-off batches and exclusives, and they've always got some interesting tap Aussie micros. They also have a small selection of bottled beers, including some bottle-conditioned Belgians.
Better yet are their SpecTapular Festivals, where every couple of months they put on a hand-picked array of wickedly original beers - usually only one or two kegs of each over a weekend. Everything is relative, of course, but currently there is no better place for on-tap beer in Australia.
The staff are always friendly and informed, and they take care with the presentation of the beers, even when they get busy (which means you occasionally have a bit of a wait for bar service).
The food is also good beer food, focusing on quality pub favourites, although the restaurant upstairs does a more extensive menu. The one time we dined in the restaurant they were a bit brusque in getting us in and out as quickly as possible, but it was a busy night and they obviously had some churn to get through.
Overall, this is easily my favourite beer venue in Sydney, and one that's a necessity on a visit. Just please don't crowd out us locals.
2,496 characters
5
/5
rDev
+25.6%
vibe: 5 | quality: 5 | service: 5 | selection: 5 | food: 5
I first went to the Taphouse for the 4th of July SpecTapular, 6 American Beers and 14 Australian beers in American Styles.
I turned up around 30 minutes after it was open and it was packed (12:30pm). With a big sign above the downstairs bar that says Drink, I got stuck in. I started out with a tasting panel, which worked out to be $7 for 5x 60mL samples. Murray's 2IPA, Rogues Dry Hopped Red and some other awesome beers. We stayed at our table for about 6 hours, only leaving to empty bladders and then fill them again. The food that day was awesome, hot dogs (Even a vego dog) and buffalo wings, really spicy, really messy and they went down amazingly with the Murray Icon 2IPA. Awesome evening trying to decided whether 2IPA or Rogues Hazelnut brown was better.
Next time, was a pub crawl for a birthday. Got there early, joined the rush for the midday opening. Started out with White Rabbit Dark Ale, then got stuck into Jamieson's Beast, both amazing. We got about 4 or 5 bowls of chips, they are no doubt the best chips I've ever had in a pub. Cheap too. We blew out our schedule because we stayed at the Taphouse too long.
After spending the entire July 4th evening, downstairs, I was amazed by the upstairs bar and sitting area. Looks awesome, and I heard somewhere that they want to expand further to the roof.
The beer selection is amazing and constantly changing, they have a few awesome regulars, Little Creatures and so on.
No doubt the best thing is their blog. http://thelocaltaphouse.blogspot.com/ Tells you what beers they currently have on tap and the upcoming ons.
Currently, trying to plan another big day there. Can't wait.
1,652 characters

4.08
/5
rDev
+2.5%
vibe: 4 | quality: 4.5 | service: 4 | selection: 3.5 | food: 4.5
So... "Here come the yanks to trash our beer selection." What's up with that? I guess... Everything in life is relative. Given how few good beers there are readily available in Australia, the selection here is excellent. It's got the best selection I've seen - and I've been looking. Hard! But... I haven't ventured out of the greater Sydney metropolitan area, either (counting Newcastle in that - hope you don't mind my brazenness in this regard). Of course, this gSma encompasses over 4 million people. With over 4 million people you'd think you might find a large selection of beer somewhere. Right? Right???
Well, wrong.
Anyway, in Sydney I found the Local. I'm not entirely sure how I found it, of course, since both my GPS and google sent me to the wrong place altogether! I think a good first step for them would be to post a nice hand-drawn map that actually shows where they are!
Inside... It's like... It's really hard to describe. Actually, no, it isn't. But it isn't really like a bar. It feels more, to me, like being in Rimsky-Korsakoffee (in PDX). As in, there are a lot of cozy places, couches and rooms in which to lounge about. The difference, I suppose, is that you do that while drinking beer instead of coffee. Only, see, that's not a great comparison in that this has more space, a more uniform design and it also has a very European feel to it. At least, the feel of a lot of places I used to go to drink in, say, Lyons, Orleans, what have you.
The help was helpful and friendly. Seemed knowledgeable but really encouraged me to read "the book" (the document they'd prepared on the different styles). For where I am... For where I am in beer knowledge I guess the book was a bit light on information and it seemed to me to have a few inaccuracies. It certainly didn't cover all of the styles that they had in house the day I was there. Kind of a bummer, really. I don't know what the funky Australian styles are - I'd like to! (I'm reasonably sure that the book doesn't explain what a black wattle is. Well, I'm curious, darn it!)
The selection, as mentioned above, is average. 20 beers on tap. Looks like 13 of those are Australian. Of the 20 there were 4 lagers, 4 wheats, 4 pales (specified "US pale"), several of the weird things (growler? black wattle? hop mother?), a barleywine (Australian!), a leffe, a saison and a few others. Decent. Well, from what I've seen of Australia so far, excellent. But out of that context, just good.
I had some food. The portion size was on the smaller side but it was very artfully presented and it was quite good. About $20 (AUD) for a dish. If the AUD were back at parity, well, that would have been pretty steep. I suppose, well, yeah. For a good meal that seems about typical. Why, outside of a bar, it's probably low for the quality of what you get. But people tend to take things in context.
So, in the context of Australia:
- the beer selection is awesome
- the food is very good and reasonably priced
- the atmosphere is maybe a bit too young hipster for me, but if you're younger than I am (not hard) and hipper (hey! No comments, there!) then you'll probably like it plenty fine
- it's worth going out of your way, if you're in Sydney, to stop by for a bite and a few beers
3,252 characters
The Local Taphouse in Darlinghurst, Australia
Place rating:
3.98
out of
5
with
14
ratings