Angel
| Brouwerij De Smedt / Brouwerij Affligem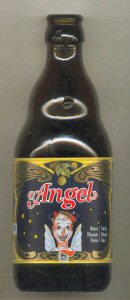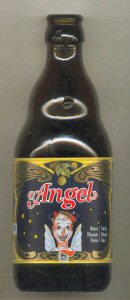 BEER INFO
Brewed by:
Brouwerij De Smedt / Brouwerij Affligem
Belgium
affligembeer.be
Style:
Belgian Strong Pale Ale
Alcohol by volume (ABV):
8.50%
Availability:
Year-round
Notes / Commercial Description:
No notes at this time.
Added by stcules on 05-10-2004
HISTOGRAM
Ratings: 10 | Reviews: 8
None found.
More User Reviews:

3.5
/5
rDev
+4.8%
look: 3.5 | smell: 3.5 | taste: 3.5 | feel: 3.5 | overall: 3.5
Beer pours a slightly hazy yellow and gold color with a fairly thick head that sticks around and chills for a few minutes. Once it runs away it leaves good lacing on the edge of the glass and an island floating in the middle of the glass. There is yeast in the nose and some citrus tones in there. Freshing. The taste has some upfront spice notes and hop bitterness but is well rounded and easy drinking.
This beer was purchased at a Delhaize supermarket in Luxembourg. It is also brewed for Delhaize.
503 characters

3.75
/5
rDev
+12.3%
look: 3.75 | smell: 3.75 | taste: 3.75 | feel: 3.75 | overall: 3.75

2.94
/5
rDev
-12%
look: 3.75 | smell: 2.75 | taste: 2.75 | feel: 3.5 | overall: 3
3.4
/5
rDev
+1.8%
look: 3.5 | smell: 3.5 | taste: 3 | feel: 3.5 | overall: 4
Poured a golden brew with quite a large but bubbly and not very attractive head. The smell contains some spicy aromas but is mainly just yeasty and fruity.
The taste is again fruity with some malty, hoppy and alcoholic notes. Rather straighforward.
Body is quite thin for an 8,5% brew, well carbonated though.
The drinkability is good in my opinion. Although I'd rather be drinking something else than this one. Not bad, but just not very intresting.
Arguably one of the worst beers Delhaize has to offer. By that I don't mean that it's bad; the other ones (florival, leeuwse witte, ...) are just very good, while this one isn't.
635 characters
3.91
/5
rDev
+17.1%
look: 2.5 | smell: 4 | taste: 4 | feel: 4 | overall: 4
Dumpy 33cl brown bottle, produced for the supermarket chain 'Delhaze'. The best before date was 15 July 2010, it was reviewed and poured into a Duvel glass on 7 Dec 2010, so a little out of date.
A Christmas beer (the label and name gives it away somewhat!), lets hope it's Angelic.
I was doing well with the pouring, then a large amount of sediment gushed out of the bottle to contaminate the glass, this obviously tainted and dulled the body of the beer. The glass now contained a murky, cloudy bland orange coloured liquid with lumps floating about trying to sink down the beer. A scummy head sat on top.
True Belgian yeasty, beery smell, a blind tasting/smelling would have told anyone straight away a Belgian beer was in their hand.
Duvel like in flavour, slightly sweeter and a little stronger in the taste stakes (maybe because of the sediment in my glass?).
The alcohol is noticeable, but not overpowering, blends in well with the zesty feel the beer has.
Considering this is a supermarket beer, it's good stuff, can't remember what I paid fot it, but it wouldn't have been expensive, I'll look out for it again when next in a 'Delhaze'. What a pity the sediment got out!
1,186 characters
3.35
/5
rDev
+0.3%
look: 3.5 | smell: 3.5 | taste: 3.5 | feel: 3 | overall: 3
Looking at the bottle, this appears to be a Duvel clone. It pours a rocky head with a golden, orange color and lots of carbonation.
Smell is heavy on the malt with notes of straw and dough. A light fruity smell with hints of exotic fruit and a light solvent smell.
Taste is malty with doughy notes, a little phenolic and quite bitter. Body is medium to thin. The bitterness is lingering. Hops are not very aromatic.
The comparison with a Duvel cannot be made. Maybe it is my imagionation and this is not a Duvel wannabe.
525 characters
3.56
/5
rDev
+6.6%
look: 4 | smell: 3 | taste: 3.5 | feel: 4 | overall: 4
Pours a hazy golden, with a huge airy white head, that dies down moderately fast.
Smells of green apples, dry maltines and a hint of lemon and lemon grass.
Tastes fresh of lemon, slightly tart citrus, which is really refreshing, yeast esters are in the back.
Okay mouthfeel, not too thick and the carbonation is alright.
323 characters
2.57
/5
rDev
-23.1%
look: 3 | smell: 3.5 | taste: 2 | feel: 2.5 | overall: 2.5
Appearance - Hazy pale golden, with a lot of carbonation and a big head with big bubbles that settles and leaves lacing.
Smell - Spices, malt, hops, fruity and some alcohol.
Taste - Bitterness from the hops, spices, malt and some phenols. No fruit in the hop taste, just bitterness...
Mouthfeel - Lots of carbonation, a bit thin for the style.
346 characters
3.32
/5
rDev
-0.6%
look: 4.5 | smell: 2.5 | taste: 3.5 | feel: 3.5 | overall: 3.5
Kind of an odd duck. Poured with a giant, foamy, frothy, textured, off white head that lasts and some lace. Color is a very clear amber. Aroma pilsner, phenols, yeast, malt, and bit of spice. Flavor's similar, but also some esters. Body is good and so is carbonation. No hint of the alcohol at this point. I just had a sandwich of local salami, whole grain bread, Ardenne butter, & dijon mustard - the beer really brought a tangy, almost spicy hot condition to my mouth and was fairly short lived. Easy drinking beer overall and not bad.
537 characters
3.07
/5
rDev
-8.1%
look: 3 | smell: 3.5 | taste: 3 | feel: 2.5 | overall: 3
Full golden in colour, tripel-like foam, long standing, even if it has some big bubbles.
At the nose smell of yeast, bread, very present. Then pear, maybe peach. Lightly spiced (cinnamon?).
At the taste: hop bitter, and the spices (pepper, cinnamon).
Medium-medium-light body.
Aftertaste: again hop's bitter, followed by the yeast, and then fruity (pear), honey and pepper.
Beer brewed for Delhaize.
404 characters
Angel from Brouwerij De Smedt / Brouwerij Affligem
Beer rating:
3.34
out of
5
with
10
ratings